Introducing Fairlife Nutritious Milk #BelieveInBetter
Disclosure: I was provided complimentary products to try and review along with a swag bag and blender for attending the event.
This morning, I was able to take part in an amazing fitness event put on by fairlife! They are the creator of a deliciously nutritious milk that packs protein with calcium and with half the sugar of regular milk.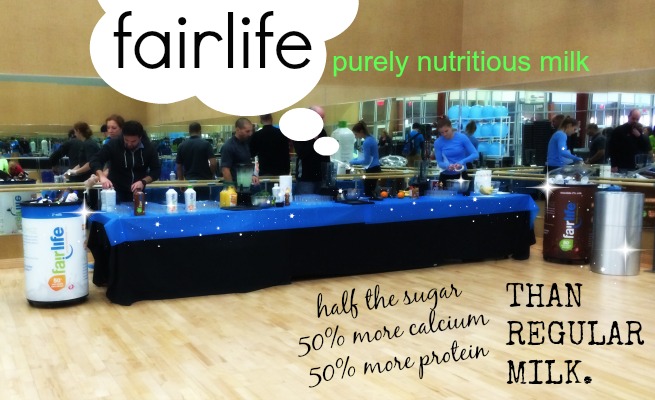 They treated us to a high-intensity workout lead by fitness expert, Chris Freytag, which included an excess of sweat and muscle burn – believe me there!! But at the end, it was worth it because we got to try out some yummy smoothies made by, yes, you guessed it… fairlife!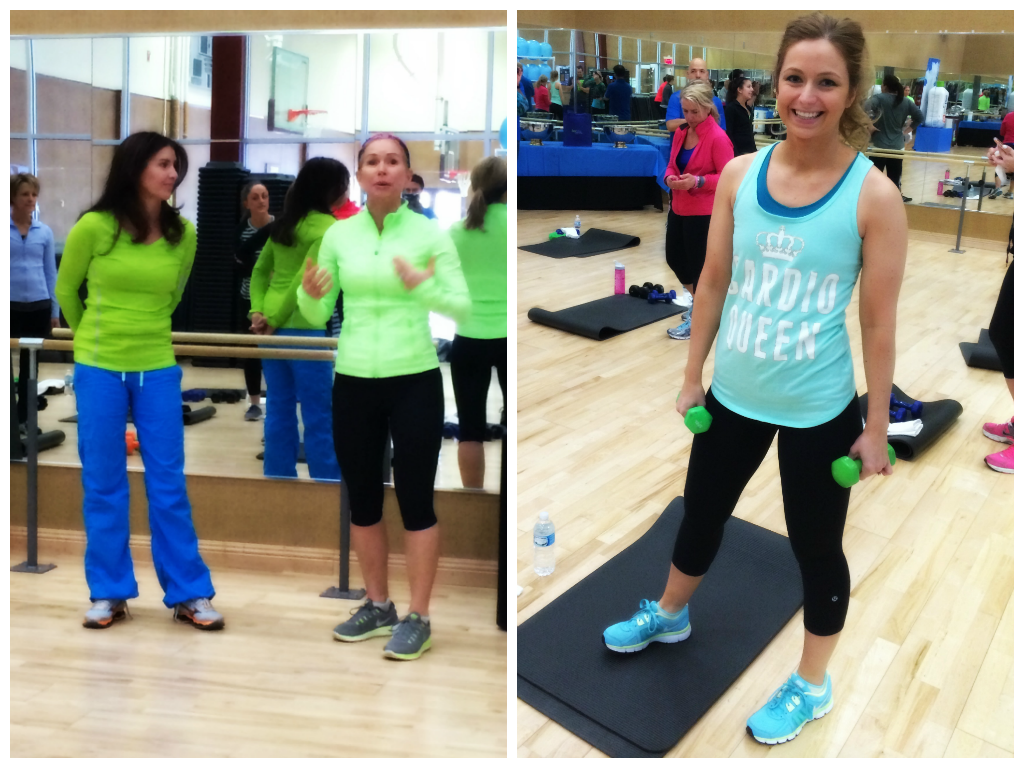 Here is a look at some of the tasty recipes that they put together for us: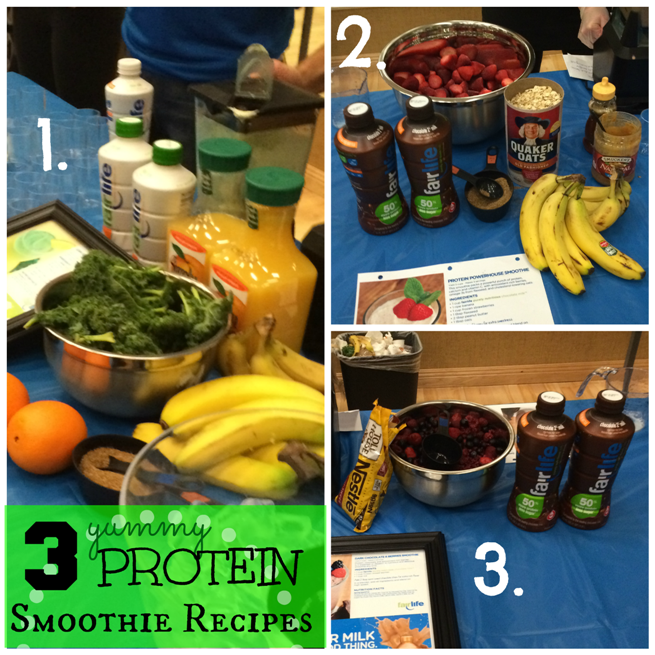 And of course, they gave us recipe cards to share with readers and I MUST share because they were beyond amazing. It's so nice to find a delicious protein shake that you can make at home for your post-workout drink.
1. Lean Green Protein Smoothie (from fairlife)
Ingredients:
3/4 cup fairlife purely nutritious skim milk
1 tbsp flaxseed
1 ripe banana
1 kale leaf
1/4 cup orange juice
1/2 cup ice
(optional) touch of honey for extra sweetness
Blend together on high and enjoy! Makes 2 servings.
Nutrition Facts: 220 calories, Total fat 4g, Protein 11g, Vitamin A 50%, Vitamin C 90%
2. Protein Powerhouse Smoothie (from fairlife)
Ingredients:
1 cup fairlife purely nutritious chocolate milk
1 ripe banana
1 cup frozen strawberries
1 tbsp flaxseed
2 tbsp peanut butter
1 tbsp oats
(optional) touch of honey for extra sweetness
Blend on high until mixed thoroughly. Makes 3 servings.
Nutrition Facts: 310 calories, total fat 12g, Protein 16g, Dietary Fiber 7g, Vitamin C 60%
3. Dark Chocolate & Berries Smoothie (from fairlife)
Ingredients:
1 cup fairlife purely nutritious chocolate milk
1 cup frozen mixed berries
1 cup ice
(Optional) 2 tbsp semi-sweet chocolate chips for extra-rich flavor
Blend ingredients together. Makes 3 servings.
Nutrition Facts: 160 calories, Total fat 4g, Protein 10g, Vitamin C 25%, Dietary Fiber 4g

After an intense workout, I like to make a protein shake. This usually consists of regular milk, a protein mix, some flavorings plus some ice. I blend it together and that's my mix. But when we tried these smoothies today, I kind of had an 'ah ha' moment. These were the types of drinks I'd been craving after my workouts. They tasted good, and healthy, and fulfilling!
Here's a shot of the Lean Green Protein Smoothie that they made for us: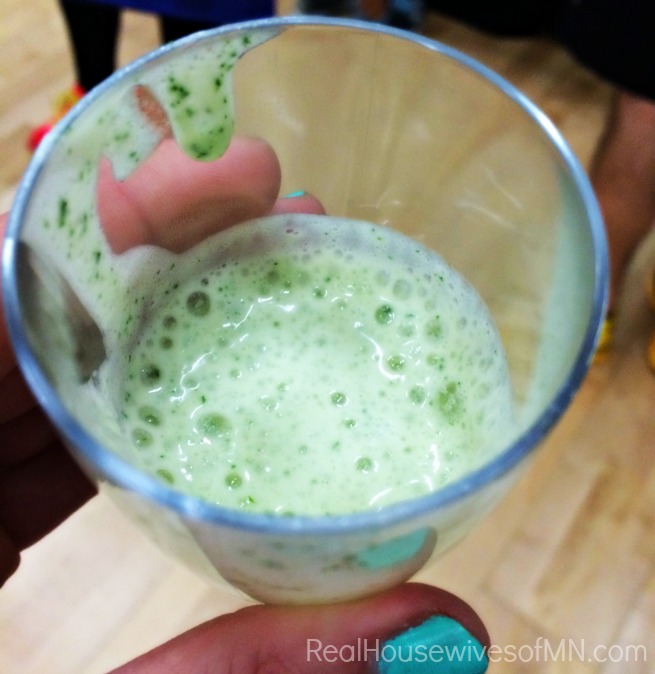 It may not look all that appetizing (what green smoothie does?) But it really was good!! I mean it! My husband and I got to bring home a jug of the chocolate milk and a jug of the 2% milk to try in our own smoothies at home and I'm really excited to try and recreate the recipes that they had for us. Especially that berries one – yum!!!
Where Can I Find Fairlife?
You can find fairlife at select grocery stores around Minneapolis and Denver right now. So far I've found it at Coborn's, Cub Foods, Rainbow Foods, and Kowalski's!
And while I'm talking about fairlife, I want to mention a few fun facts that I found interesting and you might too!
Fun Facts
fairlife is lactose-free.
fairlife contains 50% more protein and calcium than regular milk.
They pamper their cows with sand beds and freestanding stalls allowing the cows to walk freely but still be sheltered.
They do not add in any powders or mixes for extra protein, they just harness what's already in the milk!
fairlife can be found only in Minneapolis and Denver as of Spring 2014!
One last thing that I want to share with you about fairlife. A video of the husband and wife founders and their vision:
I am so thankful to have had the opportunity to learn more about fairlife and their products today. I can't wait to drink up our protein-packed milk in some yummy smoothies soon! Keep your eyes peeled for their products at your local grocery store soon and don't be afraid to try it out. Leave a comment when/if you do and let me know what you think!!
Magic Bullet Giveaway
It gets even better. Fairlife has offered to give away a Magic Bullet Blender Kit (a $50 value!!) to one of my lucky readers!! So you would be able to make these delicious smoothies at your home too! Enter using the Rafflecopter form below. Giveaway ends March 14th at 11:59 PM EST.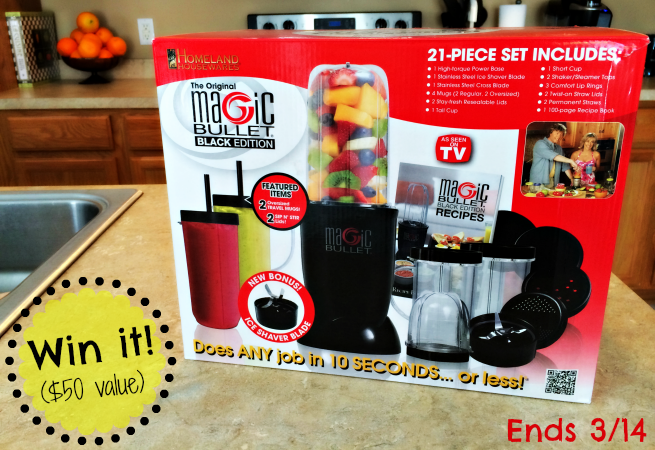 A special thank you to fairlife for the great workout, the samples of nutritious milk, and the new blender to mix it all together in! I cannot wait to start making some seriously delicious smoothies!!! 🙂
Hearts,
Sarah