I obtained samples for some of the items mentioned in this gift guide. This post also contains affiliate links which means I may receive a commission on purchases that are made from the post.
---
Every year around Christmas time, I publish my annual Holiday Gift Guide which features some of my favorite, unique gifts for the year. I've done some seriously extensive research, shopped around, and compiled a list of Christmas gifts for everyone on your shopping list this year. I've tried to cover all the bases, gifts for her, gifts for him, gifts for kids… basically gift ideas for everyone! I hope that this list gives you some great ideas for everyone you are shopping for this holiday season!
So what are we waiting for? Let's get started!
Holiday Gift Ideas for 2017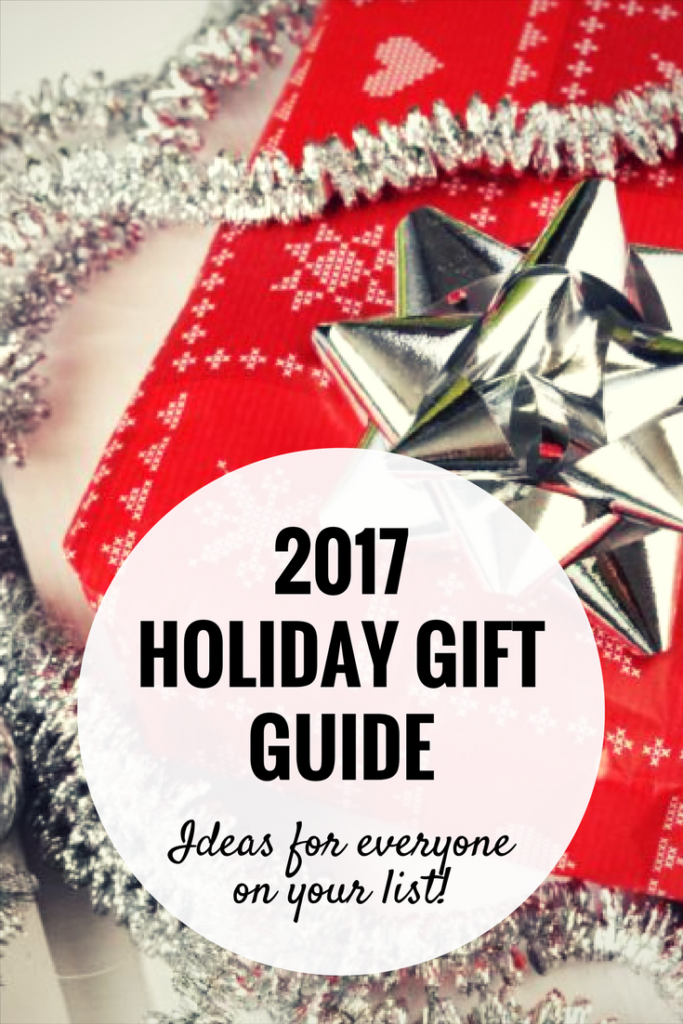 ---
GIFTS FOR HIM
So let's go ahead and start with the ones who are the toughest to shop for, the men. If you are looking for gifts for him (your husband or boyfriend, or even your father or father-in-law) then you'll appreciate the following Christmas gift ideas!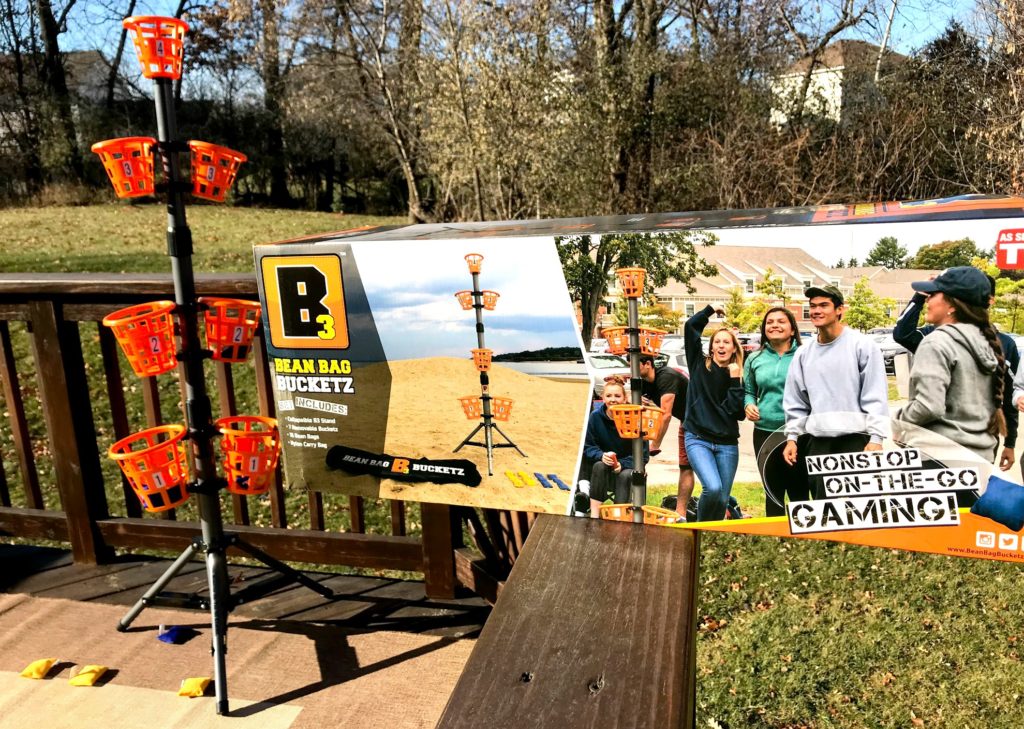 B3 Bean Bag Bucketz Game
If you have a guy who loves to play corn hole (or as some of us Minnesotans call it, bags) then he'll love this new take on the game. The B3 Bean Bag Bucketz has a similar play strategy, except that you score different points by getting the small bags into the different baskets. The first one to score 21 wins!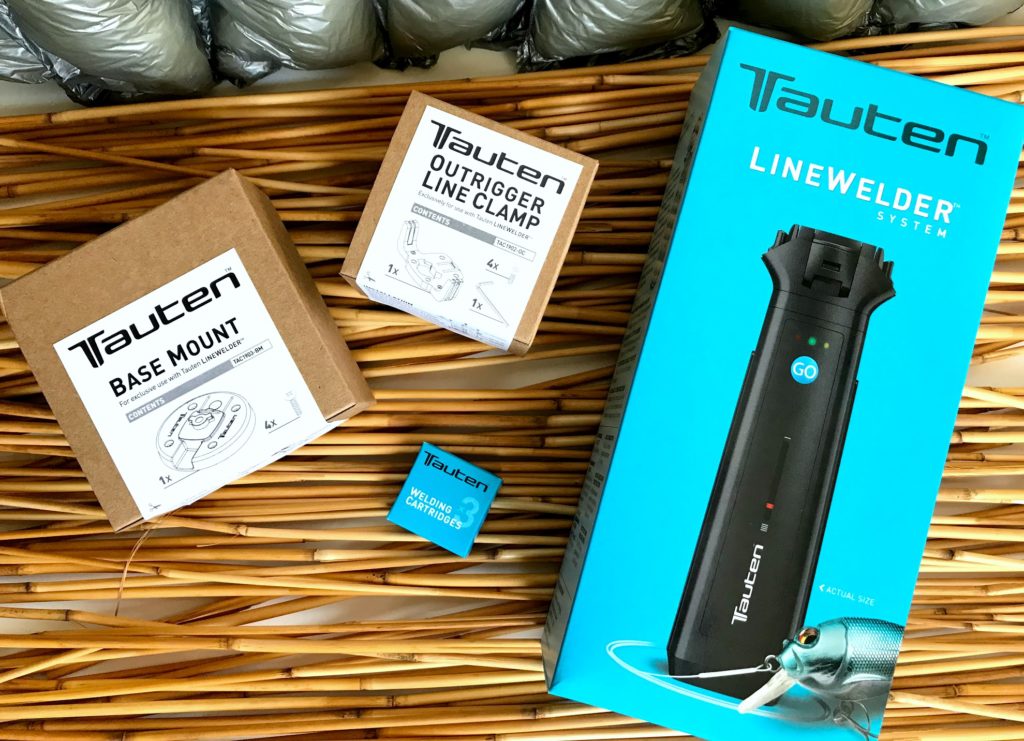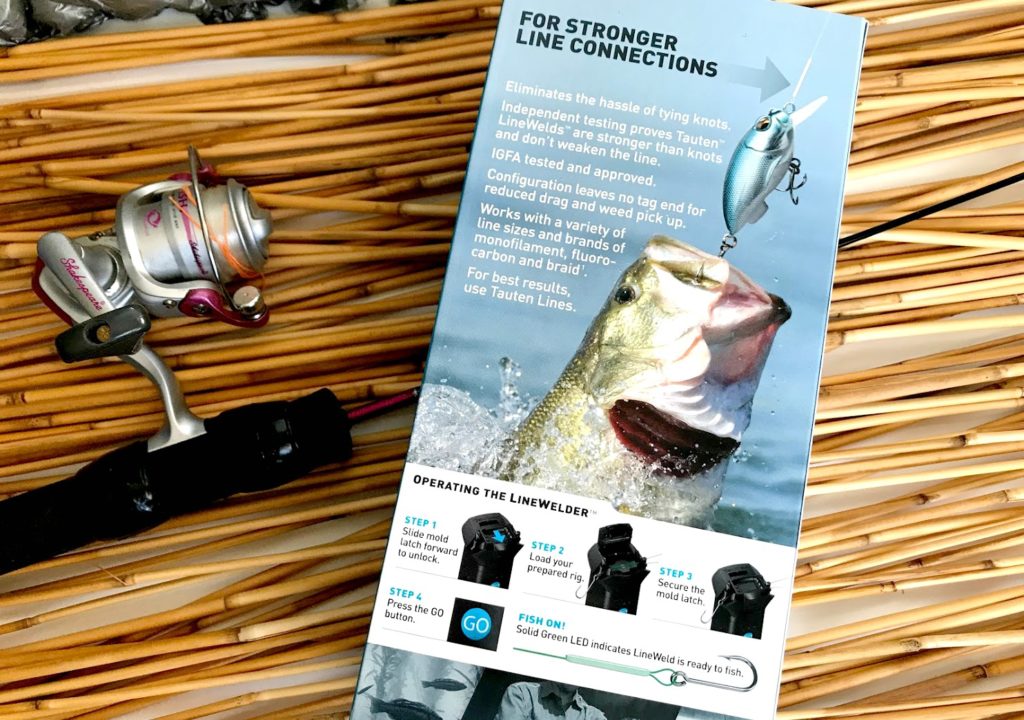 Tauten LineWelder System
Got an avid fisherman in your life? This may be the gift he didn't know he wanted, but he's going to go nuts for. My husband hadn't heard of it when I showed it to him, but after seeing how fast, strong and easily it would tie his fishing line, he was sold. He doesn't know that he's getting one for Christmas this year, so I'm pretty excited to give it to him! It'll be just in time for ice fishing, which is perfect!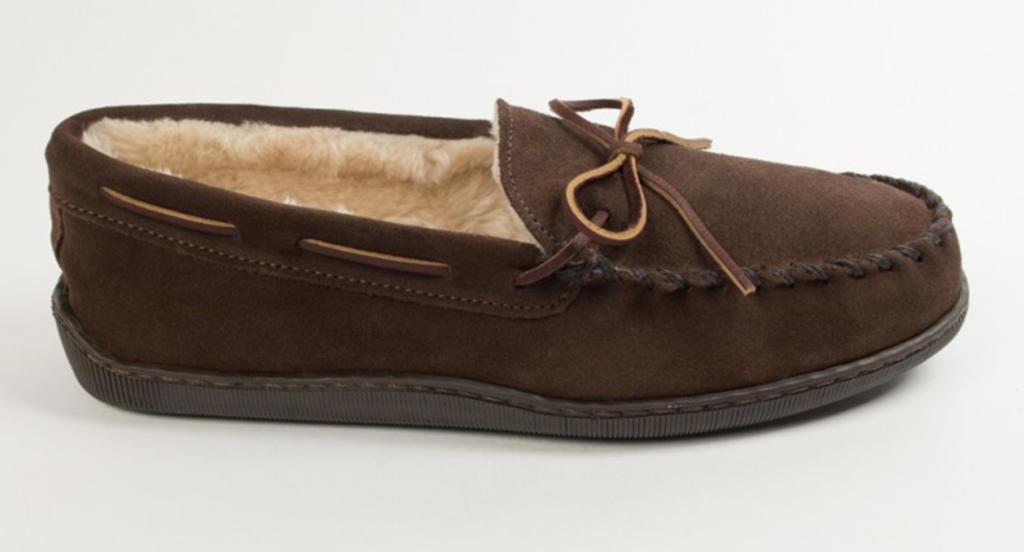 Mens Pile Lined Hardsole Moccasins 
Yep, in Minnesota, we wear Minnetonka Moccasins and these moccasins for men are incredibly stylish, comfortable and affordable. I love the darker color for men, because they blend in with most outfits for men, and they can be paired with almost anything and look great. My favorite part about Minnetonka Moccasins is the fur-lining on the inside, keeping toes warm and cozy in our cold climate. Get free shipping with promo code GIFTCOZY at checkout!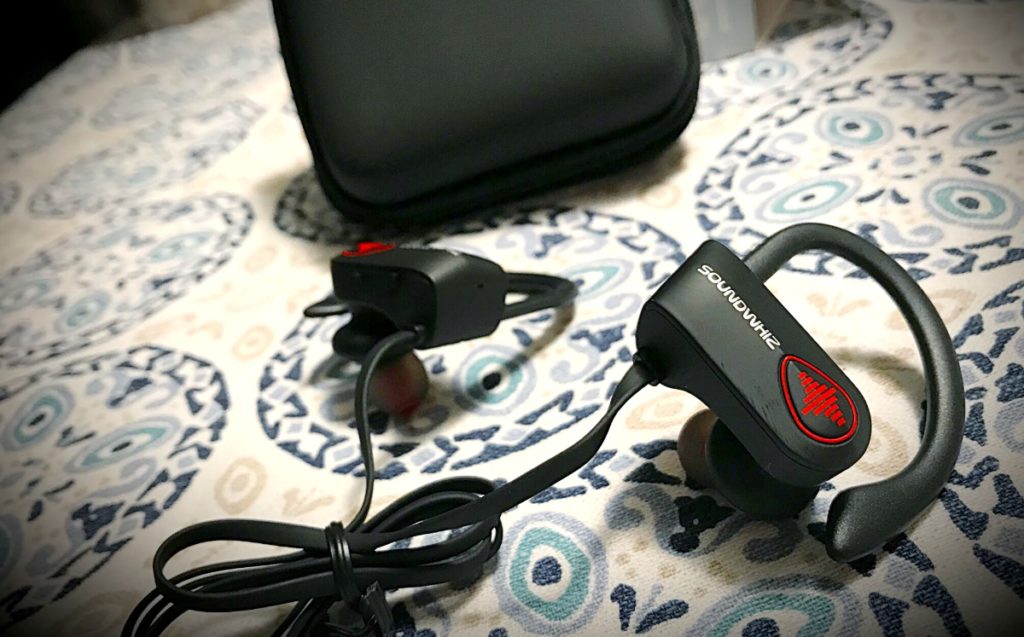 Soundwhiz Turbo Bluetooth Headphones
If the man in your life likes to work out, go for runs, or just listen to music, then he should probably own a pair of bluetooth headphones. These Soundwhiz Turbo bluetooth headphones deliver HD sound to your music, along with an ergonomic design for comfort especially while running. They also offer 8 hours of battery life on a charge!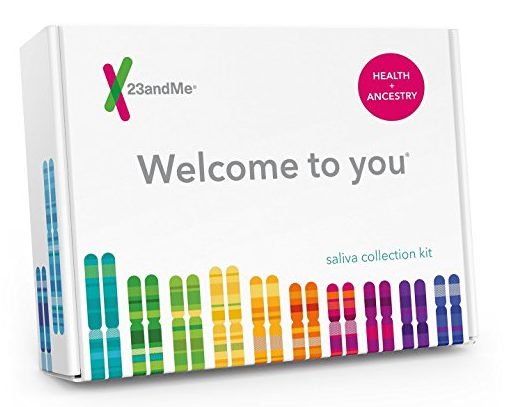 23andMe DNA Testing
About a year ago, I tried my hand at this whole DNA testing thing through 23andMe. I loved getting my results and seeing what my heritage was, along with finding out different health and wellness factors as well. There are numerous kits out there that do the same thing, but I actually noticed that you can purchase these kits at Target now and then mail in your samples which is kind of neat. You can also purchase the full set online and do it all in one swoop, its up to you. I'm thinking this is going to be a hit for my husband this year, because even though I did mine last year, he still hasn't done one for himself. It'll be fun to see the results!
Get the whole health and ancestry package for $149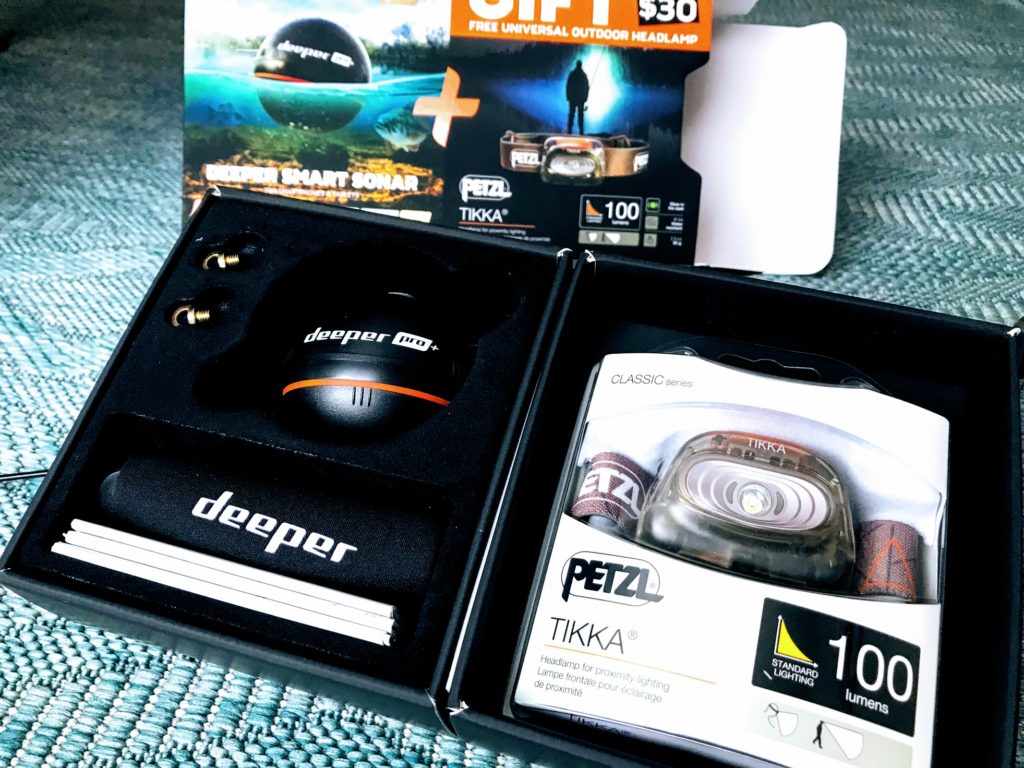 Deeper Fishing Sonar
For the man that loves to fish, I thought this was pretty darn cool! It is a fish finder about the size of a large bobber that can be used when fishing from shore, from a boat, or even ice fishing. The Deeper Sonar even syncs up with your phone to give you the depth, structure and fish right there on your phone. The Pro+ (the one seen here) also gives you a map either from your boat/kayak or from shore. Every fishing session is saved in your phone, there are no cords, it's small enough to fit in your tackle box, and it's prided as Amazon's greatest portable fish finder. My husband is getting one for Christmas this year and I think he's going to be pumped, especially for ice fishing season (This one even comes with the Petal Tikka universal outdoor head lamp! Score!)
Grab the Pro+ TIKKA bundle for $239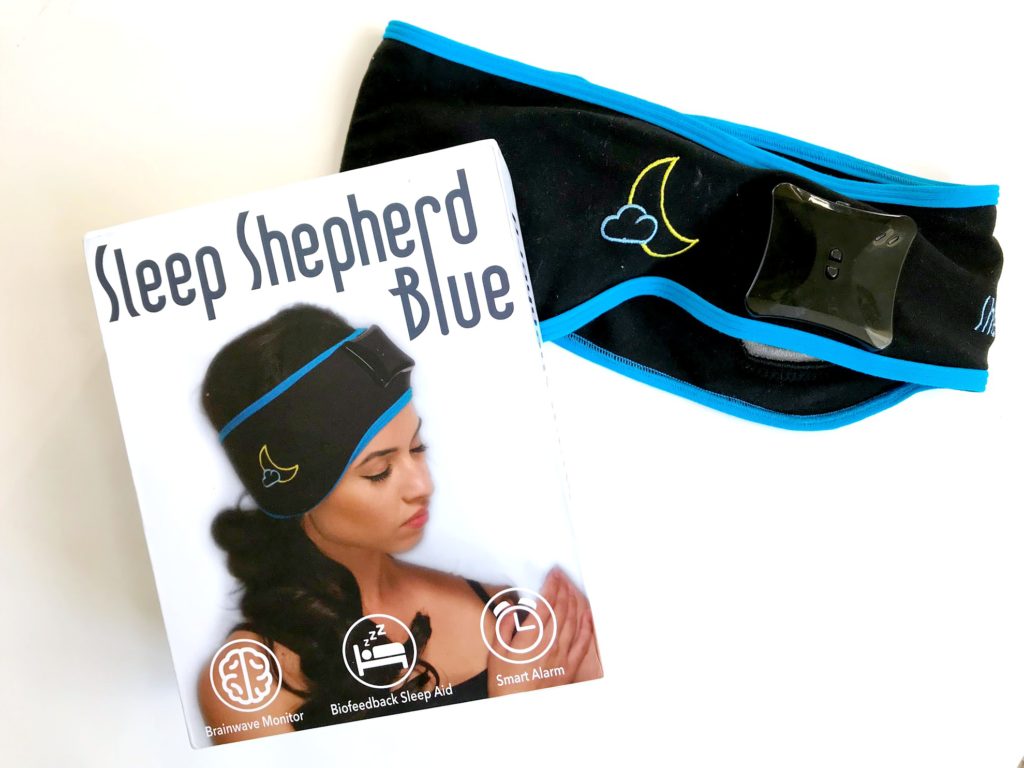 Sleep Shepherd Blue 
If you've ever wondered about your sleep, or if you have a hard time falling asleep, then you must check out the Sleep Shepherd. It is a brainwave monitor, biofeedback sleep aid, and it also offers smart alarms too! It's actually kind of neat, it syncs up with your smartphone to provide a detailed analysis of your sleep every night. Not only that, but it plays a soothing biofeedback sound to help you fall asleep faster. Very cool!!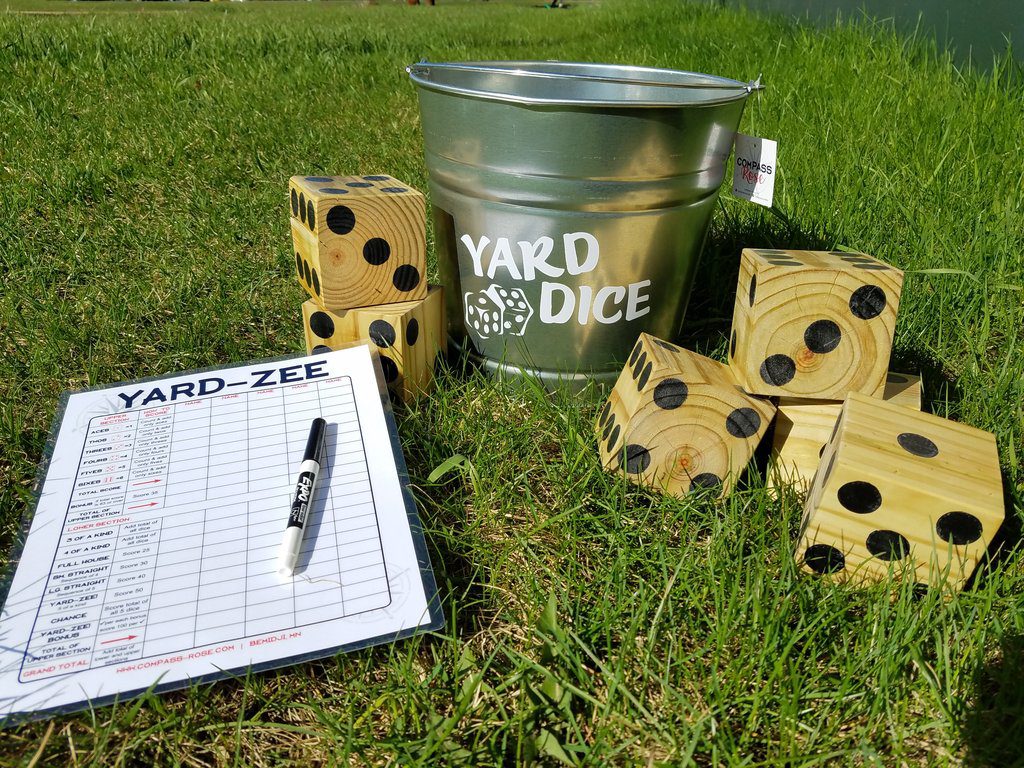 Yard Dice Game 
If you frequently host family and friends at your home, or if you and your family like to have fun in the great outdoors, then this yard dice game set will be a perfect addition to your outdoor entertainment! It's just like the traditional board game Yahtzee except that it's jumbo sized and can be played in your backyard!
---
GIFTS FOR HER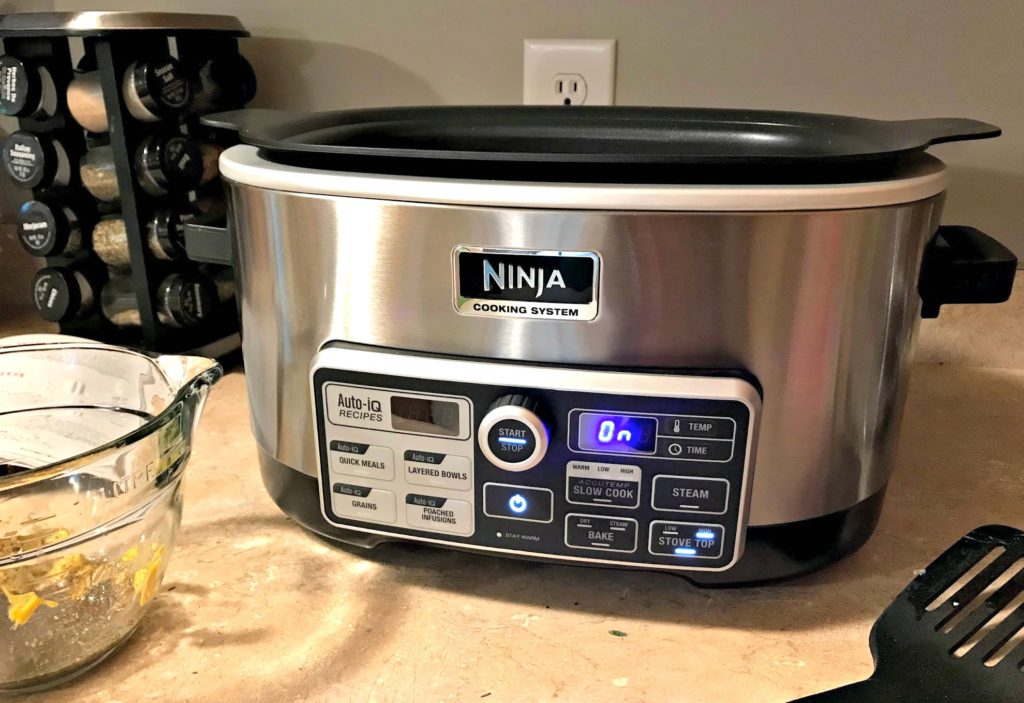 Ninja® Cooking System with Auto-iQ™
Forget any other kitchen appliances this year, this is the only one you'll need. I was so pumped when I first tried this bad boy out for the first time and it is still my new favorite thing. It is a slow cooker, steamer, oven (for baking) and stove top all in one. You can even bake cakes and grains if you want! Not to mention, it comes with a cookbook of layered bowls (where it's basically a one pot meal) or quick meals. My husband also swears by making his hard boiled eggs in this as well. It's safe to say, we're in love with this one!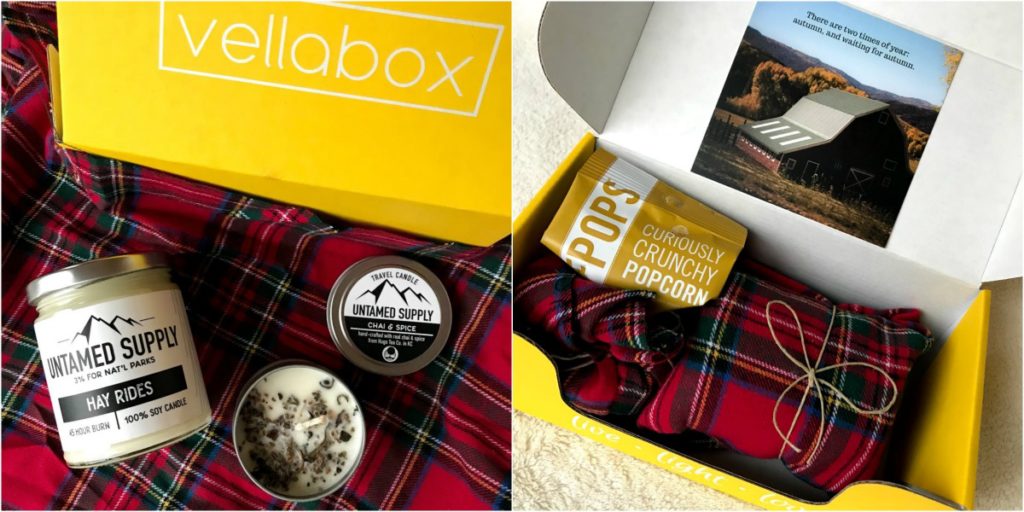 Vellabox 
Women love candles. I know it's a general statement but I mean, don't we? Well vellabox is a monthly candle subscription box that sends out artisan candles each month. The candles are non-toxic, lead free, and hand poured by companies right here in the USA. There are different tiers to choose from when selecting your subscription so you can choose anywhere from $10-$30 per month.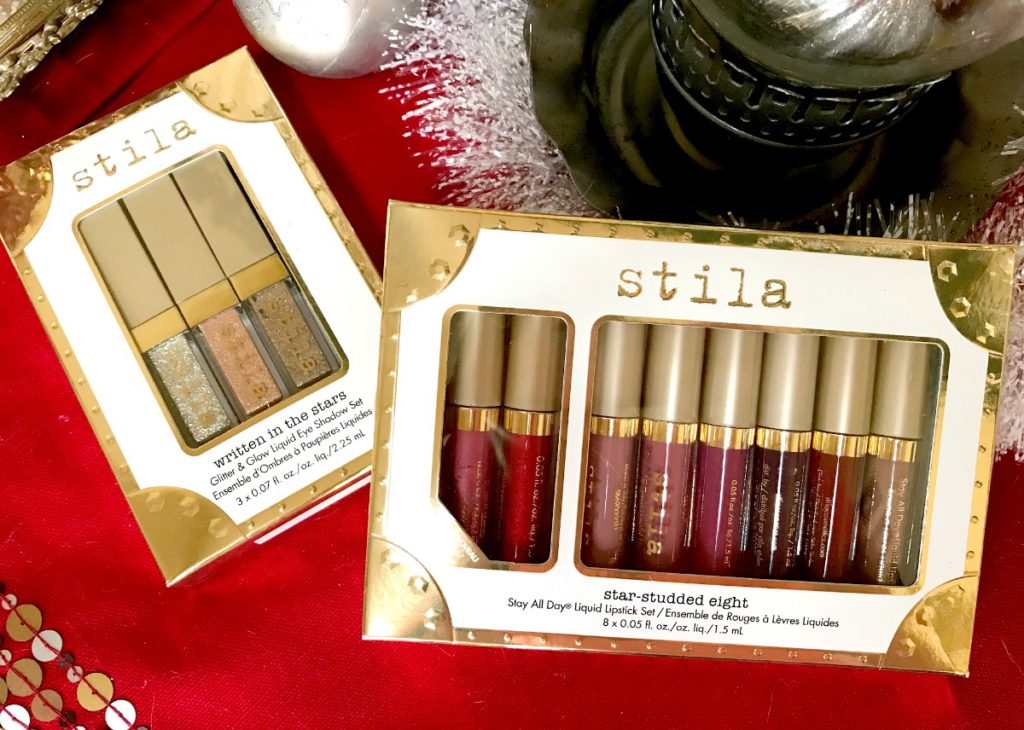 Stila Costmetics
My favorite makeup brand, is Stila Cosmetics. I first tried their liquid eyeliner a few years back and it was the best I'd ever tried. Their stuff stays all day, and doesn't smudge, smear or wear off anywhere near as much as your usual brands. So when it comes to lip and eye makeup, it's no different. And I'm kind of obsessed with these two sets they have out right now. On the left is the "Stila Written in the Stars – Glitter & Glow Liquid Eye Shadow Set and they are beautifully sparkly and everything lovely in shades of silver, champagne and pewter. On the right, is the Stila Sheer Delight Stay All Day® Liquid Lipstick Set which has been the longest-lasting lip wear I have ever tried. I was actually super surprised when I went to apply chapstick a couple hours later and my color was still bold and going strong (that's rare!)
Lipstick Set ($45) at Ulta & StilaCosmetics.com
Liquid Eye Shadow Set ($25) at Sephora, Ulta & StilaCosmetics.com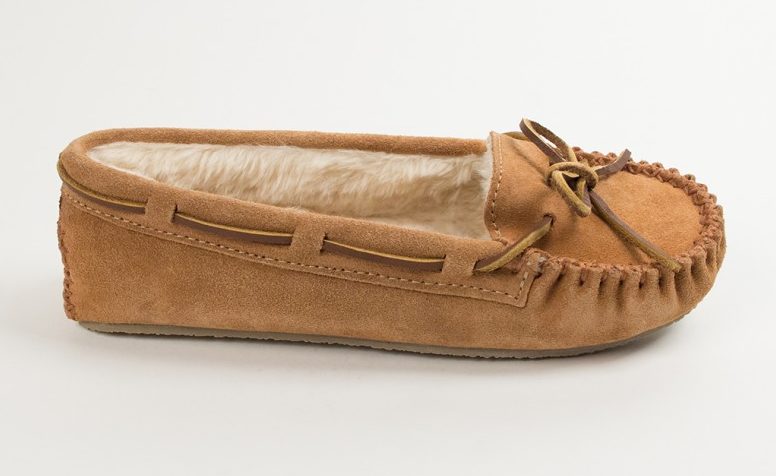 Minnetonka Moccasins Cally Slippers 
I have never met a Minnesotan woman who didn't enjoy a good pair of Minnetonka Moccasins. They are SO cozy, SO comfortable, and absolutely adorable. You can wear them anywhere, and they are the ultimate casual accessory. I love the Cally slippers because they are so versatile and the fur totally makes the shoe. You won't regret gifting these this year! Get free shipping when you use promo code GIFTCOZY at checkout.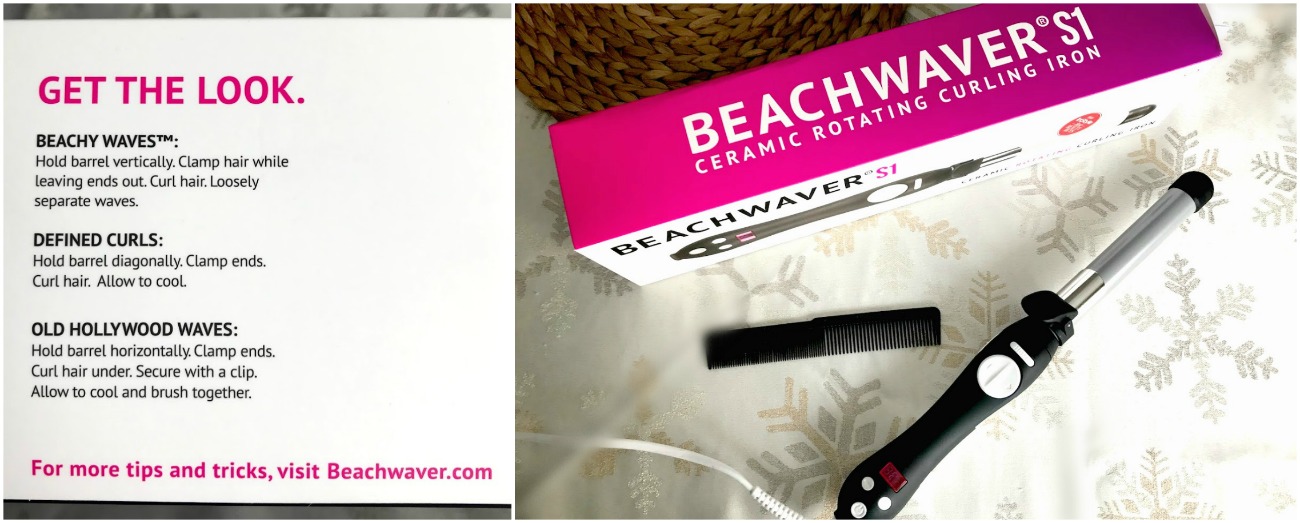 Beachwaver S1 Curling Iron 
If the woman in your life is in dire need of a new curling iron, update her technology with this innovative gem. The Beachwaver is simple to use (it has minimal buttons to learn) and it pretty much does the work for you. You just clamp the end of your hair and press the button. It does the curling for you – plus it offers different ways to style your hair (see the instructions in the left side of the above image). It's versatile and easy; the two best traits in a curling iron.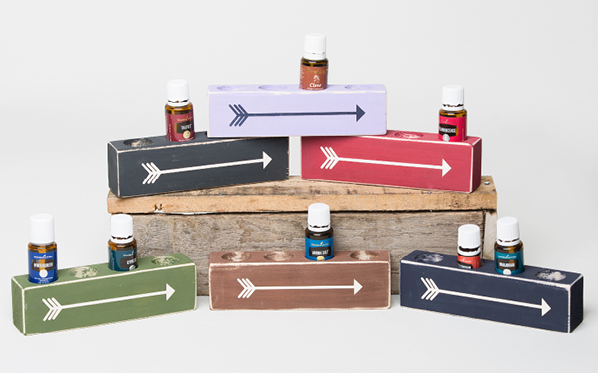 Essential Oil Holder 
Sold locally here from Compass Rose in Bemidji, Minnesota, these essential oil holders are perfect for the oil lover in your life. The blocks hold four essential oils, and other designs are offered as well. They are so cute and would be a fit in perfectly with any home decor!
Oil blocks pictured are $14.50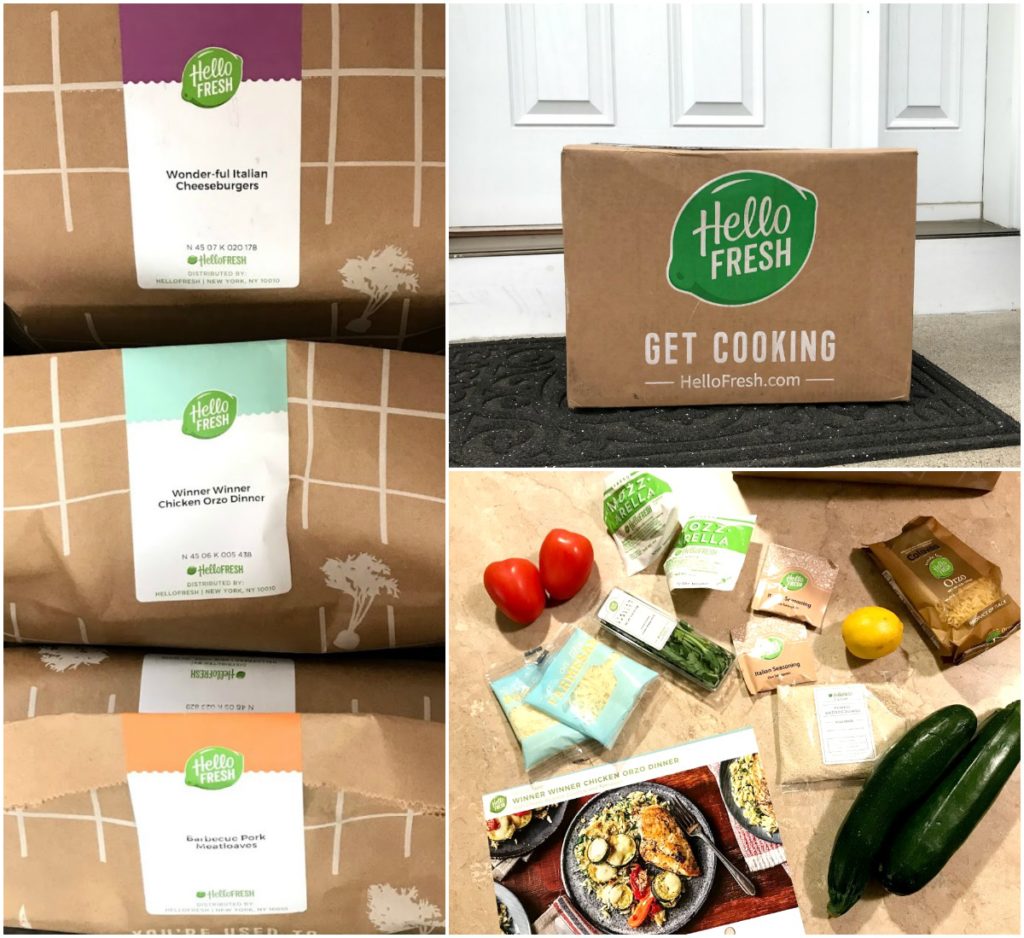 Hello Fresh
Hello Fresh meal service is my absolute favorite. We've done meals from them several times and we've always been delighted with the change of pace (when it comes to choosing our meals, it's usually the same stuff over and over, so it's fun to try new recipes and it helps that they're amazingly delicious). In short, the package shows up in a cooler on your front step, it will contain everything you need to create delicious meals for your family – including the meat (unless you choose vegan, then yay! no meat!) Then you grab the family, and start whipping up dinner! Our favorite recipe has been the Parmesan Chicken with Spinach & Potato Salad – so good! The Hello Fresh pack would be an awesome gift for any mom, dad or family and is a welcomed break in meal time monotony.
Click here to get $40 off your first two boxes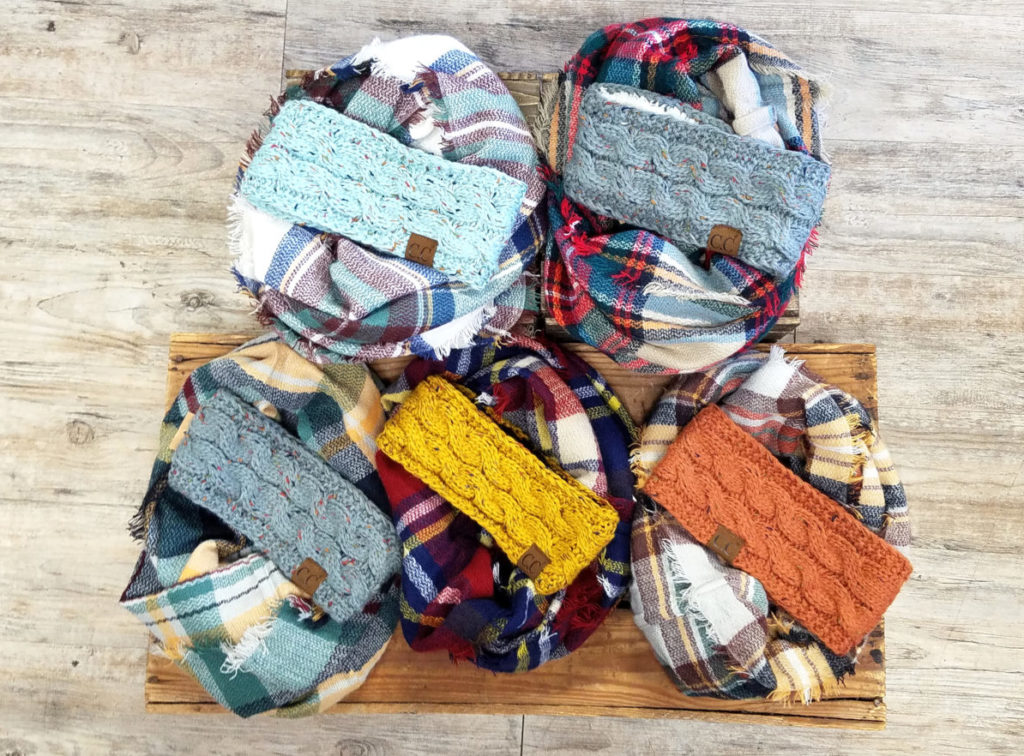 Checker Plaid Infinity Scarves & Matching Headbands
So these scarves and matching headbands are actually from a local Minnesota shop in Bemidji called Compass Rose! The patterns are absolutely adorable, and are perfect for being stylish and warm all at the same time (that's incredibly important here, isn't it?) You can grab a set of both the scarves and ear warmers for under $30!
Infinity Scarves are $15.50 and coordinating headbands are $12.50!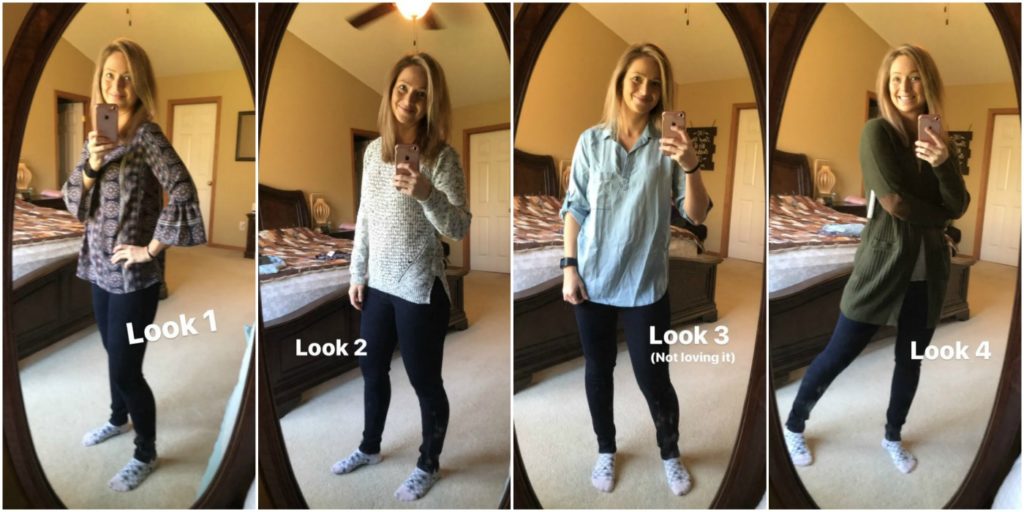 Stitchfix Personal Styling Box
After about a year of dragging my feet, I finally took the leap and ordered my first Stitchfix experience. I was tired of feeling like I was rotating the same clothes I'd owned for years (literally, years.) and they sent me four different looks (and a pair of jeans). My stylist did a great job! My favorite looks were #2 and #4. The nice part about Stitchfix is that you only pay for the pieces that you decide to keep. It's usually a $20 styling fee, and then they apply that towards any item you decide to keep. I've done two boxes so far and have really enjoyed trying pieces that I wouldn't normally pick for myself but I loved them! You can choose to give a gift card of $20, $50, $100 and up, then your recipient takes it from there! It's the gift of style 😉
Grab a Stitch Fix gift card starting at $20!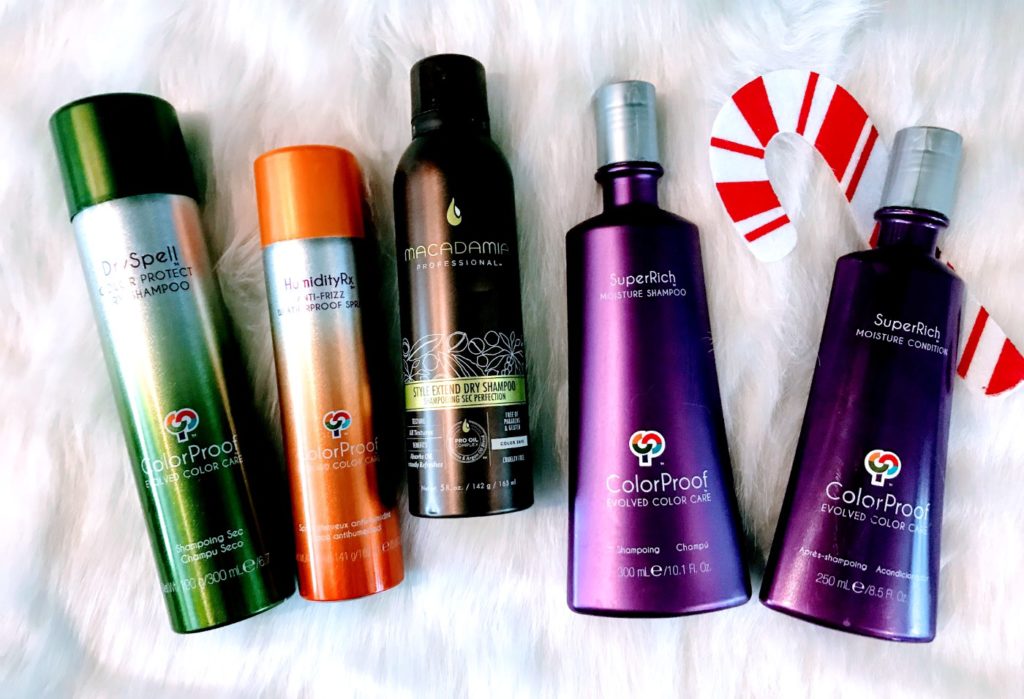 Professional Hair Care
I will never ever turn down quality hair care items for gifts! The above products are awesome for color treated hair, and are great additions to her daily routine. Dry shampoo is an absolute must-have, it allows you to refresh your hair without washing it (every mom's dream). These dry shampoos smell amazing too! The ColorProof DrySpell ($28.00 at ColorProof.com) and the Macadamia Professional Style Extend Dry Shampoo, $19.95 at Ulta are great options. On the right, is a great shampoo and conditioner set from ColorProof as well, these are again created for color treated hair, and are designed to add moisture – they actually come in a holiday kit right now which makes for a nice money-saving bundle. Grab the shampoo, conditioner, and the orange dry shampoo (the HumidityRx® Anti–Frizz Weatherproof Spray) for only $68 (normally $97!)
"SuperRich™ Shiny & Bright Moisture Kit" ($68)
---
GIFTS FOR KIDS
Kids are usually the easy ones to shop for, aren't they? They tell us what the want, the instant that they want it. But what do you give a child when you want to surprise them with something that they didn't know they wanted? Here are some great holiday gift ideas for kids this year.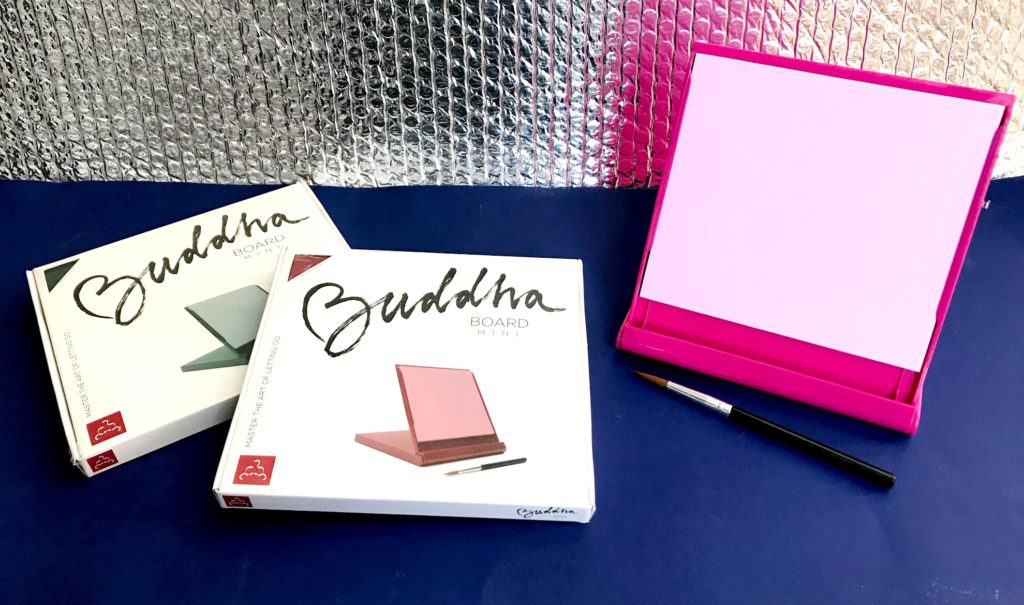 Mini Buddha Board
You may be familiar with the larger design of the Buddha Boards, they are really a neat idea. You use water to paint the canvas of the Buddha Board, and as the water evaporates or fades away, the design disappears leaving you with a clean slate and a clean mind. It helps you live in the moment. I love these myself, but my daughter loves hers as well. It's really a neat activity for little ones as it uses no ink, no paint, no chemicals… just water!
Purchase the mini Buddha Board for $13.95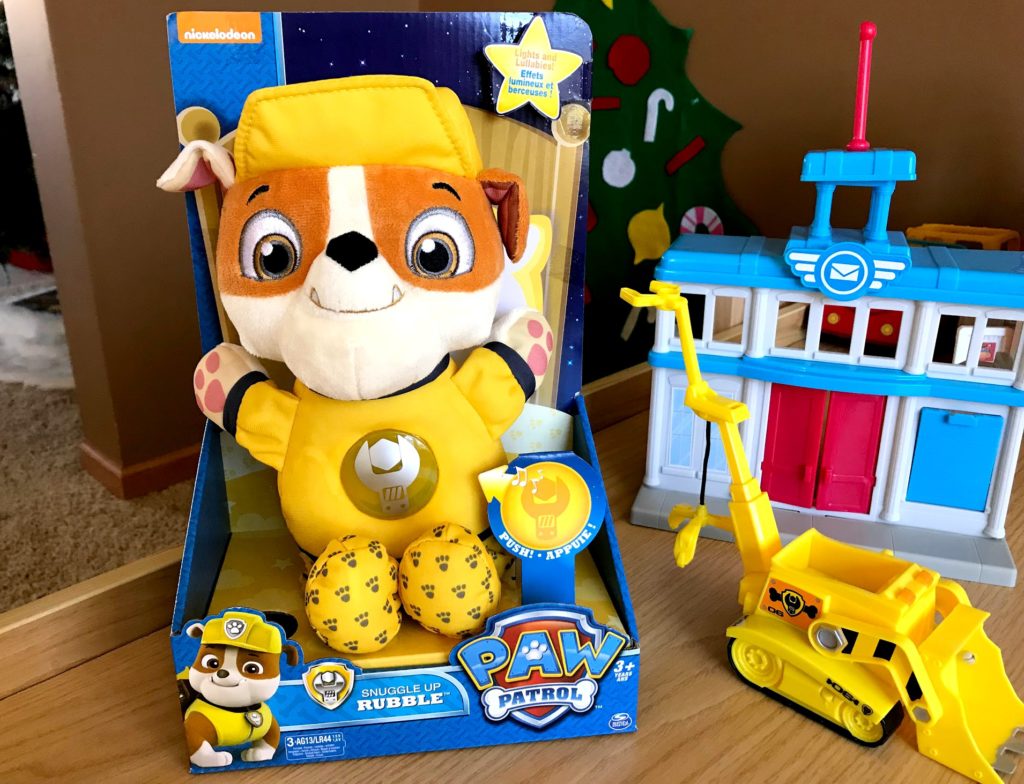 Paw Patrol Toys & Figures
My little one (and honestly every kid under 5 that I know) is obsessed with Paw Patrol. It's a cute little show that has a team of pups who always save the day. These adorable little guys are everywhere when it comes to toys – including these adorable "Snuggle Up" characters. This Snuggle Up Rubble sings lullabies and is so snuggly! Other fun Paw Patrol ideas include the My Size Lookout Tower or the Sea Patroller (both items my daughter has asked for this year).
Grab Snuggle Up characters here for as low as $10.83!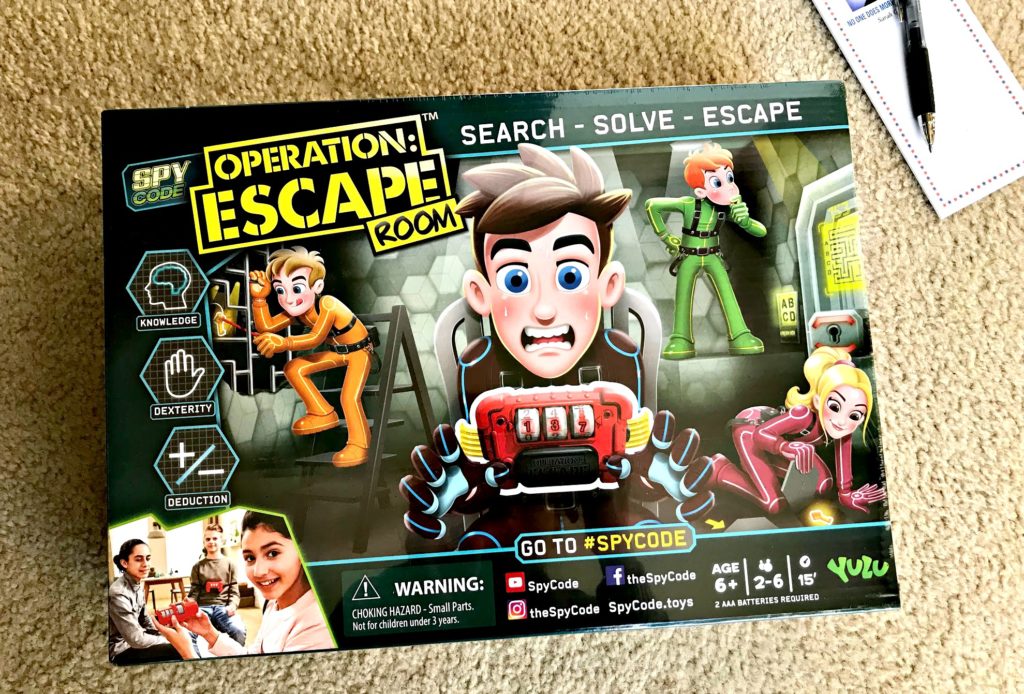 Operation: Escape Room Board Game
If you have a child who is clever and into spy type things, then definitely check out this new board game called Operation: Escape Room. They use knowledge, dexterity and deduction to solve the cases and escape the room. It's a fun, at-home version of your typical Escape Rooms that any kid would enjoy playing with friends or family! (Also available at Target!)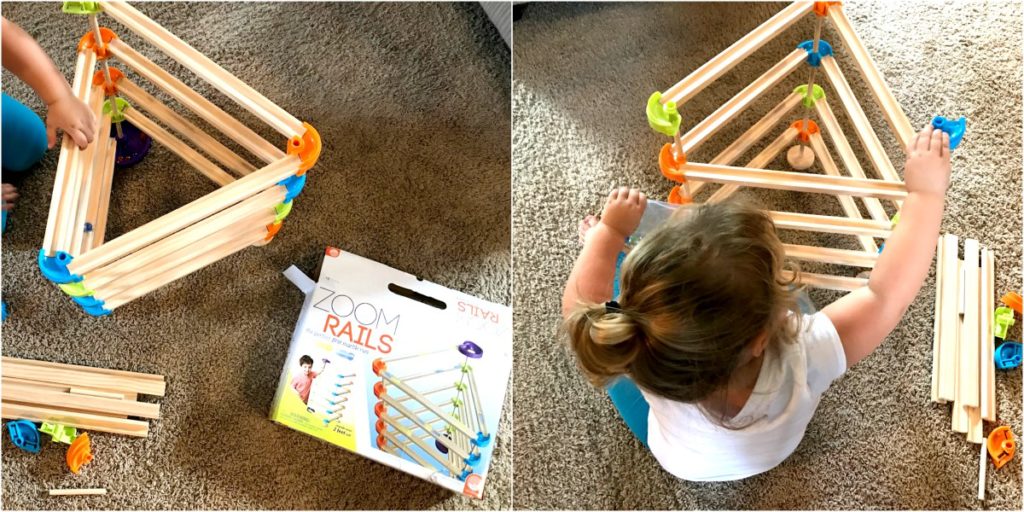 Zoom Rails Marble Run 
We absolutely ADORE this wooden marble run by MindWare toys. It is a fun new take on the traditional marble run but with solid wooden pieces and fun building tools. My daughter loves building the tower and then sending marbles down over, and over, and over! This was a huge hit at our house! Just make sure you're purchasing for a child who can use the marbles safely.
Grab Zoom Rails for $49.86 on Amazon!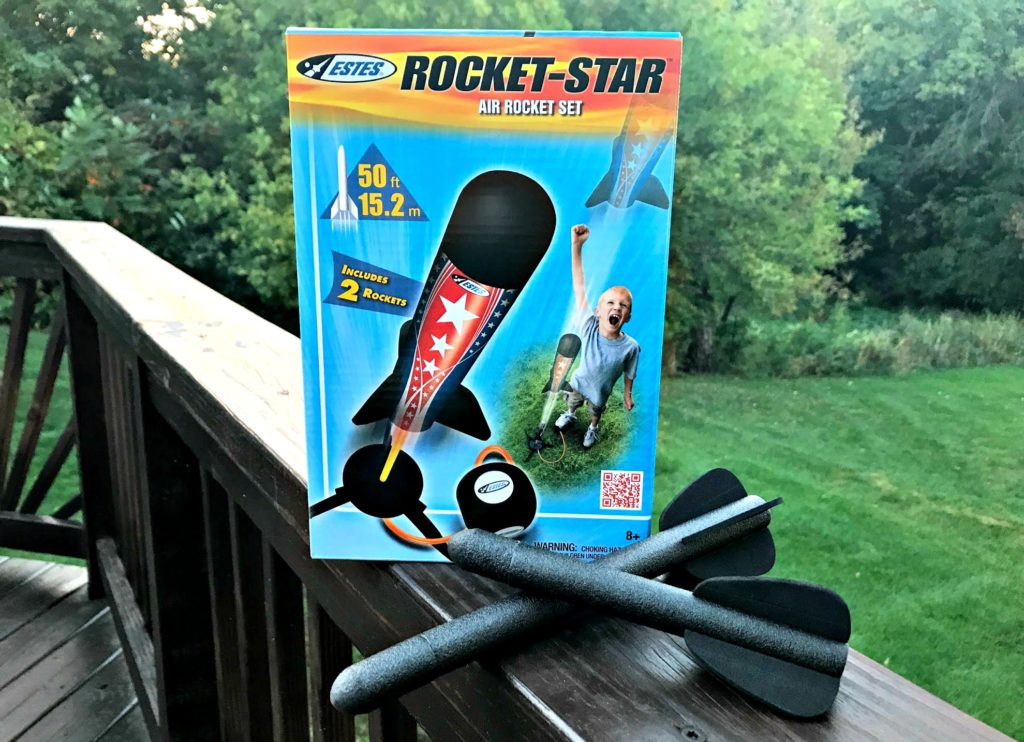 Rocket-Star Air Rocket Set 
Simple but seriously fun, these foam rockets can be launched high up into the sky by the force of your child's foot! It comes with a pedal that when stepped on, it launches the rocket sky high. The box says ages 8 and up, which seemed to be the perfect age when I gave it to my nephew to try and he was at it for hours!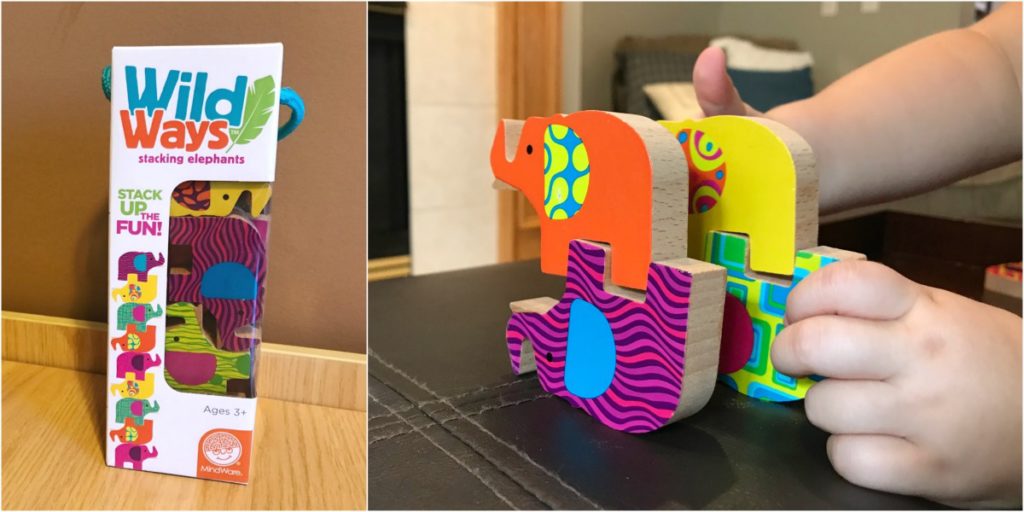 Wild Ways Stacking Elephants 
Another fun toddler toy includes these fun, wooden stacking elephants from MindWare. My 2 year old looooves stacking things, so when I picked out these stacking elephants, I knew they'd be a hit. You can stack them various ways, and they are all different and colorful making them even more fun than blocks and with a really unique twist! She loves lining them up and playing with the elephants and stacking them too, there's so many ways to make them work, building your child's imagination.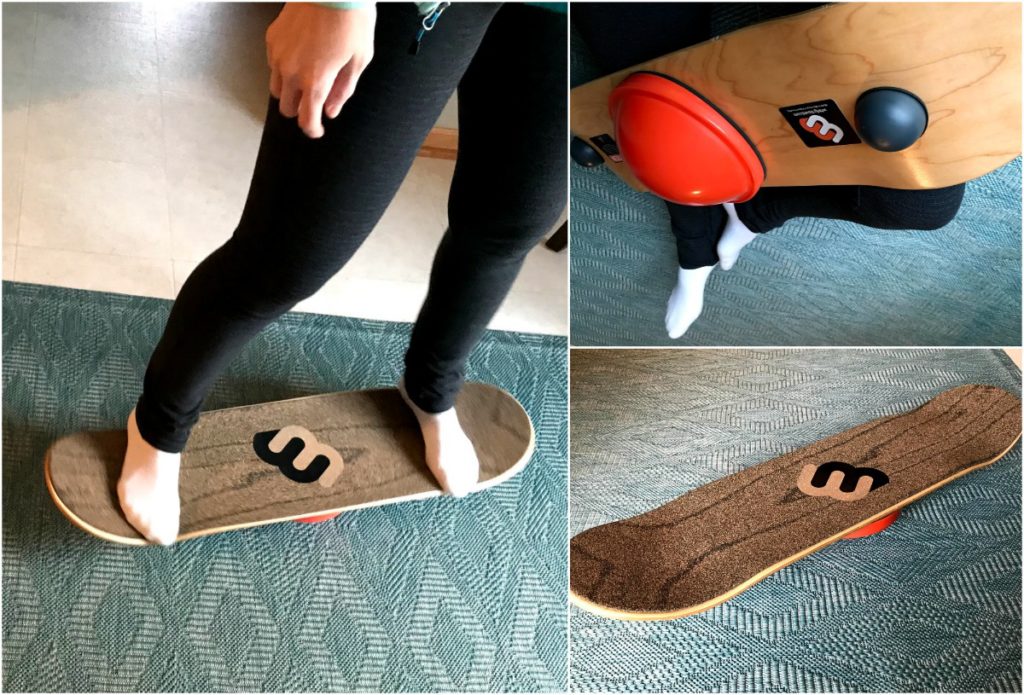 Whirly Board – Balance Board
Okay so I'll be honest, this balance board isn't just for kids, it is so much fun for adults too. It's an amazing tool for learning balance, training for board sports (snowboarding, wakeboarding, wake surfing, skateboarding, etc.) And although it was created to help train for board sports, it's even more fun to just teeter on and work on your balance and fitness too! What I love about this balance board is that the bottom axis is attached to the board (unlike many balance boards) so that if you come off the board, the balance axis doesn't go flying. This thing has been a hit at our house, my husband and I have competitions to see who can pull off the biggest spins without falling off. So far, I've hit a 540° – he's still trying to catch up 😉
Grab a Whirly Board for your crew for $119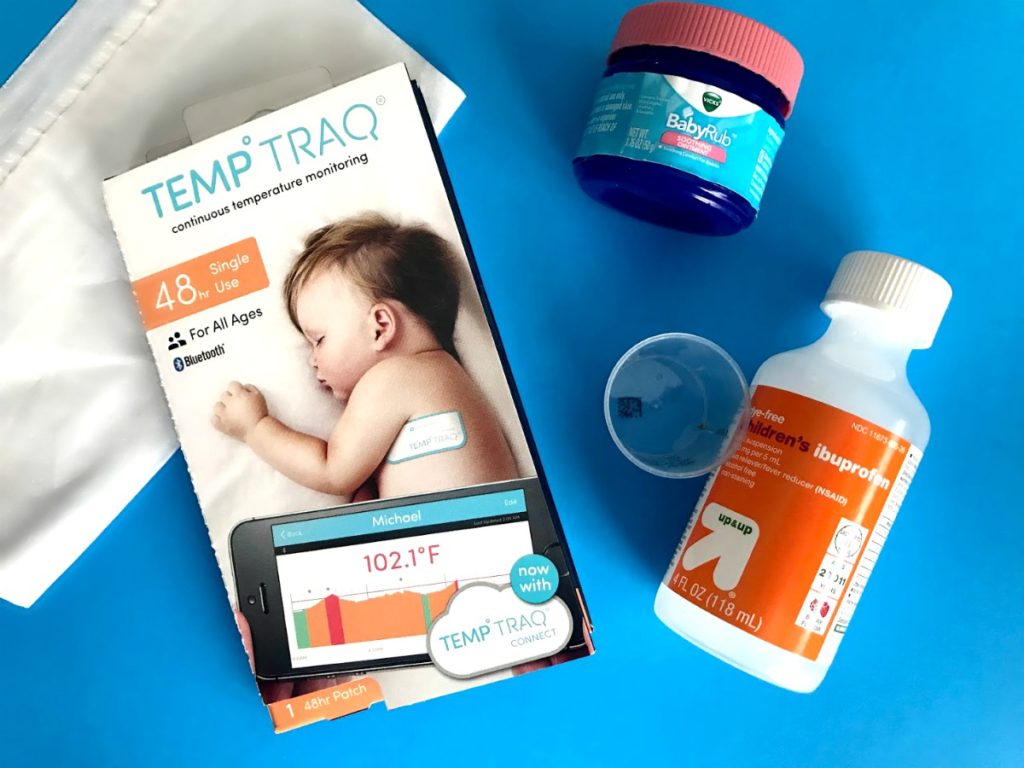 Temp Traq: Temperature Monitor
This time of year, there are always viruses floating around and they are nearly impossible to avoid. The joy of the Temp Traq is that you apply the soft, thin and flexible patch and you can monitor your child's temperature for up to 48 hours from your smartphone. You don't have to wake them in the middle of the night to sneak their temp or worry about them throwing a fit if you attempt it while they're awake.
Purchase the 24 hour patch for $16.16 on Amazon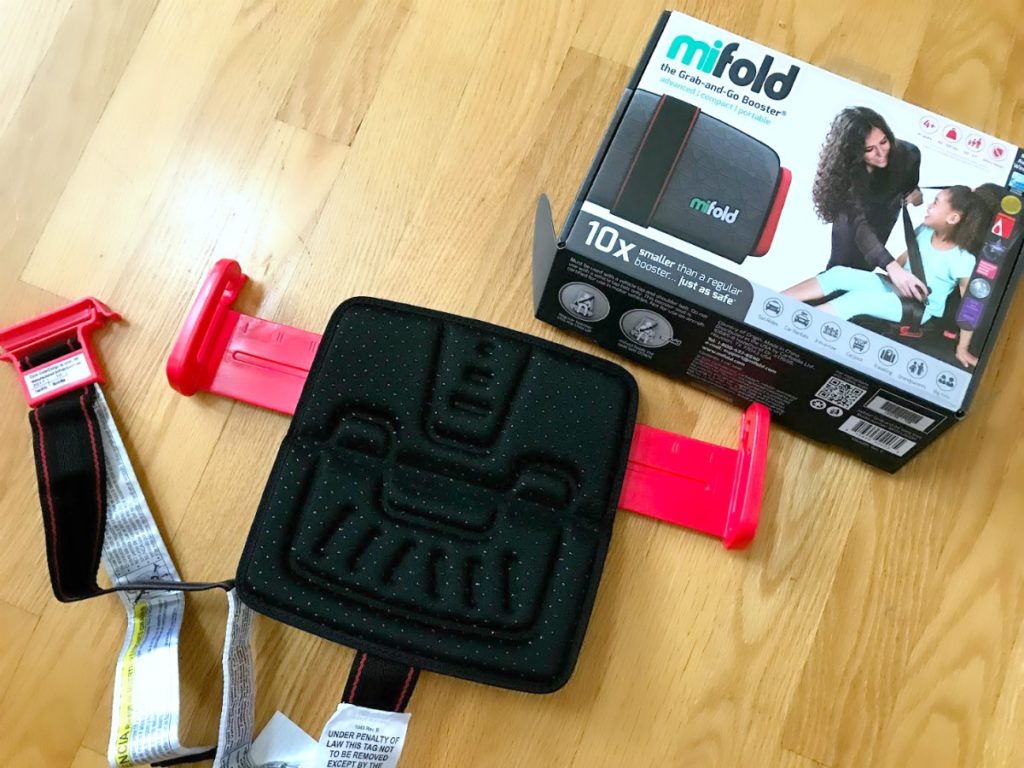 mifold the Grab-n-Go Booster 
If you and your littles travel a lot, you might consider the mifold booster seen above. This portable, compact booster folds down to the size of a clutch (small purse) and folds out to a booster seat. It seems tiny but rest assured it has met/exceeded safety standards. It's made for kids ages 4 and up, and can fit kids from 40-100 pounds, and 40-57″ tall!
---
I hope these gift ideas help to inspire some great ideas for your shopping list this year! Sometimes it is hard to find just the perfect holiday gift for someone, so getting some new inspiration can sometimes be the solution to figuring out just the right item for them. What types of gifts are you loving this year? Leave a comment below and share. And don't forget to check back regularly as I add new gift ideas every week!!
The countdown to Christmas is on, have you started your shopping yet?
Sarah
---
PIN THIS POST FOR LATER…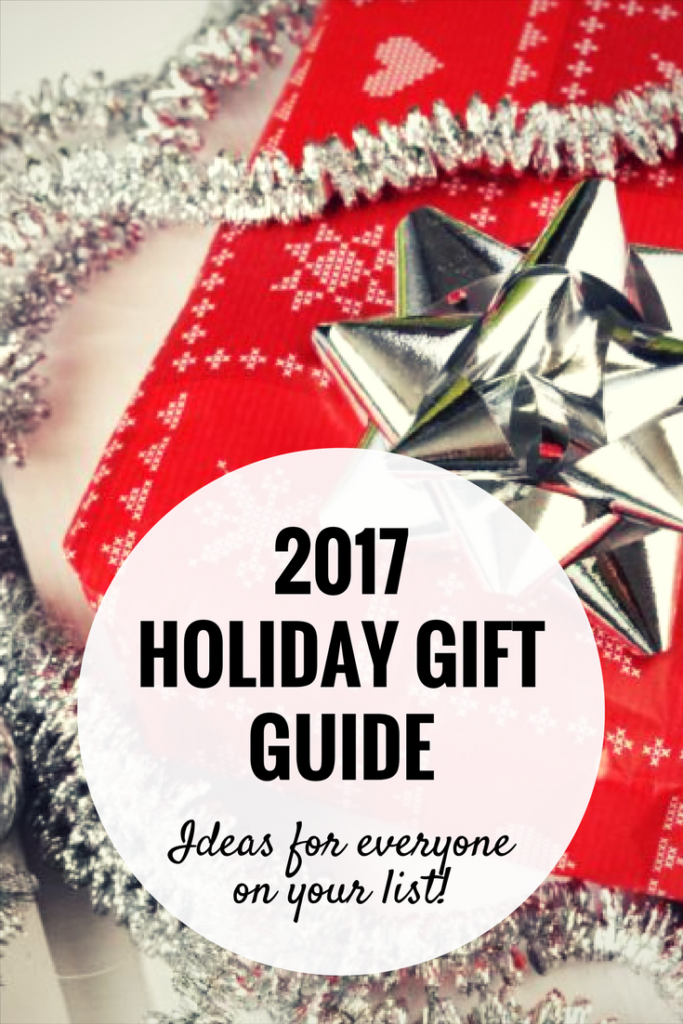 Don't miss a beat! Subscribe here for email updates and get a weekly roundup of my latest posts!