Luna Visits Chuck & Don's – Plus, a Giveaway!
This is a sponsored post on behalf of Chuck & Don's. All opinions are 100% my own.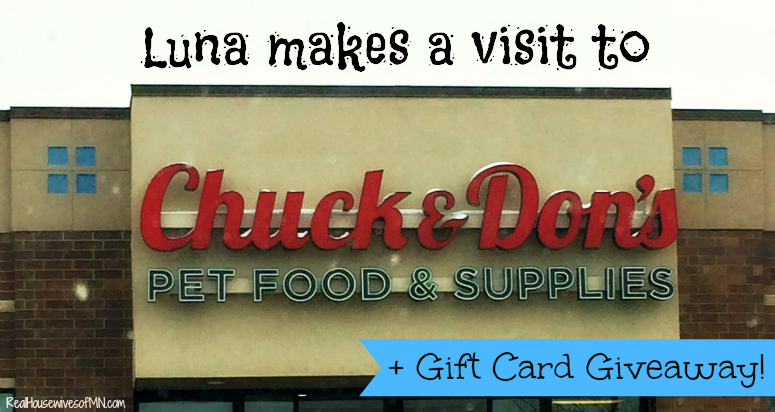 Luna and I recently had the opportunity to take a little tour of the Maple Grove Chuck & Don's pet store. We shop there pretty frequently for her food, but this time around we had the store manager, Liz, giving us a little look behind-the-scenes.
Chuck & Don's opened their first store (in Eagan) back in 1990 with a mission to be the local destination pet supply store with superb customer service and a wide variety of products for their customers. Ever since, the store has been doing just that, and exceptionally well I might add! They go the extra mile for their customers (they'll bring your pet food out to your car for you, because it's heavy!) and they're well-informed about pets, their needs, and how to care for them in the best way possible.
Not only was Liz super knowledgeable about pet needs and the store's products, but Luna absolutely loved her as well! It was hard to get a picture of Luna sitting still because she was just wagging her tail and wiggling away, but I think this one captures how much she just loved Liz!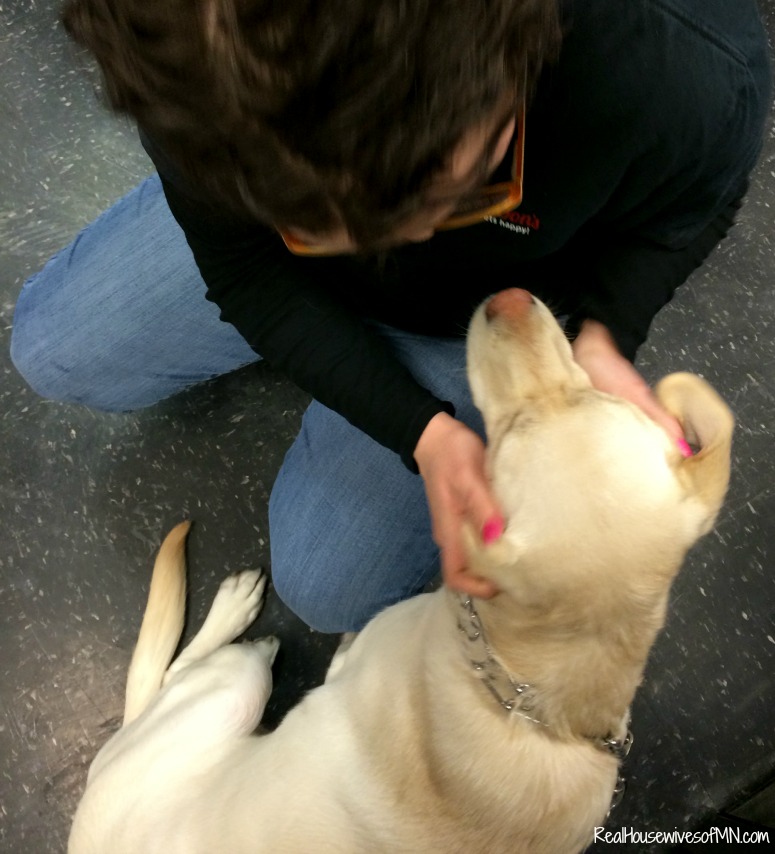 Luna is now 2 years old and very high maintenance. She's also incredibly smart, like, way too smart. We have to keep her entertained or she gets bored and gets pesty – I don't think we're alone in this either, as I've heard the same thing from my friends who are also pet owners. Well Liz gave her an Orbee-Tuff Snoop ball that Luna is now obsessed with!
This ball is amazing, you put little treats in it, and your dog has to try and wiggle them out but it's not an easy task. I've tried several interactive treat toys with Luna before and she gets them all out in about 1 minute, but this one keeps her busy for at least 30 minutes! That is saying a lot, you don't even know!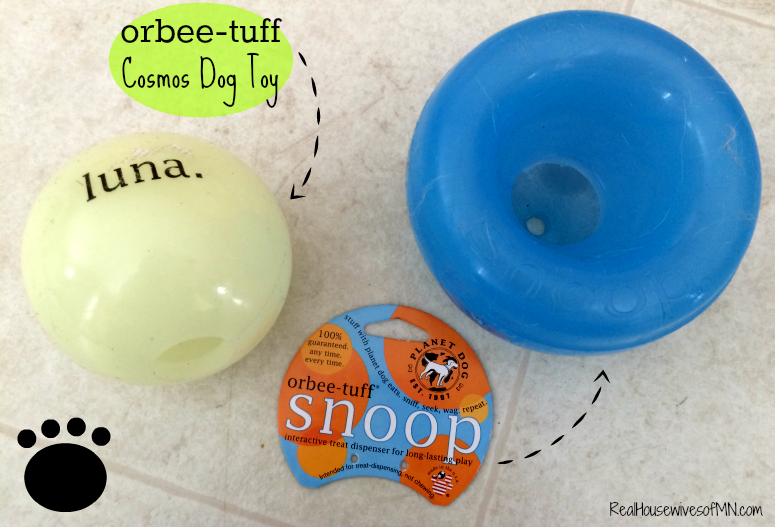 She also gave her this cute, glow-in-the-dark Orbee-Tuff Cosmos dog toy that encases treats as well. This one's a little easier to get treats out of, but Luna loves just carrying it around and throwing it for herself. And, Luna loves that it even has her name on it 😉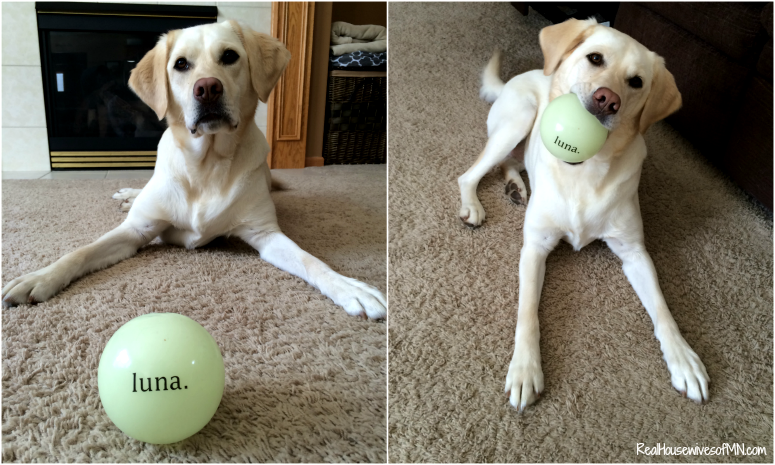 Store Locations
Now just because we went to the Maple Grove store, doesn't mean that this is the only store around. There is actually a ton of Chuck & Don's stores all around Minnesota, Wisconsin and Colorado. If you happen to live in Minnesota (as I know a lot of you do!) here is a list of their current locations:
*Denotes offers grooming services as well
Blaine
Bloomington
Coon Rapids
Cottage Grove
Eagan
Edina
Elk River*
Forest Lake
Lakeville
Mahtomedi*
Maple Grove
Minneapolis (Calhoun and Northeast)
Minnetonka
Northfield
Plymouth
Red Wing
Roseville
St. Paul (Highland Park)
Savage
Shakopee
Wayzata
… and Hudson, WI for those of you near the border!
In Colorado, you can find several stores as well! Here are their locations there:
Aurora (Arapahoe Crossings)
Castle Rock
Denver (Cherry Creek)
Centennial (The Streets at SouthGlenn)
Highlands Ranch – New!
Lakewood
Littleton
There's quite a few stores to choose from, as you can see. And there's bound to be a store near you. Odds are, you probably drive past one on the way to work or school, or wherever you are headed these days!
Their Products
One reason customers love Chuck & Don's is because of their extensive selection of raw pet food, as shown in the image above. They carry a large variety of options for all kinds of diets, because every dog is different especially in the intolerances they might have to certain ingredients.
They also have options for raw cat foods as well. Now we don't have a cat, but since Luna just had to check out every square inch of the store, we wandered down that aisle as well. Apparently cat nip is an intriguing smell to a dog as well!
And since Chuck & Don's is a pet store, and not just a dog store, they also carry food and supplies for other animals as well such as birds, cats, etc…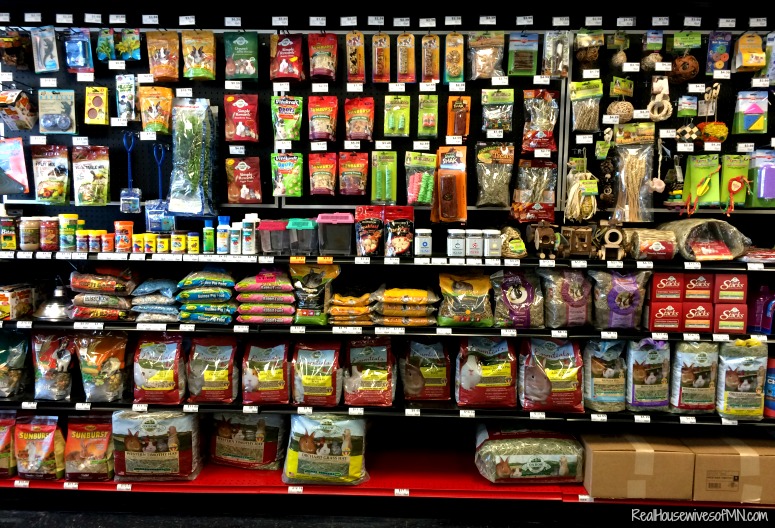 Another thing that we love about Chuck & Don's is that they often hold events at their stores, and they're a lot of fun! They range from animal adoptions, to fashion shows, dog nose workouts, play parties, paw print crafts, seminars and even massages for people and pets! The list goes on and on, and varies depending on the holidays but there's always something fun to do and you get to bring your pet! It's a win, win – especially during these cold winter days. Sometimes you just need to get you and your pet out of the house and trying something new.
Shopping at Chuck & Don's
Back during hunting season, the hubby was trying to find this special paw wax that he found with raving reviews online but he needed the next day. When I searched online, I found that Chuck & Don's was one of the very few stores in the state that carried this product. He was able to stop in that morning before his hunting trip and purchase the wax right then and there. This was just the beginning of our positive experiences there!
They also sell toys, treats/chews, grooming supplies, beds/kennels/crates, cleaning supplies, training aids, collars and leashes, vitamins and supplements, wide varieties of food, and much more. I've found that if it's something I can't find at most places, I can usually find it at Chuck & Don's.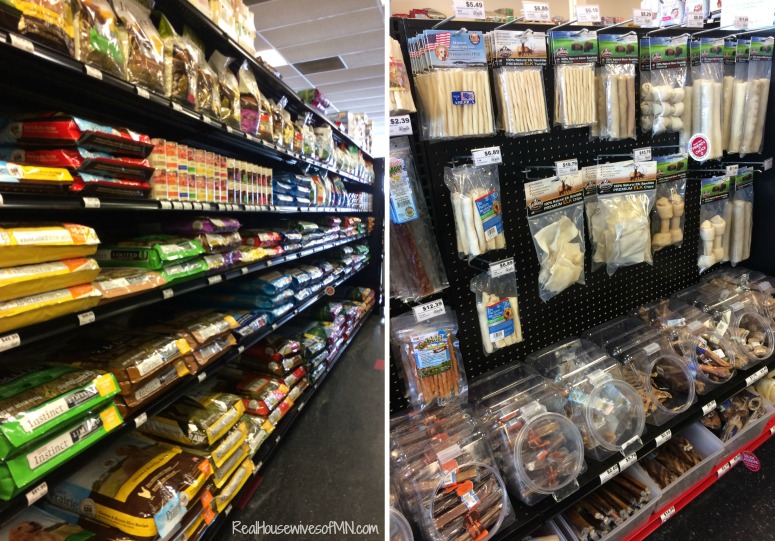 Rewards Program – "Friends of Chuck"
Chuck & Don's also has a rewards program, "Friends of Chuck" where you receive a quarterly rebate back to use kind of like a coupon on your next purchase. Our rebate that we get right now is around $5.00 which adds up! The rewards program also has a frequent food buyer program, a newsletter with coupons, receipt and product purchase look-up (in case you really loved that last treat you bought your pet but can't remember what it was called!) and more.
A Few of Luna's Favorite Things
I'm pretty sure our visit that day was one of the best days of Luna's life. She was so pumped when we were there, and she was even more excited when she seen all the things that Liz had hand-picked for her. I already talked about the two Planet Dog toys that she loved, but here are some of the other items that Luna has made apparent that she also loves…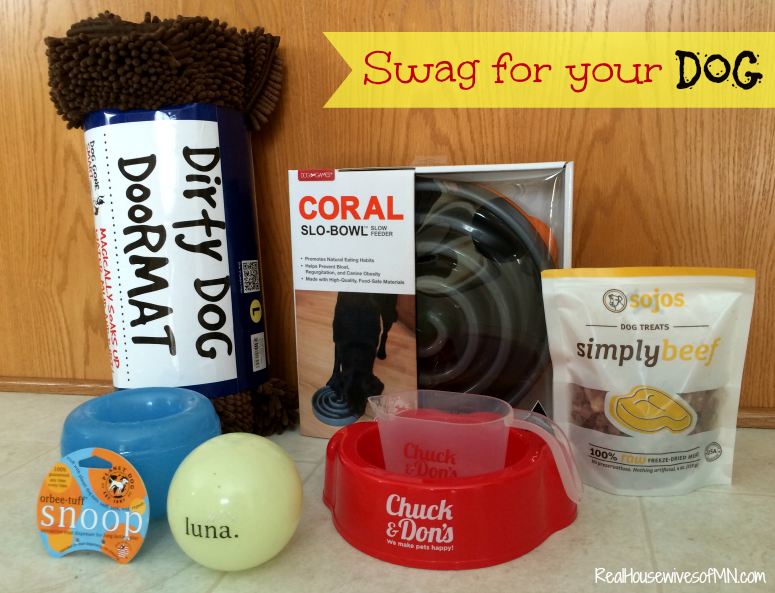 Not pictured above is a Aussie Wild Eats 12″ Bully Stick which she would not let out of her site. She absolutely loved this thing, and it kept her busy for the rest of the day at home as well!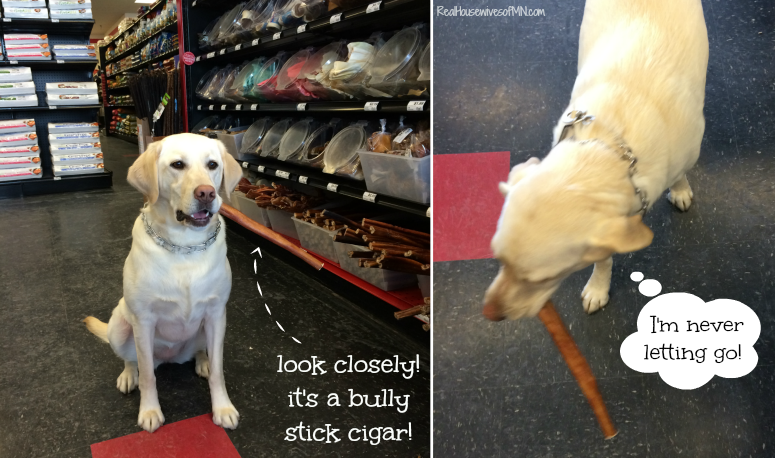 The Bully Sticks are made from all natural ingredients, namely 100% free-range beef. They're high in protein and USDA certified – plus, they even help your pup maintain healthy teeth and gums. I don't think Luna cared about all this, she was just happy that it tasted good and that I was letting her carry it around!
As for the rest of her favorite things from Chuck & Don's:
Dirty Dog Doormat – This ultra-soft microfiber doormat soaks up 7X it's weight in water and mud. Plus, it dries 5X faster than regular doormats! This has been great this winter when Luna comes in with wet paws from melting snow, and I'm especially looking forward to using it this summer when she's in and out of the lake!
Coral Slo-Bowl – If your pup eats too fast (which can sometimes cause bloat and regurgitation) then this bowl will be a hit. It's interactive and fun, the dog has to chase his food through the maze which slows the eating process. It's a win-win! Added bonus: it's top dishwasher rack safe.
Sojos Simply Beef – A local, Minnesota company (small cheer) creates these freeze-dried meat treats that dogs go crazy for! There are no artificial preservatives, flavors, or colors and they're made with natural, quality human-grade meat.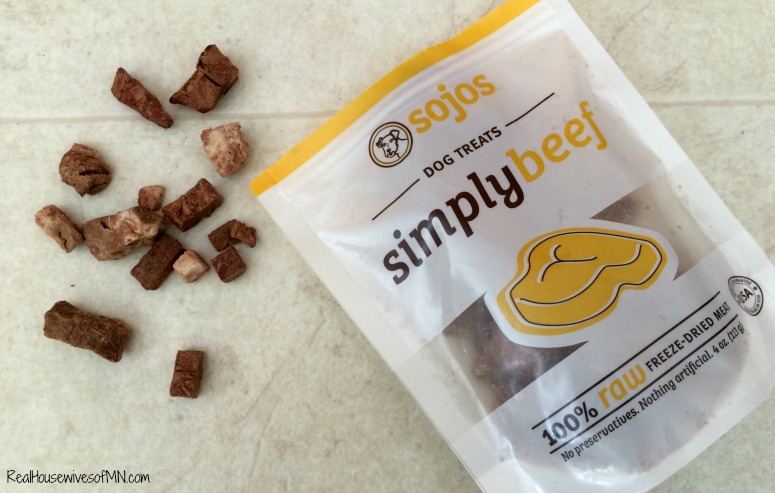 You can find all of Luna's favorite things at – you guessed it, your local Chuck & Don's 🙂
Now that you've made it this far, reading and such, you shall be rewarded. Chuck & Don's has offered to give away a $20 gift card to put towards your next pet purchases; whether it's food, toys, supplies, whatever! You'll be that much richer with money in your pocket.
Gift Card Giveaway!
Enter to win a $20 gift card to Chuck & Don's! Spend it on whatever makes your pet happy 🙂 Must be a U.S. resident to win, ages 18 and up. Contest ends February 28th, 2015 at 11:59pm CST.

Don't miss a beat! Subscribe here for email updates and get a weekly roundup of my latest posts!