Pompeian Extra Virgin Olive Oil Review & Chicken Parmesan Recipe
Disclosure: I received the following item for free in order to write this review. All opinions are my own.
One of my husband's favorite recipes of mine lately has been Chicken Parmesan. We had such a great crop of tomatoes from our garden this year, that I had to come up with creative ways to use them, and that's when he became captivated with this recipe. I wanted to share my recipe with you guys, and at the same time review Pompeian's Extra Virgin Olive Oil which I got to try out in my recipe!
Chicken Parmesan Recipe
This is a delicious dish to serve on a night where you are in the mood for modified Italian.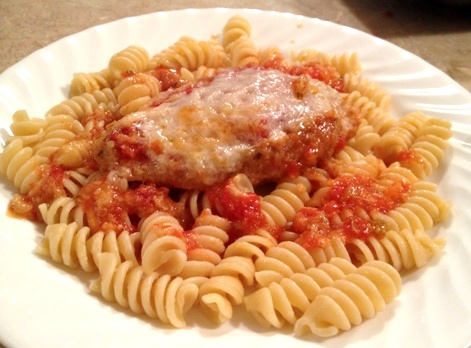 Ingredients:
3 chicken breasts (halved)
Pompeian Extra Virgin Olive Oil
2 cups Italian breadcrumbs
1-1/2 cups milk
2 tsp Seasoning salt
1 cup mozzarella cheese (shredded)
1 large jar tomato sauce (or about 5 large tomatoes)
1 tablespoon basil
Directions for Chicken:
Rinse the halved chicken breasts and place them in a bowl with milk. In a large bowl, mix together the breadcrumbs and seasoning salt. Coat each chicken breast in breadcrumb mixture and then place in a frying pan (or large griddle) with Pompeian olive oil on medium heat. Let them cook for about 3-5 minutes or until a nice golden brown, then transfer to a 9×13″ pan.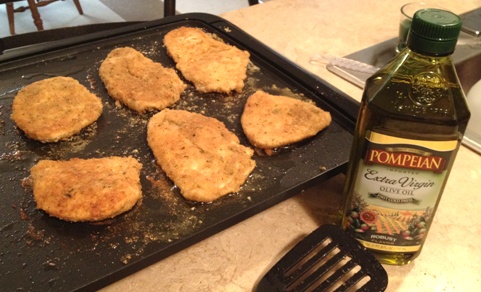 Directions for Sauce:
In a food processor, mix together tomato sauce (or large tomatoes, with stem/core removed) with basil. Use the sauce to cover your chicken after it has been cooked on the skillet. Pour any extra sauce on to the top of chicken. Then sprinkle your shredded mozzarella cheese on top of the sauce.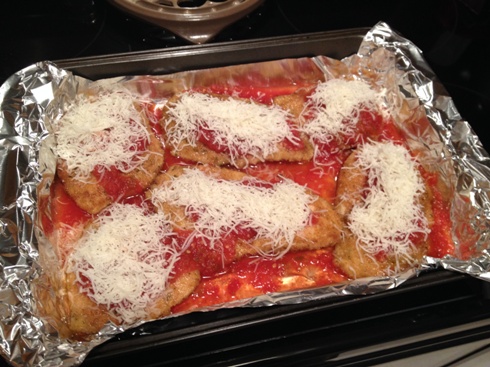 Cover the 9×13″ pan with tin foil and then cook in oven preheated to 375°F and bake for 30-35 minutes.
Serve on top of penne or other favorite pasta. Serves 6.
Other Recipe Tips & Info
Add 1 Tbsp Pompeian olive oil into finished pasta to prevent dry/sticky noodles in your leftovers.
Pompeian's Extra Virgin Olive Oil is also great in dressings, salads or vinaigrettes.
This olive oil is also low in acidity, adding to it's delicious smell and taste.
Pompeian Extra Virgin Olive Oil Review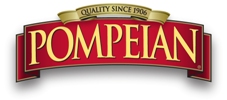 In one of my latest nutrition classes, I learned that cold pressed olive oil is a healthy substitute for vegetable or canola oil. So when I saw that Pompeian's product for this review was 'First Cold Press Extra Virgin Olive Oil", I was excited to put it to the test!
I was also interested to learn that Pompeian's extra virgin olive oils have passed the meticulous requirements to receive USDA's Quality Monitored Seal. I never knew about this requirement for the high standards but it is definitely nice to know that the products I'm cooking with are some of the highest quality out there.
The smell when I poured the olive oil was so yummy and fresh, you could tell it packed extra quality. It heated up very nice and cooked the chicken quick! When we cut into the chicken after all was said and done, it was so nice and juicy, hubby was in heaven! It didn't leave a greasy taste either, which was nice because when you think oil, you think greasy but they weren't, they were just delicious!
Your Chance to Save
Now that I've shared my special recipe with you, you probably have the urge to try it out for your family! I get to give you a $1.00 off Pompeian coupon and save on your next grocery trip.
Hearts,
Sarah
Disclosure: I received free product samples through the Smiley360 program and Pompeian in order to review this product. All opinions are 100% my own.
---