Quick Chicken & Potato Casserole Recipe
This #WeekNightHero shop has been compensated by Collective Bias, Inc. and its advertising. All opinions are mine alone. #CollectiveBias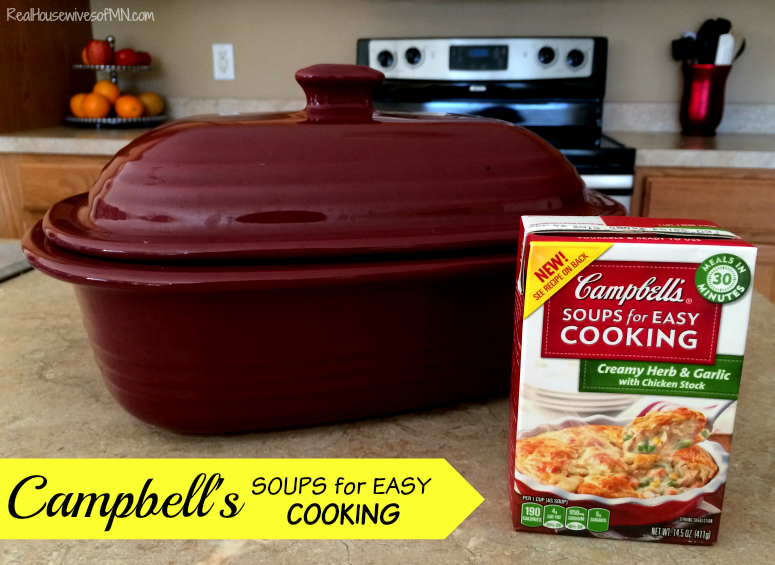 Weeknights are so busy for us lately, and usually by the time dinner time comes around, I'm looking for the easiest possible dinner that I can throw together. Recently when I was picking up a few groceries at Walmart, I found these Campbell's Soups for Easy Cooking and thought I'd give one a try. I picked up their Creamy Herb & Garlic as I had a feeling it'd be a great way to make a chicken casserole.
Campbell's four flavors include:
Savory Portobello Mushroom
Creamy Herb & Garlic
Sweet Onion
Mexican Style Tomato
With this range and variety of flavors, it gives you a broad range of recipes that you can create simply and quickly.
Now, like I said, weeknights have been so busy at our house so anything that makes my life easier is much welcomed! The thing I liked about these Campbell's Soups for Easy Cooking was that it already had the stock that I needed, plus the majority of the seasoning as well so all I would have to do is mix it into my dish. So nice!
To test it out, I gave it the 30 minute cooking test. I put together a delicious chicken and potato casserole that would require minimal time or effort, but would still manage to be yummy for everyone! It turned out awesome so I will share the recipe with you in case you need a quick and easy weeknight dinner for the family someday!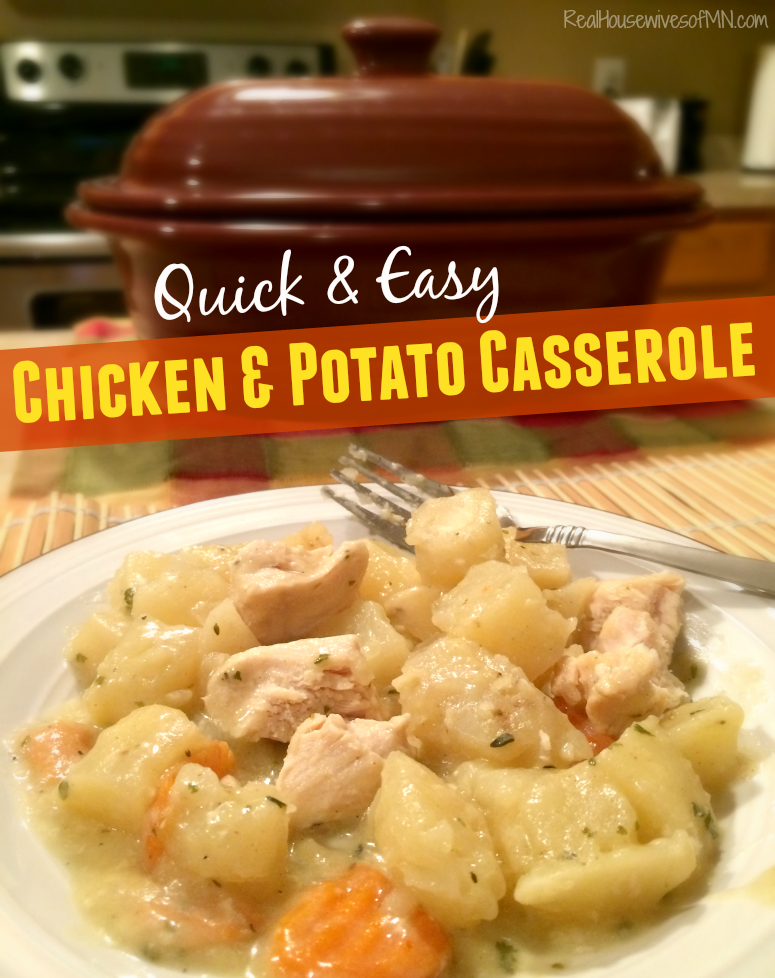 Quick & Easy Chicken and Potato Casserole Recipe
To create this savory casserole at home for your family, follow the simple recipe below! First, let's take a look at the few ingredients that you'll need for this casserole.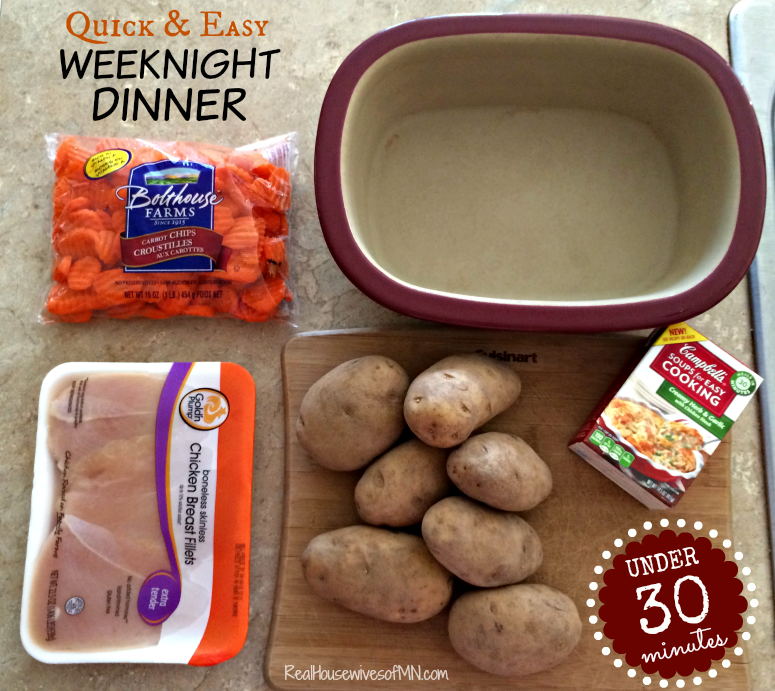 Ingredients:
3 chicken breasts
4 medium potatoes
1/2 cup sliced carrots
1/2 cup milk
1 carton Campbell's Soups for Easy Cooking (in Creamy Herb & Garlic)
salt, pepper, thyme and/or garlic to taste
Directions:
Preheat oven to 425° F.
Wash and peel your potatoes and slice into small cubes. Place in your baking dish.
Cut each chicken breast into 8 pieces, or more depending on how small you'd like the chicken bites to be and add to the potatoes in the baking dish.
Top the chicken and potatoes with carrot slices, then pour in the Campbell's Creamy Herb & Garlic carton, along with the milk.
Mix until everything is thoroughly coated with the wet ingredients.
Sprinkle salt, pepper, thyme and garlic on top. This step is optional, I just think it gave it a little extra flavor boost!
Top your baking dish off with your lid and place in the oven to bake for 30 minutes. Before serving, ensure that the chicken is thoroughly cooked along with the potatoes.
Serve with dinner rolls or bread for a delicious and simple weeknight dinner everyone will love!
And voila! Here is the finished product: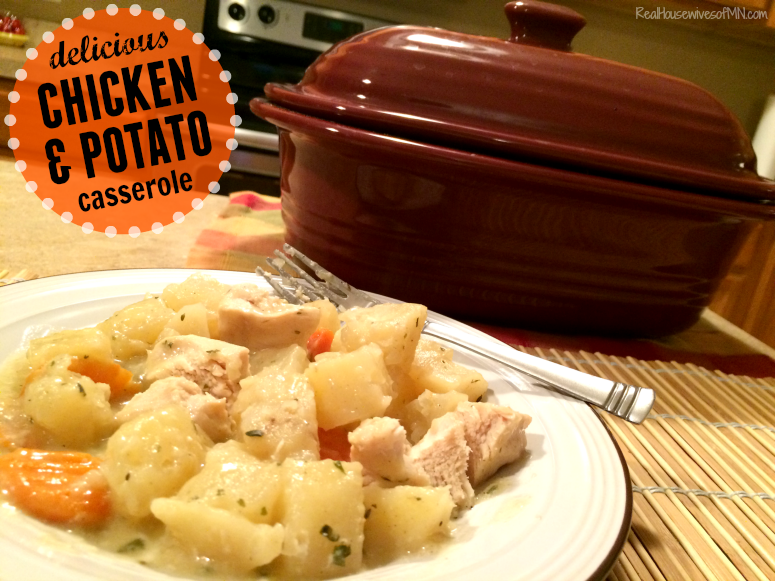 Looks yummy, doesn't it? That's probably because it was 🙂 And you would never guess how easy it was, it's like my own little secret weapon! I'll let you use it too though, as I'm pretty sure you'll fall in love with making quick meals throughout the week. It's easy to incorporate these soups into your typical recipes. Here's how.
If a recipe calls for…
Cream of Mushroom –> Use the Savory Portobello Mushroom (Tip: Works especially well in skillet recipes)
Cream of Chicken –> Use Creamy Herb & Garlic with Chicken Stock (Tip: Works awesome in pot pies)
Condensed French Onion Soup –> Use Sweet Onion (Tip: Works great in meatloaf and skillet dishes)
Condensed Tomato Soup –> Use Mexican Style Tomato (Tip: Works fabulous in Mexican recipes)
Think of your favorite, homemade recipe that calls for one of the above. Now, make your dish even easier with one of these new soups! As a side note, I'd love to hear about what your dish is and which of the soup mixes you would use so leave that in the comments below and share with the group. You might just be giving us all dinner ideas for the rest of the week 🙂
Save on Campbell's Soups for Easy Cooking
Ah yes, of course I'm going to share a great coupon offer with you because that is one of my favorite things to do! Right now, there is a coupon on Walmart.com for $0.75 off one carton of Campbell's Soups for Easy Cooking! It is available starting 3/13 and is valid for one month, so get it while it's hot!
Check out more scrumptious, simple homemade recipes using Campbell's Soups for Easy Cooking here! And see more from the brand on their social media channels as well:
Bon appetit!
Sarah

Don't miss a beat! Subscribe here for email updates and get a weekly roundup of my latest posts!