Celebrate National Oatmeal Day on October 29th!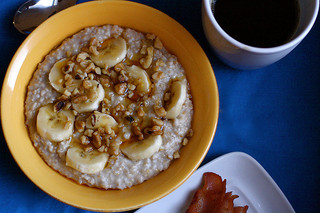 It has been incredibly cold lately, now that fall has set in. Today was chilly, windy, and a little gloomy. It made me want to curl up on the couch with a fleece blanket and watch some good TV! But that's not all fall is good for. No, fall also brings the start of warm comfort foods. Like oatmeal!
In fact, did you know that National Oatmeal Day is on October 29th? Who knew that it would have it's very own day? Totally worth it though, because it's so good for you and tasty too! It's filling, and it warms your belly! But there are more ways to eat oatmeal than just warmed in a bowl. Oh yes!! There are LOTS of ways to make oatmeal work for you.
You don't want to go too crazy dressing up your oatmeal with sugars and such, but you can still dress it up with something just as healthy: berries! They help enhance oatmeal's disease-fighting properties.
And before we get into the tasty oatmeal recipes, there are some facts about oatmeal that you should know, since it has it's own day and all.
OATMEAL FACTS:
Oatmeal contains soluble fiber, which reduces low-density lipoproteins
(LDL), or the "bad," cholesterol.
5-10g of soluble fiber daily can decrease your total and LDL
cholesterol.
Eating 1-1/2 cups of cooked oatmeal provides 3g of soluble fiber. If you
add a serving of fruit such as berries, you'll consume 5g of soluble
fiber in just one sitting!
Age-defying antioxidants in berries keep the mind sharp, eyesight strong,
and they help to beef up your immunity.
Now, I know you guys are all itching to get some awesome oatmeal recipes that both you and your family can enjoy on those cold mornings this fall (and winter – because it IS Minnesota after all.) Let's start with this tasty scone recipe provided by Driscoll's.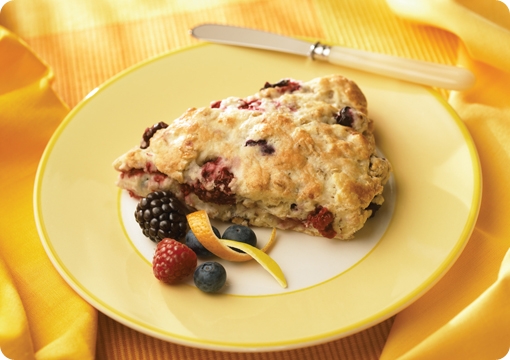 Servings: 8
Prep Time: 10 minutes
Cook Time: 14 minutes
Ingredients:
1 3/4 cups all-purpose flour
1/2 cup Old fashioned or quick cooking oats
1/3 cup sugar
2 teaspoons baking powder
1 teaspoon grated orange or lemon zest (optional)
1/4 teaspoon baking soda
1/4 teaspoon salt
6 tablespoons salted butter, room temperature, cubed
2/3 cup buttermilk
1 tsp. vanilla
1 large egg
1 cup mixed Driscoll's berries like, blueberries, raspberries or blackberries, or 1 package (6 oz.) Driscoll's blueberries, raspberries or blackberries
Directions:
Preheat oven to 400°F. Line a baking sheet with parchment paper or coat with cooking spray.
Bake 14 minutes or until light golden brown. Cool on wire rack.
Combine flour, oats, sugar baking powder, orange zest, baking soda, and salt in a bowl until blended.
Using a pastry cutter or two knives, cut butter into mixture until resembles coarse crumbs.
Add berries to dry mixture, carefully coat with dry mixture.
Whisk egg, buttermilk and vanilla in a small bowl.
Create a well in center of mixture. Pour buttermilk all at once. Carefully combine just until dough forms.
Flour hands and place dough on a well-floured work surface and gently knead twice just to form into a ball. Pat into an 8 inch circle about 3/4 inch thick. With a floured spatula or sharp knife, cut even into 8 wedges.
Place on prepared baking sheet, leaving space between wedges.
Brush tops with buttermilk and sprinkle with sugar, if desired.
Want more oatmeal recipes? Visit Driscoll's website for tasty ways to make your oatmeal more delicious. And while you're at it, be sure to check out the many ways to use bake with berries!
Have yourselves a very happy National Oatmeal Day! Buon appetit! 🙂
Hearts,
Sarah
Disclosure: I was not paid to write this post. All opinions expressed are my own. Driscoll's did however provide me with coupons for berries to eat with my oatmeal this month.