9 Must-Have Cold Weather Style Essentials
Being from Minnesota, the most important thing when getting ready is warmth! Style comes second. But no one said you couldn't have both things at once! It is definitely possible to look cute while staying warm. Here are my 9 favorite must-have style essentials that will also keep you from getting cold!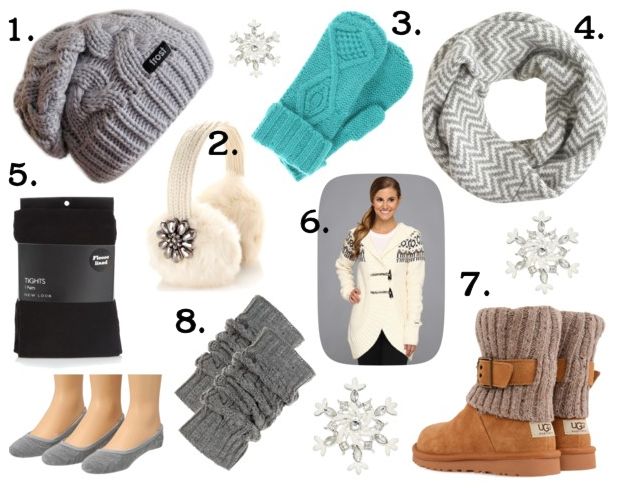 1. Knit and Fleece hats are absolutely the best!
2. Don't want to mess up your hair? Try cute earmuffs or a headband.
3. Mittens are a must. You can even go for gloves that flip open to reveal fingerless gloves – for texting of course.
4. Infinity scarves are adorable and super warm. Opt for fabrics like fleece and knits to help insulate.
5. Fleece lined tights are amazing. It's like wearing a fleece blanket on your legs!
6. Sweater wraps are so nice and warm… and snuggly!
7. Uggs are my favorite brand of boots, and the wool they use inside are so toasty warm!
8. Leg warmers are awesome for putting under boots for extra warmth on your legs and below.
9. SmartWool socks are extraordinarily warm on your feet. My husband swears by them.
And you can't deny the cuteness factor of these style essentials! There's no better feeling than being snug and warm. Especially in the midst of this winter cold!
Did I forget any essentials that you swear by? Leave it in the comments below!
Hearts,
Sarah

Don't miss a beat! Subscribe here for email updates and get a weekly roundup of my latest posts!