Minnesota State Fair Fashion
It's no secret that the Minnesota State Fair kicked off today! It's the great Minnesotan get-together, and I'm excited to head down there next week!! So while you are still planning the details of your trip, I wanted to do a little write-up for some fashion ideas and tips for the event!
Last week (or sometime recent) I asked on our Facebook page whether you guys thought the State Fair was a must or a pass. I wanted to share the feedback because I love hearing what you guys think!!
Here's what you said:
Courtenay said: YEP! Sometimes more than once!
Angela #1 said: More than once, most times more than twice
Sherry said: Your not Minnesotan if you don't go to the fair at least twice or more!!! Once with family, then with friends!! Best time of year for sure!!! Save your appetite all year for these two weeks of fair time!!!!;-)
Sheryl said: When I was growing up we went every year. From when the gates opened until they closed.
Angela #2 said: No
Laura said: Yes we do! Plus my mom is one of the lead nurses at the 4H building so we visit every year!
Thanks for your interaction ladies!! Like I said, I love to hear what your thoughts are on things 🙂
State Fair Fashion
It's hot and muggy out. There might be rain, or it might be hot rays of sunshine all day. Either way, here are some fair fashion tips to consider.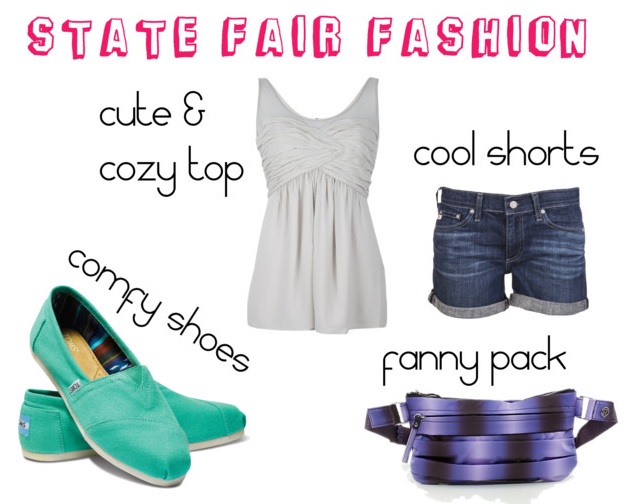 1. Keep it Classy – Yes, it's hot out, but no one wants to see your butt cheeks, cover that up! You can still wear shorts or even a comfortable skirt to keep cool. But you don't need to expose yourself at the same time.
2. Wear Comfortable Shoes – This would be a given, but you'd be surprised at the amount of high-heels and uncomfortable shoes that show up at the State Fair. Don't wear a pair of new shoes for the first time, even if they are super cute. If you must wear heels, wear comfortable wedges that you can stand walking in.
3. Fanny Packs Are In! – I'm declaring it, because they are totally coming back into fashion. The fanny pack shown above is by Lululemon and is perfect for storing all your necessities without hauling around your handbag all day. Whew!
4. Comfy But Cute Top – Wear something that fits a little looser so that you are not tugging at it all day. Something cozy and cute will do the trick! Watch the forecast though, if it's expected to rain, you're probably best to pick dark colors.
Are you headed to the fair? What are your fashion necessities? Leave a comment with something you don't leave home without when you go to the fair!
Hearts,
Sarah

Don't miss a beat! Subscribe here for email updates and get a weekly roundup of my latest posts!