Arrowwood Resort Review: Minnesota Resorts
My husband and I recently had the privilege of staying at Arrowwood Resort for my birthday – at no charge, in order to write this review! It is located in Alexandria, MN on Lake Darling, so it's off the beaten path, but close enough to home that it's still convenient to vacation to.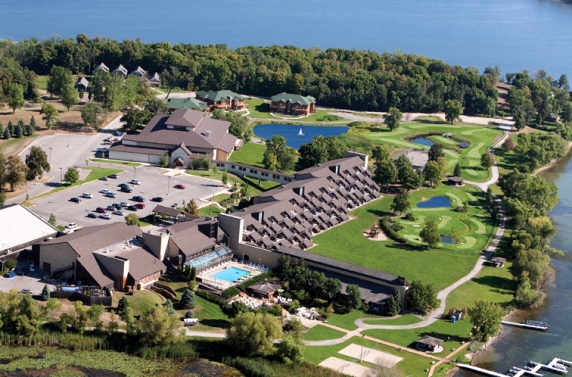 We arrived on a beautiful day, craving lots of sunshine and relaxation, and we achieved both! I feel like I just have so much to highlight in this post, it was all wonderful! So I apologize if I go from one thing to the next, there's just so much to cover 🙂
Pool, Hot Tub & Beach
First, we enjoyed the pools. Yes, pools; plural. Arrowwood has an indoor and an outdoor pool to suit whatever the weather may be. They also have a hot tub to really help you relax. The bonus of their hot tub is that they have adult-only hours at night so you can rest-assured that there won't be kids in there when all you want to do is kick back and relax after a long day.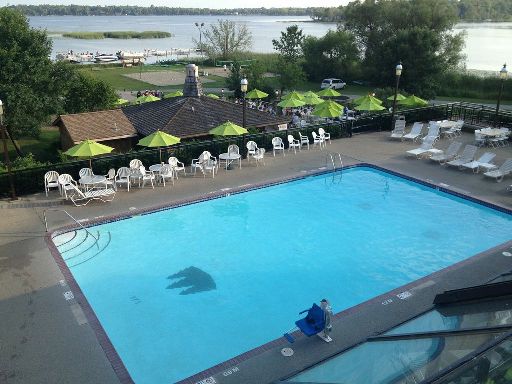 There is also a small beach for guests to enjoy with a roped off area for swimming. It's a great spot for lounging, making sand castles and enjoying the lake!
Waterpark
There are plenty of opportunities to enjoy the water at Arrowwood. Beyond the pool and hot tub, they also have a prized 38,000 square foot waterpark that is beyond anything you could ever expect. "Big Splash" offers a little something for every age! There is a small waterpark for kids to enjoy that includes all kinds of fun and kid-safe activities.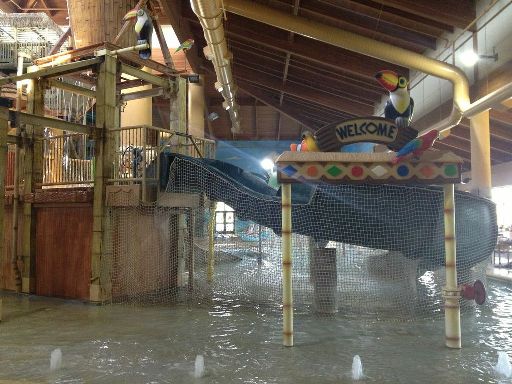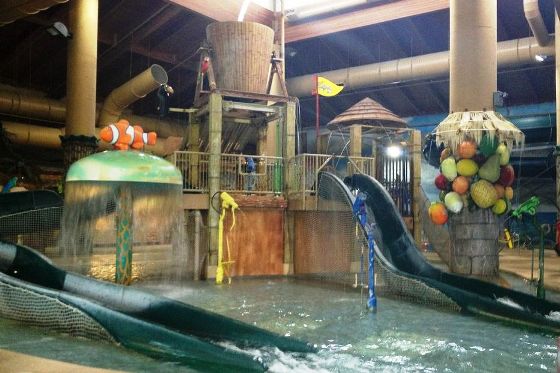 There is also a lazy river that wraps through caves and under waterfalls! It was nice and calming to just coast along and enjoy the smooth-flowing current.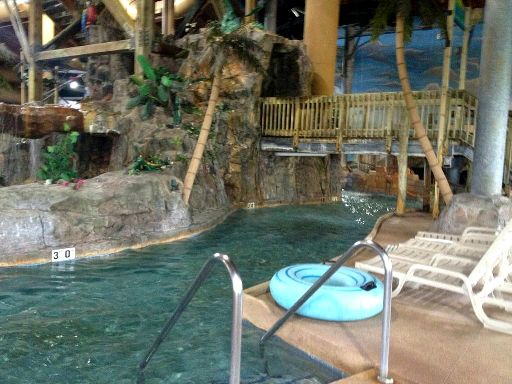 But even more, there are three other waterslides that are four stories tall! One of which you can take tubes down. These were so fun, and I could definitely see how kids could spend the whole day on these things! It was a blast!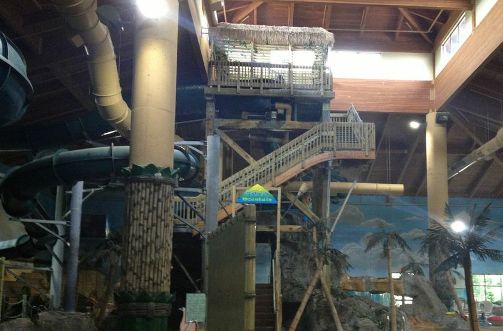 Recreation Opportunities
My husband and I were excited to finally try something we have wanted to do for a long time; go paddle boarding! Arrowwood has paddle board rentals for $20/hour and we went for it! Sidebar, there is a $200/board security deposit that you'll get back when you return the paddleboards with no damages, which we had no problem with. It was a really fun activity to try, and now my hubby wants to get some paddle boards of our own! 🙂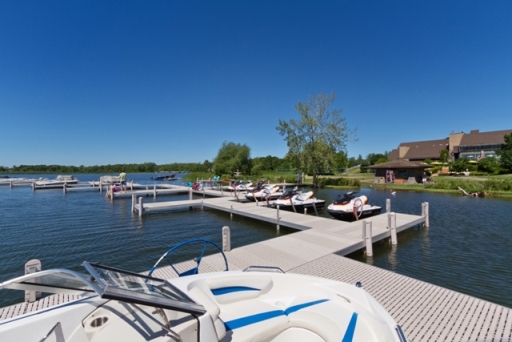 Beyond paddle boarding, they have a lot of other things you can rent from their marina, including:
Canoes
Paddle boats
Kayaks
They also have motorized boats available to rent! You can rent:
17′ Ski boats (for 6 people)
14′ Fishing boats w/motor
25′ Pontoon (for 12 people)
35′ Pontoon (for 24 people)
Along with the motorized boats, you can rent items to use in the water including:
Wake boards
Water skis
Life jackets
Non-Water Activities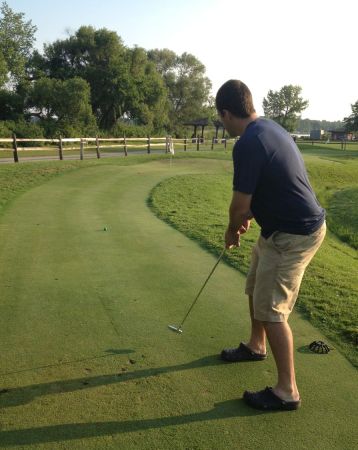 When you get tired of the water (if that is even possible), they have all kinds of fun activities you can do on their large property. This includes pretty much everything you can think of, including:
Biking
Basketball
Shuffleboard
Bocce Ball
Horse shoes
Bags (corn hole)
Ladder golf
Tennis
Mini Golf (18 holes!)
& lots more!
They've also got a heck of a golf course right there too, called Atikwa Golf Club! My husband woke up early and golfed while I slept in 😉 He said the course was very nice and enjoyed the nice start to his morning! They have 18 holes on their Championship golf course, and they also have golf carts, pull carts and club rentals available.
Tee time required: (320) 762-TEES.
Evening Activities at Arrowwood
Arrowwood also offers a relaxing Lake Darling cruise at night to their hotel guests from Wednesday to Saturday (reservations are required). How fun does that sound to cruise around the lake at dusk with your family? Very neat!
Also, they host a marshmallow roast every night in the summer (weather permitting). All you need to do is show up, they have the rest all ready for you to enjoy!
Lodging
I wasn't sure what to expect when we opened our door to our room, but as soon as we opened the door, we both said, "Wow. This is nice!" And it really was. From the lofted ceilings, to the wonderful view from our mini-deck/porch, it was wonderful. Not to mention, there was tons of room! We didn't have to make a path from the bed to the bathroom to get through our luggage, which is so often the case at other places.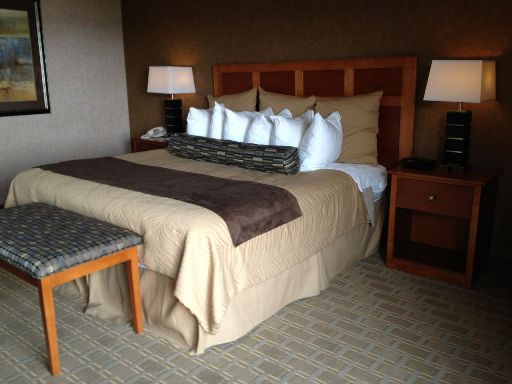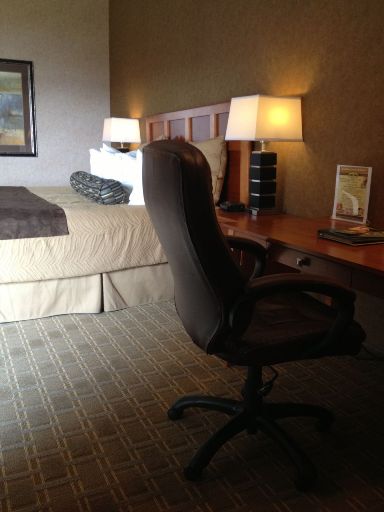 Our room also had a little executive desk in case you need to work, along with a large flat-screen TV, a fridge and an extremely comfortable King-size bed. We both slept amazing that night.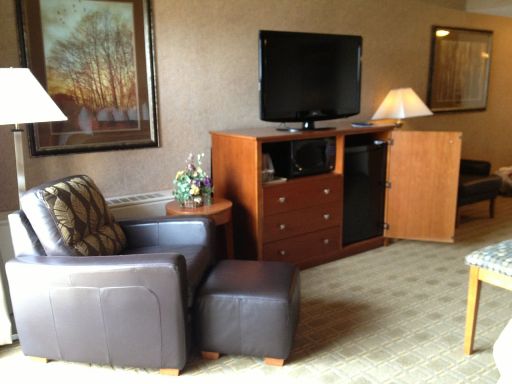 Oh and of course, I have to show you the amazing view that we had right outside our window! Our mini-deck was equipped with a couple lawn chairs for a relaxing little touch!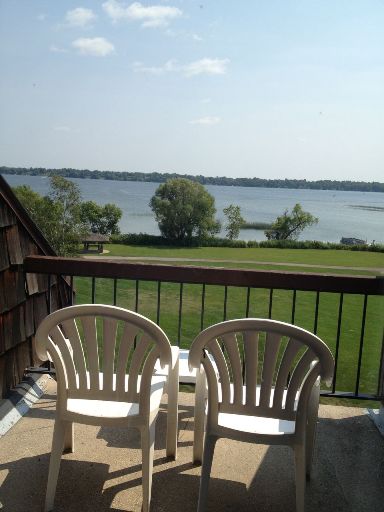 Dining
Arrowwood dining has plenty of options, so you'll never go hungry while you are there. You have five different ways that you can fill your tummy.
These include:
Lake Cafe
Rafter's
Deck Bar & Grill
Banana Cabana Snack Bar
Room Service
We tried out the Deck Bar & Grill while we were hanging out pool-side during the day. They had delicious drinks that you could sip by the pool while you soaked up the sun. The tables there were consistently full which just goes to show that the food there is pretty darn good!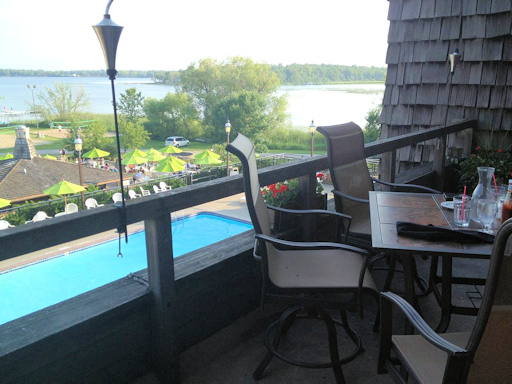 The Lake Cafe was also one of our stops, as we enjoyed a yummy dinner there on the patio overlooking the lake and the pool. Hubby and I are both a sucker for a good chicken sandwich and they definitely hit the spot there! And their fries were delicious as well!
Resort Spa
This is one option that I did not have the time to enjoy but I definitely recommend if you are planning a trip there, that you call ahead of time (320-759-5003) and book a relaxing massage, facial, manicure, pedicure, or one of the many other spa services at Darling Reflections (the spa at Arrowwood)!
——–
As you can see, there will never be a lack of things for you and your family to do at Arrowwood Resort! From the lake to the waterpark, the pools to the yard games, golfing and the spa, you'll love your stay at Arrowwood!
Until my next travel,
Sarah
Disclosure: I was provided a one-night stay at Arrowwood to review their resort and amenities. We also received passes to test out yard games or non-motorized recreation activities which are reviewed above. All opinions expressed here are 100% my own.

Don't miss a beat! Subscribe here for email updates and get a weekly roundup of my latest posts!