Bulu Box: Monthly Health, Nutrition & Weight Loss Box
Disclosure: This post contains affiliate links. I also received a Bulu Box at no charge in order to review.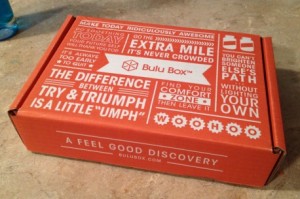 I recently had the chance to try out a monthly subscription box called Bulu Box. It's a great way to discover health, nutrition and weight loss products every month by getting a sampling of new products!
Each month, you'll get to try 4-5 new items from top brands in the industry. And each sample is portioned large enough for you to get a good feel for the product and whether or not it will be your new favorite thing!
Your premium samples will include a wide variety ranging from vitamins, supplements, sport nutrition, meal replacement, diet, energy, protein, detox, digestion, sexual health, to herbs, natural remedies, endurance and more.
After you get a chance to try out your samples, you can then review the products for reward points to use towards full-sized products that you love! Not a bad deal, eh?
So let's check out what I got to try out in my Bulu Box! Here's what I found inside: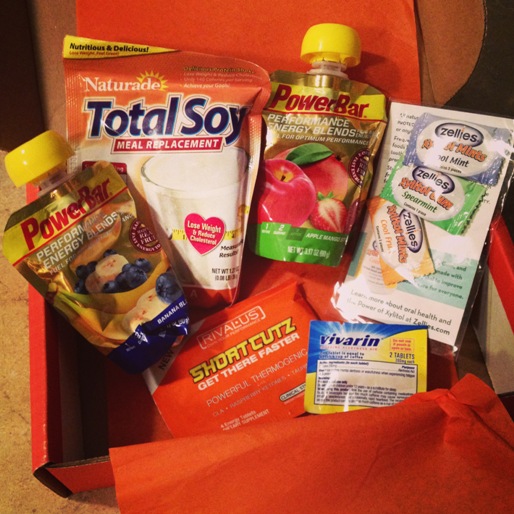 The health, nutrition and weight loss goodies included:
1. PowerBar Performance Energy Blends – The perfect to-go snack for a boost before or after your workout. They're made with natural ingredients (blueberries, bananas, etc.) and fit perfect in your purse or gym bag. (Retail: $13.59/6 servings)
2. Naturade Total Soy – This is a great way to finish a workout or to start your morning. With only 140 calories, it's high in protein and can help you lose weight and lower cholesterol. (Retail: $12.99 for 19oz)
3. Zellies Xylitol Gum & Mints – These little gum and mint treats help to get rid of harmful bacteria while helping to promote the good tooth-protective bacteria instead. (Retail: $12.50/100 servings)
4. Rivalus Short Cutz – Aimed to help aid weight loss, these pills contain fat-shrinking CLA, taurine and raspberry keytones. It also contains ginger root extract to help with digestion and easy any stomach discomfort. (Retail: $56.99/30 servings)
5. Vivarin – Built with caffeine, this is a safe and proven way to get that little extra boost in the morning or before your workouts. (Retail: $11.19/40 count)
6. Daily Burn Online Workouts – Access a huge variety of workouts for all parts of the body. View the videos anywhere, and on any device as long as you have internet connection. No excuses now! (Retail: $30 value)
As you can see, the value of these samples is huge! So what would you expect to pay for this box of fitness and nutritional goodness? Only $10 a month! Would you believe it? With free shipping.
You can also choose 3 months for $30, 6 months for $60 or 12 months for $110.

Think Bulu Box would be a good fit for you? If you are already spending at least $10 on trying fitness or nutritional products, then you've really got nothing to lose here. Try 4-5 different products for only $10 a month.
Plus! I can give you a deal through my blog, a $10 off coupon for your subscription when you sign up. Just use coupon code BULUGAN953 at checkout 🙂
Ready to try it out? Sign up here!
Let me know, what do you guys think of Bulu Box?
Hearts,
Sarah