Hallmark Keeps You Connected With Friends and Family
I am a member of the Collective Bias®  Social Fabric® Community.  This shop has been compensated as part of a social shopper amplification for #CollectiveBias and its advertiser.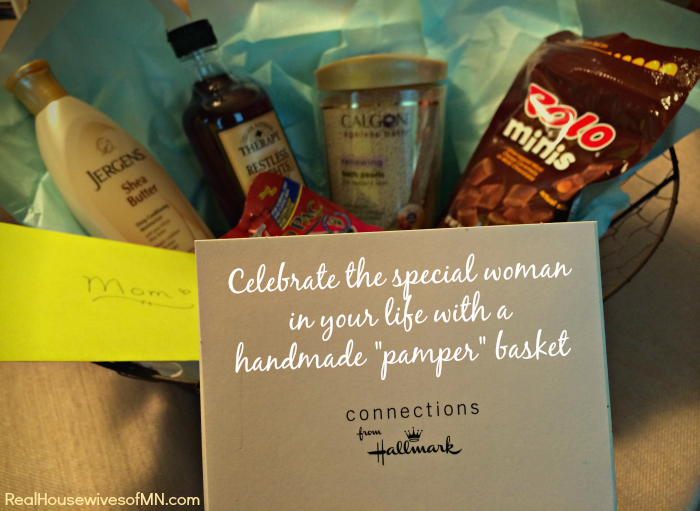 Us women are amazing, aren't we? Everyday we tackle new obstacles and take on our family's problems head-on. We conquer things without even blinking an eye. A prime example of this super woman personality is my own mother. She is a RN (registered nurse) and she spends every day on her feet taking care of patients, helping out even when it's not her responsibility, and just caring for the patients as if they were her own family members. She's a true angel. Then when her shift ends, she heads home to take care of her family (which includes two teenagers, a husband, and outside of the home – two more daughters and THEIR families).
She spends so much time taking care of everyone else, that I don't think she ever really gets to take care of herself sometimes. So I wanted to treat her to some pampering and some R&R time that she has most definitely deserved. I wasn't quite sure how that was going to pan out, but with the idea in mind, I headed to Walmart to create something special for her.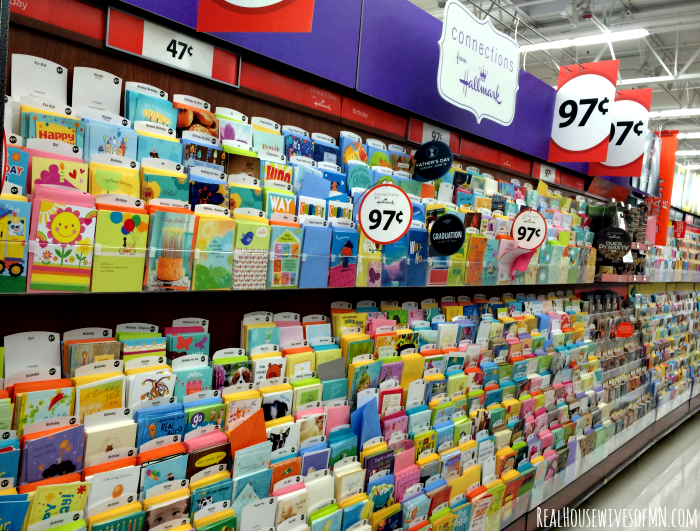 The first stop I made was in the greeting card section. This would be the center point of my gift and I wanted to make it special. Of course a card would also hold the explanation of my gift and my sentiments, so I searched for something perfect and I think I found it here in the midst of the Hallmark Value Cards. They had all kinds of occasions/Hallmarks to choose from (birthdays, baby, congratulations, anniversary, just because, etc.) but I went with a classic "Thinking of You" because it was simple and pretty, just like my mother 🙂
My greeting card purchase will also give me credit towards the Hallmark Card Rewards Program too. Which, if you're not familiar with that, it's really simple. When you buy your Hallmark cards at Walmart, you will earn a reward for every 5 cards that you buy. And with as many occasions that I have coming up, (weddings, grad parties, birthdays, baby showers…) I will need all the help that I can get!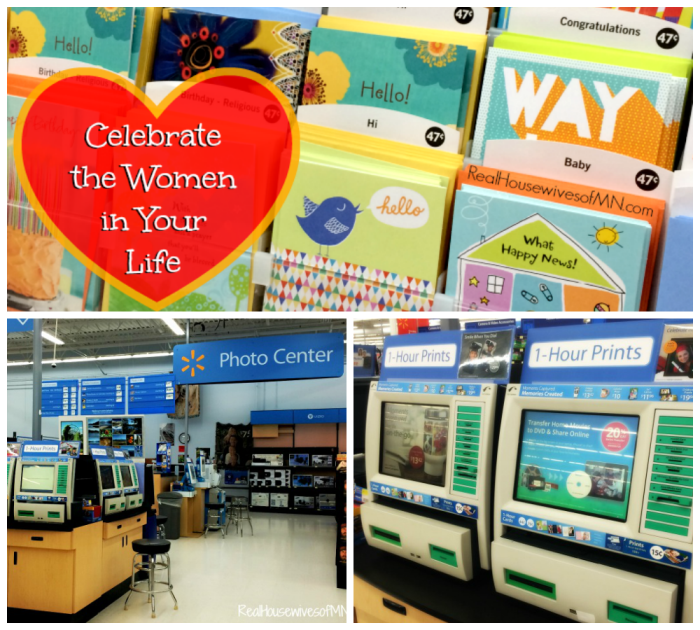 I had also brought along a jump drive that held a "Throwback Thursday" (#tbt) photo of my mom and I from years back. I'm guessing the photo was from maybe 1989? It's one of my favorites of her and I – and I wanted to print it off and put a smile on her face!
At the Walmart Photo Center, I printed off the photo and used the 1-hour photo option so that I could finish shopping and pick up the photo when I was all done. Perfect timing! Now that I had the fun friendship card and the beautiful throwback gem of a photo, it was off to find the perfect little pamper items for her!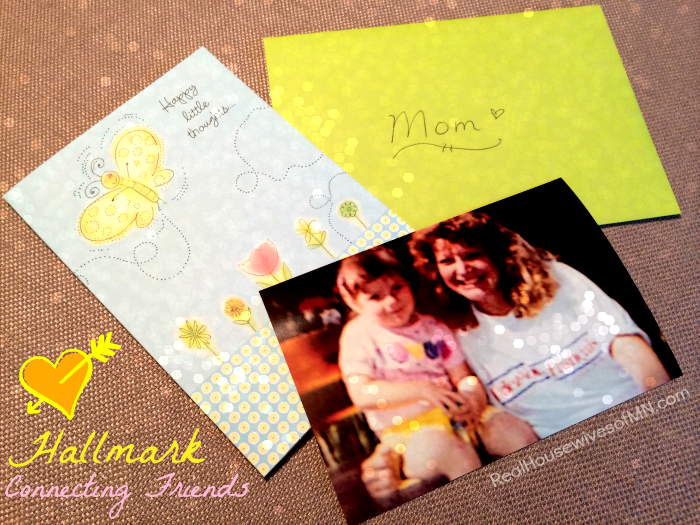 After doing a few laps around the store, pondering over different items (and getting lots of extra steps in for the day), I finally came up with the perfect pamper basket combination of items. Here's what I decided to include:
(Chocolate) Rolo Minis
(Lotion/Moisturizer) Jergens Shea Butter
(Bubble Bath) Village Natural Restless Nights Relief
(Bath Pearls) Calgon Ageless Bath
(Face Mask) Mud Pac – Masque Ala Bole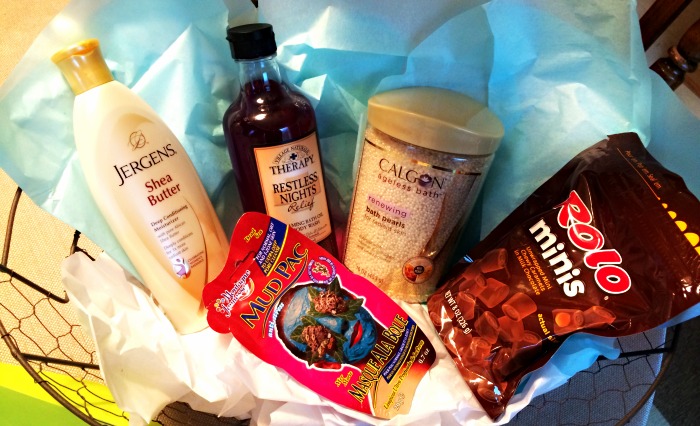 For all of these items, I spent under $20! But shh, don't tell my mom that 🙂 I am so excited to give it to her. I know she will absolutely love the opportunity to be pampered. She could even add a glass of wine to the mix if she wanted to!
I think I probably would…
So after all is said and done, here is the final product of my "pamper mom" gift basket: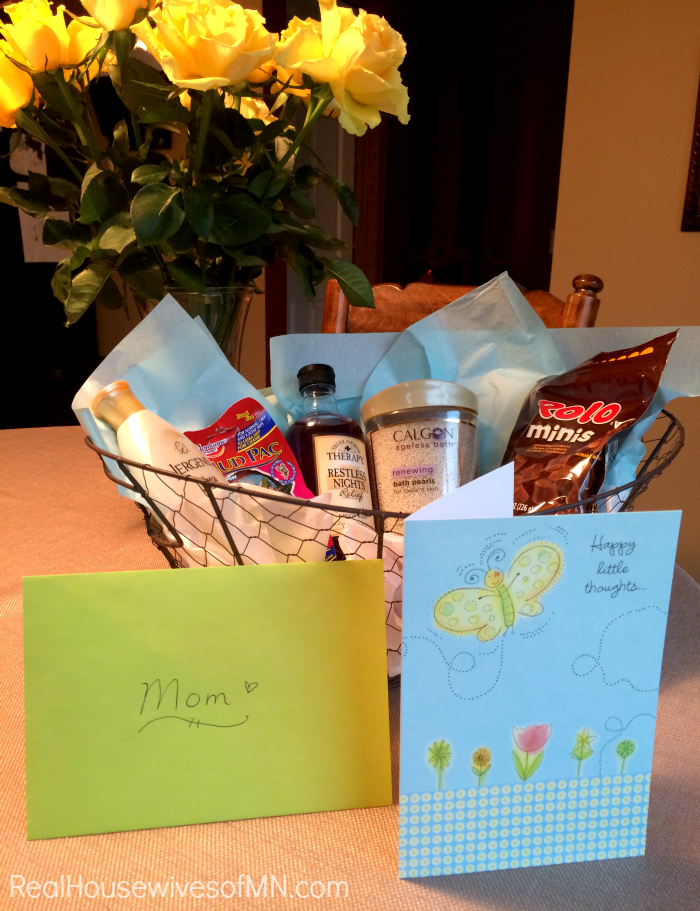 Do you think she will like it? I hope she will 🙂 What would you have included in a pampering gift basket? Leave a comment and let me know!
And make sure to check out and sign up for Hallmark Rewards, and to see great content from other bloggers. Join me in the #ConnectingFriends conversation on Twitter too!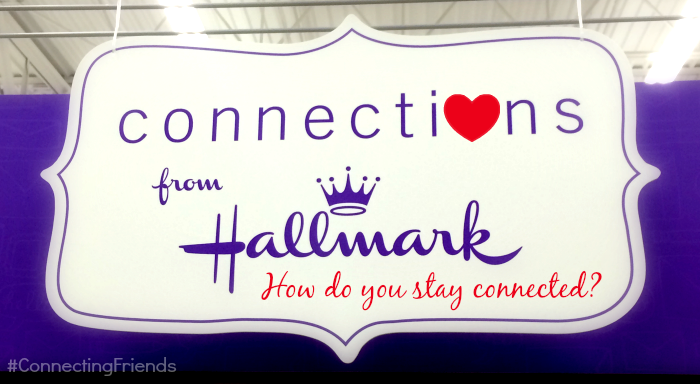 Until next time,
Sarah

Don't miss a beat! Subscribe here for email updates and get a weekly roundup of my latest posts!