Winter Fashion Accessory Must-Haves
With winter being upon us, there are some must-have accessories that you should be sure to have on-hand just in case. Today's post is a guest post from Rachel Laitala from RachMariePR.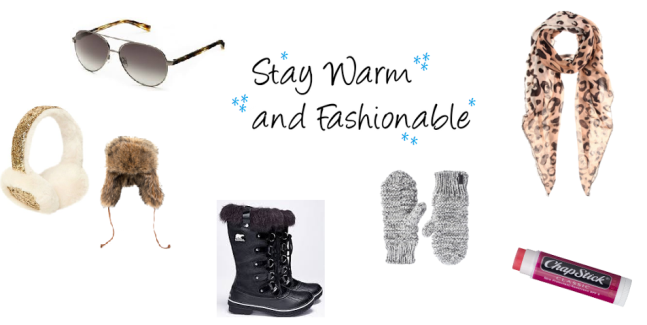 When you are getting ready to accessorize this winter, there are a few fashion items that you shouldn't leave home without. They're comfy, they're warm and they're fabulous!
1. Ear muffs or a warm furry Russian hat – Both of these can help keep your head and ears toasty and block the icy winds.
2. Sunglasses – A good pair of darker, and I like over-sized, sunglasses can help shield your face from the extra glare of the sun reflecting off the snow and ice. These shades can also assist and little in blocking your eyes and cheeks from harmful UV rays.
3. Scarves – A scarf is almost always a fashionable way to add a little flavor to your jacket/outfit and it will also help your hat (if you are wearing one) block the wind and cold.
4. Snow boots – Theseare a must! Whether or not your wear them to and from work, running errands, the gym, out with girlfriends – whatever it may be – it is inevitable that you will have to trudge through some (or a lot of) snow and brush that white powder off your car at some point. Doing this in anything other than boots is cold and not fun, trust me.
5. Chapstick – The cold weather can really take a toll on your soft lips! I always have Chapstick on hand, in addition to lipstick and gloss, to be sure that my lips stay soft and moisturized all winter long. No one looks good with dry, cracked lips anyways, right?!
6. Warm Mittens – From running to a from buildings and houses to your car to playing outside in the snow, you need a pair of thick, warm mittens (or gloves). This is crucial and doesn't have to ruin your fashionable look.
Sometimes I think winter accessories are my favorite. There are so many more items to play around with, mix and match and choose from. Plus, I really like a good cozy scarf! What are your favorite, and fashionable, winter accessories and must-have items?

Author Bio: This post was written by Rachel Laitala, born and bred Minnesotan PR girl. Read her blog here and connect with her on Twitter, @rachmariepr.