November Glossybox: What's Inside This Beauty Box
Disclosure: I received this complimentary product in order to review.

It's that time again! My November Glossybox just came in the mail and I couldn't wait to share with you guys! As you know, GLOSSYBOX
is a beauty subscription box that sends you five surprise luxury beauty items each month! These samples are always a nice, big size that gives you a good idea of what the product really is, instead of a little tiny sample that is hard to judge!

So let's get to it! Here is what came in my Glossybox this month: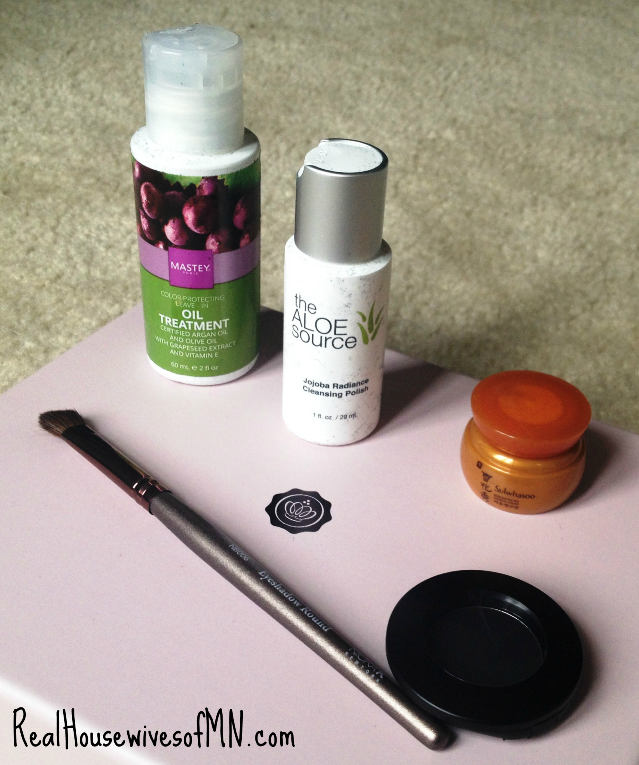 1. Nicka K New York Professional Eyeshadow Brush – This was a welcomed addition to my box this month. I was in need of a new eyeshadow brush and this one is perfect. It's got super soft bristles and a very sleek design for easy use as well. (Retail: $4.99)
2. The Aloe Source Jojoba Radiance Cleansing Polish – I really liked this product, it gently exfoliates with jojoba microbeads to remove dry skin and it really does a nice job without being too harsh. (Retail: $28.00)
3. Sulwhasoo Concentrated Ginseng Cream – This cream is a great moisturizer to use twice a day to give your skin that hydration it needs. It helps to stimulate cell regeneration to promote younger looking skin. (Retail: $220.00)
4. Mastey Color Protecting Leave-In Oil Treatment – This leave-in treatment is great for repairing damaged hair along with protecting from heat, and it also seals the cuticle and protects your color. (Retail: $25.00)
5. Emite Makeup Micronized Eye Shadow – Dams – This eye shadow is great. It doesn't smear and it lasts! Which says a lot for eye shadow. It has a micronized pigment which assures a smooth, fine and even application. (Retail: $27.00)
As you can see, there were some good samples this month (as always!) I really liked that a eyeshadow round brush came in this box because mine has seen better days, and this new brush is really nice!
Additional Photos
I had some fun with this product shoot. And of course, the pup had to get in on the action. She army-crawled until she got as close as I would let her…
How to Get Yours
Get your own beauty box delivered to your mailbox each month. It's like it's your birthday every month! Plus, the value of the box always passes up what you actually spend on it, so it's a win-win 😉 Signing up for Glossybox is easy and it's only $21 for a Monthly Subscription! Not bad, right?
I didn't know this before, but they also have a wedding box for brides! How sweet of a gift would that be?! If you know someone getting married (or if you are getting married) check out the wedding beauty box:
I thought that was pretty neat!
Which product do you think would have been your favorite in this month's box? Leave a comment below!
Until next time,
Sarah

Don't miss a beat! Subscribe here for email updates and get a weekly roundup of my latest posts!