July Glossybox: Beauty Sample Box
Disclosure: I was provided a complimentary Glossybox in order to review for this post. I was not paid for my opinions, and all opinions are 100% my own. Post may contain affiliate links.

Another month, another awesome haul of beauty samples! I am in love with GLOSSYBOX
, I know you already know this, I've said it before, but I mean it. The timing is always just perfect, because I'm usually just finishing up last month's samples when the new box arrives. Now that is service!
I usually try to wait until the month is over to show what I got because I don't want to spoil it for anyone 😉
So, now that it's August, I can't wait any longer. It's time for show and tell!!
Are you ready to hear about these glamorous beauty samples??
Good. Because I'm ready to share some juicy details with you.
Here's what I found in my July Glossybox:
1. Brazilian Blowout Acai Deep Conditioning Masque – This stuff is ahhh-mazing. I purchased this conditioner when I had my first brazilian blowout and it helped it last and last. It is formulated to eliminate frizz in your hair and keep it nice and smooth. You can use this product as a conditioner (10-20 minutes) or as a deep conditioner (leave it in overnight). Use twice a week for best results! This was a good sized tube of the sample and I was thrilled when I seen it in my Glossybox! Full size: $40
2. Figs & Rouge Cherry Blossom Lip Balm – YUM. This was instantly my new favorite lip balm and the sample was even bigger than what I would buy for lip balm in the store! The key point about this lip balm is that it is 100% naturally tinted, and the smell is wonderful. Full size: $8.17
3. BB Matte with signature Shinerase light to medium – I've already used a good amount of this sample and I don't know how I'm not out of it yet, but I'm not! What I liked best about this beauty balm is that it gave good coverage while still being lightweight. Plus, it is SPF 30 so it is perfect for the summer time. For more coverage, you just wait for the last layer to dry and then apply another so this is totally customizable to your preference. Full size: $39.00
4. ABSOLUTE! Make-up Cleansing Tissues – Looking for a way to remove make-up but have sensitive skin? This is your solution. These make-up cleansing tissues gently remove makeup, eyeliner and even waterproof mascaras effectively while still being sensitive to your skin (and moisturizing at the same time!) Go team!! Full size: $6.99
5. Bulgari Eau Parfumée au thé Blanc Shampoo & Shower Gel – This dermatologist-tested shampoo and shower gel (whaaat??) is delicious smelling. And yes, it is effective! My first thought when I smelled it was how I could smell like this for the rest of my life. The second thought was, how on earth can I use it for both my hair and body? Well I don't know how they did it, but they did! And now, I smell wonderful. Full size: $42.00
6. Nails Inc. Baker Street Nail Polish – I love my ever-growing collection of nail polish. Ever since I moved out of my parents house, I have had to acquire my own collection since my mother's was no longer available! And my nails don't really know who they are right now, they don't know if they are a shy neutral or bold hot pink. So this royal blue was wonderful to take them for the ride of their lives and try something different! Plus, on top of the vibrant colors, Nails Inc. polish is also designed to leave a long-lasting glossy finish! Full size: $9.50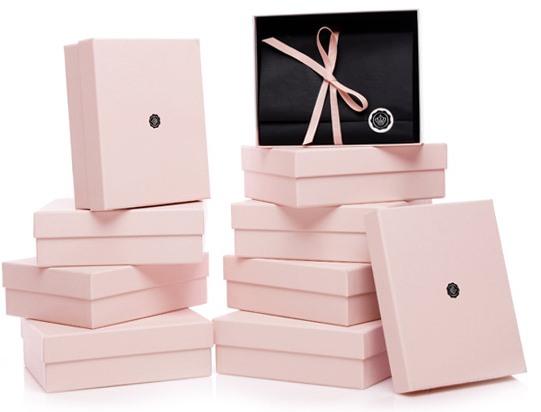 More About Glossybox
If you've kept up with my posts lately, you'll see me rant and rave over Glossybox and for good reason. Each month, you get a box of 5-6 deluxe-sized beauty samples to try out. And they're not just some hmmm-huhhh brands. No, they are luxurious brand names with some awesome products! I've been able to try so many new products without overpaying and committing to something that I might not love.
Subscribe to Glossybox
Interested in getting your own box of beauty goodies?? Sign up for Glossybox and surprise yourself with a box of samples each month, delivered right to your mailbox!
The cost of Glossybox is:
This is a great gift idea too if you know someone who would enjoy a gift that keeps on giving beauty each month.
I love opening their cute little boxes each month! 🙂 It's like it's my birthday every month!! haha
Have you tried any of these products? Or would you want to try? Leave a comment!
Hearts,
Sarah