Jamberry Nails: Experience Review & Giveaway
This is a sponsored post on behalf of Jamberry Nails. I received complimentary product to review and give away. All opinions are 100% my own.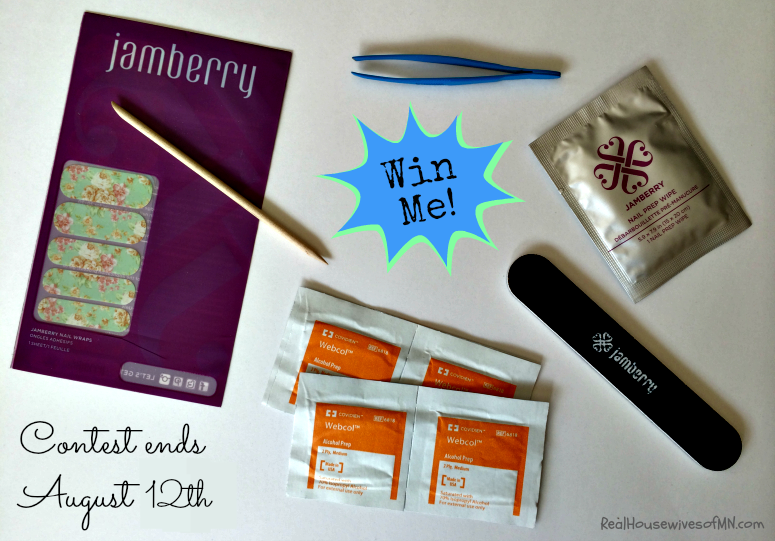 Up until late, I had never heard of Jamberry Nails. But now it seems like I'm hearing it everywhere. It's kind of like when Thirty-One came out and I was like huh? Custom bags? Well now the latest in nail-wear is Jamberry. They provide glamorous, chic, and long-lasting nail wraps that make your nails look like they were done at the salon! When in reality, they are just an easy at-home application!
I worked with Alyson Keenan, a Jamberry Nails consultant who lives here in Minnesota. She offered me the opportunity to try out Jamberry and I couldn't resist. She even let me pick out my favorite designs to try out and sent me some helpful videos to assist me in the application.
Here are just a few of the designs there are to choose from: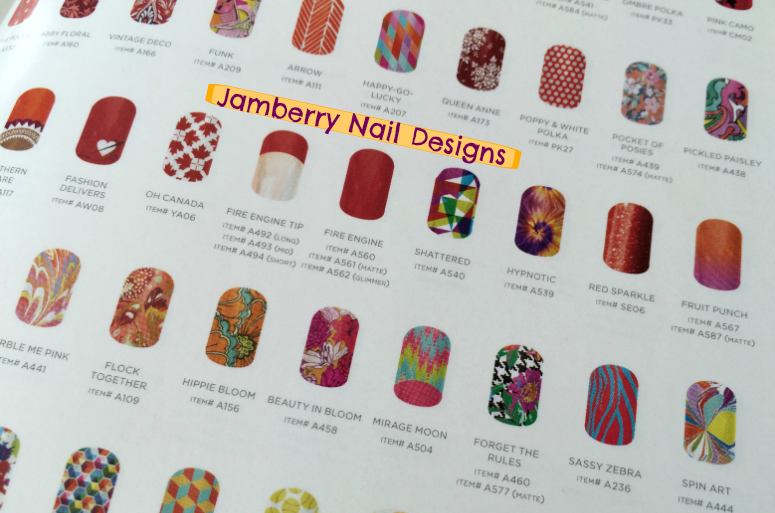 I picked a gold and mint pinstripe that was subtle but fun for this summer! The directions were really easy and with a little help from my hubby, who is totally a nail wrap professional now, we had some great looking nails in a matter of maybe 15 minutes.
For the month of August, Jamberry also has their retiring wraps that will retire permanently. You can find these under the Going, Going, Gone tab on Alyson's website.
How to Apply Jamberry Nail Wraps
Alyson sent me an awesome (and super helpful) video that I think really helped me with my very first nail wrap application. You can watch that here:
If you do better with written instructions, I'll give you those too!
Push back cuticles and clean nails with a nail prep wipe or with rubbing alcohol.
Match nail to the best fitting nail wrap.
Peel off your nail wrap and warm it with a blow-dryer or mini-heater for 3-5 seconds (or until soft/pliable).
When warm, press wrap onto nail. Apply pressure around edges and use a rubber cuticle pusher to seal wrap around base of cuticle.
Trip the top of nail wrap with scissors and file off any remaining wrap by using a downward motion.
Apply heat and pressure to wrap until it is bonded to your nail.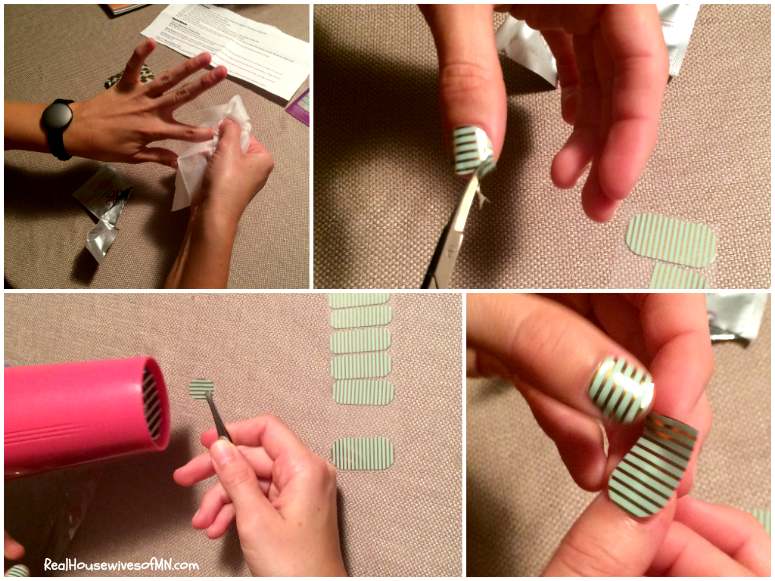 Easy enough, right? The process went pretty quick and painless 🙂 The above photos are kind of rough because I did the application at night and it doesn't provide the best photography lighting.
Anyways – what would this be without a final 'after' photo? Take a look at my awesome nails: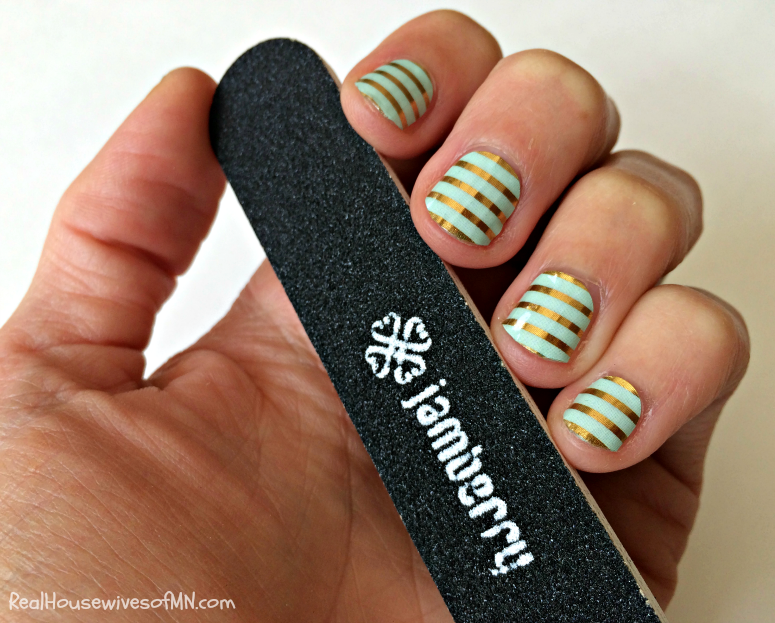 I think they turned out well, don't you? I kind of want them to last forever… Apparently they can last up to two weeks, so that's what I'm striving for! But if for some reason, I decide I want to take them off (maybe to replace them with a different patter or something?) then the removal process is pretty easy too.
Nail Wrap Removal
All you do is heat them back up with a blow-dryer or mini-heater. Then get under the wrap and break the seal. Slowly peel the wrap from side to side to loosen and remove.
If that doesn't work, simply soak the nail wraps in nail polish remover for 20-30 seconds and gently rub the nail wrap off. Soaking them should help the nail wrap slide right off your nail.
About Jamberry
Jamberry is a cost-effective way to get high-end nail results. But there's much more to tell about them than that!
One regular sheet includes 18 Jamberry nail wraps that can be used for 2-3 applications. Their Jamberry Juniors include wraps that can be used for 5-6 applications.
They also offer a Professional Nail Lacquer line that includes colors specially made to complement the nail wrap designs.
Jamberry offers over

300 nail wrap designs

so that your new signature style is only a quick application away.
Nail wraps are made in the USA, they are gluten free, vegan, and Jamberry is a member of the fair labor association.
Each sheet of Jamberry Nail Wraps is just $15.00!
Meet the Consultant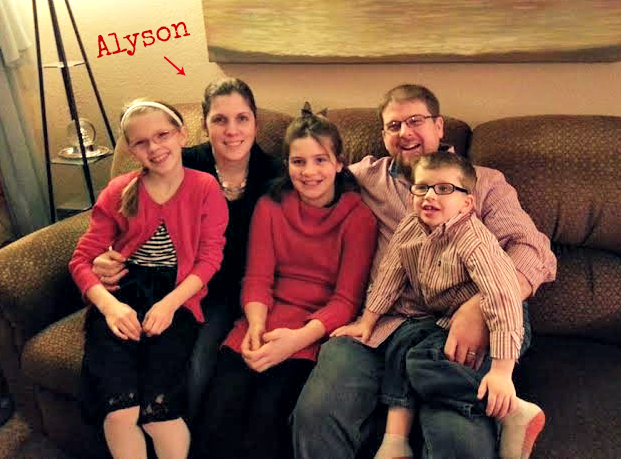 Alyson Keenan has been a Jamberry consultant for almost five months and absolutely loves it! Her favorite thing about Jamberry nail wraps is that there is no drying time, and you can go about your day immediately after applying. She also loves the fact that they are made right here in the USA! Woot! 🙂
Beyond that, she also enjoys showing Jamberry products at hostess' parties and helping them earn free nail wrap products! If you want to become a hostess, you can contact Alyson and set up a party date!
Enter to Win!
Alyson has provided a set of Jamberry nail wraps to give away, along with all the tools you will need to apply them! This is an awesome chance to get a feel for the nail wraps and see how they look on you! I picked out this awesome "Vintage Chic" design for one lucky winner!
Contest ends August 12, 2014 at 11:59PM CST. Contest open to US residents, ages 18 and up.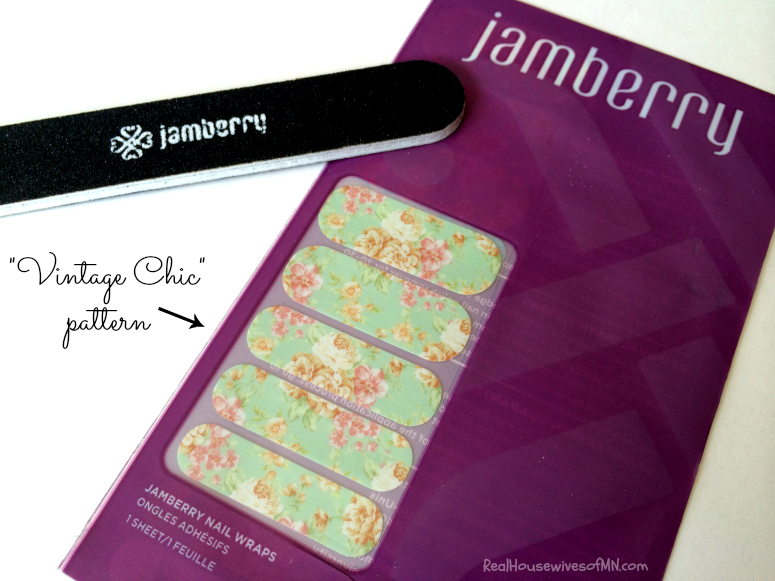 Good luck!! 🙂
Sarah


Don't miss a beat! Subscribe here for email updates and get a weekly roundup of my latest posts!