"Better-Late-Than-Never" Peek at April's Glossybox!
Disclosure: I am a Glossybox affiliate and received a complimentary beauty box.
Wow. Guys, I apologize. I'm late to the party on this one but I wanted to make sure you got to see what came in April's Glossybox because it's definitely worth seeing and hearing about too!
So in case you aren't familiar with GLOSSYBOX
, even though by now I'm sure you probably are, it's a monthly beauty subscription box that sends you FIVE awesome makeup and beauty item samples each month. And they aren't just tiny little samples that barely let you get a feel for the product. No, they are deluxe sized, luxury products that last you a while! It is my absolute favorite box to get in the mail, I always look forward to it's arrival.
Well with all that being said, you're probably wanting to see what goodies came in April's box, so here it is!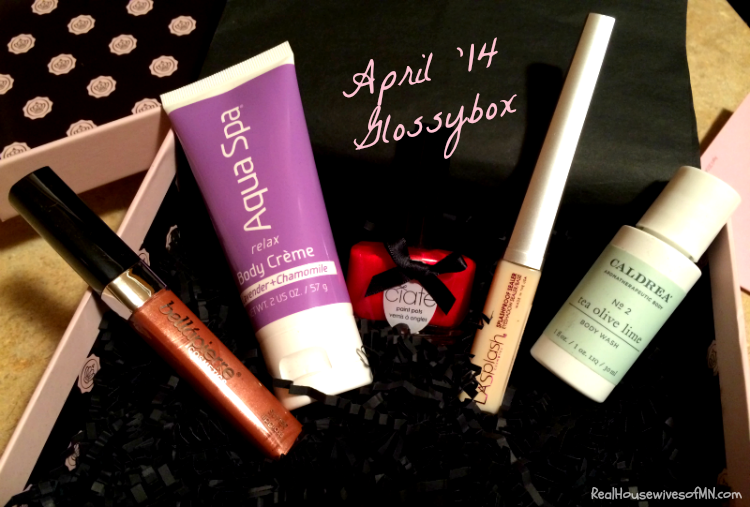 And because it's hard to see everything in the photo, I'll give you a break-down of what is shown in the above photo, from left to right.
Bellapierre Cosmetics Super Gloss – I'm a fan of Bellapierre, especially their mineral blush, so I was happy to try their lip gloss as well this month! Though I didn't think it looked like a color I would typically wear, when I put it on, it gave a subtle, natural color. It wasn't as dark as I had expected, so that was nice! The gloss itself is made with natural ingredients (including vitamin E, jojoba, avocado, and sunflower waxes). It is also infused with a natural plumper to help minimize any fine lines near or on your lips. (Retail: $24.50)
Aqua Spa Relax Body Creme – This scent is really yummy, it's a lavender and chamomile smell that is so nice and relaxing. It is also an ultra-rich conditioning lotion to help get rid of dry skin (awesome for summer/winter). I even seen it while I was shopping at Walmart the other day, they sell it with their other higher-end beauty products. Which is good to know! (Retail: $10.00)
Ciate London Paint Pot – I'm obsessed with collecting nail polish, or so it seems. But there is definitely a difference between cheap polish and nice, quality nail polish. This polish, for example, uses a combination of high performance formulas to give you a beautiful, lasting color. (Retail: $15.00)
Lasplash Cosmetics Eyeshadow Sealer/Base – This product is the ultimate in packaging, would you look at that thing? I thought it was a mascara at first but it's not, it's an eyeshadow base/sealer that helps protect your precious eye-work from smudges and smears for 12-hours. (Retail: $9.00)
Caldrea Body Wash – I always love getting body wash because I go through it so fast, and there are so many out there to try that it can get confusing. This body wash is actually infused with brightening, free-radical fighting angelica root and linden flower extracts to help give you glowing, smooth and fresh skin along with a soft, delicious scent. (Retail: $18.00)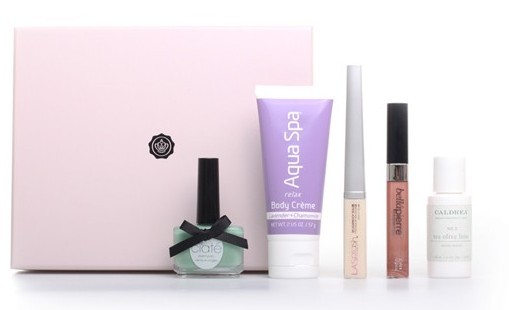 As you can see, you definitely get your money's worth in each monthly box. It is $21 for a Monthly Subscription
, and if you look at what you get inside, it's obvious that you get way more than you pay for.
For fun, I always add up the retail costs of what comes in my GLOSSYBOX
. This month it would have been $76.50 to buy everything that came in my box, but as always it's just a flat $21 rate and shipping is included in that!
Get Your Samples!
If you're interested in receiving a month of Glossybox samples to try out their service, now is a good time! You can buy it month-by-month, or purchase 3 months, 6 months, or 12 months in advance. It's even a great gift to give to your sister, mom, mother-in-law, etc. because it's a gift that keeps giving 🙂
Watch for the May Glossybox post coming soon 🙂
Hearts,
Sarah

Don't miss a beat! Subscribe here for email updates and get a weekly roundup of my latest posts!