How to Save 20% on Diapers Each Month
Post contains affiliate links for Amazon Family. All opinions are mine!
If you are a mom that shops Amazon often, you probably already know about Amazon Family. But if you don't, then this might be a game changer for you. Save big on your next Amazon purchase with these tips!
---
Alright, so Amazon's Subscribe & Save program (also called Amazon Family) is saving you money when you sign up to purchase an item every month (or every couple months, etc. – you get to choose how often you subscribe). Let's say you want to sign up to get diapers every month. You know, that big ginormous box of diapers (that barely fits through the door) that will mean less trips to the store for more. Here's how it works.
First, search Amazon for the diapers you want to purchase. Personally, we go with Huggies because they seem to be more absorbent and comfortable for her so that's what I'm going to show here. Now once you find the diapers you want, choose a size…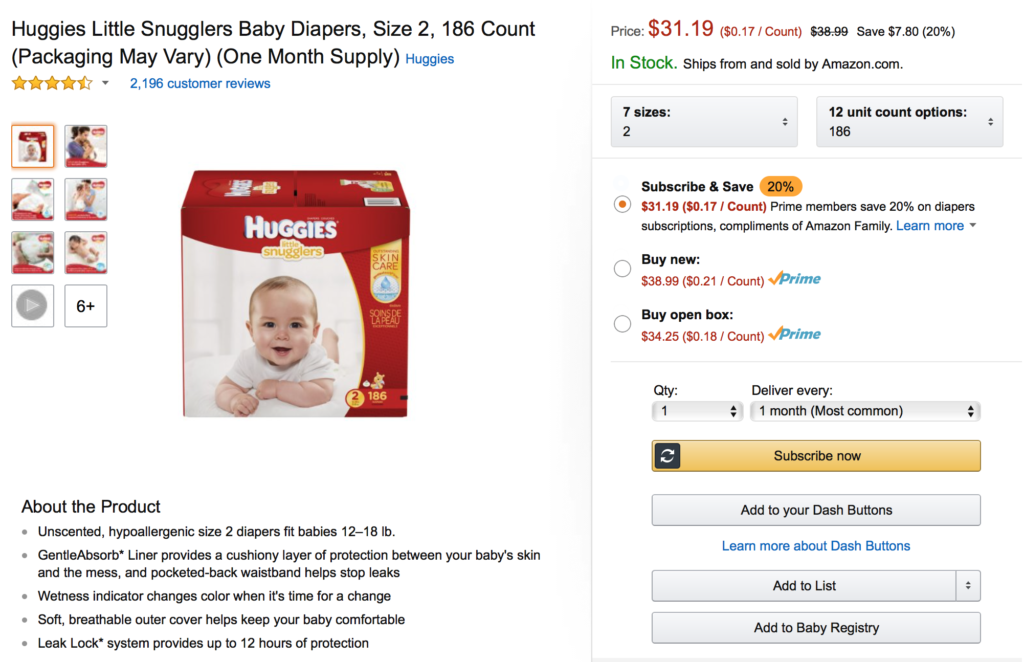 Now you can see there, these diapers normally sell for $38.99 but because I'm a Amazon Prime member, I can get 20% off when I Subscribe & Save. Now if you're not a Prime member, you'll still get 5% off when you sign up for the subscription, but obviously the better deal is if you are a Prime member. Then click 'Subscribe Now' to start automatically purchasing your diapers each month. Shipped to your door, without having to step foot in the car.
You might also notice there's a drop-down menu that gives you the option to 'deliver every'… you can pick month, two months, three months, etc. so it's not like you're stuck in this contract that you can't get out of.
With 20% off on your purchases, you don't have to worry about clipping coupons, watching for deals, or worrying that they'll be out of the size you need by the time you get to the store.
Hope you find this helpful! Enjoy the savings 🙂
Sarah