Baby Girl Baby Shower Brunch Ideas
This weekend, I had the honor of throwing Macy a baby shower brunch to celebrate her 'new arrival' coming soon! I wanted to share some photos with you guys because I knew you'd enjoy seeing what kind of things I came up with for her!
First, I'll show you the baby shower favors. You should know that she's having another *GIRL* how exciting! And since we're in December here in Minnesota – let's just say that it's pretty darn cold! So I wanted to gift our guests with something warm and fuzzy, so I chose these cute fuzzy mittens! My mom helped me brainstorm a little saying to write on these little guys, she helped me come up with this: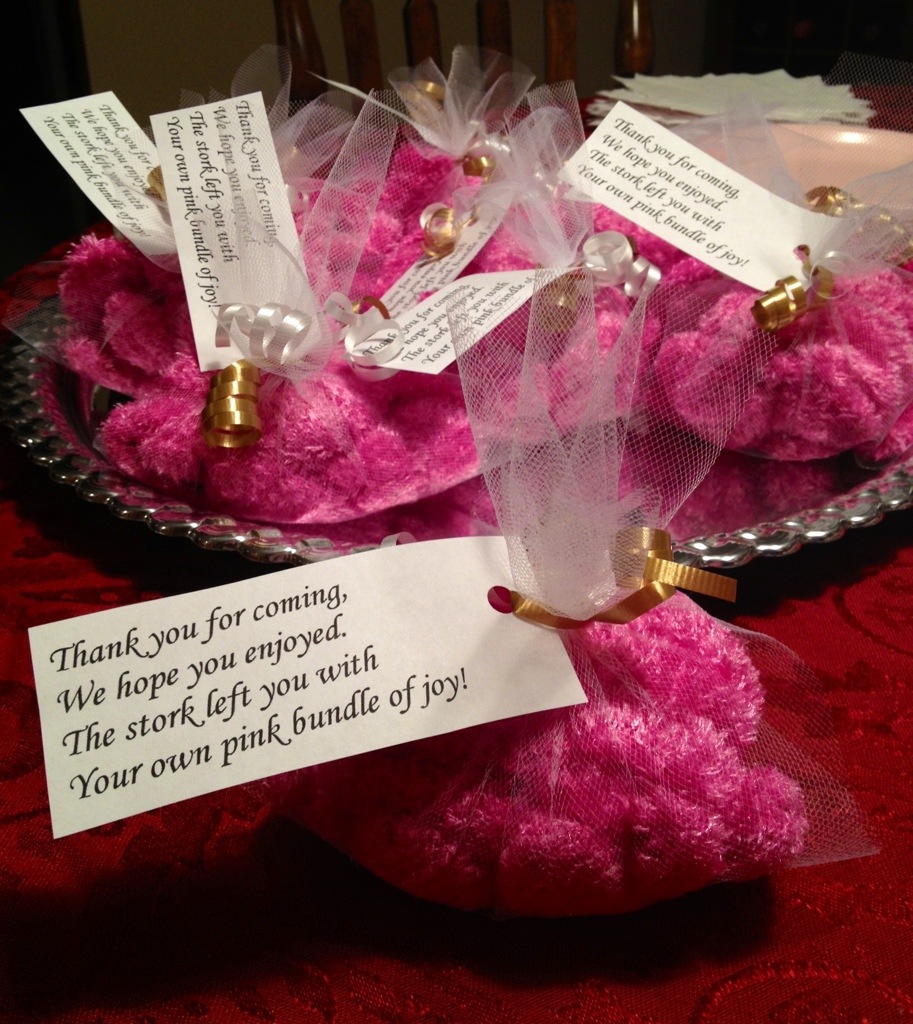 In case the photo doesn't load correctly, I'll write it out for you. It says,
"Thank you for coming,
We hope you enjoyed.
The stork left you with
Your own pink bundle of joy!"
They were a huge hit. I wrapped them up in little things of tulle and tied with a ribbon so that they would look like a little bundle of joy that the stork just dropped off. Guests loved these mitten favors, and many even wore them out the door!
For brunch, I wanted to offer a variety of foods so that there was a little something for everyone. The main dish here, was an egg bake that turned out delicious, and the recipe is easy!
Baby Brunch Egg Bake Recipe
We put a bag of southern hashbrowns (those little square potatoes) on a griddle and cooked them up. Then those went on the bottom of the pan, I made two pans, so split that in half for one pan. We also fried up a roll of Jimmy Dean sausage and once it was cooked, drain the grease and distributed over the potatoes (again, we made two pans so this was cut in half per pan). From there, you'll mix together 6 eggs and 1/2 cup milk. Pour over the potatoes and sausage (you'll need to do this for each pan, so it'll be 12 eggs total and 1 cup of milk). Sprinkle 1-2 cups of cheddar cheese over the top of each pan and bake at 350 degrees F for 30 minutes. Voila!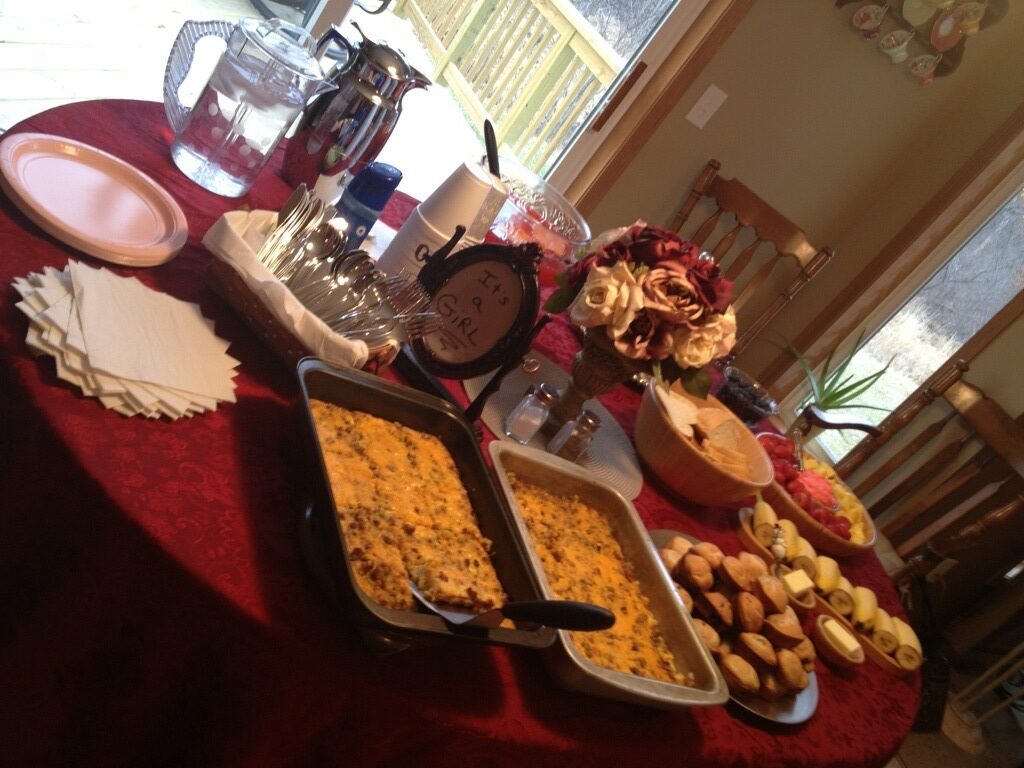 Beyond the egg bake, I also baked some blueberry muffins, and for those who don't like muffins, I offered Italian bread slices and don't forget to put out the butter! Also on the brunch table were sliced strawberries, fresh pineapple, bananas, blueberries and a yummy homemade fruit dip!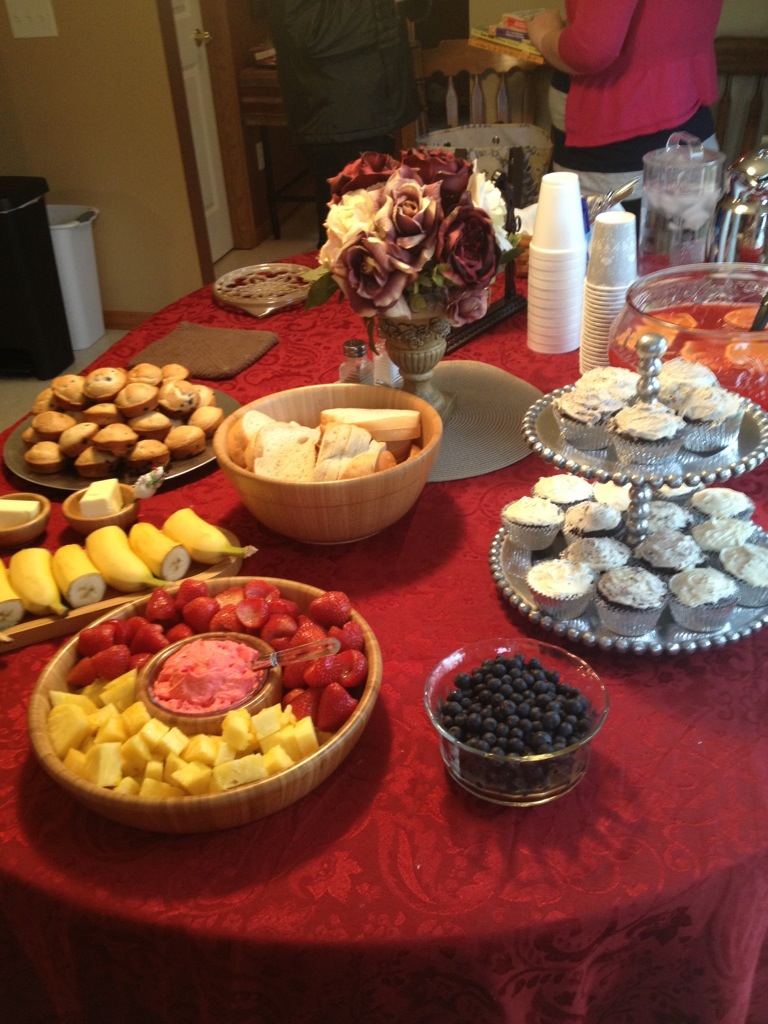 For drinks, we had baby punch (One liter fruit punch, one liter Sprite, one can of frozen pineapple juice) garnished with orange slices. I wish I had made this a bit beforehand so that I could have frozen some of it to use as ice to keep the punch cold. But either way, the punch was a hit and it tasted really yummy! Thank you Pinterest 😉 Oh, and we also had coffee (with sweetener and creamer optional) and ice water as well.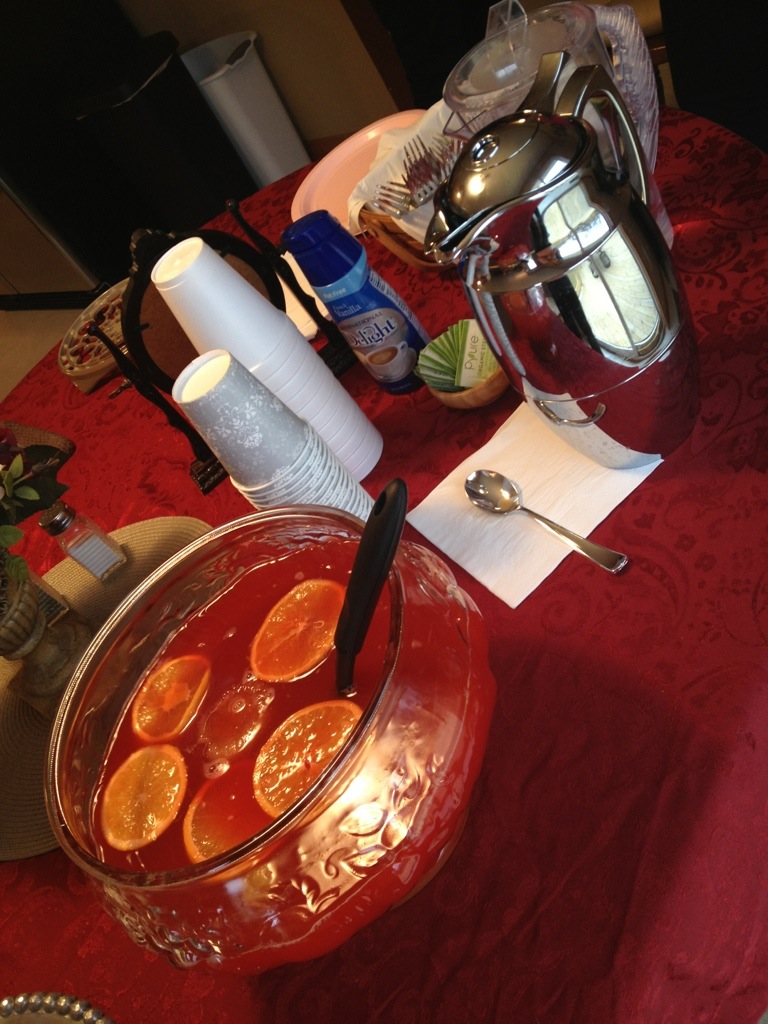 My hubby helped me with all of this, and he was the biggest partner I could've ever had for all this! We tag-teamed the cupcakes and they were SO tasty. All we did was make a chocolate cake mix but used it in cupcake tins. We made a buttercream frosting that was the perfect combination here.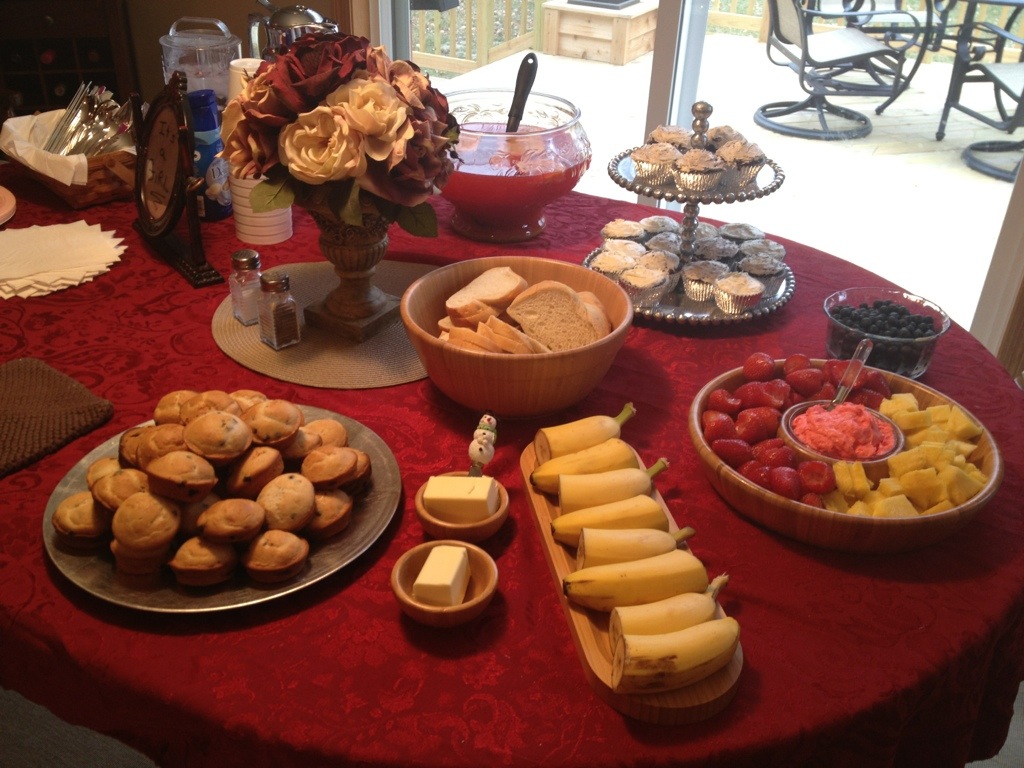 Well that's it for the baby brunch spread! I hope it's helpful for any upcoming baby showers you might have coming up. I know Macy and her little one enjoyed themselves, and let's just say that I had a lot of leftovers 😉 haha which isn't bad, I can't say that hubby complained about that!
Hearts,
Ruby

Don't miss a beat! Subscribe here for email updates and get a weekly roundup of my latest posts!