10 Things to Shop for on Diapers.com Coupon Code + Giveaway!
This post and giveaway is a partnership with Nakturnal, with a prize of a gift certificate. All opinions are my own. 
Have you heard of the website Diapers.com? If so, your initial thought was probably like mine, they sell diapers. That's it. Well, actually diapers are just the beginning of what they offer. I was surprised to go on their site and find the plethora of baby/toddler/child items that they sell. In fact, their site was actually created to ease the stress off parents who need things at the last minute. That's why they offer fast (1-2 days) and free shipping over $49.
So as the headline teases, I've got 10 things that you can buy on Diapers.com… (Plus, stick with me to the end for your chance to win a $50 gift certificate!) Not to mention, there are some great Diapers.com coupon codes out there to make for a really great deal!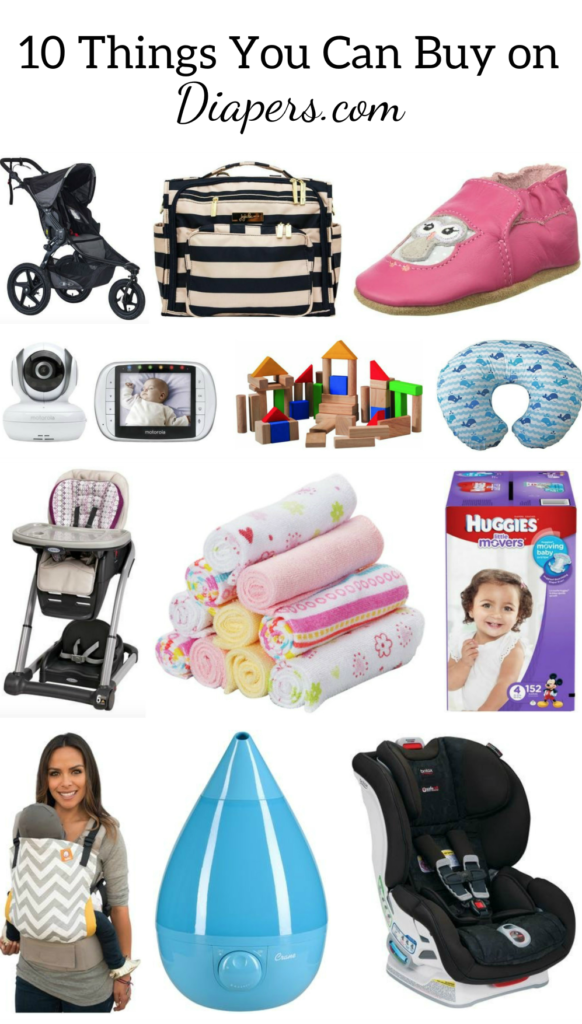 10. Baby Carriers – They've got all the brands that I see moms go gaga for; K'tan, Ergobaby, Tula, BabyBjorn, and more.
9. Baby Monitors – And other baby gear in general, but baby monitors are always a mom's favorite friend. They have video, audio, prenatal, and much more. I love our video monitor! If you're wondering about the best baby monitors out there, Fatherly put together a great list on their site!
8. Bath Towels – Do you need wash cloths, bath towels, even soap or shampoo? You can get it to go at Diapers.com. I'm always short on big bath towels for little miss so this is a hit for me.
7. Humidifiers – Is it just Minnesota, or does it seem like you're always running a humidifier in your little one's room too? It's so. dang. dry. They've got a good selection of humidifiers including the top brands out there!
6. Breastfeeding Pillows – I purchased a Boppy way back when I was in need of one of these handy pillows, but I've heard great things about a number of other brands that mothers swear by too.
5. Car Seats – Okay, be honest. You've probably looked at all the car seats on the market, but when it comes down to it, you probably want to see them on paper (er, website?) Compare car seats and let the site help you decide!
4. High Chairs – They've got Stokke Tripp Trapp, Graco, Boon, Fischer Price and more. They even have those clip-on-the-table kind that eliminate taking up a ton of floor space.
3. Strollers – Jogging strollers, double strollers, single strollers, you've got it. They have all different varieties and brands. Oh and travel systems too!
2. Shoes – They have shoes of all kinds, clothing, and tons of different options for each category. I love their crib shoes, they have Robeez which are amazing (and adorable, all at the same time.)
1. Diapers – Yep, you guessed it. They sell diapers, wipes, bum creams, and even diaper bags (really cute ones!) And trust me, well you know, we moms go through those items like crazy.
---
Enter the Giveaway!!
Do you have items you could purchase from Diapers.com? Any of the above, or anything else baby related… Well this is your shot at a $50 gift certificate!
To enter the giveaway, leave a comment below with the baby item that you are ALWAYS replacing. For me, this is bum cream – teething makes for some serious diaper rash (boo!)
Giveaway ends November 19th, 2016 at 11:59PM CST. Contest is open to US residents ages 18 and up.  a Rafflecopter giveaway

Don't miss a beat! Subscribe here for email updates and get a weekly roundup of my latest posts!