Visiting Marriott Singer Island (Florida)
We were invited to stay with complimentary accommodations. However, all opinions are completely my own.
You heard about how our two day stay in Pompano Beach went, so I'm going to take off from there! On day 3, we hit the dusty trail and headed North about 45 minutes to the glorious location of Singer Island (near Palm Beach) where we checked into the amazing Palm Beach Marriott Singer Island Resort & Spa. But man alive, was it gorgeous. I can honestly say it was hands-down, one of the most beautiful places that I've ever stayed.
We walked into the hotel and a floral, airy aroma wafted through our noses. The receptionist told me they infuse white tea fig through the ventilation and that was just the first of many untraditional practices that really went the extra mile at this resort. Let's start with our room.
The first thing you see when you walk into your room is this amazing kitchen. Glossy granite countertops, Kitchenaid stainless steel appliances, glass stovetop, dishwasher, coffee maker, and everything else you could ever dream of having in your kitchen away from home. In a small adjourning room to the kitchen, you'll find your own laundry facilities. I was amazed, so much so that I had to pop in a load of dirty onesies, traveling clothes, and beach towels – yup, amazing.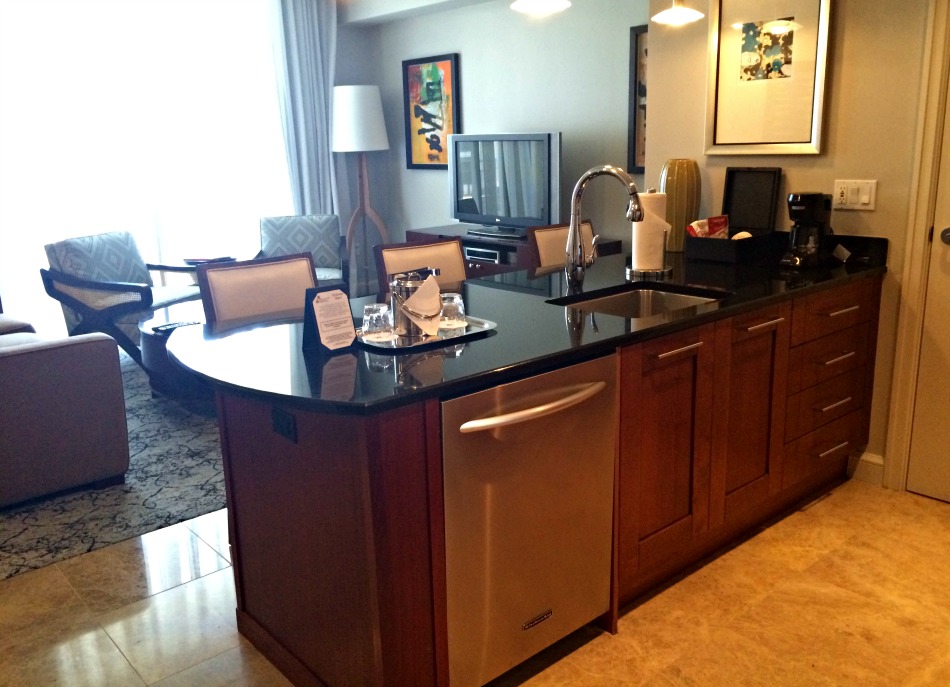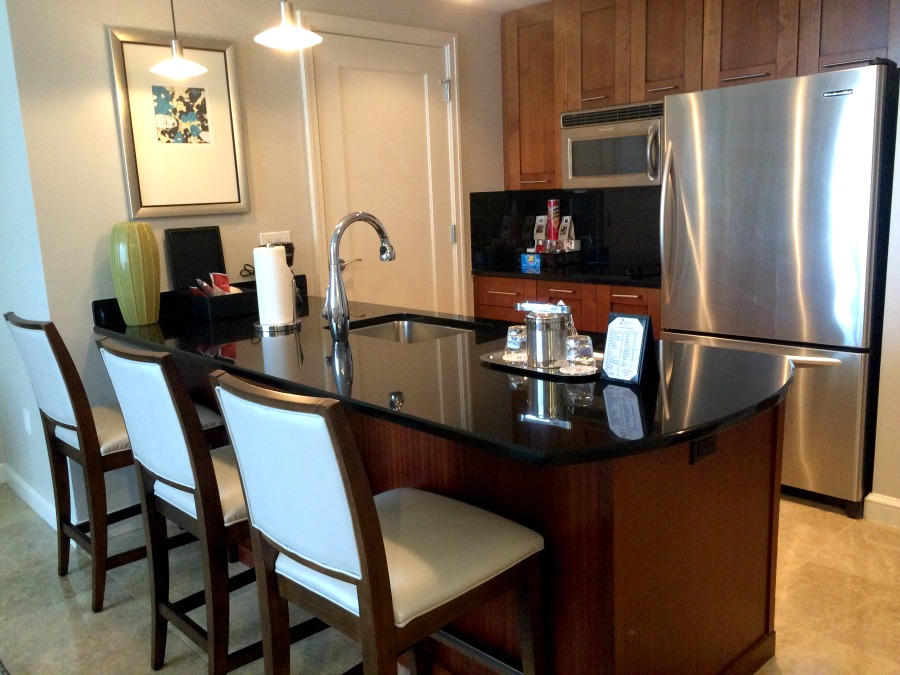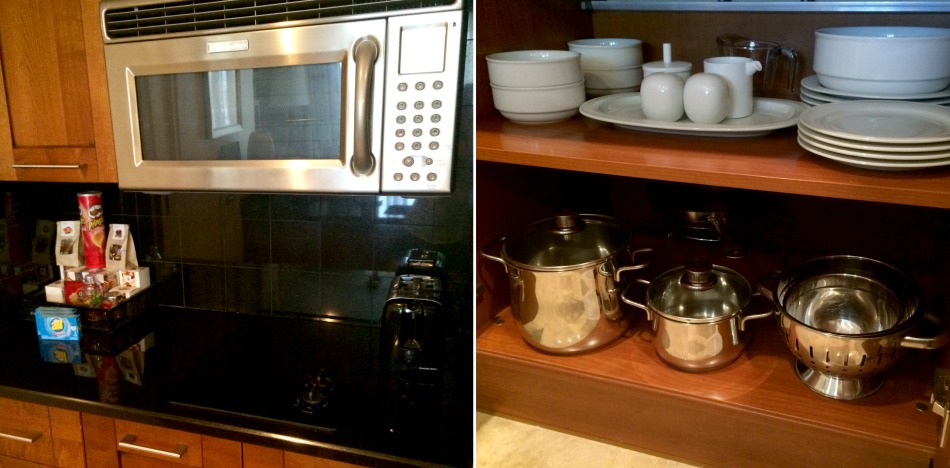 Also, right off the living room and kitchen, was a half bath as well which is perfect because then you don't have everyone going in and out of the bedroom to use the restroom every time they need to.
Next to the kitchen, with a nice open floorplan, was the living room complete with a fold-out sofa, comfy chairs, a huge flat-screen TV, and if you look closely to the window, you'll see the nice, quaint patio as well which was perfect for enjoying a cocktail at the end of the day.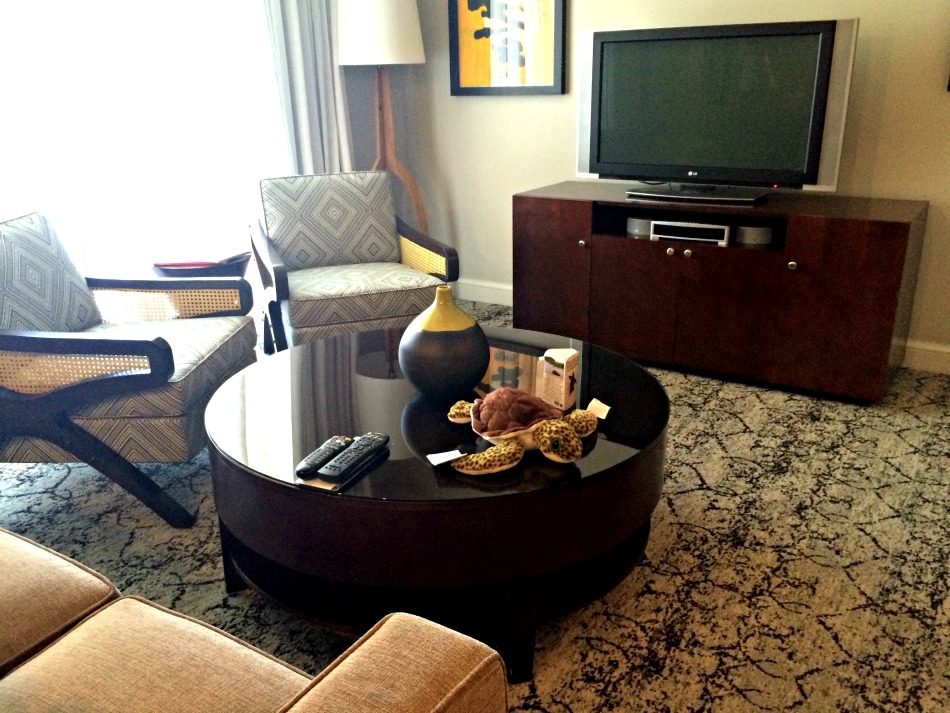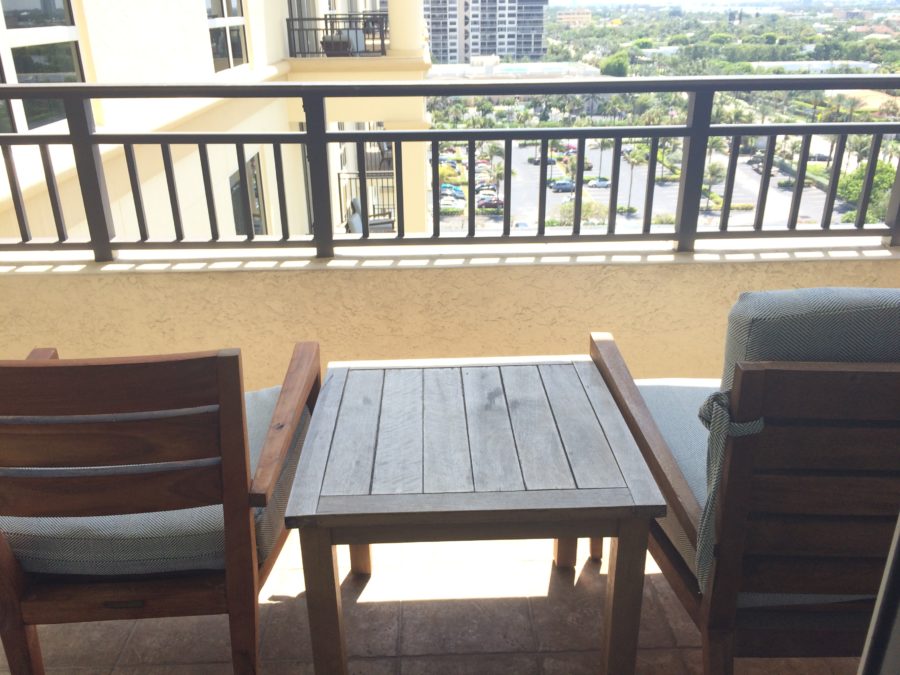 Down the hall, past the office/desk area, was a large walk-in closet with custom shelving and hanging area, plus plenty of drawers. We found that the easiest way for us to stay organized was to actually unpack our suitcase and organize everyone's clothes in their own area. This closet was awesome for this, and made life so much easier than digging through a huge suitcase (yes, we all shared one ginormous suitcase!)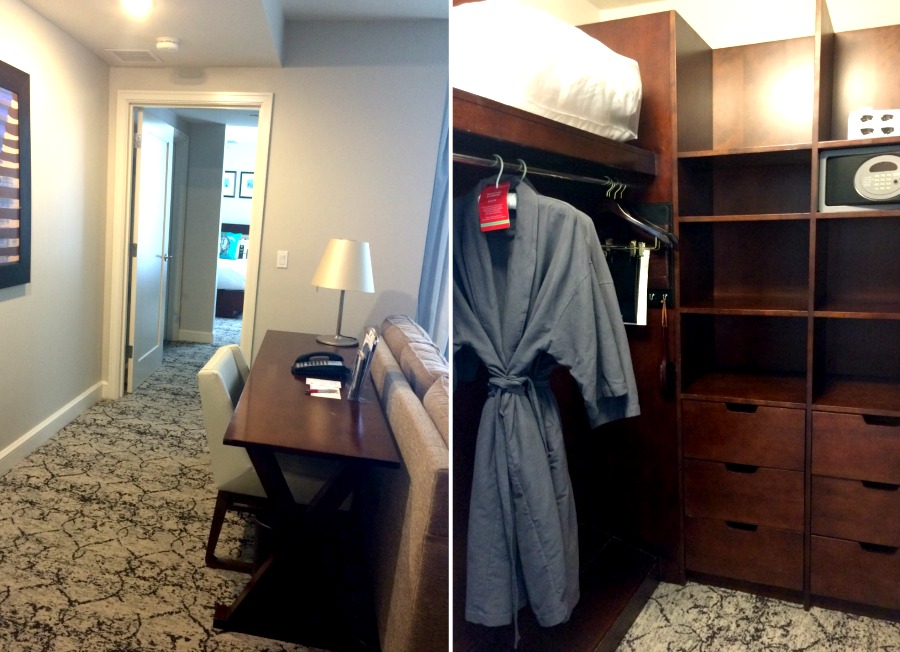 The bedroom was exquisite. I loved the turquoise accents, especially being oceanside, it just really made it feel like we were in the caribbean somewhere! And the bed – Ooooh the bed, we all slept so good! Little miss has never slept so long, I had to wake her up at 10am each morning or who knows how long she would have slept.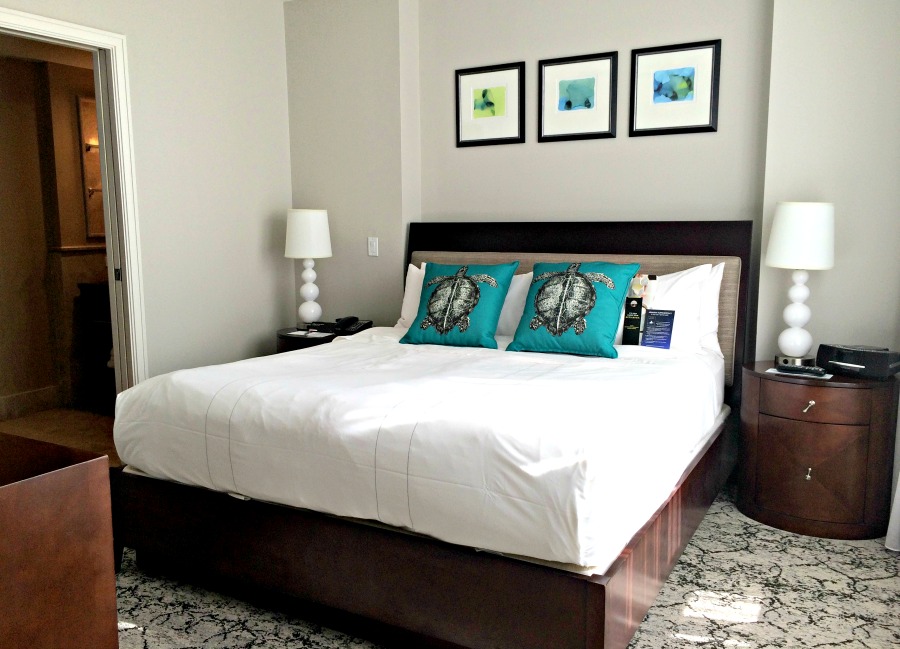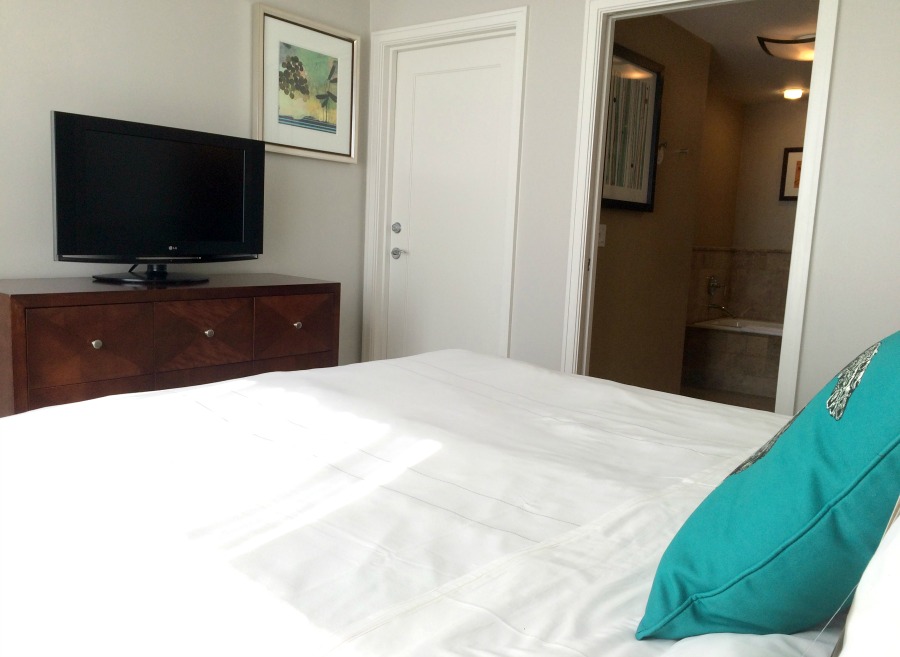 The bathroom attached to the bedroom was equally impressive. It was huge! And it had a closed-off restroom, a large and gorgeous tiled tub, a stunning glass shower that had all the space in the world, and then a vanity full of storage and equipped with any items that you may have forgotten at home. I thought this totally went the extra mile, because they had things like makeup remover wipes, Q-tips, cotton balls and all the essentials.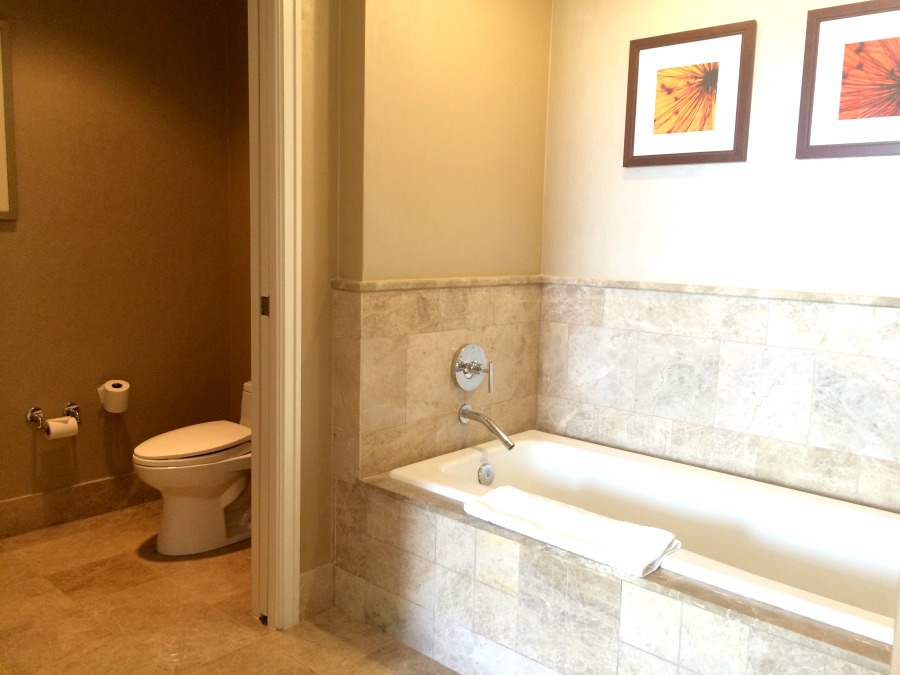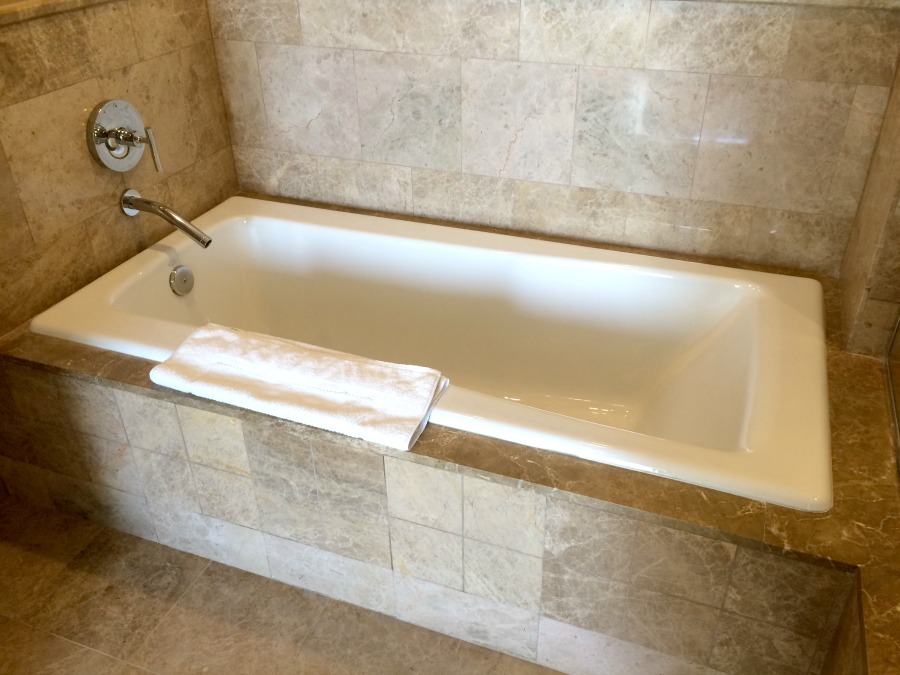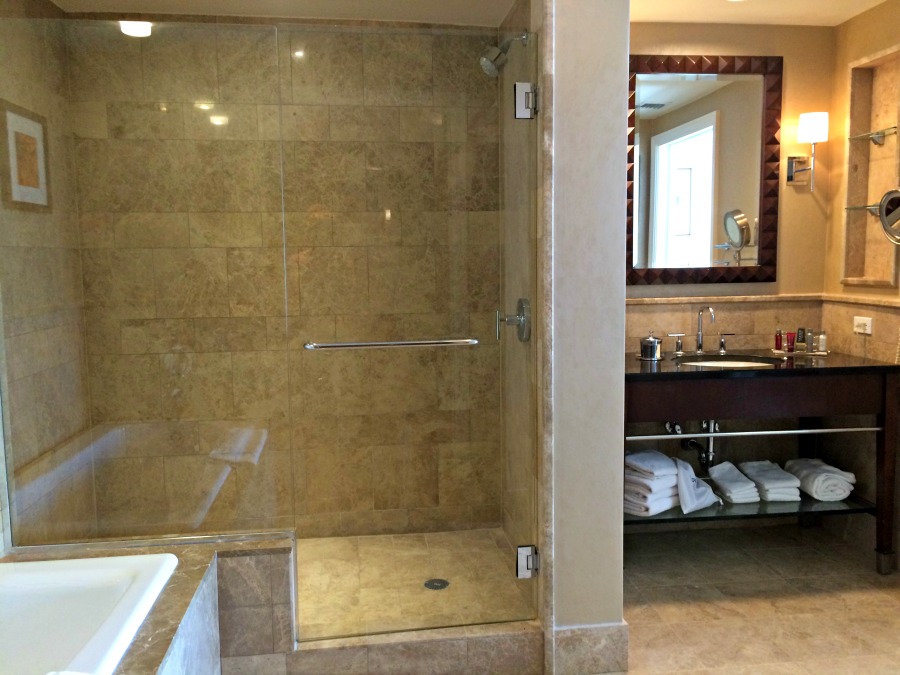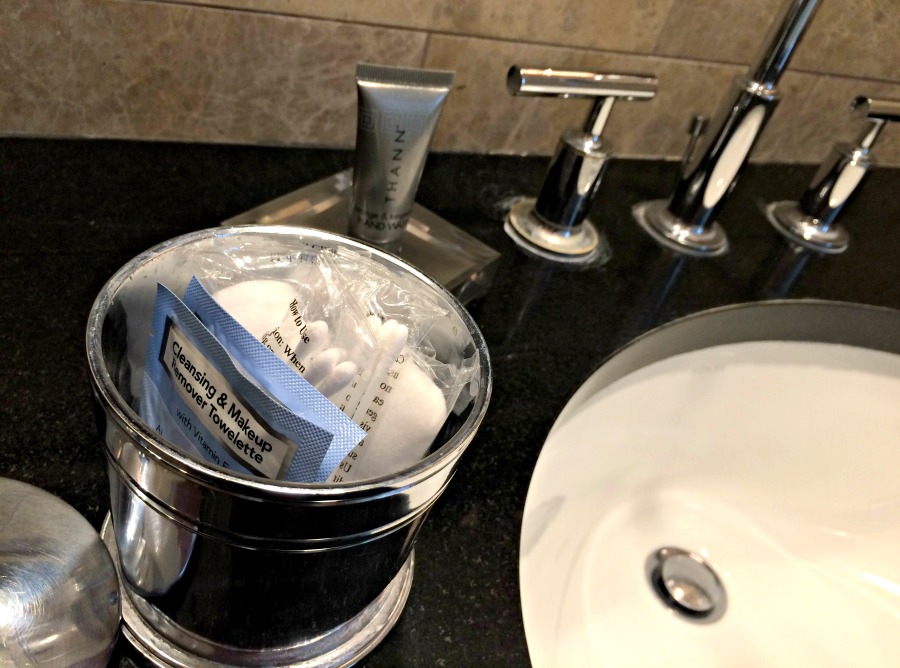 Of course, every day we went down and enjoyed the pools (yes, plural, they had two!) and the ocean. The two pools were amazing; one seemed to be geared towards families, with a big waterslide, waterfalls, and lots of swimming areas (including a zero entry area). There was lots of seating plus a bar and grill area on location as well to easily grab drinks or lunch.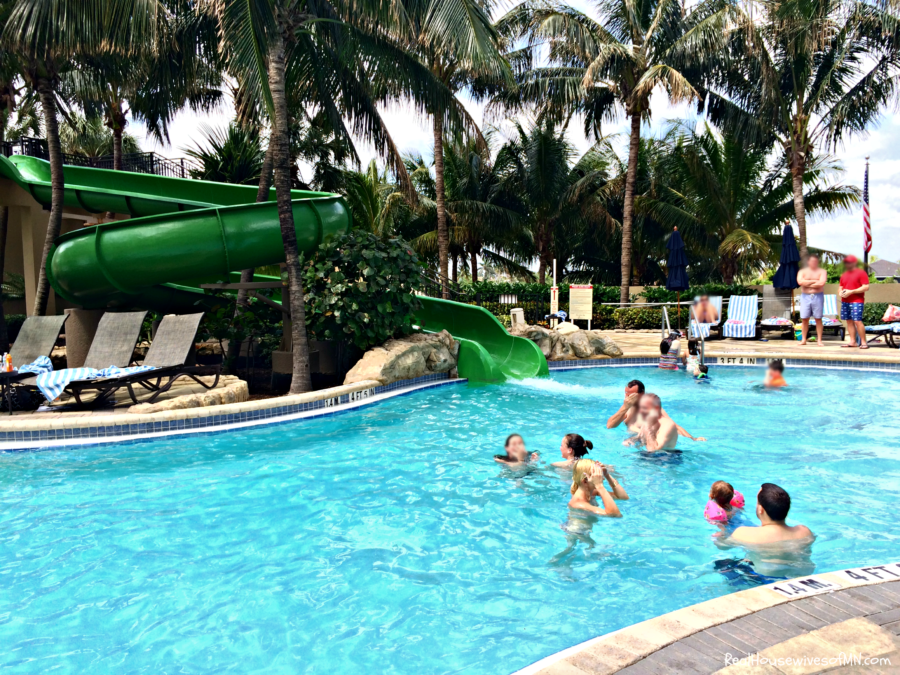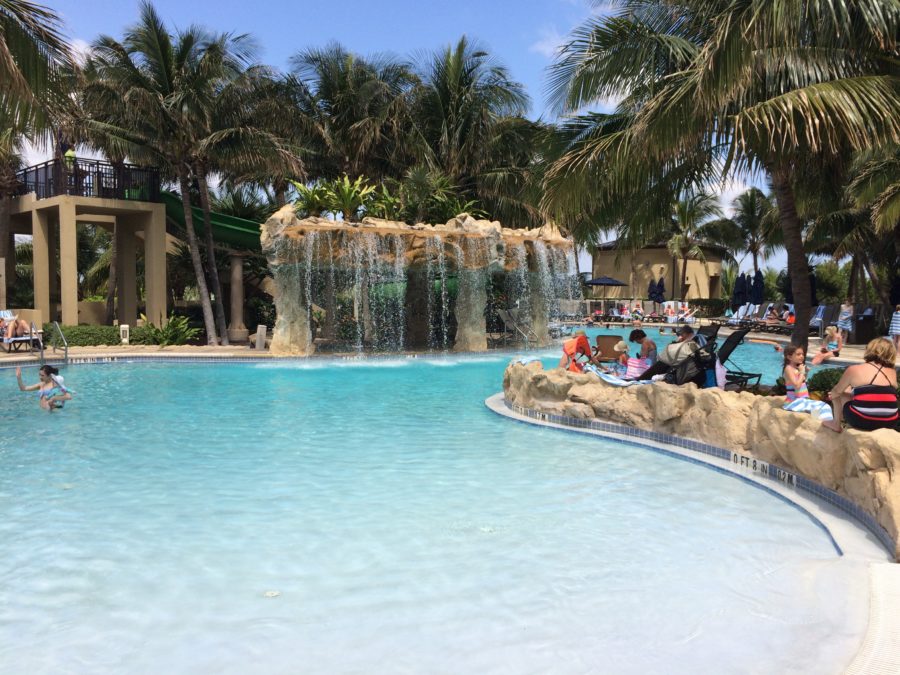 The other pool was more of a relaxation pool and it seemed to be a little deeper maybe as well. Little miss loved this pool because it was a little quieter and they had little floaties that she could chill in. I think she might be an old man at heart, haha!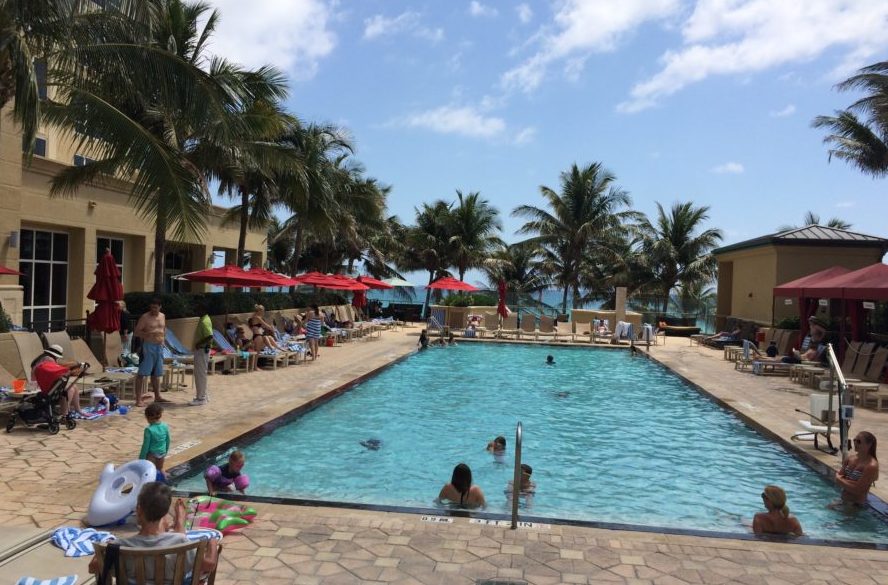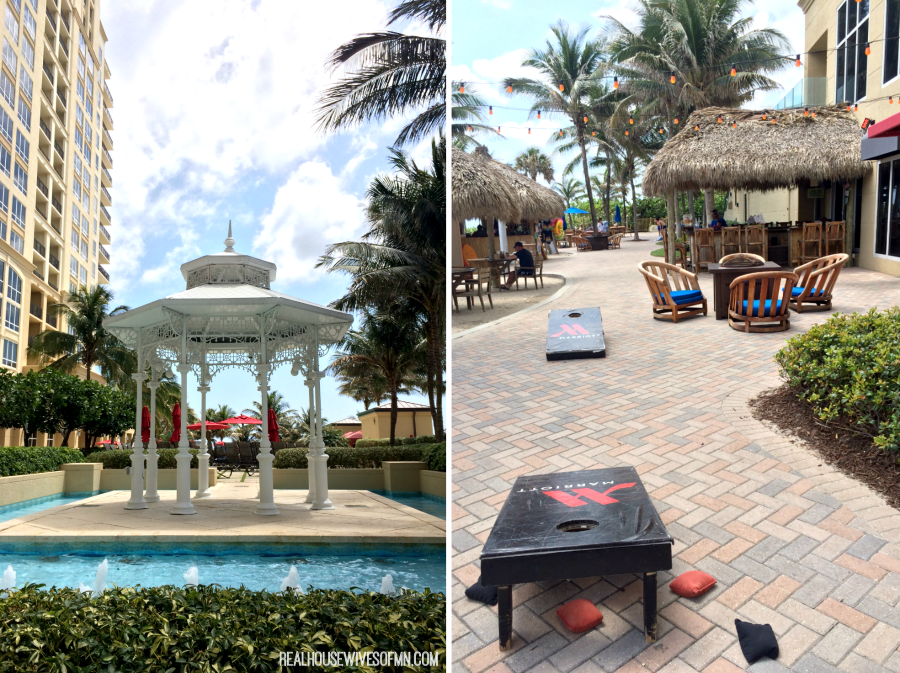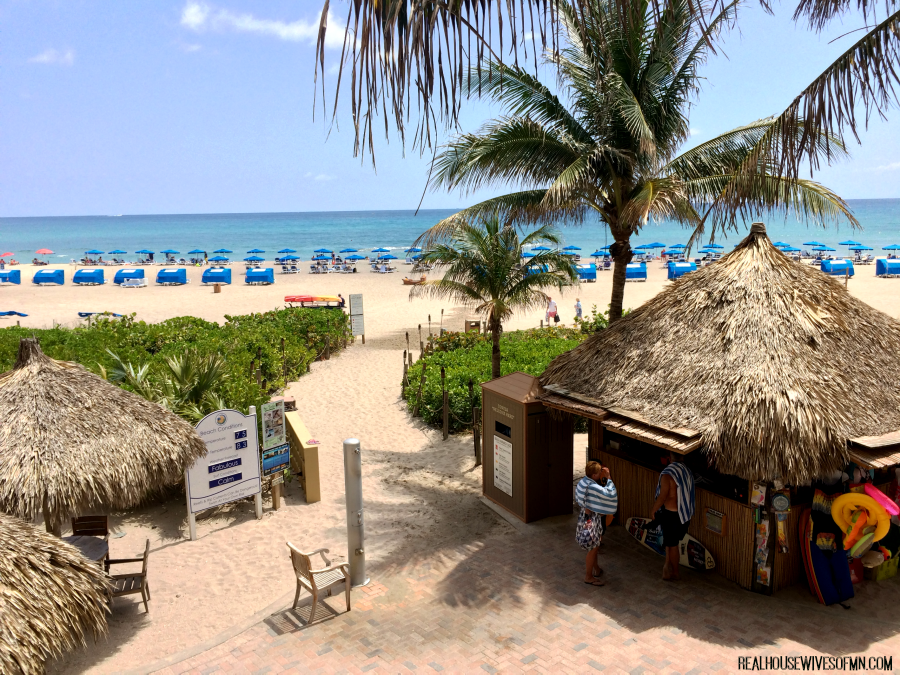 And this sign below is kind of the summary of our stay… Fabulous and calm. I wish we could have brought the weather back with us, it was absolutely perfect. And it didn't rain once, not until we were on the plane on the way home! How's that for timing?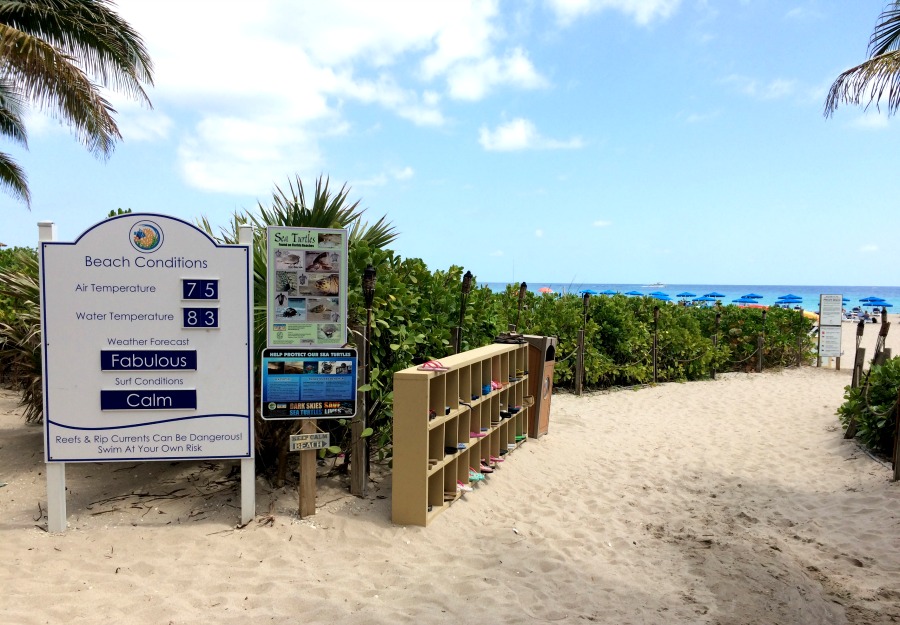 Singer Island Dining
We were so excited to be invited to have dinner at 3800 Ocean, the restaurant inside the Singer Island Marriott. I think gorgeous would be an understatement for this restaurant. It has a neat setup where when you walk in, it's the bar area and seating, and then as you make your way through the restaurant, you get breath-taking views of the ocean. I can't express enough how stunning this location is, truly. We were seated right near the window, at sunset, overlooking the ocean while we shared a meal as a family – I really don't think that could have gotten any better than that moment! It was so much fun, and oh yes – DELICIOUS.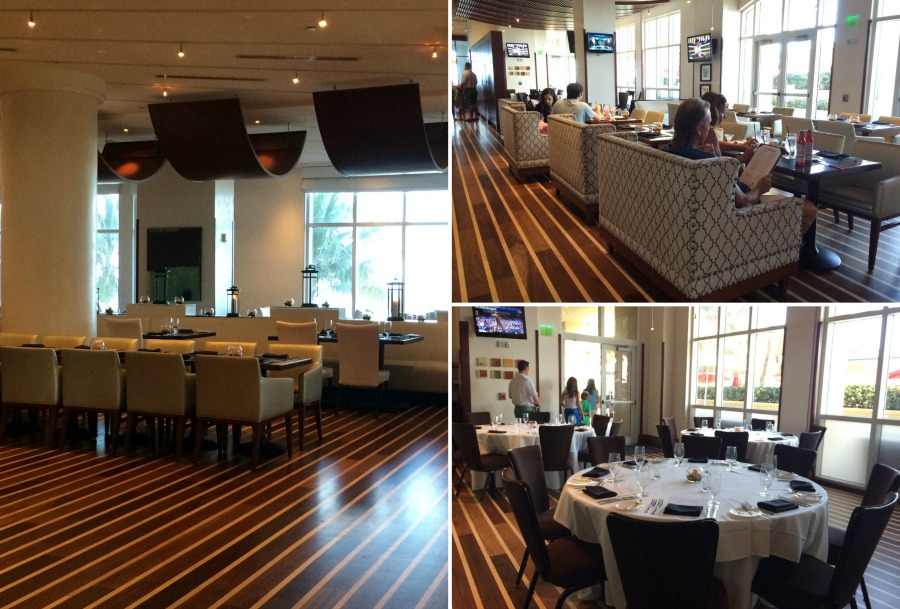 For an appetizer, I was dying to try a crab cake now that it would be fresh. And yep, just as I expected, it was amazing and we finished every last bite. Now I know you won't be surprised when you hear what I chose as a main course from the menu. As a meat and potatoes gal, I naturally went with the Grilled Beef Tenderloin – Tyler, on the other hand, is adventurous and was on a mission to try as many different kinds of fish as he could, so he went for the Pan Roasted Black Grouper which he said was the best fish he had ever tried. Who knew??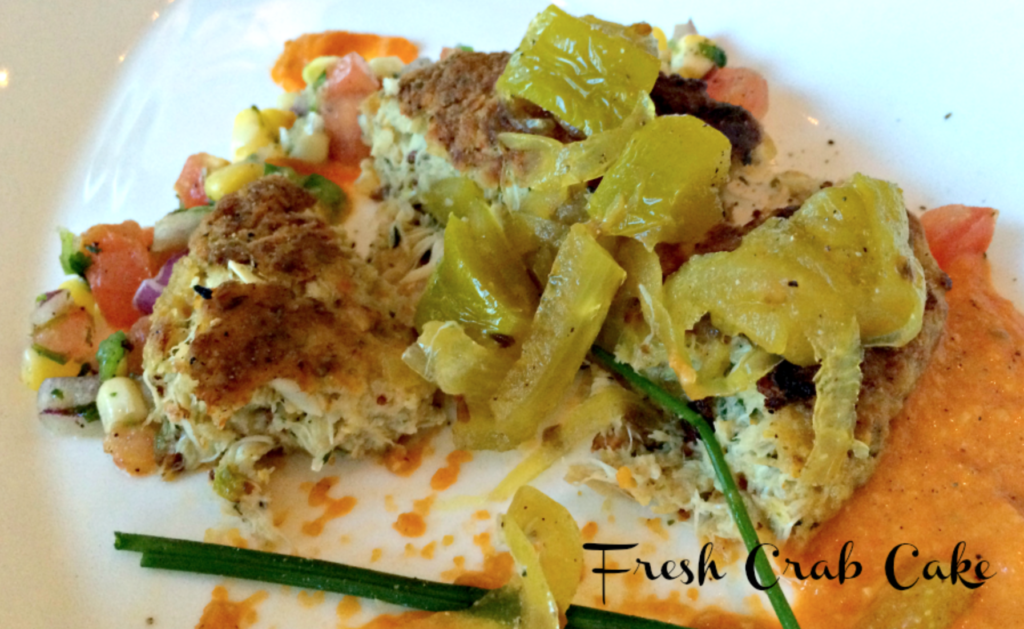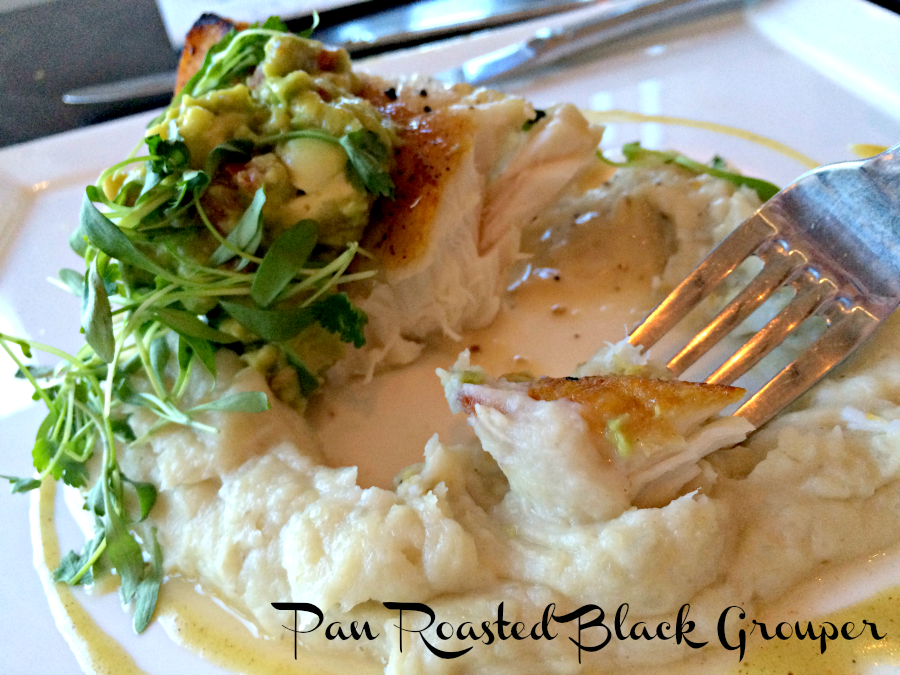 Oh man, were we delighted with our meals. And of course, we had to take a beach stroll afterwards because the ocean is right there! What else would you ever do?
When we got back from our sunset walk, we retired to our room for the evening when all of a sudden – our phone rang. It's always weird when your hotel phone rings because really, who has your number when you're on vacation? Well it was our server letting us know that little miss had left her little Peppa Pig figurine down at our table at the restaurant. She said she would wash it up and leave it at the host stand for us to pick up when we had a chance. Like really, how nice is that? I was in awe. That was so sweet! And little miss would have had a fit if she knew Peppa was even missing – so naturally the hubs had to head down pronto to pick her up. Oye!
Overall, we could not have asked for better anything! It was all so wonderful, the people were amazing, the food, the views, the weather… I already miss it and want to go back asap.
Current Packages
Palm Beach Marriott Singer Island Beach Resort & Spa
If you're looking to book some time at this location, there are some really neat packages to choose from! Here are their current promotions worth checking out.
Ultimate Romance
Overnight accommodations in a luxurious suite (two night minimum)
Champagne and chocolate covered strawberries on arrival
Daily breakfast for two at 3800 Ocean
$50 dining credit per stay
50-minute Couple's Massage at the award-winning seaside sanctuary, SiSpa with Champagne
One in-room movie per stay
12 p.m. late check-out
May rates start at $519 per night
Little Loggerhead
Overnight accommodations in a suite (two night minimum)
One day's access for up to four people to Loggerhead Marine Life Center with a private tour of the facilities
Adopt a Sea Turtle (one per stay, actual turtle not included) and receive certificate with the name of your adopted turtle to take home
A portion of the package price is donated to Loggerhead Marine Life Center
May rates start at $284 per night
---
You deserve a little R&R, or at least some fresh air and salt water… Am I right?
Hearts,
Sarah

Don't miss a beat! Subscribe here for email updates and get a weekly roundup of my latest posts!