Traveling Italy: Days 3 and 4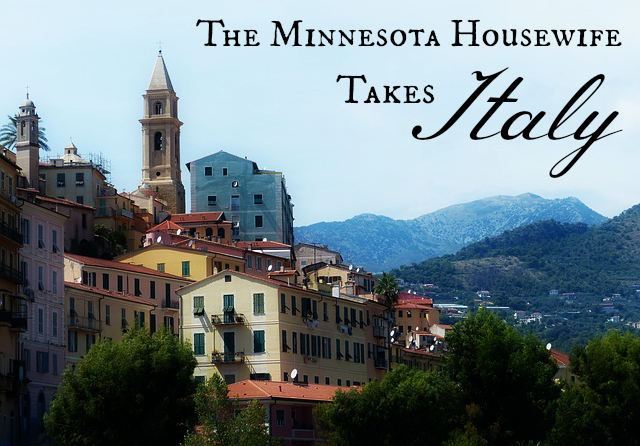 The last couple days have just been a blur. I've been absolutely exhausted but I don't want to waste any time here, so it's just a go-go-go mentality! Here is the latest recap of our Italy trip.
Day 3
We headed to Duomo to visit museums and do some shopping. This is where a good chunk of the stores are, and there is just so much to see. While we were there, we also stopped into the Veneranda Biblioteca Ambrosiana. Here they had all kinds of historical art pieces; paintings, sculptures and artifacts. One of the most notable was the Basket of Fruit painting by Michelangelo Merisi da Caravaggio (in 1599). I had studied this one in school growing up, so it was very neat to see it in person. Kind of a surreal feeling! Other highlights that were found at this museum included; da Vinci's "Portrait of a Musician" and Raphael's cartoon of "The School of Athens".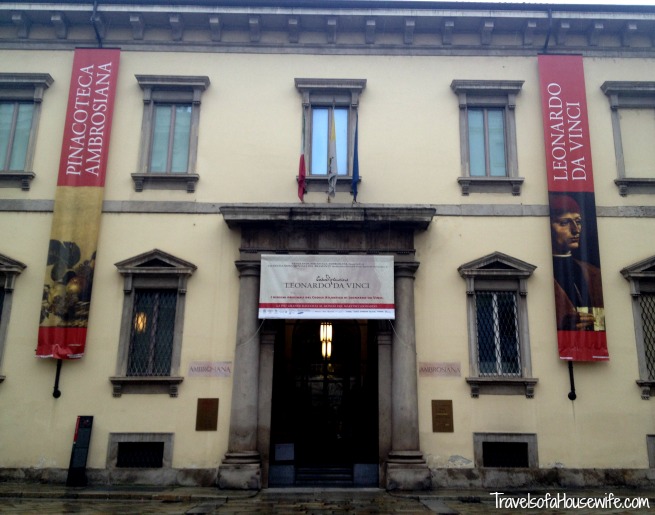 While we were at the museum, we purchased audioguides for 3,00 euros each. These were Samsung Galaxy phones with audio loaded onto them. They were very useful and interesting and very easy to use. Actually, throughout the museum, popular pieces had a little strip next to them so that when you put your phone near it, it would instantly jump to that painting and give you the history and details on it. I would definitely recommend these, as it adds so much value to the museum!
Unfortunately, you can't take photos inside of the museum, so all I have is photos of the outside. However also on the inside, is The Federiciana Room which is an extensive library of manuscripts (including da Vinci's) and print art works along with other historical items. This room (along with others in the building) was bombed in 1943 and was closed to be restored. It didn't open back up until 2009, so only five years ago!
Dinner
After a day full of sightseeing, we grabbed dinner at a local pizzeria a couple blocks from our hotel. This was our second trip here, because my mom had forgotten her phone there the first time. We were so pleasantly surprised that they had put it aside for her in hopes we would stop back. We were so grateful that they did this! There are not many places out there that are honest like that, especially in a big city! So naturally, we stayed to eat dinner there again – so delicious! Here is the prosciutto pizza that I ordered. I couldn't finish it, but it sure was amazing!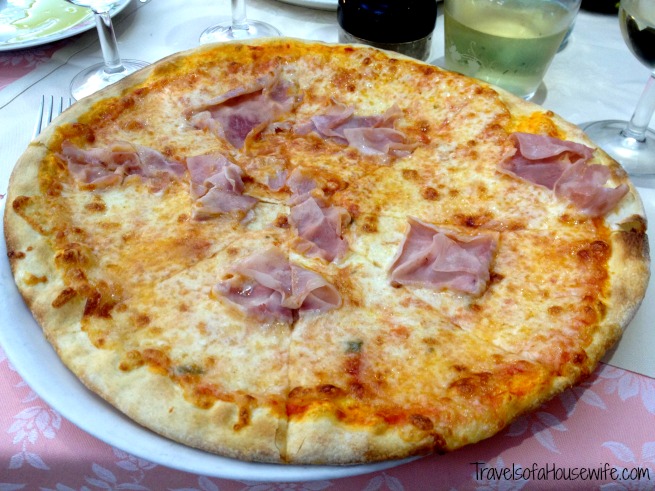 I wasn't that hungry but I said I'd have one piece… three pieces later, I was full, but the pizza is just so good there! The good men of the pizzeria were so friendly and delightful. After our meal (complete with dessert) they offered us a present from 'our house to yours'. It was a little shot of Limoncello. I'd never tried it before but it was surprisingly good! It was like an alcoholic lemon drop. My mom liked it so much that she bought a bottle to bring home too!
On a sidenote, I couldn't believe how cheap the wine consistently was. We stopped at a place in Venice where the wine was 1,90 euro while the pop and water cost 2,99 euro! It was actually cheaper to get wine, if you can believe it!
Day 4
As I mentioned before, we visited Venice, this was on day 4! We were on the fence as to where we wanted to use our full day of touring – it came down to Florence, Venice or Rome. Ultimately Venice won out because it sounded the most interesting, plus it was closer to Milan.
We woke up at 6:00am to get ready and catch the Metro to catch the train (Trenitalia) to Venice (Venezia). It was a 2.5 hour train ride there, but if you plan on napping, it goes pretty fast.The train stations here are absolutely stunning. Pictures don't do them justice, but I just have to show you some of the gorgeous architecture they have in their train stations.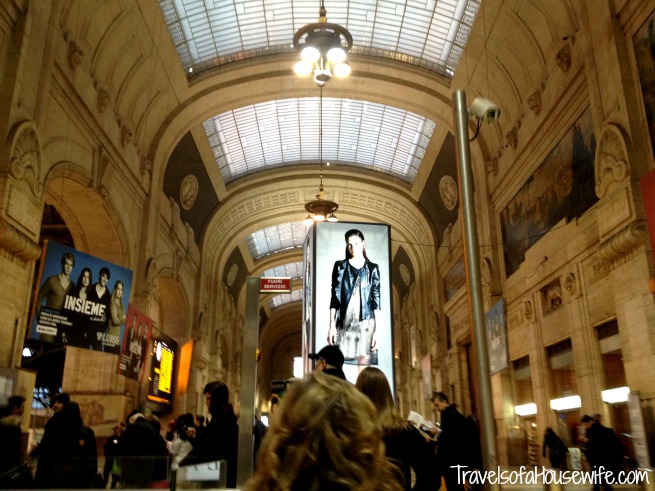 One issue we had here was seating. There is first class and second class, so I can't speak for first class, but in second class you are issued seats, even though the train is rarely full. People tend to sit where spots are open however, because someone else is likely in their seat. Though we had found out that this doesn't always work because they will still come up and tell you that you are in their seat… then in a mix of Italian and English, you figure out what you will both do about the seating arrangement. The train stops multiple times along the way to Venice however, so you're never really completely safe with your seat but it somehow just works out.
When we stepped out of the train station, we were absolutely awestruck. It was beyond beautiful, I've never seen anything like it! We stopped about every 10 feet to take a picture, because it was just so much to take in. You wanted to capture every second of it!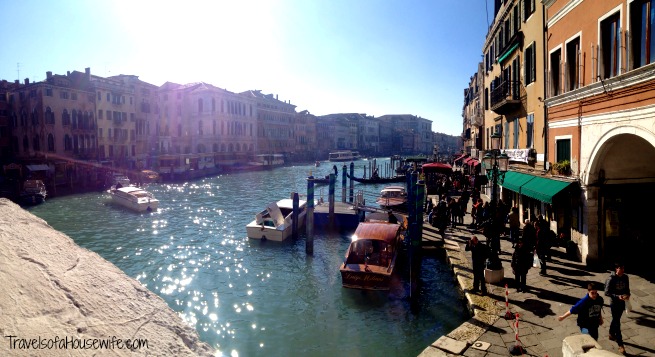 Once you get away from the main station, the paths follow the canal in a non-conventional sort of way. I'd recommend purchasing a map because it is impossible to navigate through the streets as they don't really follow a logical pattern. The buildings will state the name of the street or passway you are on and many times it's just so hard to figure out where you are, since you're not familiar with the area one bit.
The streets are narrow! It's tough to walk 2 people wide at some places because you'll need to fall into single-file. Although at other places, it opens up wide and you can walk however you'd like. It just depends on the foot traffic at that time and if you're on a major road. Regardless, it's amazing to look around and see all the gorgeous, old buildings… and shops!!!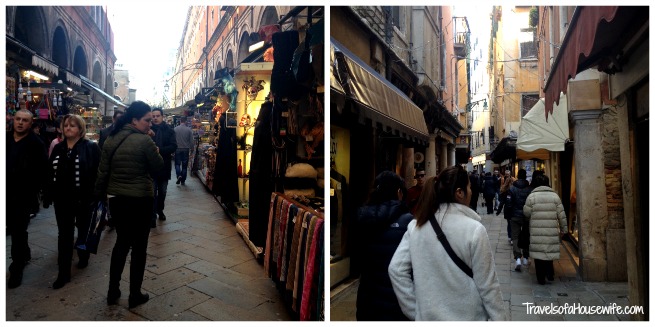 The shops in Venice have been my favorite so far! They were smaller shops that were usually only a few employees with items that you won't find anywhere else. I had read that everything in Venice would be more expensive because there are no cars or roads there, so the cost to get things in is more, thus, more expensive. This wasn't the case though, it seemed this was our most affordable place we've shopped yet! I bought an extremely nice, warm winter jacket for 45,00 euro and a pair of tall riding boots for only 19,00 euro. We also found jewelry, handbags, hats, scarves, ties, clothing, souvenirs, everything you could ever think of, and all for very reasonable prices! I was very impressed.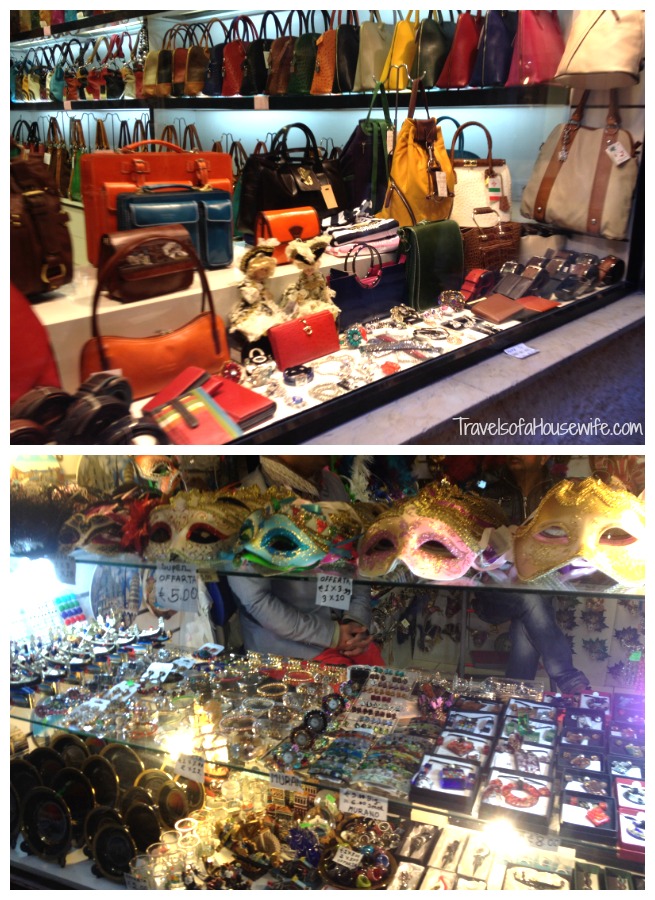 The shops in Venice are EVERYWHERE! I couldn't believe how many options we had for nearly everything. We shopped a ton here, and had so much luck! Plus, along the way we found plenty of Gelatarias and Cafes to stop at for a little treat along the way.
Typically, to use a business's restroom, you need to purchase a coffee or treat to be polite. Though be advised that the bathrooms I seen there were truly not very clean! We only stopped a couple times but both times proved my theory to be true.
All along the canal in Venice, there were gondola men hanging out waiting to give rides. They didn't overly push it, which was nice. We seen tons of people on gondola rides too so it's really not that out-of-ordinary. Plus, I'm sure it'd make for some cool photos! Here's a couple that I got of people on gondola rides as we walked by and shopped.
Venice was absolutely breathtaking, and I'd recommend visiting it over and over again until I was blue in the face! We were all very glad we chose that destination because it was such a neat experience. On the way back to the train station, 7 hours later, we stopped at a small self-service restaurant along the beaten path. They made pasta however you wanted it, plus they had specials of the day and all kinds of options. This is where I had a delicious tortellini with pomodoro (tomato sauce). It was soooo good!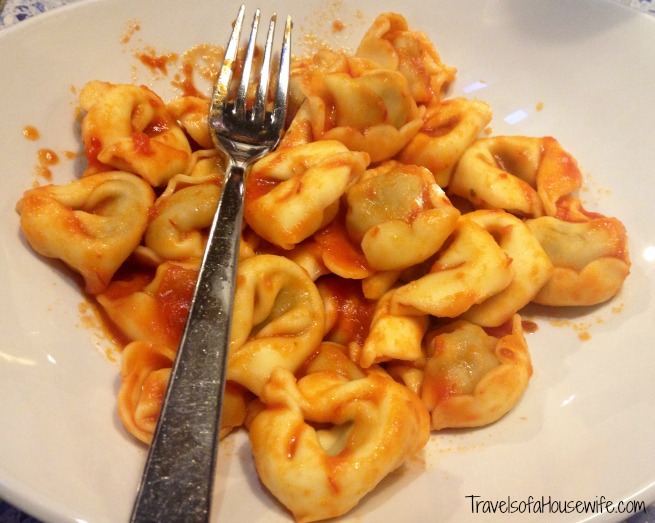 Some of the best pasta we had all trip long! But truly all the pasta there was great. Pasta, pizza, wine, they know what they're doing!
Stay posted for my next and final post of days 5 and 6 in Italy!!
Ciao!!
Sarah

Don't miss a beat! Subscribe here for email updates and get a weekly roundup of my latest posts!