Family Vacation to Wisconsin Dells: Attractions, Restaurants & More!
Disclosure: We received complimentary tickets to attractions along with discounts at various restaurants. All opinions are my own. 
I had talked in my previous post this week about staying at Delton Oaks Resort when we visited Wisconsin Dells recently. It was a great place to stay while we were in the Dells. Now when it came to attractions and restaurants in the area, there was so much to cover that I wanted to make it into two separate posts! Otherwise it would have been about 50 pages long, and no one is going to make it through that sort of marathon reading. So on this page, you'll find my reviews, tips and advice for what to do when you are visiting Wisconsin Dells!
---
We took a four day trip there, we got there on a Thursday afternoon and returned home on a Sunday night and I felt like this was the perfect amount of time there, especially with a toddler.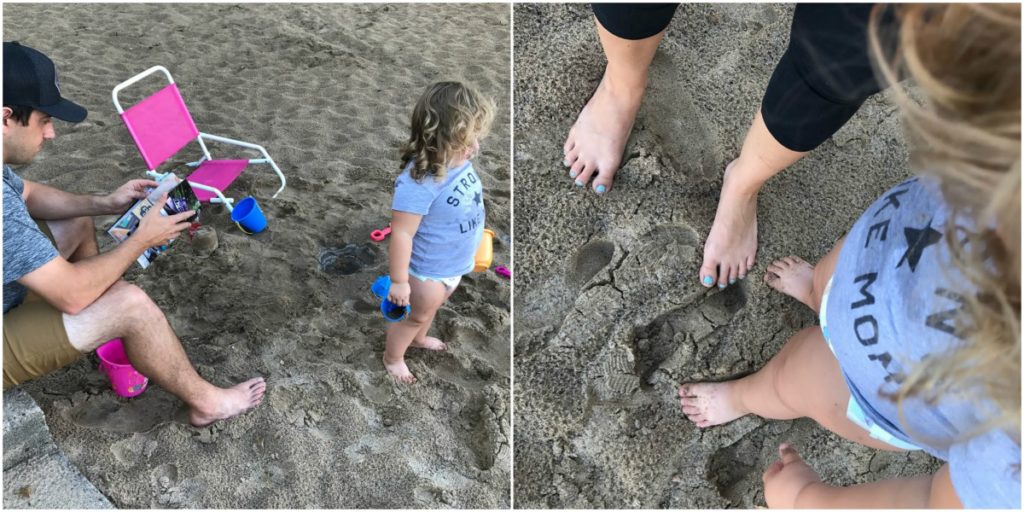 Thursday after we got situated at the resort, and of course played in the sand for a little bit, we decided to check out the mini golf at Pirate's Cove Adventure Golf. This place was huge!! They have FIVE different courses, with a total of 91 holes in all. They even have little clubs for the mini golfers, which was adorable.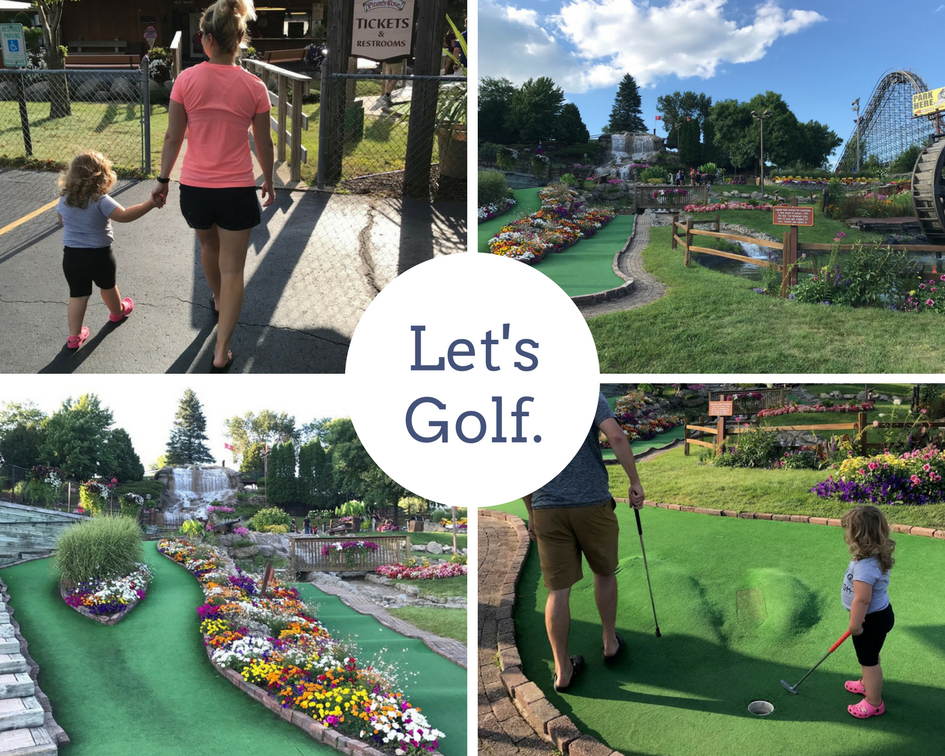 I don't think I've ever seen such a beautiful mini golf course. It was landscaped like something you'd see at the White House, it was gorgeous and it even had a course that went under a waterfall. Pretty dang cool! We had a blast here, and definitely worked up an appetite.
After golf, we decided on visiting Moosejaw Pizza & Dells Brewing Co for dinner, a beer, and some pizza. It was a huge log building with some really cool rustic touches. And I'll be honest, it was the brewery factor that lured us in, but the food was amazing and was what really sealed the deal. Plus it was very kid-friendly, and that always helps sway our decision as well.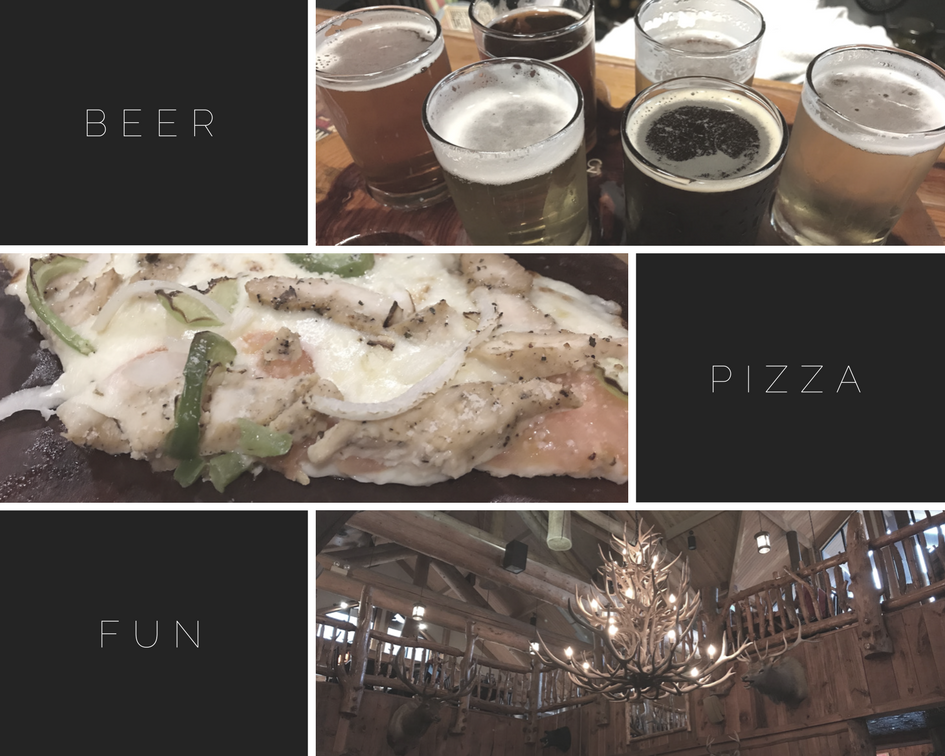 After dinner, we ran to Walmart (which was maybe a 5 minute drive, very convenient!) to get a few things that we forgot. This included paper plates, plastic silverware, bottled water, and a couple grocery items. By that point, we were tired out from the journey and were ready for bed. The next day would hold enough adventure that we knew we'd need to get some good rest!
Friday morning, we were up early to go grab breakfast. We really wanted to try the Paul Bunyan's Cook Shanty but everytime we drove by, there was a long line out the door and that just isn't doable with a toddler who is hungry right this second. Instead we kept driving, and we ended up at BJ's restaurant which ended up having a really good breakfast menu! We ordered a combination of pancakes, omelettes, eggs, sausage links, and hashbrowns. All of which was delicious, and it made for a great start for the day.
Since the weather was a little cold and cloudy that day, we decided we were going to hit up the attractions that we wanted to see that were indoors. Ultimately we decided we wanted to visit Chula Vista's indoor waterpark and if the weather got better, we could step out to their outdoor waterpark as well. I was very happy with this choice, because the toddler section of their indoor waterpark was really neat and with a zero entry pool, it was perfect for little ones. It had all kinds of water spouts, mini water slides, fountains and more. Little Miss absolutely loved it, and she didn't want to get out! While she played, hubby and I took turns on the water slides which were really cool. My favorite was the Matador Mat Racers, which is a slide you go down on your stomach while laying on a cushiony foam mat. I was nervous at first, but apparently it's a good option for 'middle to older age children' and I mean if they can do it, why can't I? lol
Oh and see that photo below in the bottom right corner, the one that looks like a big microwave? That was a dryer, for people. Cool right?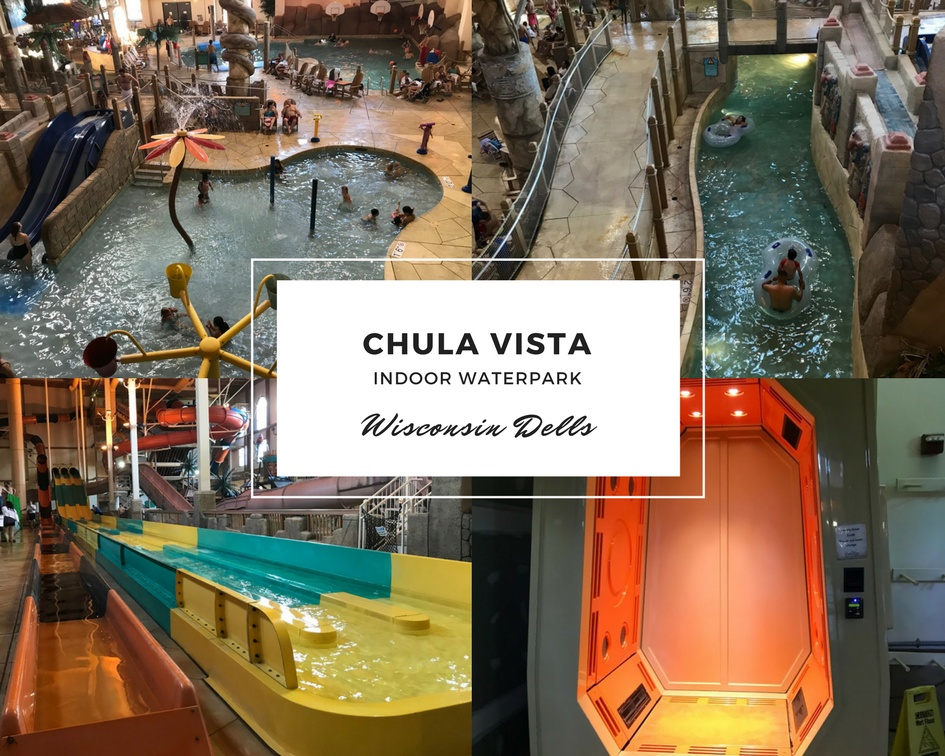 That night, we decided to visit Knuckleheads, which has a trampoline park, rides, jumping pillows, bowling, arcade games, and a ball play area for little kids. It was a really neat place, with LOADS of things to do there. Outside, they even had bounce houses for the kids to let off some energy in.
One bit of advice I would give you here is to bring socks for all of these things; bowling, bounce houses, the ball pit, etc. The trampoline park seems to have special grippy socks however, so that was a different story. But we ended up stopping at the Dollar Tree on our way to Knuckleheads to grab some cheap socks, because we didn't bring any! It was the middle of summer, who would have thought we'd need them?? Now you know 🙂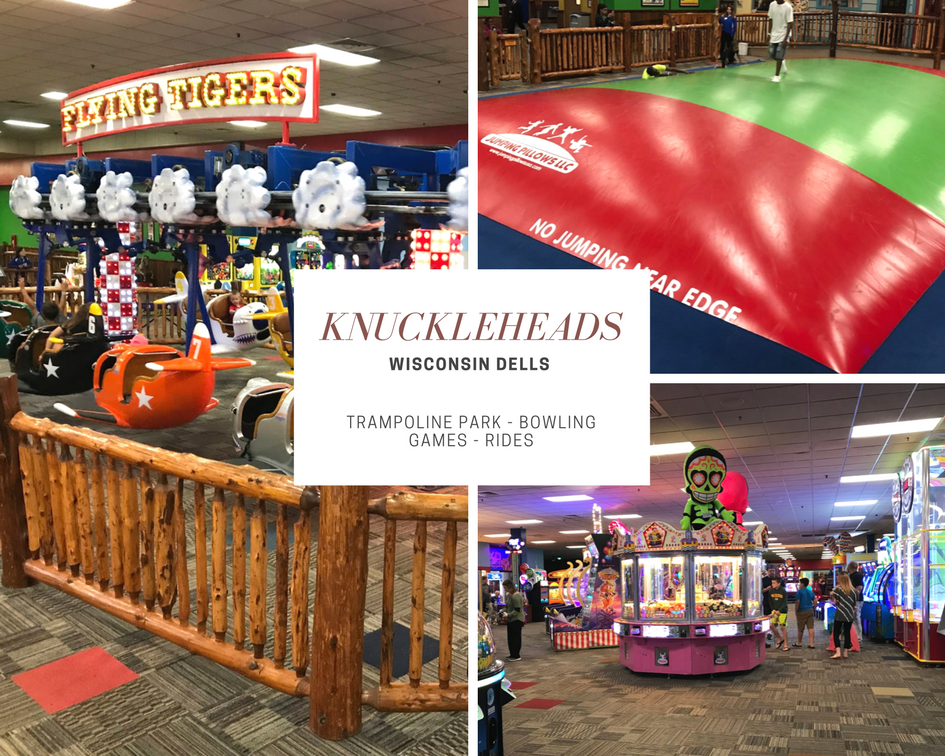 For our final day in the Dells, we took on Noah's Ark Waterpark. It was the nicest, sunniest day that we had on our trip, and it was perfect weather for an outdoor waterpark. I had been told that the earlier you get there, the better and I can speak to that now that it's absolutely true. It seemed to get much busier around lunch time. So if you have little ones, or just don't love crowds, I'd strongly consider getting there right when they open.
Our favorite thing at Noah's Ark was the surf station in the very back where it is a surf wave and you get to use a body board to surf it. It goes one person at a time however, so the line is a little long. But again, if you get there early, your odds are much better that it won't take as long. And it was worth the wait!
They had two wave pools there, and a lazy river (along with a kids lazy river). There were lots of kiddie pools as well, which is always nice when you're entertaining little minions.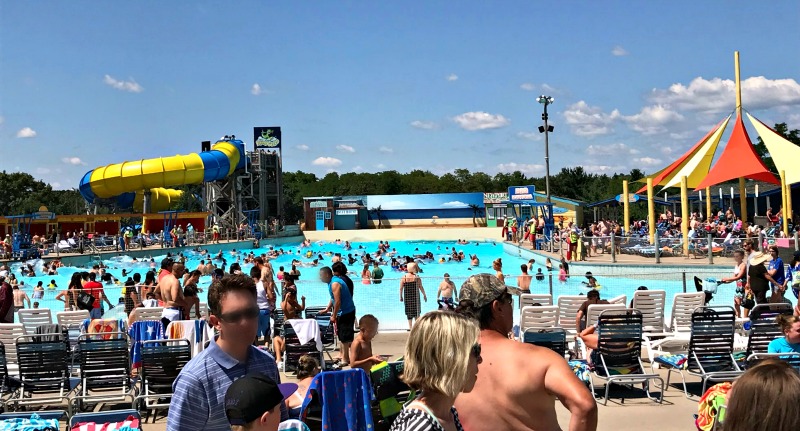 After all the excitement, we went back to the resort for a nap, and then as a special surprise for my daughter, we went to Buffalo Phil's for dinner. Now let me tell you, I was blown away by how cool this was for kids. Here's why; they have a small train that goes through the restaurant and at certain spots in the restaurant, the train actually brings you your drinks and food. It was SO awesome. She thought it was the coolest thing in the world, especially when it brought around things like bubble blowers or toys that she could play with.
If you have any train lovers in your family, definitely check this one out because it was a gem for sure! And when we finished our meal, our bill came with a coupon for a free train ride next door at Knuckleheads which was pretty neat as well.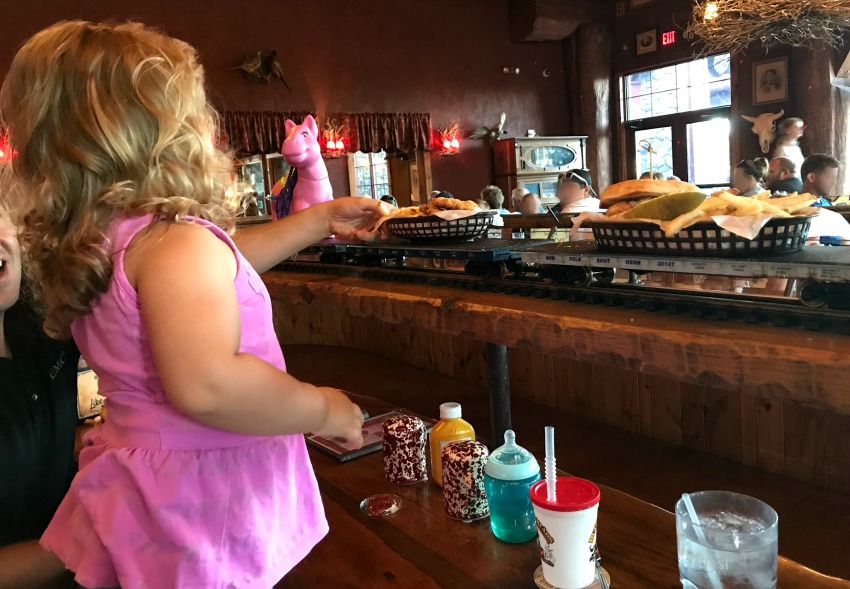 And one last thing we had to check out before we went home, we HAD to stop by and take a ride on the Original Wisconsin Ducks. I think this was a favorite for Little Miss as she didn't stop smiling and laughing almost the whole time.
We went from cruising the land, to cruising the water, and back again a few times over and again. The tour we took was about an hour long and toured the woods, roads, river and lakes there in the Dells. My favorite part of the tour was getting to ride down the Wisconsin River, it was super pretty that day and the scenic views were unbelievable.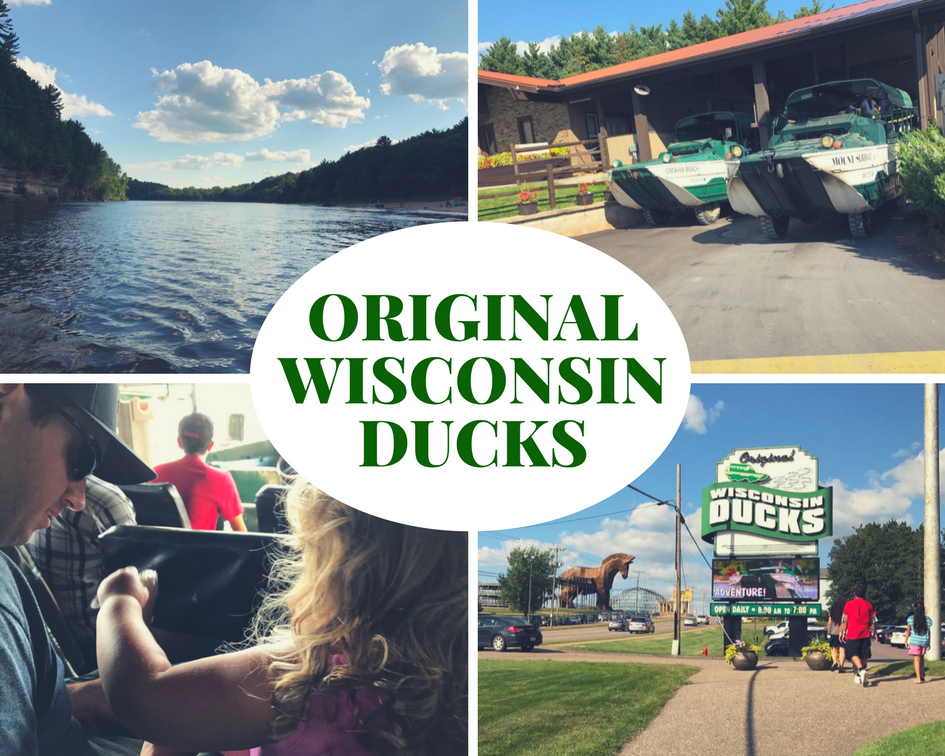 We had an awesome time during our stay in the Dells, it went by so fast but we found plenty to do, even with a toddler! What fun things have you found to do in Wisconsin Dells? Leave a comment below, I'd love to hear!
Til next time,
Sarah
---