Tag Archives:
wreath craft
Last year, my mom gave me a beautiful spruce wreath to hang on our front door. It was absolutely gorgeous and naturally, real. But after it had seen it's better days, I forced myself to take it down and put it back with nature. I hated to have to waste such a beautiful piece of work, so this year I went with something faux.
I walked around stores and found plenty of beautiful wreaths – with not so beautiful pricetags. They ranged from $20-$50, and I was not about to pay that much for a wreath. That's just not like me. So instead, when I was with the hubs at Menards, I noticed they had some pretty plain jane wreaths for $7. It was just the faux spruce needles and that's it, but I knew that for $7, I could work with it.
I wish I would have taken a picture of it before, but you pretty much get the picture, right?
So when I got home, I dug out some old ornaments that I wouldn't be using. I also had some extra pine cones, and faux berries plus leaves (left over from when I bought fake flower bunches at Joann Fabrics). I took my handy dandy hot glue gun and got to work.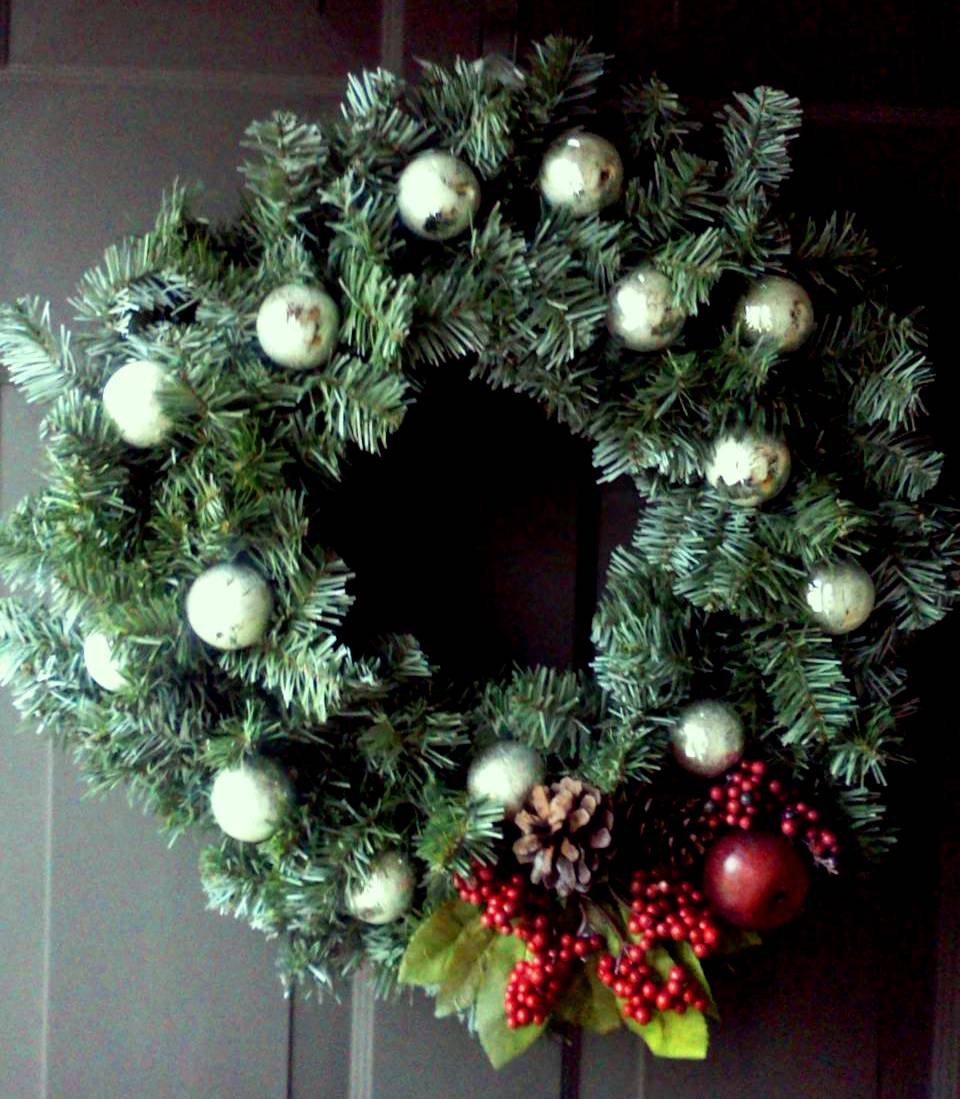 First, the ornaments went on. spread out all over until they looked nice. Next, I grabbed my faux berry, pine cone, leaves leftovers and made a little arrangement, then – you guessed it – hot glued it all on. When it was all cooled off and lookin' good, I brought it outside for a little bit of snow. Faux snow, of course.
With white spray paint in hand, I spritzed the tips of the spruce to look like snow. It looked nice! I added a little bit of glitter spray paint as well to add a little glisten! This is what my final product came out looking like!
Not too shabby for $7, right?
If I were to do anything different, I would have added a variety of colored bulbs into the mix instead of just silver, but that's all I had on hand. Oh well, what can ya do!
Hopefully it inspires you to use what you got and make it rock

Hearts,
Ruby