Winter Coffee Gift Ideas for Women
Disclosure: I received these products free of charge.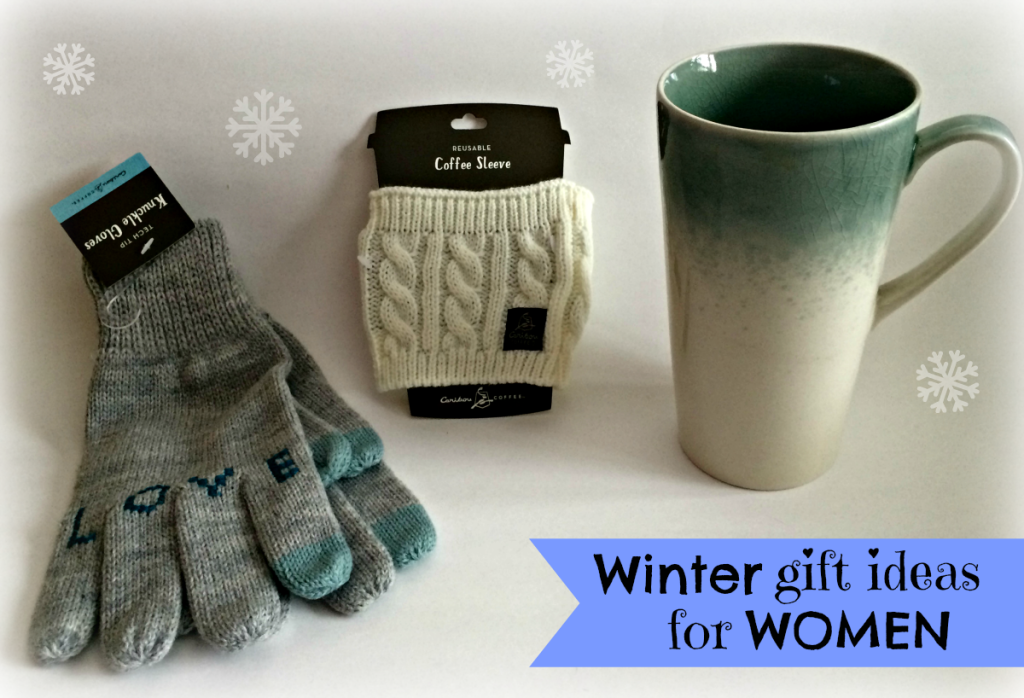 It's a tough time to keep warm right now, as I write this, it's -20° F with windchill outside and last night my eyelashes froze while taking the dog for a little walk (in 4 different layers, plus snowpants and two scarves)… So today's post helps focus on gifts that help you stay warm, in a very fashionable way!
You can find all of these gifts at Caribou Coffee currently, and when you swing in there to pick up a couple gifts, don't forget to get her a little gift card for coffee as well! It's the complete package that she will adore! Trust me, I know!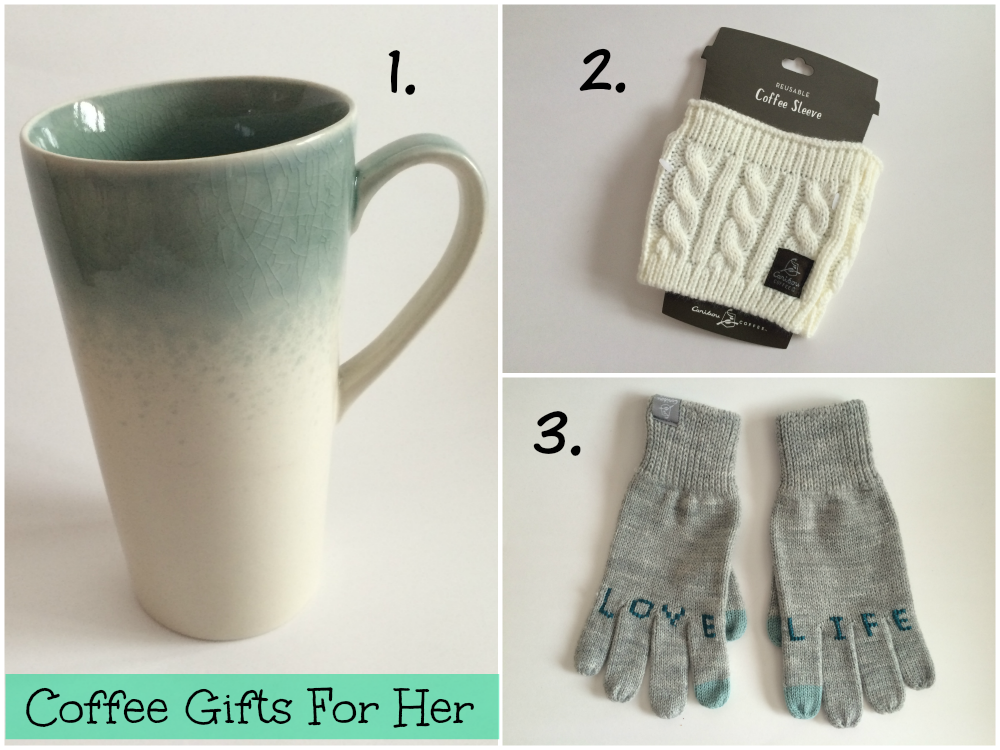 1. Caribou Ceramic Latte Mug – This 18oz ceramic coffee mug is awesome, not only because it's large enough for two cups of coffee, but it's also a gorgeous powder blue with a reactive glaze. It's dishwasher and microwave safe too, so it's very low-maintenance as far as coffee mugs go! ($12.99)
2. Reusable Coffee Sleeve – This cute sweater-like coffee sleeve keeps your coffee warm and your hand cool! Plus, it's good for the environment, instead of using the cardboard ones and throwing them away, you can use this one again and again! ($8.99)
3. Tech Tip Knuckle Gloves – This is my first pair of 'techie' gloves and I'm in love. They allow you to work your phone without taking your gloves off (because honestly, doesn't that defeat the purpose?!) See those blue tips on the fingers of the gloves, those are the ones that work to slide and tap on your phone with ease. This style may be sold out at your local store, but there may be other tech options available if you take a look! ($13.99)
Other Honorable Mentions…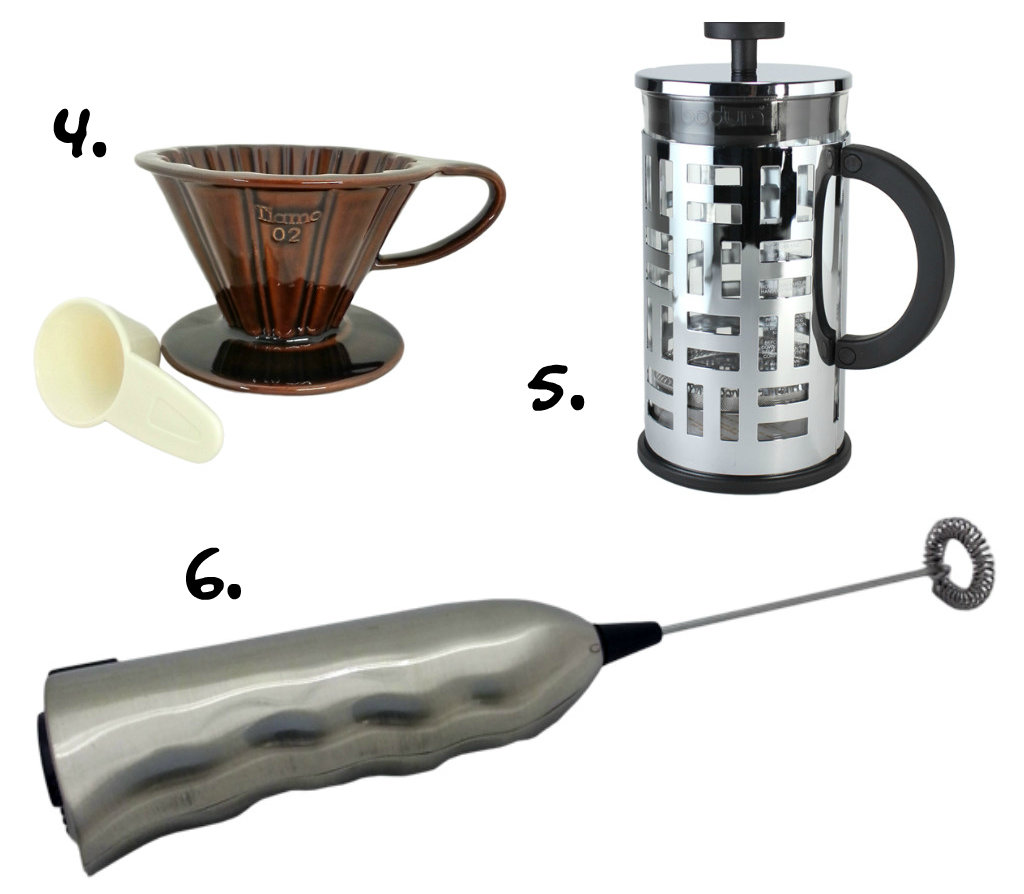 4. Ceramic Pourover Coffee Maker – When I worked at a coffee shop, this is what we used when someone ordered a brewed coffee that we didn't have brewed currently. You just use a cone coffee filter, fill it with the given amount of ground coffee, and pour hot water over the top as it seeps down into your cup. This is a great way to make a single cup of gourmet coffee without spending $100 on a single-cup coffee maker. ($24.99)
5. Eileen French Press – If you've never had coffee made on a french press, you're missing out. It really forces the coffee grinds to give every ounce of flavor that it has in it. It's a noticeably different taste for sure! ($23.99)
6. Milk Frother – You've probably noticed the difference in a latte made at home, and a latte made at a coffee shop. Many times the difference is for one, the quality of espresso, and for two the professionally steamed milk. Now you can make these gourmet drinks at home if you want! ($15.99)
In addition to these featured items, also consider one or two of the following:
7. A pound of coffee beans
8. Coffee grinder
9. Gift card to their favorite coffee shop
10. A snack or treat (such as biscotti, muffins, cookies…)
11. Chocolate covered espresso beans
12. Reusable coffee pod (for single-serve coffee makers)
——–
Women love everything coffee, it's a delightful treat on a tough day and a special treat to celebrate a good day – and everything in between! I hope these ideas help you while shopping for that special coffee lover in your life 🙂 If you have a coffee-related gift that I missed, leave a comment below and share!!
Until next time,
Sarah

Don't miss a beat! Subscribe here for email updates and get a weekly roundup of my latest posts!