Walgreens Holiday Gift Guide: Pet Stocking Stuffer Ideas
I am a member of the Collective Bias® Social Fabric® Community. This shop has been compensated as part of a social shopper amplification for Collective Bias and its advertiser.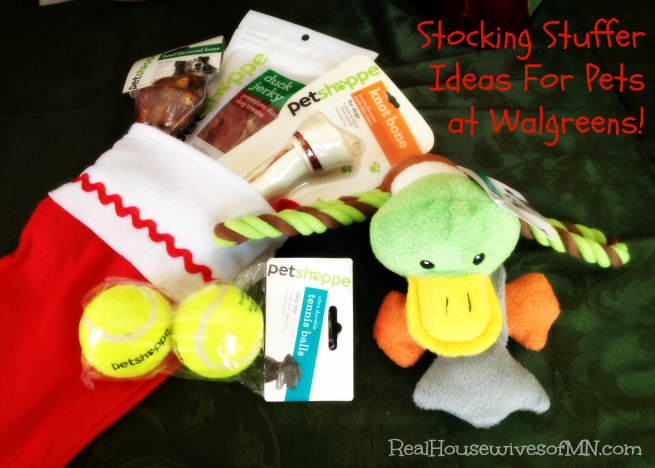 This will be our puppy's first Christmas and we are so excited to celebrate it with her with some creative gifts. I promptly got her a stocking as soon as it snowed for the first time, and I even personalized it with her name, Luna. I've been trying to figure out what little pet gifts we are going to get her this year but I hadn't really come up with any Christmas present ideas that would suit her perfectly, until today.
When my husband and I stopped at Walgreens on the way home from church, we found they had a pretty extensive pet collection with plenty of pet gifts. Here's a quick glance at some of the things that we found in the Walgreens pet section: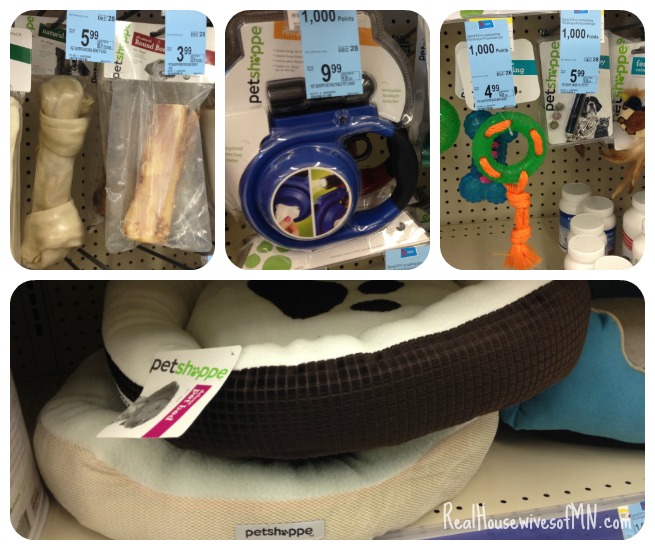 Walgreens has their special "Pet Shoppe" brand that offers all kinds of unique pairings, and pretty much anything you could think of. We found a mixture of pet toys, dog biscuits, chewing bones, pet supplies (such as grooming products) and lots more. My husband kept up picking item after item saying, "Luna would really like this!" I agreed, but had to let him in on the little secret that we could NOT buy everything in the pet section!
They had pet items for all different sizes of pets and you'll find that the products fall into the following categories:
Health
Grooming
Toys
Natural
Food & Treats
Training
What's in Luna's Stocking
Luna is a chewer. It's how she keeps herself busy (and stays out of trouble) so we try to have something for her to chew on for when boredom might hit. That being said, the majority of her stocking stuffers were chewable items like rawhide bones, chew jerky treats, and even a pet toy that is a stuffed animal with a pull rope to play tug-of-war with her. Beyond that, we also found a set of tennis balls which she LOVES to retrieve. This all made for a great haul, and we only spent around $23!
But how would Luna like it? Well, see for yourself!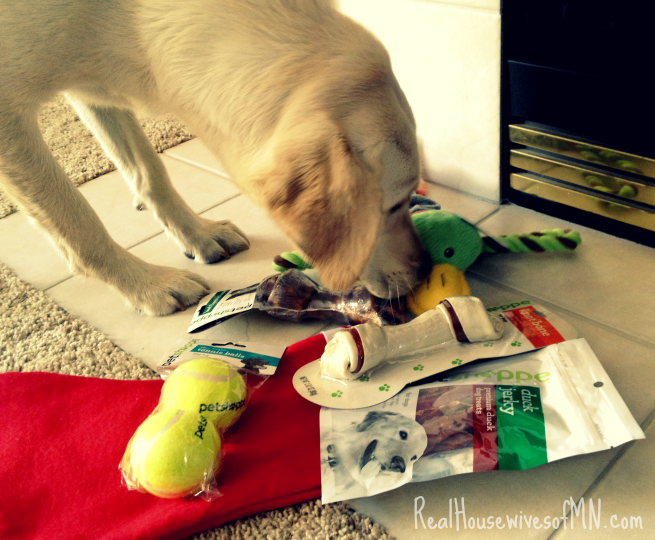 She was so excited to see all the things we got her and eagerly sniffed around with a very wiggly tail! Once she figured out what toy she wanted to play with, she snatched it up and wouldn't let go.
So far, she's been carrying this cute little duck around with her today! I think she kinda loves it.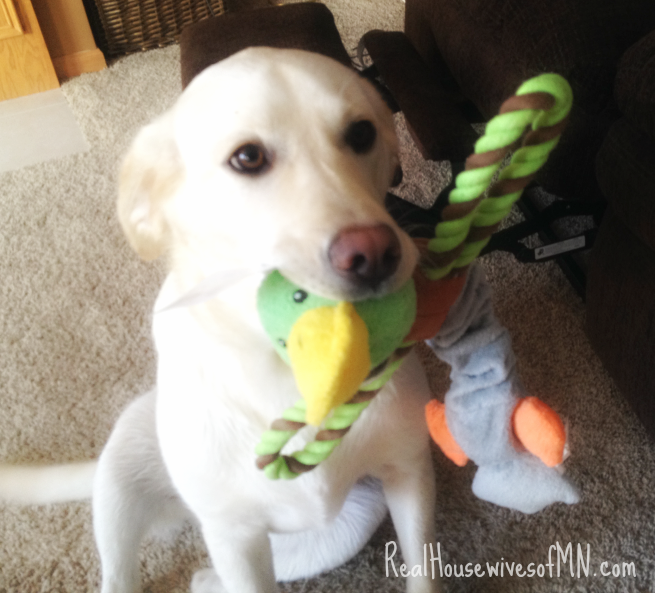 I know, I know, it's not Christmas yet. But she found me when I was taking all of the pictures for this post and I didn't have the heart to take her newly discovered Christmas gifts away from her. I mean, could you say no to that cute little face?
Beyond the Pet Gifts: Walgreens Happy & Healthy Holiday Gift Guide
Since we have covered the pet gift ideas, I wanted to share that Walgreens also has a great Holiday Gift Guide for everyone on your shopping list. Because sometimes, you just don't even know where to start when purchasing gifts for people.
Trust me, I know. Every year, we struggle on what to give our parents because they pretty much have everything they would ever want. So what do you give someone who already has everything? That's the biggest question of the season. That's why the Walgreens Holiday Guide comes in handy, because it sparks some inspiration for your holiday gifts and gives you some ideas that you probably would have never thought of!
The guide even offers some tips on adding a personalized touch to your gifts to make your recipient feel extra special, even though you are still using basic items, so it is both frugal and spectacular 🙂
Happy holiday shopping!
Hearts,
Sarah

Don't miss a beat! Subscribe here for email updates and get a weekly roundup of my latest posts!