Minnesota Super Bowl LII 2018: Local Activities List
I have gotten really excited lately knowing that the Super Bowl is just a matter of weeks away. Normally it isn't a huge deal to me, but now that it's in Minnesota this year (or Minneapolis, more specifically at U.S. Bank Stadium) I have gotten more eager to see how it plays out! I've heard of a lot of events and activities that are going to be taking place and I thought it would be a great resource for us Minnesotans to have them all in one place. I mean how many times do you get the chance to have the Super Bowl held right here in your hometown?!
If you haven't followed the Super Bowl details closely, the game is on February 4th, 2018 at 5:30PM CST.
Fun facts: Justin Timberlake will be performing at halftime, and Pink will be singing the national anthem.
If you need to go to that area for some reason other than to take part in the Super Bowl festivities that day, I'd highly advise against it. You are going to get nowhere, and likely spend all day doing it.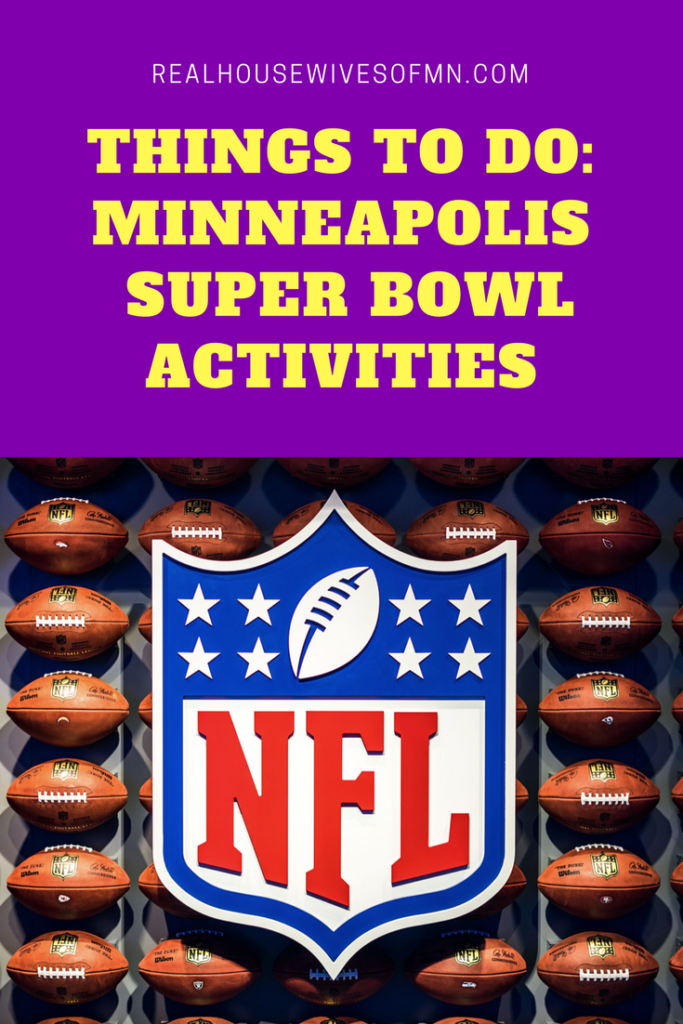 ---
Super Bowl LII – List of Minneapolis Activities
Another great resource is MNSuperBowl.com, where they have details, tickets and links to more activities and events. 
January 25 – February 10 – Saint Paul Winter Carnival
The annual Winter Carnival starts on the 25th and goes a good week after the Super Bowl. They'll have their famous Ice Palaces, parades, ice sculptures, ice bars, and many different themed days. Be sure to check out Frozen Family Night on January 30th if your little ones love Elsa and Anna and their crew.
Plus the Vulcan Snow Park, which has countless activities and events including a giant snow slide, barstool ski races, snow stomp, and more!
January 26 – February 4 – Super Bowl LIVE Concerts
Free and open to the public, there will be concerts each day leading up to the big day. See the concert schedule and times here.
January 27 – February 3 – Super Bowl Experience Driven by Genesis
Check out virtual reality technology and experience NFL games. Get autographs from NFL players and see previous Super Bowl rings in person. Get your photo taken with the Vince Lombardi trophy and learn some football skills from some of the pros at their Play Football Field Run and more. (Tickets start at $35 each)
January 26 – February 4 – Bold North Zip Line
Take the Bold North Zip Line over the Mississippi River on this 800 ft zip line. Tickets have now sold out! Keep your eyes peeled though, they have occasionally had more spots open up.
February 3rd, 2018 
8:00AM – Super Bowl Breakfast at U.S. Bank Stadium $250 per ticket
8:00AM – Artisan Home Tour and NFL Alumni Home Tour – Hop aboard luxury motor coaches and take a tour of gorgeous homes, their website details it as, "These homes are located in the western Twin Cities suburbs and combine exquisite architecture with top-quality finishes and interior design" Then when the tour is done, enjoy a lunch with NFL Alumni at the historic Lafayette Club in Minnetonka Beach. (Proceeds benefit the NFL Alumni and BATC Foundation)  Tickets are $200 each.
10:00AM – Polaris UpsideDowntown hosts snowmobile stunts and opportunities to meet snow athletes. Levi LaValle's signature jump will take place at 1:30PM on Nicollet Mall at 11th Street.
---
What else have you guys heard about that's happening during those days leading up to the Super Bowl? I'll keep adding them as I hear more and more 🙂
In the meantime, enjoy this neat experience!
Sarah