Holiday Activities Around the Twin Cities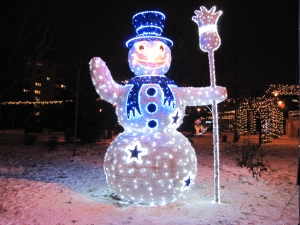 If your family is anything like mine, you're all about finding fun things to do with each other. And since there are so many things to do around this time of year, it's even more fun!
I just love all the holiday-themed activities that are offered around this time of year, and the Twin Cities are so perfect for all the different ideas out there. So, without further ado, here are a few ideas for some holiday family activities in the Twin Cities.
1) IBEW Holiday Lights in the Park
http://www.lightsinthepark.org
5:30pm-10:00pm nightly
Goes until January 21, 2012
Costs vary, but regular cars are $10/car
2) A Christmas Carol (play)
http://www.guthrietheater.org
Goes until December 30, 2011
Costs range from $29-$73
3) A Don't Hug Me Christmas Carol (play)
http://www.hennepintheatretrust.org/
Goes until January 1, 2012
Prices range from $23-$26
4) Celebrity Bell Ringer Day
http://www.thesalarmy.org
December 16, 2011
Southdale Shopping Center
5) Elm Creek Park Snow Tubing
http://www.threeriversparks.org/activities/tubing.aspx
December 22, 2011 through February 20, 2012
$12 for a 2-hour pass 
6) The Depot Ice Skating
http://www.thedepotminneapolis.com/ice-rink.php
Open now through March 18, 2012
$7.00 skate rental
Admission: Junior & Senior $6, Adults $8
7) St. Paul Winter Carnival
http://www.winter-carnival.com/
January 26, 2012 through Febuary 5, 2012 
8) Wells Fargo WinterSkate
http://www.wellsfargowinterskate.com/
Open until February 5, 2012
Free! 
9) Holidazzle Parade
http://www.holidazzle.com/
Nicollet Mall, Minneapolis
Parade starts at 6:30pm
Runs Thurs-Sun until Dec. 18, 2011
Free!


So take the family out and do something fun 🙂 Celebrate the season, kick up your heels and let loose!
Happy Holidays,
Sarah

Don't miss a beat! Subscribe here for email updates and get a weekly roundup of my latest posts!