Our Family Fun Day at Valleyfair
Disclosure: This post is sponsored by Cedar Fair Entertainment Company in conjunction with Blog Meets Brand, and I have been compensated for my participation. All opinions are my own.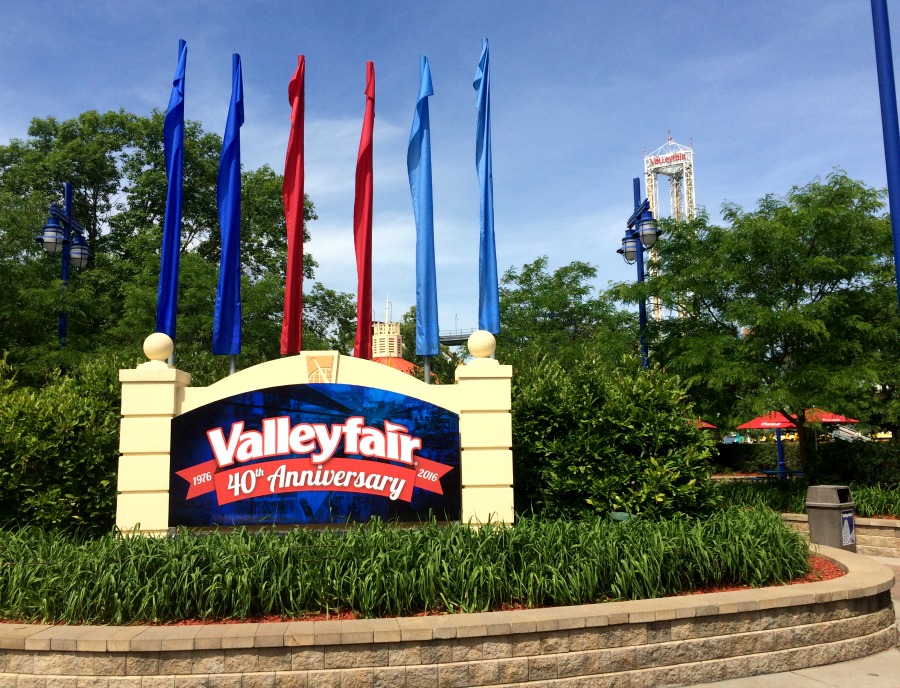 As I'd mentioned before, we wanted a fun family adventure for this summer so we decided to take the family to Valleyfair! It's somewhere we hadn't been as a family before, and it offered a lot of new and exciting activities that would keep the interest of my daughter. Plus, it's a great spring break (or summer break) idea to keep things fresh with the family!
Since she is one, I wasn't quite sure what would be available for her to enjoy but let me tell you – she just loved going and riding around in her stroller watching all the fun rides, colors, lights, and other kids! The first thing we did was take the train ride around the park, we were able to bring the stroller on too so that we didn't have to leave it sit there. The train took us around the park and through tunnels, she loved watching all the sights go by!
After the train, we tried our luck with the Merry-go-round, she wasn't sure what to think of the horses going up and down, but had a fine appreciation for the steady sleigh that didn't move. It was also fun for her to watch all the kids going up and down on their horses, as long as she wasn't one of them! lol
As we walked around, we pointed out the dinosaur exhibits to her, she enjoys dinosaurs so that was a fun little perk for us! The park has over 30 life-sized, animatronic dinosaurs in their "Dinosaurs Alive!" that treat guests to a pretty unique and cool learning experience.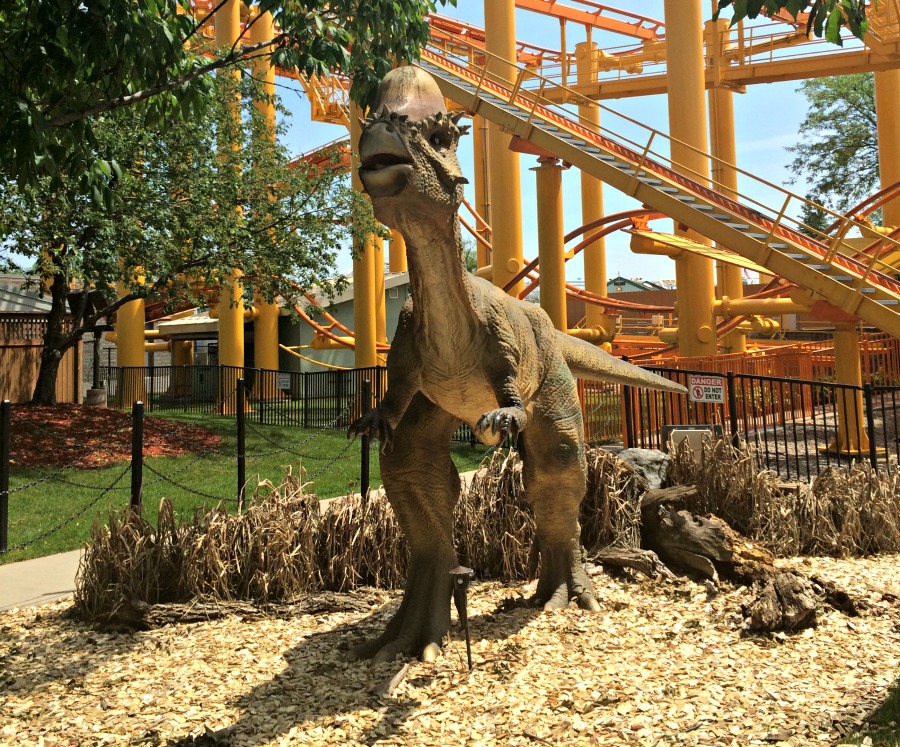 Planet Snoopy
What we were really excited to check out was the new Planet Snoopy park for kids. There they have all of the classics (like the swings and tea cups) and also some new Peanuts themed rides as well! I snapped some pictures of my favorites, they seemed really cool! We will definitely have to come back when little miss is a little bit older, I think she'd love them!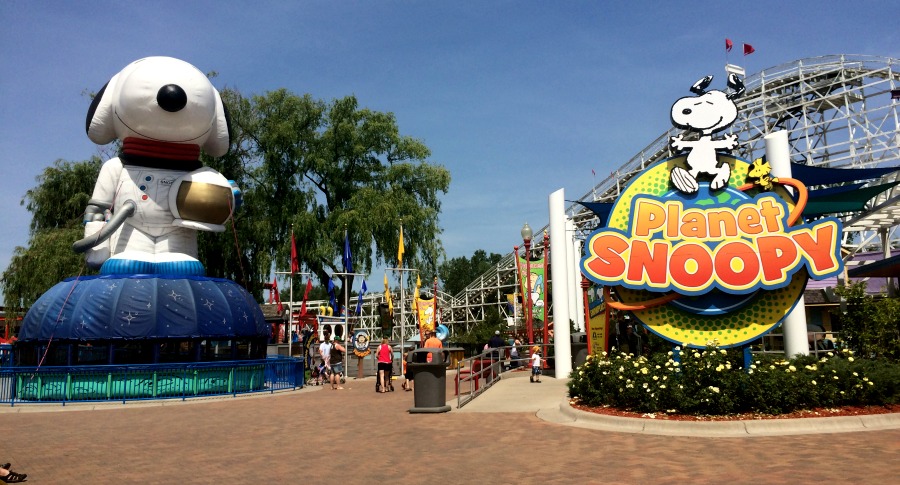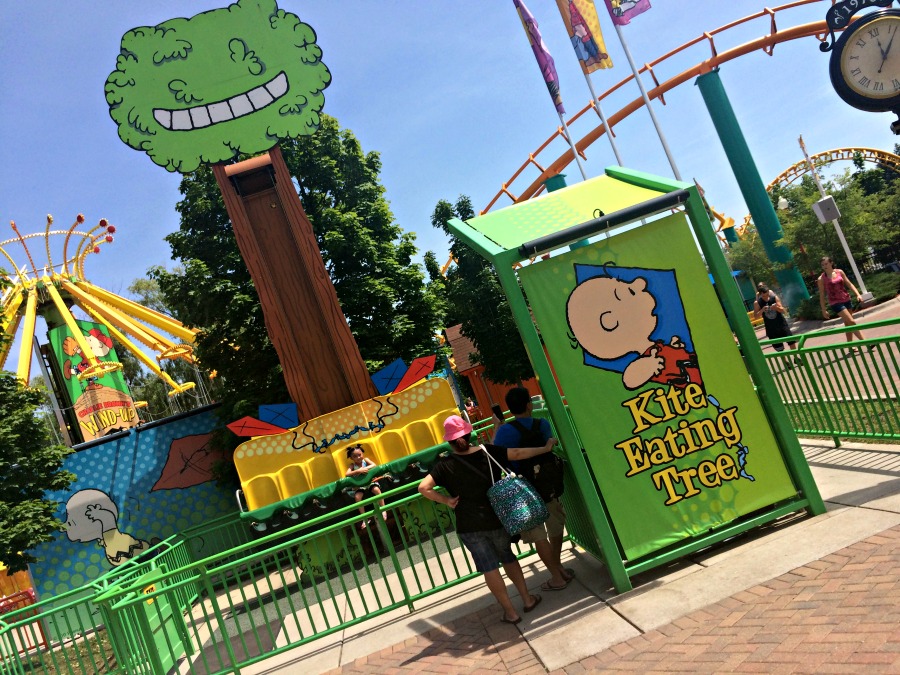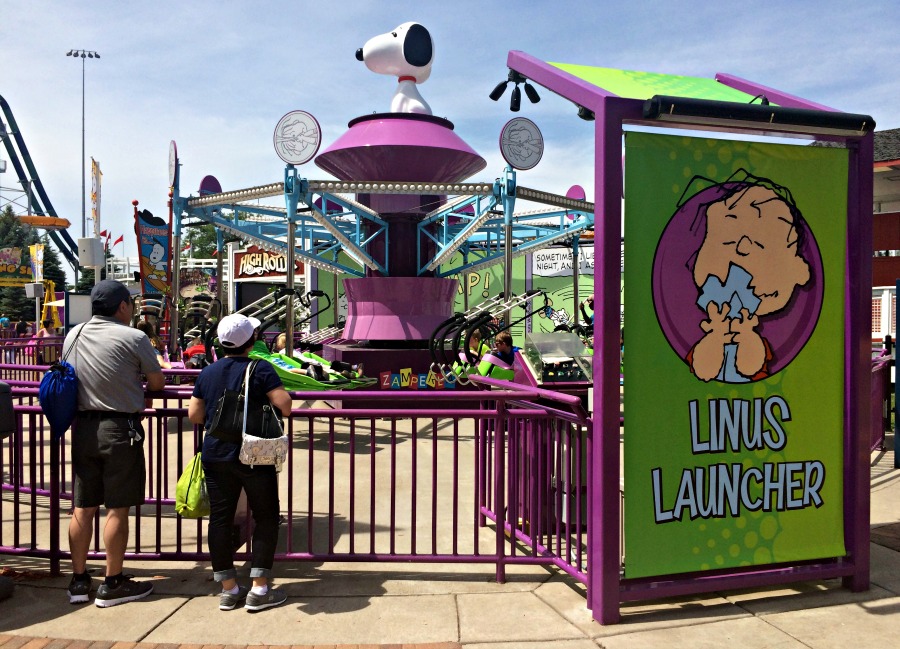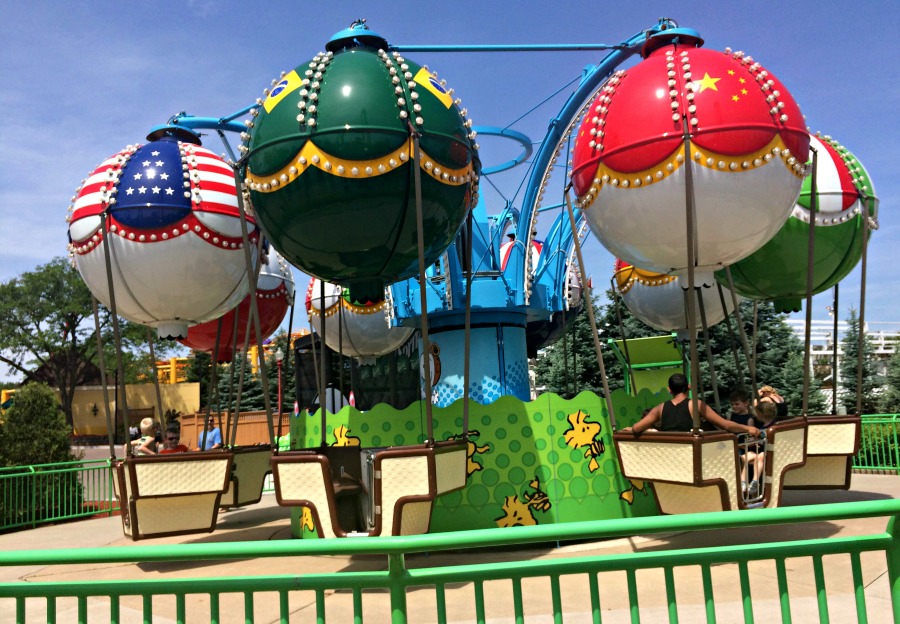 What she really loved was the Peanuts Playhouse where it was air-conditioned (we were there on a 95* F day, so this was a score!) house with all kinds of ball-launching, rolling, and collecting going on in there! She had a blast picking up the soft foam balls and putting them in the big vacuum containers, or on the air blowing areas and watching them go. It was really a neat area!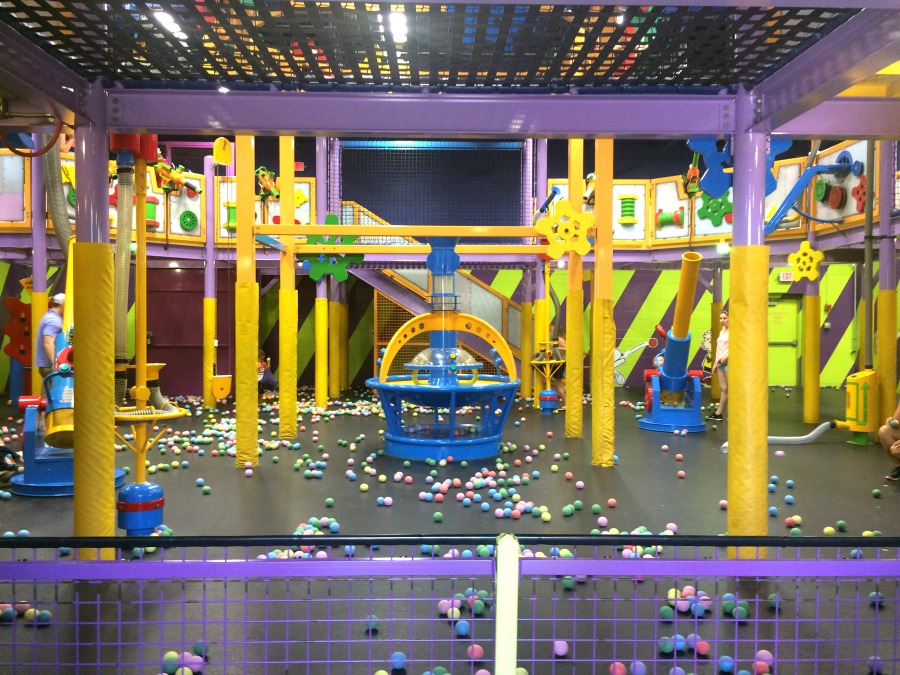 Soak City Waterpark
By the time lunch time rolled around, it was getting pretty warm and we were more than ready to cool off at Soak City waterpark. This was always my favorite part of the park growing up, so I was excited to share that experience with my little one! Now it's been a while since we've visited, so you can imagine my rrprise when it had all changed so much!
There were still a few things that had remained the same like that giant group water slide, the Ripple Rapids, and of course the lazy river (that was always my favorite). But now there is also Breakers Plunge, which holds the tallest side-by-side waterslides in the country!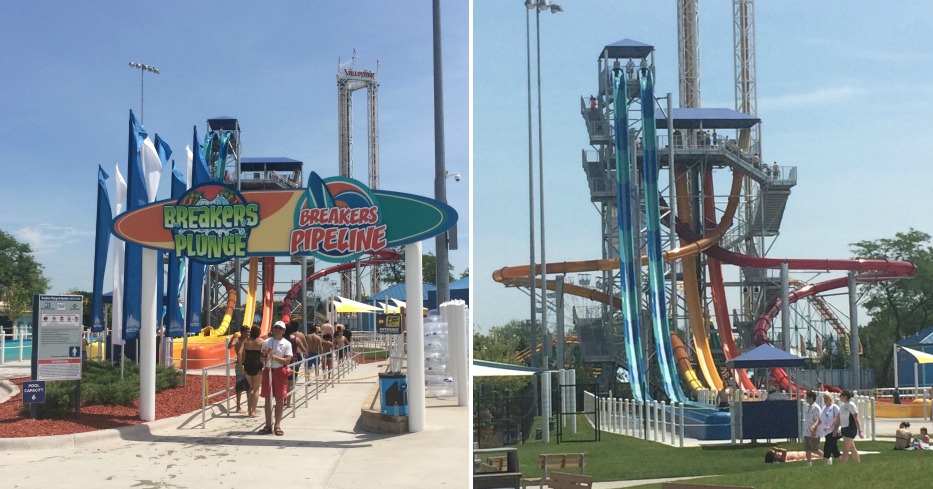 There is also two amazing splash pads for little ones, along with a mini lazy river for kids. Oh, and don't forget the wave pool as well! There was so much to do there, that we spent a majority of our time just hanging out there in the water. There are even semi-private cabanas to chill in, alongside the water. It's like a mini vacation in itself!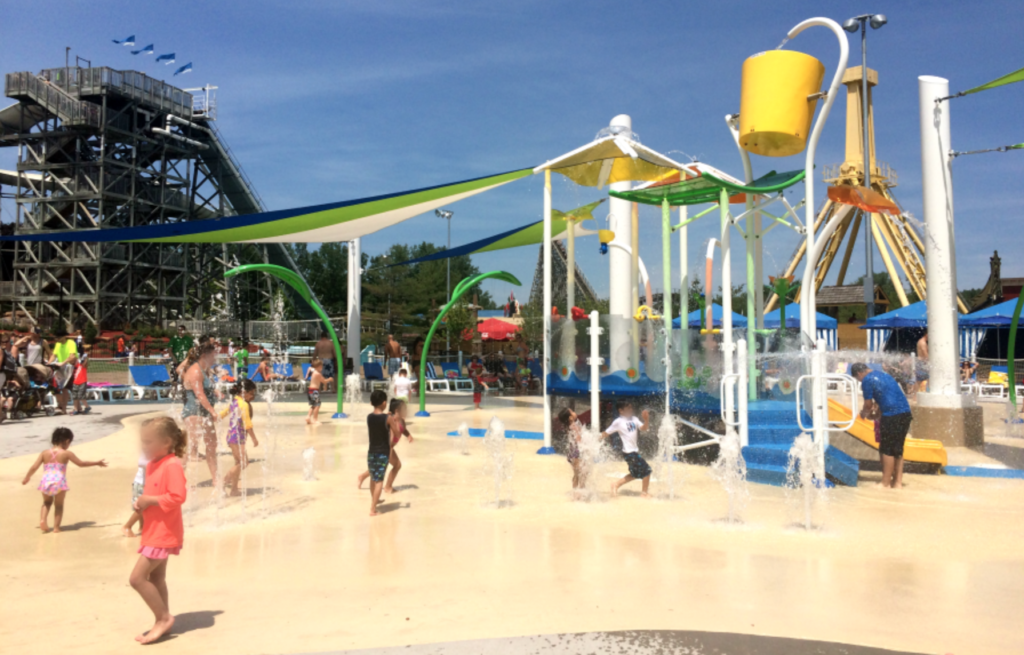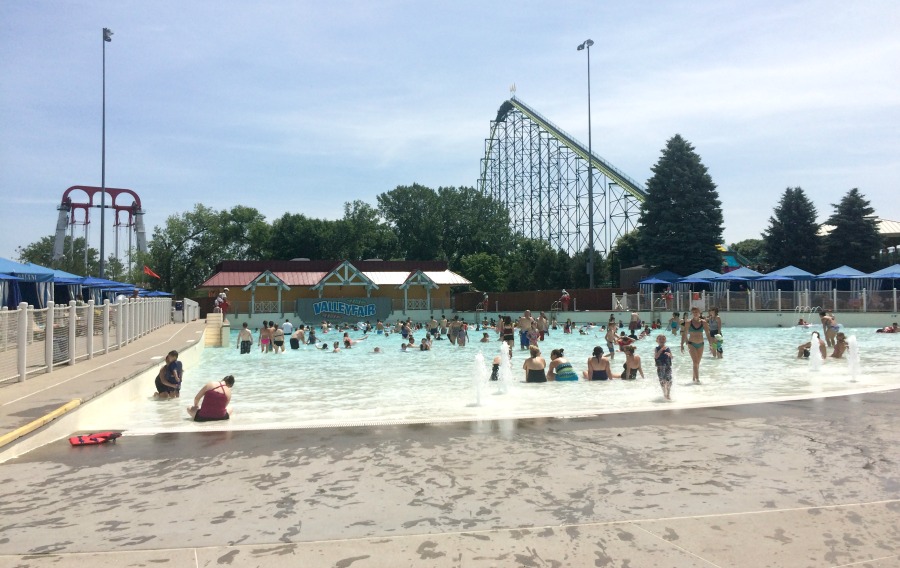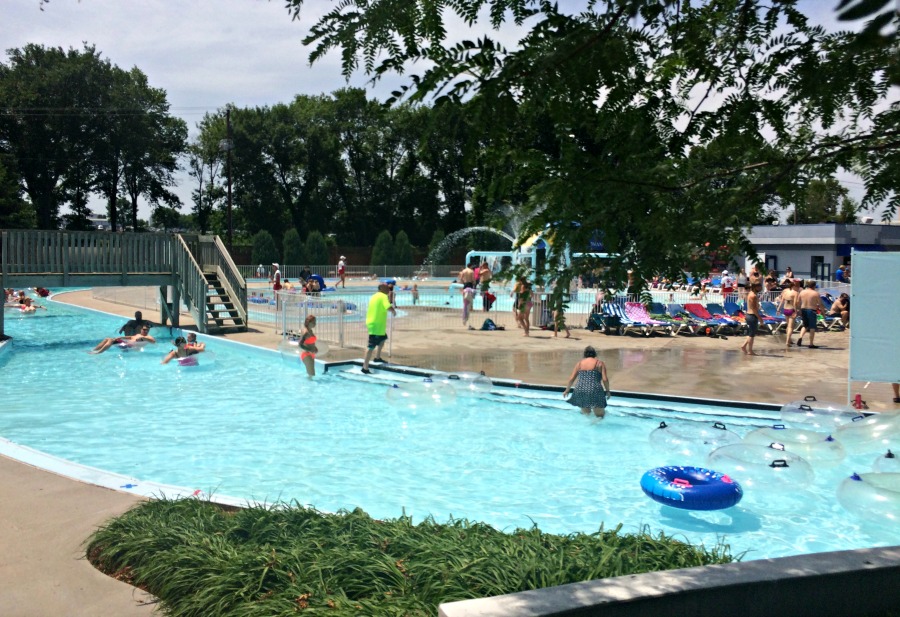 We had such a fun family day together. And it's not too late to start planning your summer fun as a family too! You can even grab a great deal on season passes, there are three different options; the Value Pass ($84), Gold Pass ($96) or the Platinum Pass ($160 jr/sr or $208 adult). All of the passes cover unlimited access to Valleyfair in the summer including Soak City and then more benefits included as you move up in the packages. If you think you'll visit Valleyfair more than a couple times, it's definitely worth looking into!
What types of activities do you think your family would be most interested in at Valleyfair this summer?
Hearts,
Sarah