Bowlero Grand Opening This Weekend!
We'll be receiving the same freebies as guests to this event, all opinions are ours.
If you're looking for something FREE, fun, and new to do with the family this weekend, you must check out one of the Grand Openings of Bowlero (there are 3 locations; Eden Prairie, Blaine and Lakeville)!
WHEN: Saturday March 18th, 2017 from 11am-2pm
Bowlero is a fresh new take on the typical bowling alley entertainment. It takes the traditional game and puts a fresh spin on it. You'll find over 30 lanes of backlight bowling, along with state-of-the-art arcades (with over 50 of the newest/coolest games), a cutting edge laser tag arena, and lots of delicious food.
The Blaine location even has a "Balladium" where you can launch soft foam balls at opponents in a glow-in-the-dark play space.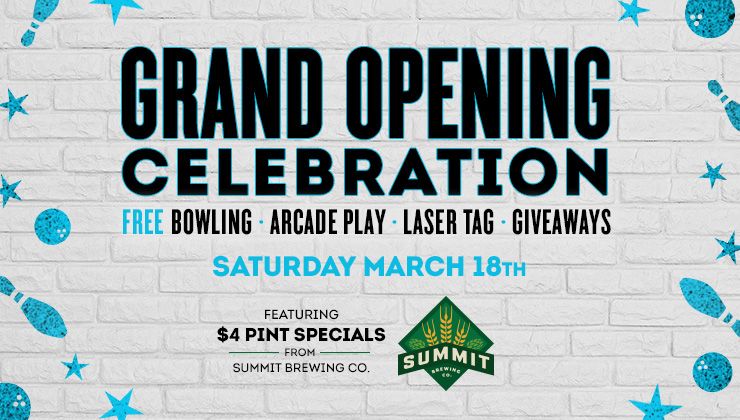 WHERE:
RSVP at the link of your chosen location:
Eden Prairie (12200 Singletree Lane), Minnesota
Blaine (11351 Ulysses Street NE), Minnesota
Lakeville (11129 162nd Street W), Minnesota
As an added bonus for checking out their Grand Opening, you may even get to see former Minnesota Vikings Wide Receiver, Cris Carter, who will be making special guest appearances at the Eden Prairie and Blaine locations that day.
WHAT:
Okay that's great and all, but I can hear you asking about food (don't worry, that's all I think about too) well Bowlero has a Instagram-worthy menu with amazing specialties like the Party Preztel and their signature Behemoth Burger (just your regular 5 pound, 14 inch party burger named one of America's top burgers, no big deal right?)
Wash down your grub with one of their amazing cocktails like the Old-School Moscow Mule, the Dunk Tank (a fishbowl cocktail) or a Mad Man Tai, just to name a few. They have a high-end sports bar along with lounge areas to chill in.
GRAND OPENING FREEBIES:
Now here's the part you're waiting for I'm sure. The FREE part. Keep reading.
Guests attending the Grand Opening on Saturday (March 18th from 11am-2pm) will receive a complimentary round of bowling (including shoes), a $5 arcade card, and a taste of their amazing Bowlero menu items including the Behemoth burger, two-foot Coney Mega Dog and gigantic Party Pretzel.
Will you be attending? Don't forget to RSVP for your ticket here:
Happy Bowling!!! Enjoy 🙂
Sarah