2014 HAMMS Event Set For May 3rd!
Disclosure: I received complimentary event passes to the HAMMS Event in exchange for this post.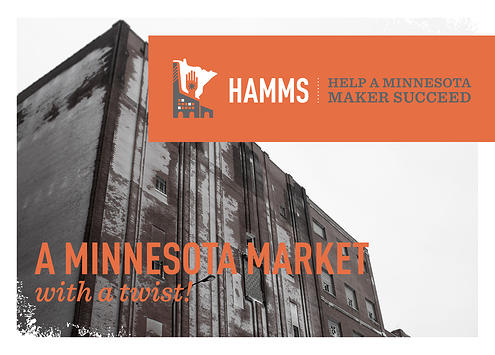 Think back, if you will, to this time last year. I shared some fun details about the 2013 local Minnesota market event that my little family attended, called the HAMMS Event. It takes place at the Old Hamm's Brewery shipping docks in Saint Paul, Minnesota – which is a big, open 25,000 square foot venue that is so perfect for the event!
When is HAMMS Event 2014?
I'm glad you asked! Although you probably noticed in the title of this post, that this year's event is scheduled for May 3rd, 2014 and runs from 10:00am to 4:00pm.
What happens at this event?
This is the wonderful part. At the HAMMS Event, local Minnesota Makers get together to offer their products to us, their local market! It's a one-day, dog-friendly shopping and crowd funding extravaganza that the whole family will enjoy. Last year, we brought our pup, Luna! She was about 6 months old at the time, and she had an absolute blast meeting other dogs (and people) all day. We made sure she had some trips outside occasionally too so that we didn't have any potty issues along the way… 🙂

The event itself originated from the idea of shopping local and supporting small businesses, along with the belief that small businesses need to stick together. Last year, they gave away $5,000 (from ticket sales and donations) to one Minnesota maker to help them take their business to the next level.
… and FOOD!
Beyond all the awesome shopping, you also have a chance to taste some great food (both from vendors and food trucks) and sip some local brew and wine! That was one of my favorite parts of last year 🙂
Vendor List
Last year, there was a ton of vendors that were completely new to me! But we loved walking around to all the different booths and seeing what unique things each one had to offer. Here is this year's list of HAMMS vendors who will be there:
StormSister Spatique
TowelTopper
3waybeauty
Elixery
Ella's Heavenly Hunks
Worker B
Moss Envy
UrbanUndercover
Tess + Tricia
Z Art
redshoes26
Aprilierre
Connie Singer Photography
heim-made
BurntOut BBQ
Lolligobs
The Red Pig & Truffle Food Truck
Droolin' Moose
Epitome Skincare
Kokoon
MAI
Painted Stuf
Belle Vache
Belles
Post-
i Luv Coffee Minnesoota
Tot Boss
Larissa Loden Jewelry
Nelli Designs
MBMB
Jules Loft
Drew's Homemade Caramel Corn
Julie Swenson Beauty
Bodylish
Zen Healing
Vandalia Street Press
Got Knot
Bruno Press
Momentum
… the list is still being updated periodically 🙂
Attend HAMMS Event 2014!
Apply to be a vendor or purchase your tickets! Right now, tickets are $10 per person if you purchase them online. This closes at 10:00pm on May 2nd, at which time you can purchase tickets at the door for $15.
And while you're there, be sure to say thank you to the founders of HAMMS, Becky Sturm (of 3waybeauty and StormSister Spatique) and Sairey Gernes (of UrbanUndercover and TowelTopper). They've put this great event together and it is really something special!
I hope to see you guys there this year! We're already looking forward to it 🙂
Sarah