Jif Peanut Butter's Most Creative Sandwich Contest
I participated in a campaign on behalf of Mom Central Consulting (#MC) for Jif. I received a promotional item as a thank you for participating.
In my house, we like to make all kinds of sandwiches. My personal favorite is a ham and swiss but my husband will often make himself a peanut butter and jelly sandwich. It's an easy but tasty snack that we're actually both quite fond of.
Jif's Most Creative Sandwich Contest
Did you know, that right now through November 8th, Jif Peanut Butter is running their "Most Creative Sandwich Contest"? In this contest, they are looking for families across the country to create a unique sandwich recipe that includes at least two tablespoons of your favorite Jif product(s)!
Who can enter? Parents and their children ages 6-12 can submit their sandwich recipe for a chance at a $25,000 college fund along with a trip to New York City!
If you think you would rock at this contest, take a shot and submit your entry!
My favorite from last year's finalist is this Peanut Butter Rolls Sushi Style sandwich: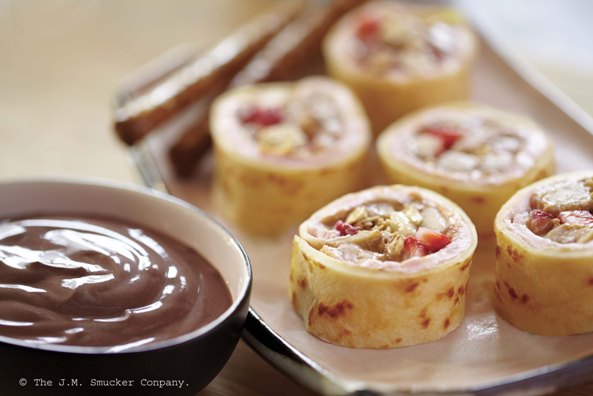 Don't those look yummy? They look like a fancy little snack you could make for a bridal shower or a fun birthday party. They'd even make a great appetizer to bring with to a holiday party!
I definitely would encourage you guys to enter the contest if you have an idea for a sandwich. You never know, you could be the next big winner!
Good luck!!
Hearts,
Sarah

Don't miss a beat! Subscribe here for email updates and get a weekly roundup of my latest posts!