INVITE: MasterChef Shaun O'Neale to Give Demo at Macy's Southdale
This post is sponsored by Everywhere Agency on behalf of Macy's; however, all thoughts and opinions are my own. 
I'm super excited to share a fun event that is coming up this weekend at the Macy's Southdale (Edina, Minnesota)! On December 2nd, they will be having a cooking demo with MasterChef, Shaun O'Neale (the winner of Season 7) where he will be sharing some tips and tricks for some of his favorite dishes.
You are invited to attend the event (I'll be there too!) and spend the afternoon with the MasterChef himself, make sure to RSVP here!
Special Event Offer For Attendees
Macy's will also have a special deal going on that day. With any purchase of $35 or more in the Home department you'll get a copy of Chef O'Neale's cookbook, My Modern American Table, a $10 Macy's gift card, and the opportunity to meet and take a photo with the culinary celeb.*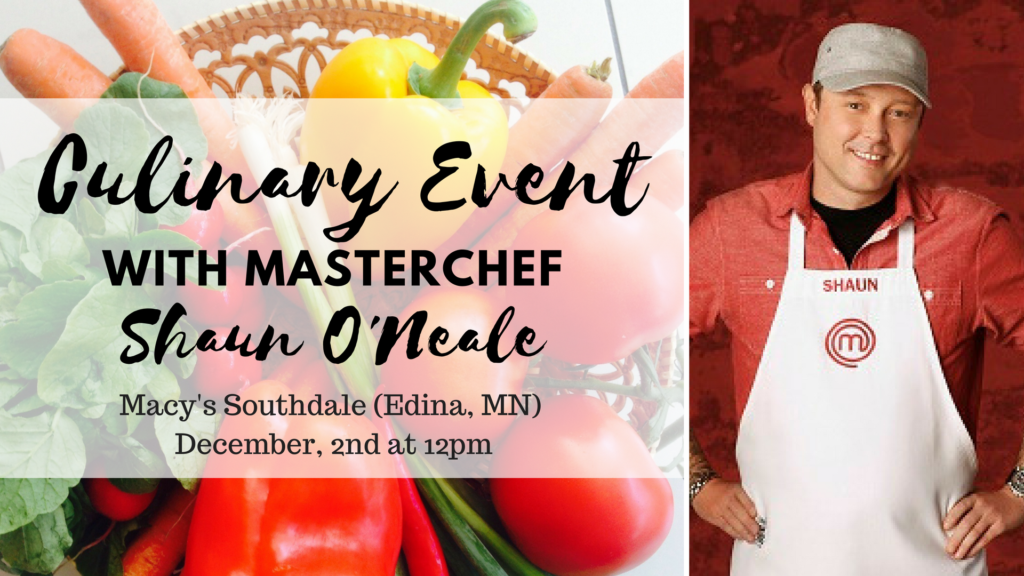 Attend the Event
Who: MasterChef Shaun O'Neale and Macy's Culinary Council
What: Cooking Demo and Special Deals
When: December 2nd at 12:00pm
Where: Macy's Southdale – Home Department, 3rd Floor
100 Southdale Center, Edina, MN 55435
How: RSVP for the event here!!
*Event subject to change or cancellation. Seating is first come, first served. Purchase must be made at Macy's Southdale on December 2, 2017. One per customer, while supplies last and time permits. Gift card and cookbook distributed on December 2, 2017. Gift card valid December 2, 2017 only. One per customer, while supplies last and time permits.
---
I hope to see you guys there!! I'm excited to hear his tips and tricks (let's be honest, I can definitely use them) and snag the great deal that they are running that day.
Comment below if you're going to visit the store that day, I'd love to hear who is going to be there! 🙂
See you soon!
Sarah

Don't miss a beat! Subscribe here for email updates and get a weekly roundup of my latest posts!