Holiday Berry Nog Recipe (Eggnog Variation)
If you've hosted a holiday party, you know that planning the food and drinks can be tricky. The traditional foods are easy, and comfortable. But if you want something on the side this year that will delight and please, then you have to up your anti in the drink department. And, I know that we all struggle with those 'holiday pounds' this time of year, so why not make your sweet drinks also healthy? It is possible, and very yummy as well!
Here's a recipe I wanted to share with you, provided by Driscoll's Berries!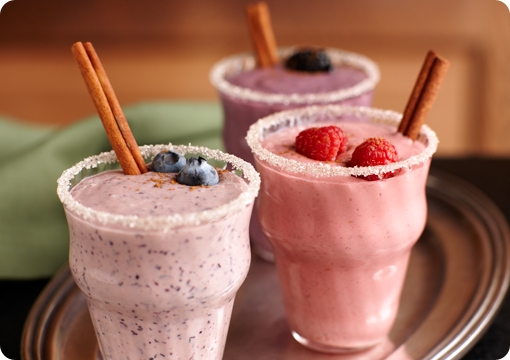 Servings: 4
Ingredients:
1 package (6 ounces) Driscoll's Raspberries, Blackberries or Blueberries
1 1/2 packages Driscoll's Strawberries, hulled
1 cup purchased eggnog
1/8 tsp ground cinnamon, plus extra for garnish
4 cinnamon sticks
Directions:
Blend 1 cup berries, eggnog and cinnamon in a blender on medium speed until smooth. Pour eggnog mixture into glasses. Garnish with remaining berries, sprinkle with cinnamon. Place cinnamon stick into each glass and serve immediately.
Variation:
Before filling glasses, dampen rims and dip into mixture of cinnamon and sugar.
How cute are these? Find some cute little cups and you've got yourself a cute little treat for after dinner as dessert or as a little late night treat (depending on how long your family's holidays last…)
Let me know if you're going to try this recipe, and let me know how it goes!
Thanks to Driscoll's for this recipe! 🙂
Hearts,
Sarah

Don't miss a beat! Subscribe here for email updates and get a weekly roundup of my latest posts!