Easy Cashew Chicken Stir-Fry Recipe
I was looking for some healthy dinner recipes to start adding into my regular mix, when I found this amazingly refreshing stir-fry recipe on Pinterest! I've sent the link to everyone that asked on Instagram (I'm sure this blogger has seen A LOT of traffic as of late!) and I thought I would share my take on the recipe as well with a few modifications and some photos of my own.
So first off, you can see the original recipe from Eat Yourself Skinny here! She has a really gorgeous site, and let me tell you, #bloggoals.
Once you've taken a look at her recipe, you can obviously make your own modifications or check out mine below. This recipe has been tested and approved by my whole family and we can't get enough. We've made it once a week for the last 3 weeks now! I love to serve it over brown rice (more fiber, more vitamins/minerals) and the stir-fry itself has so much flavor that you can't even taste the difference in the rice.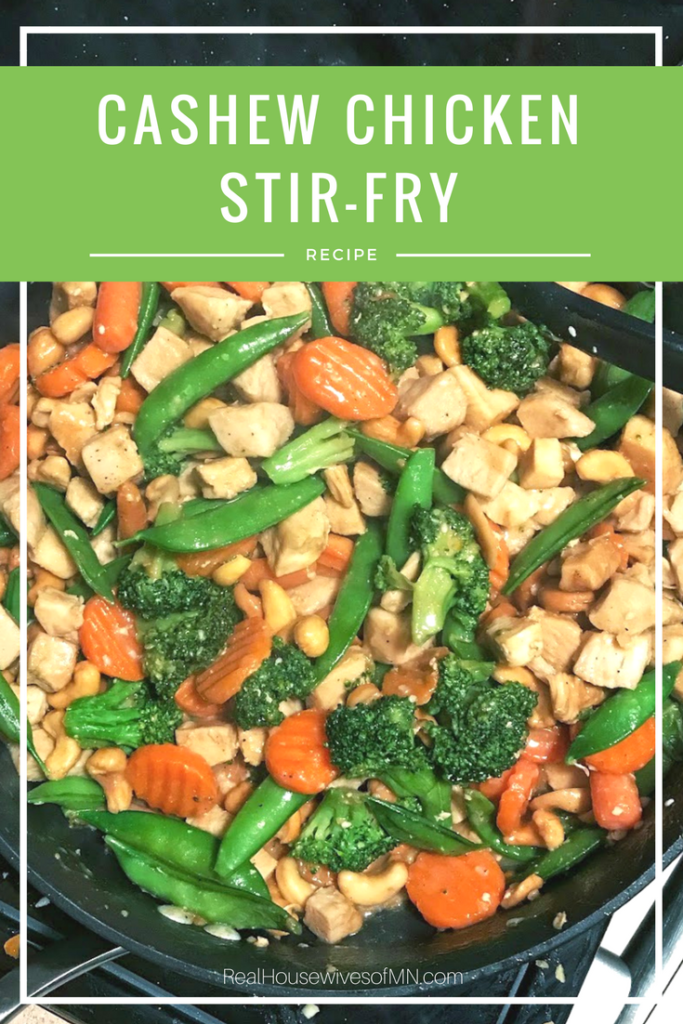 Ingredients: 
3 boneless skinless chicken breasts (cubed)
1 Tbsp olive oil (for sautéing)
1/2 Tbsp minced garlic
1/2 cup unsalted cashews
2 cups broccoli
1 cup sugar snap peas
1 cup carrots (I like the frozen ones from Target, but you can also chop up baby carrots)
salt and pepper to taste
For the sauce… 
4 Tbsp soy sauce
2 Tbsp peanut butter
2 Tbsp honey
1/2 tsp sesame seeds
1 Tbsp grated ginger
3 Tbsp water
(Whisk all ingredients together in a separate bowl, save for later)
Directions: 
Start by sautéing chicken in olive oil until golden brown.
Add in garlic and veggies, cook until veggies are softened and chicken is cooked.
Add in cashews and stir-fry sauce and it all mix together. Allow to simmer for 2-3 minutes.
Serve over rice!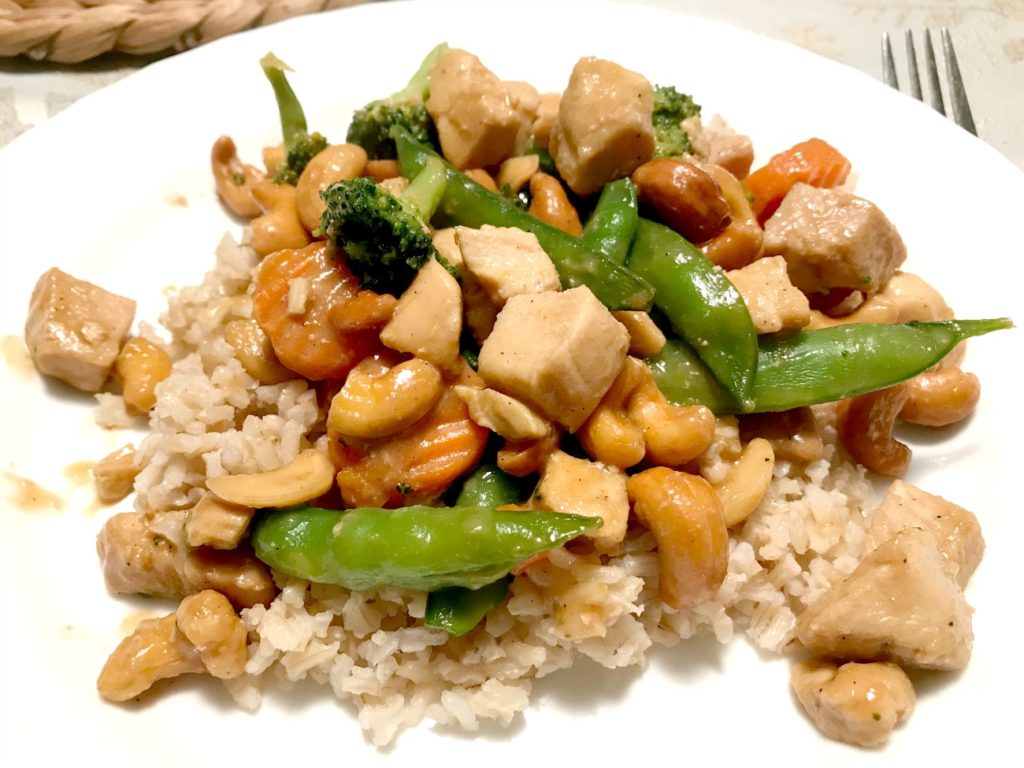 I think this is one recipe that will stick around for a while in our family! Thank you so much EatYourselfSkinny.com for creating such a delicious dinner idea. Yum!!
Let me know if you try it out at home, and share your thoughts or modifications below 🙂
Enjoy!
Sarah

Don't miss a beat! Subscribe here for email updates and get a weekly roundup of my latest posts!