Delicious (AND HEALTHY) Spinach Dip Recipe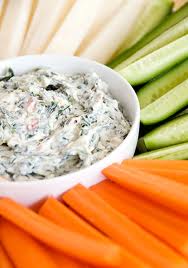 I love spinach dip, but man can it pack in the calories! Here is a great recipe for delicious, healthy spinach dip:
Ingredients:
* 1 cup smooth low-fat cottage cheese
* 1 cup plain low-fat Greek yogurt
* 1 package onion soup mix
* 1 can water chestnuts, chopped and drained
* 1/4 cup grated carrots
* 10 oz package frozen spinach, thawed, chopped and drained
Instructions:
1. In a bowl, mix cottage cheese, yogurt and soup mix. Add water chestnuts, carrots and spinach and stir gently.
2. Refrigerate for about 2 hours before serving.
Nutrients per serving (Makes 4 servings):
Calories: 150, Total Fats: 2 g, Saturated Fat: 2 g, Trans Fat: 1 g, Cholesterol: 0 mg, Sodium: 570 mg, Total Carbohydrates: 19 g, Dietary Fiber: 5 g, Sugars: 4 g, Protein: 17 g, Iron: 2 mg
"It's great to dip pitas or vegetables in, or you can use it as a spread for a sandwich."
– Courtesy of DustinMaherFitness
Enjoy!!!