Create the Perfect Chai Latte at Home
This post was sponsored by Starbucks as part of an Influencer Activation. I received compensation and complimentary products to facilitate my review.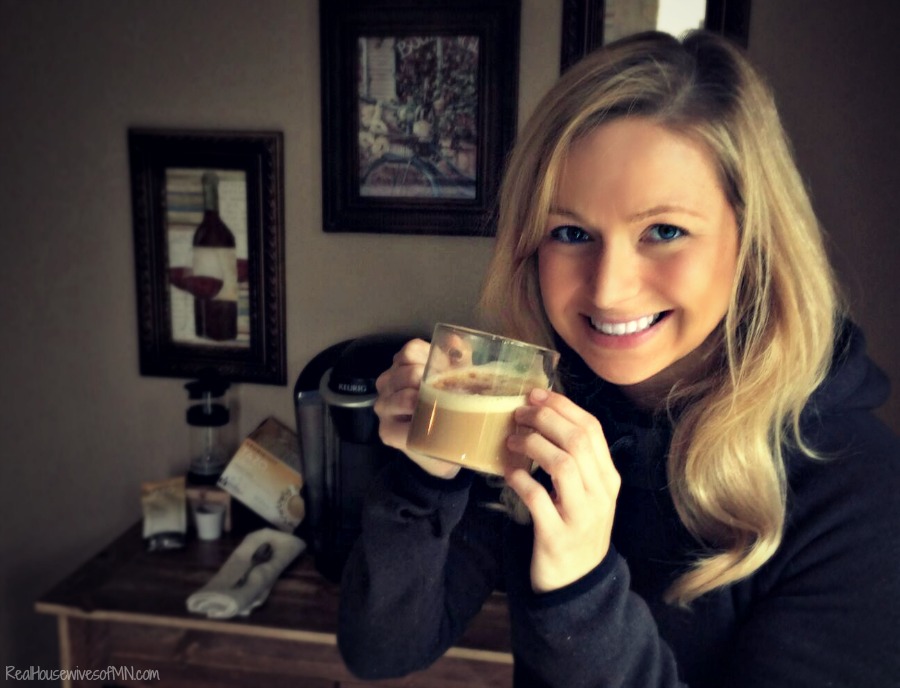 As a former barista, I tested out each and every drink on the market. I could tell you how to make them perfectly, what you're doing wrong if they don't taste perfect, and more important than anything, I can tell you some of the most popular drinks that people go nuts for. One of those drinks was always a Chai Latte, and it's not a mystery why – they are delicious! If you've never tasted one yourself, I'll describe it to you. It's sweet meets spicy, with a rich, creamy taste with a cinnamon-like aroma when you lift your cup to take a sip. It takes you away to an oversized cozy chair, with a crackling fireplace and not a care in the world. Perfect for a rainy day or just when you need a moment for a sweet escape.
Well now, you can create that moment any time, any place, right at home. If you have a Keurig®, you're half way there! Just pick up some TAZO® Chai Latte K-Cup® pods and get ready to have a new favorite way to kick back and relax. The flavor is something that will make your taste buds dance in delight 🙂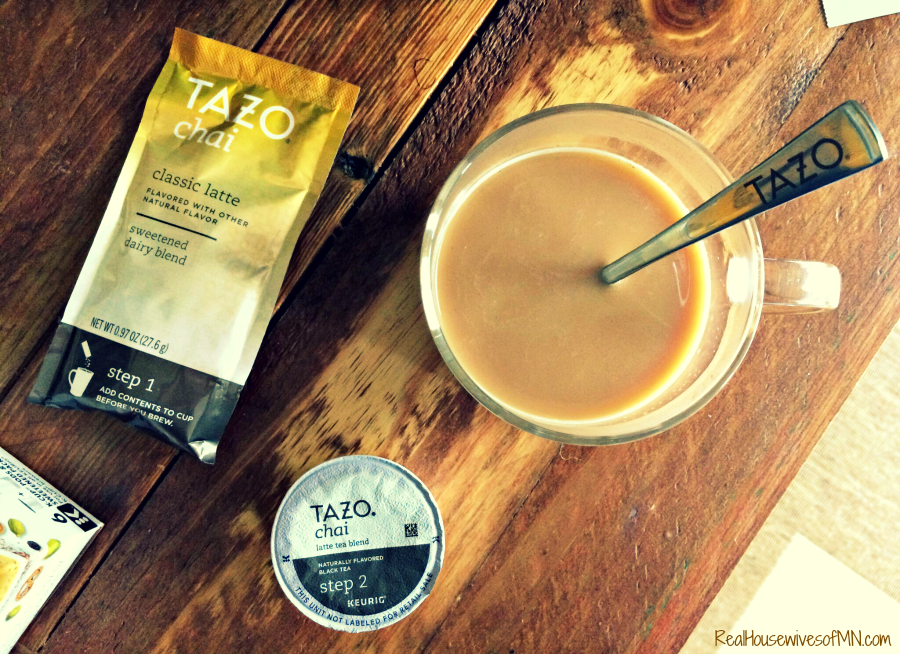 What's in a Chai Latte? 
Close your eyes and imagine (okay, that may be a little tough if you're reading, but just make it work somehow) a rich, creamy latte with fragrant flavors of cinnamon, black tea (Chai is a black tea blend), cardamom, spicy ginger, vanilla, and fluffy froth. It's all the beautiful aromas of a delicious hot drink.
The TAZO Chai Latte K-Cup® pods are a sweet and spicy blend that is made from milk, tea leaves and amazing spices to bring this well-known taste to life. A little history behind them, the tea is steeped in 5,000 years of Indian history.
It's an easy two step process; 1) Pour sweetened dairy mix into your mug and 2) place pod into your Keurig® and brew an 8oz cup! Stir and enjoy – it's an easy process that's super quick!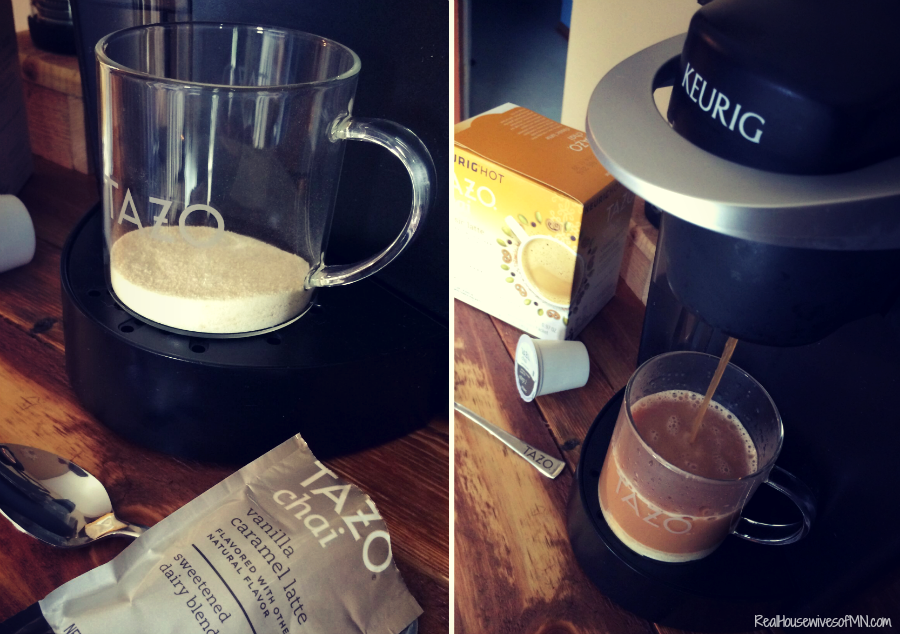 I like to add my own special twist on my drinks, I guess that's the former barista in me. So I poured about 3 oz into my milk frother and then poured it back over the chai latte. Sprinkled with a touch of cinnamon, and it was complete! It was delicious either way (both with and without the froth and cinnamon).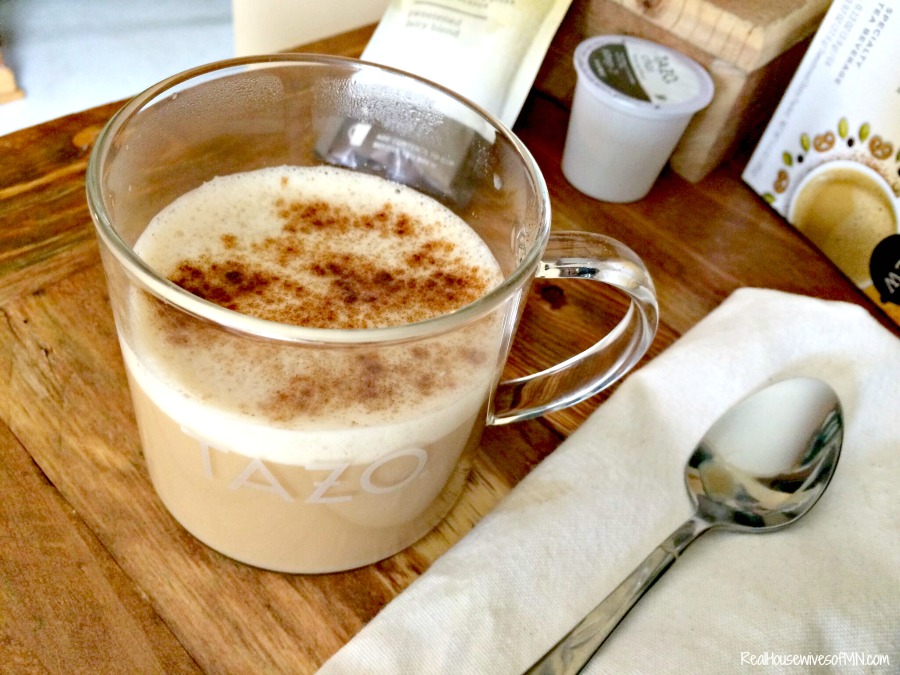 And if you're like me, and like to pair your hot drinks with something tasty, you'll love this next bit. TAZO® has partnered with Padma Lakshmi (a New York Times Bestselling author and host) to celebrate the launch of these wonderful pods. She has developed some amazing recipes that go wonderfully with a delicious cup of chai!
Some of these recipes include:
Sugar and cinnamon chips
Pomegranate & goat cheese on pumpernickel toast
Cinnamon tea cookies
Toast with manchego cheese & spicy jam
Baked figs with manchego cheese
and more…
Chai and tea have always been part of Padma's life and her family heritage, so she's excited to celebrate with TAZO® on these delicious new pairings and I'm always excited for a little treat with my drink!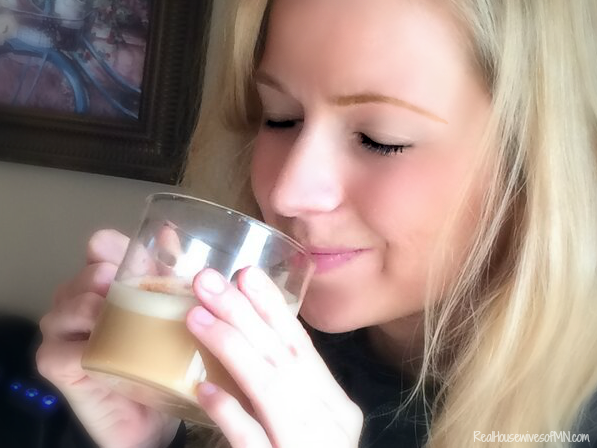 You can purchase these new TAZO® Chai Latte K-Cup® pods at Target, Walmart, Walgreens, and most likely anywhere else you grab groceries! To see what stores near you carry them, check out TAZO.com/wheretobuy!
You can also connect with TAZO® on social media:
TAZO® Facebook: https://www.facebook.com/TAZO
TAZO® Twitter: https://twitter.com/TAZO
TAZO® Pinterest: https://www.pinterest.com/tazotea/
TAZO® Instagram: https://www.instagram.com/tazo/

Don't miss a beat! Subscribe here for email updates and get a weekly roundup of my latest posts!