Skip the Doctor's Office: Doctor On Demand at Home
This post was sponsored by Doctor On Demand as part of an Influencer Activation for Influence Central.

When the opportunity to try out Doctor On Demand came across my desk, I knew I had to jump at the chance. You see, with babies (now toddler – eeek!) they constantly have something going on with them. A virus, a runny nose, a cough, you name it. I've made one too many trips to urgent care to make my pocketbook happy and honestly, they always tell me, "She's fine, it's just a virus of some sort and it'll pass." So yeah, not very helpful and it's a huge hassle to load up little miss, bring her into a waiting room with other sick and coughing kids, and then wait forever to be seen.
Not my idea of a good time.
So, long story short; introducing Doctor On Demand. The online (or app) doctor that can see you in the comfort of your own home, with or without an appointment. Does that sound amazing? Because it is. Have you ever tried getting into your regular doctor at the last minute, or after hours? It's impossible. The average wait time to see your primary physician is 3 weeks, did you know that? The average wait time to see a doctor on Doctor On Demand is 3 minutes.
When I tried out Doctor On Demand, I got to see a doctor within a couple minutes. If you want, you can schedule an appointment too, but with me – it's always last minute so this is a big selling point to me. It's a great alternative to urgent care or emergency room visits for common medical issues.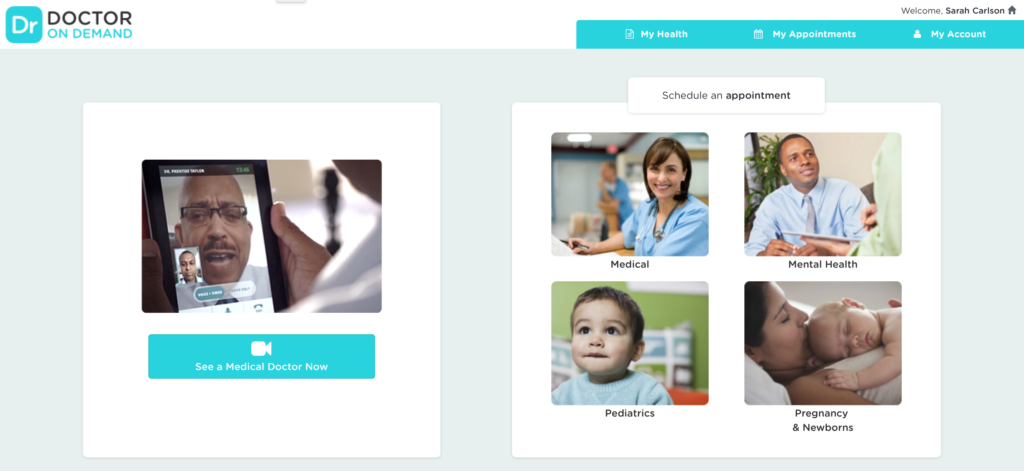 As you can see in the screenshot above, they have a few different options to make sure you see the doctor that you need. Choose from a medical doctor, mental health, pediatrics, or pregnancy and newborns. I went with the pediatrics option, as I had a lot of questions for a pediatrician and wanted to talk to them about some health concerns about my little one.
Areas of Specialties
They have a lot of areas of specialties, but some of the most frequent conditions they treat are cold and flu, sore throats, UTI's, skin issues and rashes, diarrhea and vomiting, eye issues, sports injuries, travel illness (how nice would that be to see a doctor from your hotel room?) and smoking cessation, to name just a few. They also treat things like allergies, acne or skin issues, and even handle prescription refills.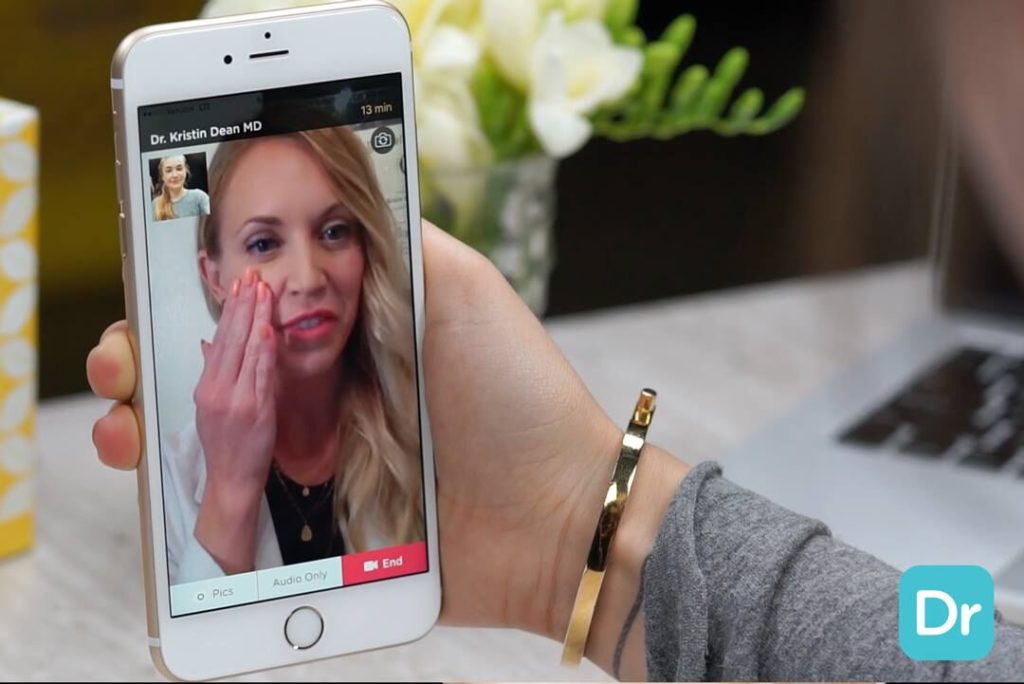 I was delightfully surprised when I learned that they handle prescription refills. That's always a struggle for me, because you have to usually schedule an appointment, and deal with the whole process all over again. It's nice to know that if you need a refill, you can just download the app, choose your pharmacy and the doctors will send the prescription over electronically after your visit with them. That's technology at it's finest!
Meet the Doctors
The doctors at Doctors On Demand are board-certified physicians, psychiatrists and doctorate-level psychologists. They are licensed in your state and when it's clinically appropriate, they can send prescriptions to your nearest pharmacy. They meet with you through your smartphone, tablet or laptop – how's that for fast, easy and convenient? Spot on.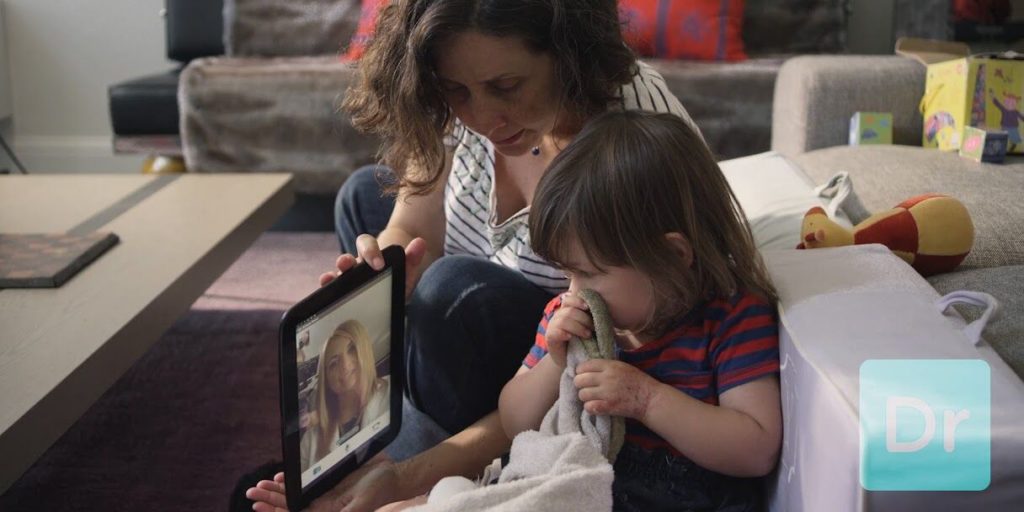 How to Use Doctor On Demand
Using Doctor On Demand is super easy, you just download the app or register online. From there, just let them know your symptoms or what you're wanting to talk about at your appointment. Then you're connected instantly for a video chat.
So very easy.
These visits are only $40 or less, and are compatible with many health insurances (you'll have to check with yours to see, but many times they cover it partially or even fully).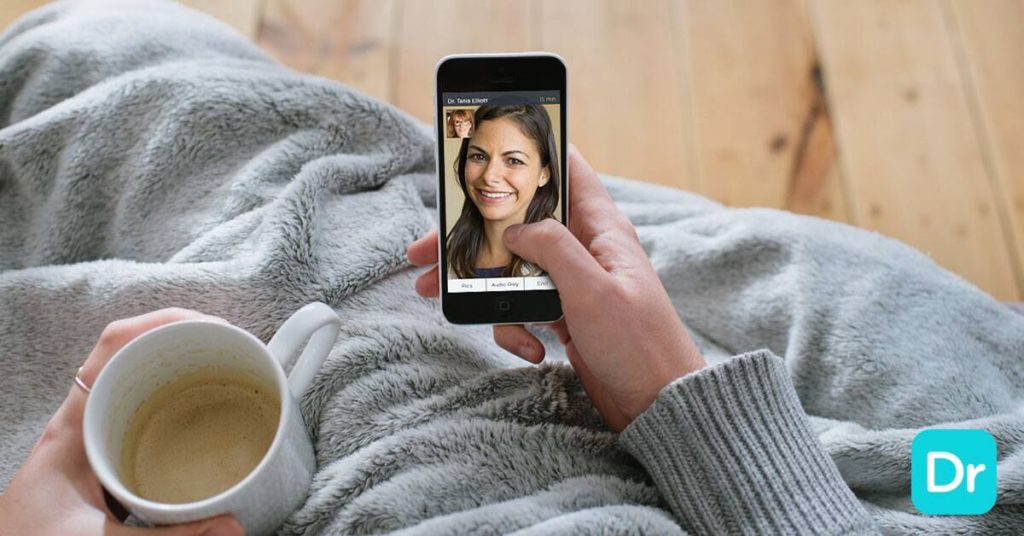 Save $10 Off Your First Visit!
Doctor On Demand is offering my readers a code for $10 off their first visit. That makes your online doctor visit $30 or less! That's a wonderful deal. Just use promo code MINNESOTA10 when scheduling your first visit (where it says 'apply code') to save!
Save yourself the hassle of dragging your sick self or child to the doctor's office and check out Doctor On Demand. Then come back and comment with what you thought! I think you'll absolutely love it.
Enjoy!!
Sarah

Don't miss a beat! Subscribe here for email updates and get a weekly roundup of my latest posts!