Post-Baby Weight Loss: My Journey to Fit
It was probably about a year ago that I was starting to gain that wonderful extra baby weight. I told myself not to worry, that I'd lose it right after the baby was born, but let's be honest, it was 6 months later and I hadn't made much progress.
I think you'll appreciate candor in this post so I will be as honest as possible, however revealing it may be, because I think that in order to relate you need that honesty. It is a little outside my comfort zone but I know I appreciate honesty from other writers and want to give you guys the same.
Pre-Pregnancy Weight
Starting out before I got pregnant, my weight hovered around 125 depending on how well I ate on a certain day, it'd be a little more. I'm 5'5″, so that was considered 'healthy', plus I was working out 4-5 times a week which helped.
When I got pregnant, I actually ended up losing weight because of my morning sickness. I think my lowest was 120? It wasn't a win in my book though, I literally couldn't keep anything down, it was awful and I didn't want that to affect the health of my little one.
After a few months, I gained a healthy amount of weight throughout my pregnancy. And even though I only made it to 35 weeks, I weighed in at 165 when I was admitted at the hospital the day she was born. Pardon the crappy quality of the photos below, they're screenshots of an app I used throughout my pregnancy, I never actually saved them anywhere else!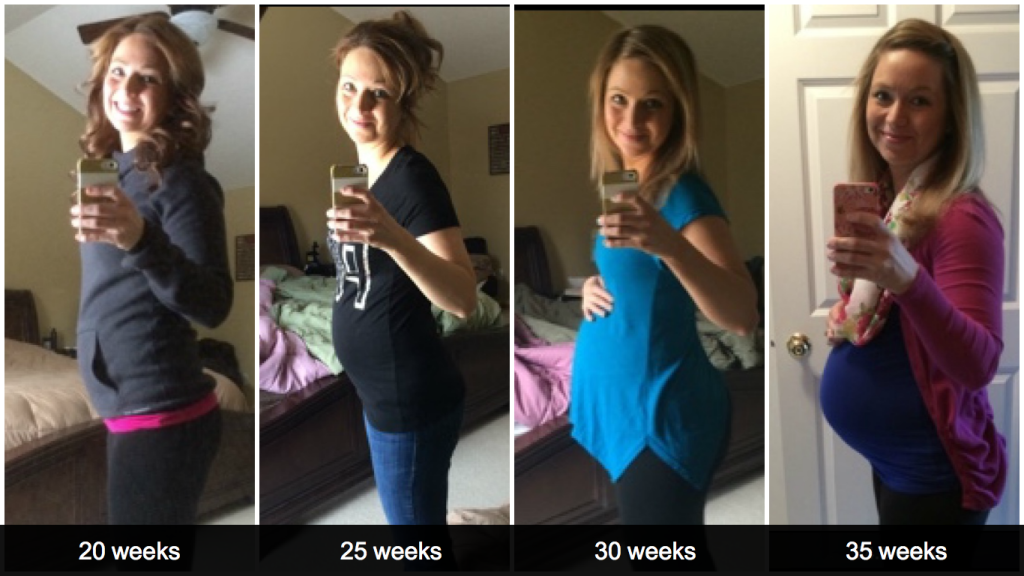 Post-Natal
After giving birth to my baby girl I lost the water weight and obviously weight of a small human, and came back down to about 145… and there I sat. For months. I stayed that weight for the six months mentioned above and probably then some.
To try and get somewhere with myself, I started getting back at it at the gym, even once a week made a difference for me. I went to RIPPED class every week and if nothing else, it was a good way to release some endorphins and regain some sanity for an hour 🙂
After doing that class maybe 5-6 times a month (like I said it really wasn't a whole lot) I'd lost somewhere around 5 more pounds, not a whole lot but it was something! I started back teaching my dance class once a week at the end of October which I enjoy, so much that I bumped it up to twice a week about a month or two later 🙂
6 Months Later
It wasn't until around the holidays when I looked in the mirror and knew I could do better. Yes, it was much tougher this time around because for one, I didn't have the free time that I used to. Secondly, I did not have anywhere near the energy that I did before baby (would that be BB?) because I was now getting 3-4 hours of sleep at night, cumulatively. Who had energy to work out? Not this girl. But I knew I had to make it work if I wanted to lose the rest of my baby weight and feel better in general.
8 Months Later
January 1st, I accepted a challenge from a fellow instructor at my gym called the IsaBody challenge. I was already using Isagenix protein so I figured why not? At the beginning of the 16-week challenge, I was teetering between 136-138. I'd do a shake or two a day (the dutch chocolate is good, but I like the french vanilla better) plus add the ionix supreme to my pre-workout drink before teaching my classes.
Eight weeks into the challenge (end of February) I was back down to my pre-baby weight. Not going to lie, I was pretty proud and actually a little bit amazed with myself because I was only working out twice a week (teaching my 60 minute dance class) and doing the shakes when I felt like it. I was also eating a little healthier (mostly eating out less) but nothing too substantially different.
When I hit my pre-baby weight, I found the worst photo that I took last summer that I knew I looked awful in. In fact, as soon as we took this picture, I looked at it and thought, "That's going to be a 'before' picture…" Well I put on the same outfit and re-took the photo a couple weeks ago for comparison sake.
Oh man, I can't believe I'm sharing this horrible photo……. I must really like you guys.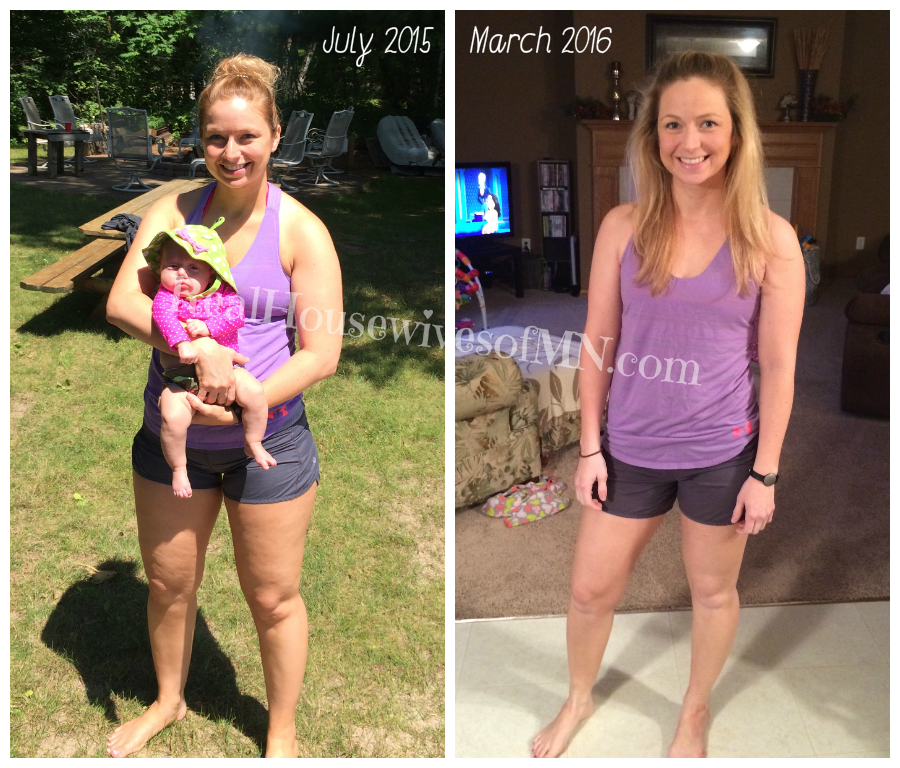 Just a couple weeks ago, I put this side-by-side comparison together with an app on my phone and I can't stop staring at it, mostly because it doesn't feel like I've been working that hard to get here but it's such a big difference.
I still have a few pounds to my goal weight, but I feel like I'm on the right track right now. I'm actually looking forward to summer and being able to be out on the lake without feeling embarrassed – especially because being on the lake is my happy place, and I hate for anything to keep me from enjoying that.
Recap on Weight Loss Changes
So to make a long story short, here are the changes I made to finally get to where I wanted to be:
Healthier meals

More greens, less sodium (I think I'll try and do a post on this in the near future)

Isagenix shakes

I became an associate to get a better deal on the products, so I've been able to try more of them now, which has been nice. The french vanilla is my favorite, but I also use the dutch chocolate for my sweet tooth sometimes.

Pre-workout mix

I wasn't doing a pre-workout until about January, but it makes a big difference in your workout energy. I feel like I'm giving a lot more in my workouts now which gives a better return in the end.

More sleep 

I know this one is hard to control but now that little A has been starting to sleep through the night, it has helped me to give my body that rest it needs. Hallelujah!

Active lifestyle

Even if I don't get to the gym for those high-intensity workouts more than twice a week, me and A like to go for a walk to our neighborhood park. Even a little fresh air and low-intensity exercise helps.

More water

I've actively tried to be drinking more water in my day. They say you should drink half your body weight in oz, which for me is about 3 of my shaker-bottles full of water. I love to add lemon to it for a little bit of flavor and because it helps add a little detoxification as well.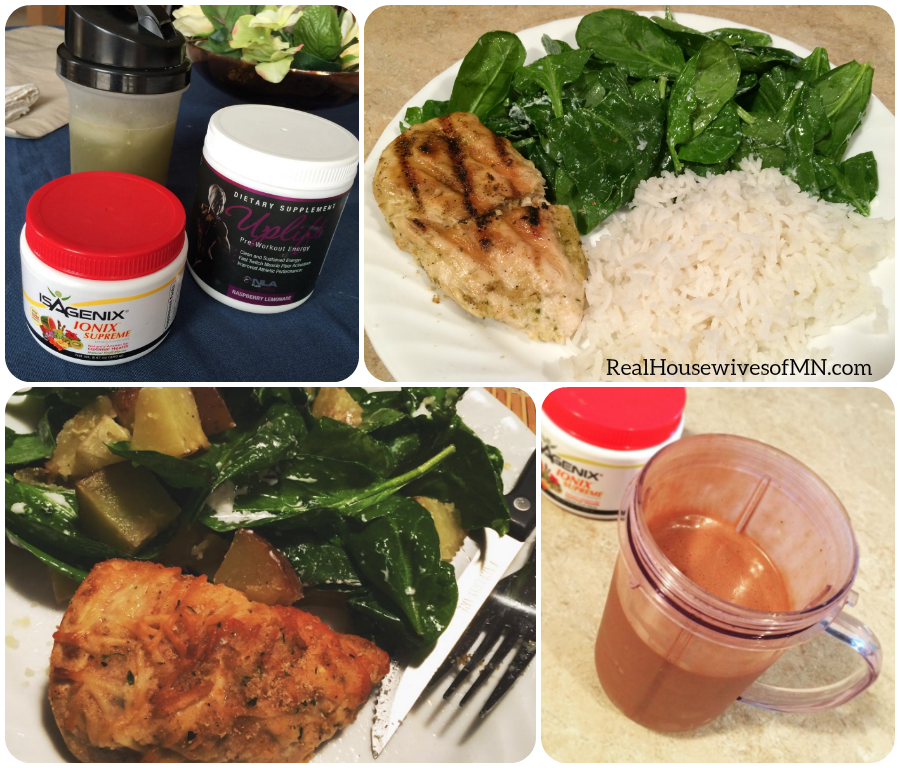 Obviously, I'm not a doctor so I can't say what's going to work best for you but I wanted to share what has worked for me.
Leave a comment below! I'd love to hear your feedback, what has worked for you? What tips do you have to add to the list? Share with other moms 🙂
Hearts,
Sarah

Don't miss a beat! Subscribe here for email updates and get a weekly roundup of my latest posts!