Bulu Box: November Fitness and Weight Loss Box
This post contains affiliate links.
I received my Bulu Box in the mail yesterday and it was so fun to open it up and see what was inside! In case you missed my old Bulu Box review posts, I'll give you a quick run-down. Bulu Box is a monthly fitness and weight loss box that sends you samples to try out! I've tried all kinds of products from them, some I've been kinda 'meh' about, but some I've loved. But I would never know about either end of the spectrum if I didn't get the boxes!
So, in my November Bulu Box, here is what I received: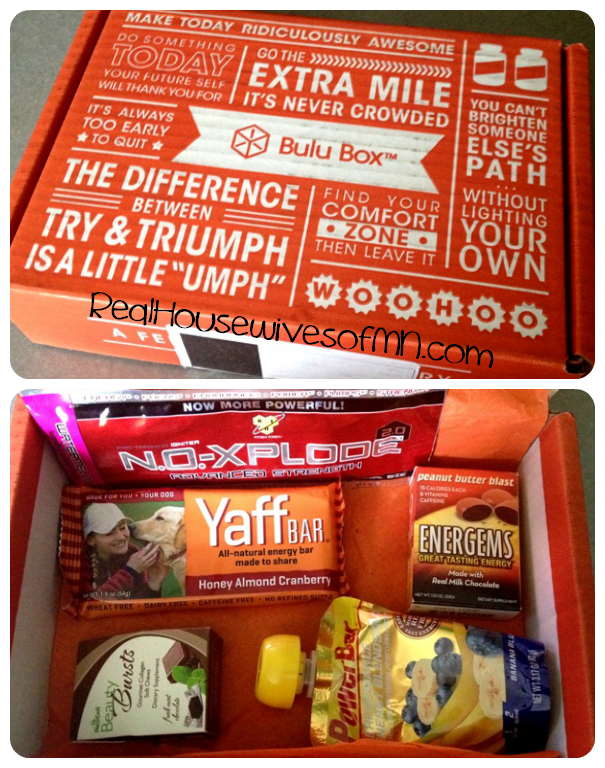 It was lots of good stuff! Here's the breakdown:
1. NeoCell Beauty Bursts – Contains Collagen Types 1 and 3 to promote smoother, brighter skin, hair and nails.
2. Yaff Bar – A snack bar that you can enjoy and share with your pup! Wheat, caffeine and dairy free.
3. BSN N.O.-Xplode – Energy, focus, power and performance boosting, this fitness mix is perfect for workouts.
4. Energems – Chocolate candies with a hard-coating made with caffeine to give a boost of energy. Also contains B-vitamins.
5. PowerBar Performance Energy Blends – Fuel for your body plus energy at the same time in a convenient little pouch!
6. Ooberluxe $30 Gift Card – A team of insiders that are pro's in any task you'd like to give them. (Excited to use this one!)

As you can see, the value much outweighs the cost of this monthly box, which is only $10 a month! And if you use the coupon code I gave you (BULUGAN953) you can save 50% off your first box! Go team, right? 🙂
Go check out the Bulu Box website and see if their monthly box would be a good fit for you!
Until next time,
Sarah