My Lululemon Workout Favorites
I've been wanting to do a feature on Lululemon for quite some time. They are a brand known for their high-end yoga and workout wear. The first piece of Lululemon that I owned was a pair of black Groove pants and I have been hooked ever since. Why? Because it's quality workout wear that you could (and I seriously do) live in.
So for my little feature today, I wanted to feature my favorite pieces from Lululemon that I adore. I now own too much to count, some I like, and some I love. Here are my favorites: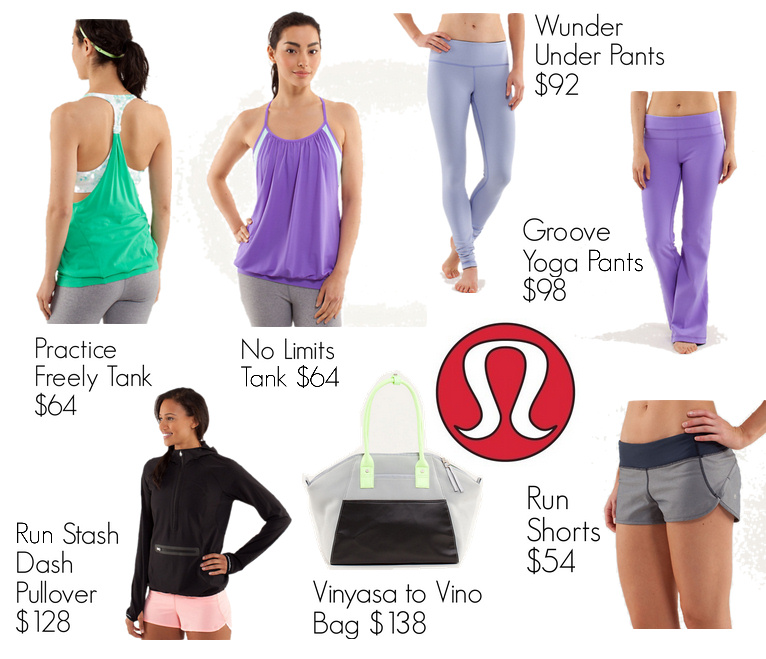 Of course, there are many items that I still want to try and have not yet (namely their headbands, yoga mats, and the free to be sports bras which are super cute). But I'm hoping that will come in time!
For now, I am just obsessed with all things Lululemon. There is one thing that I tell friends and family when it comes to buying their stuff. You will want to try it on first because personally, I think they run a little small. I am usually a size 4 and at Lulu, I'm a size 6. Some of the tops, I even purchase as a size 8 (like the Run pullover above) so that it isn't tight. But that is a total preference factor 😉
It also makes a difference what types of workouts you typically do. I find that for yoga, I can go with any of their tops and be comfortable (however, the tighter tanks do work better for things like down-dog and such, because they will not flip upside down on you! For my hip hop classes, I like to wear the Practice Freely and No-Limits tanks because they give me room to move around and not have any chaffing with high-impact workouts.
For the pants, I love any of them for yoga. But I especially love the wunder under crops for my hip hop and zumba classes. The Groove yoga pants get a little warm when you're doing the high level cardio though, so I stick to the capris. I also have a pair of Groove crops that work well for the high-impact classes as well.
Do you have a favorite piece from Lululemon? Share in the comments!!!
Hearts,
Sarah