My First Stitch Fix Experience
This post contains affiliate links which means I receive a small referral commission for purchases. Despite that, I love Stitch Fix and would be sharing this anyways! 🙂
Before becoming a mom, I loved to shop. I loved fashion, keeping up with trends, heck I even subscribed to Vogue. Now for the last couple years, my wardrobe consists of leggings, t-shirts, and over-sized cardigans. Yes, it's comfortable but do I feel cute the majority of the time? No, definitely not.
I grew tired of my closet containing 90% activewear and 10% clothes from the last 15 years. Sound familiar to anyone else?
So I decided to try Stitch Fix
. I was a bit hesitant since it was a $20 styling fee up front, but then once I learned that you could put it towards whatever you decided to purchase, I figured I may as well try. A friend told me that it's pretty easy to find at least one item you like in every box so I thought let's try.
When the box came, I was giddy. It was like Christmas morning, except with items picked out just for me, styled for my body type and my style preferences. I was pumped.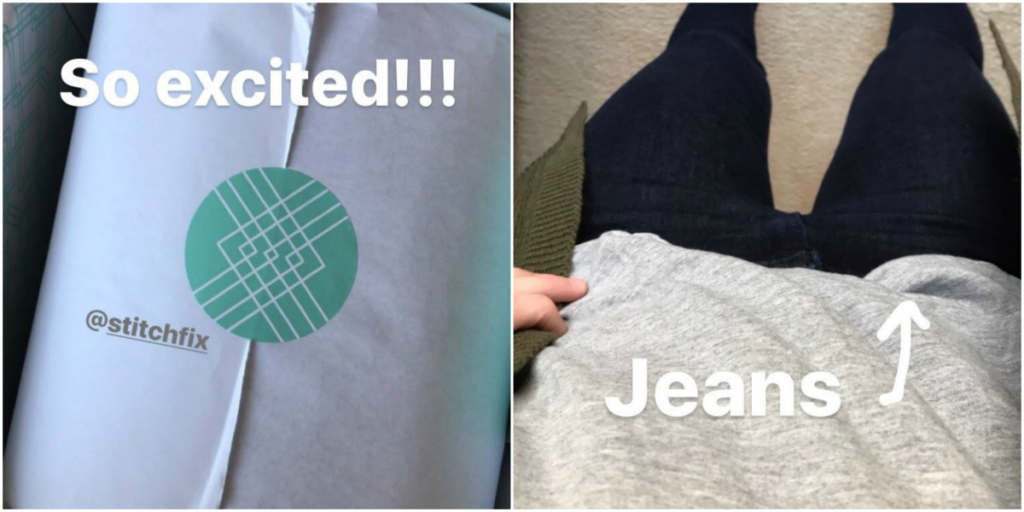 The box contained 4 tops, and a pair of dark denim jeans.
At first glance, I thought it was all cute but wanted to try it on before I made any decisions.
First the jeans. I held them up and thought, no way those things are going to fit me... But I figured my stylist knew what was up, so I tried them on. And guess what.
They are my NEW favorite pair of jeans.
For the next 7 days, I washed them 6 times. They stretched (they're the stretchiest denim I've ever worn, and they feel like leggings. The brand is Tinsel, for those of you wondering) and they're amazing. So amazing I asked the stylist if they made them in a lighter wash as well because well, these things aren't going to last if I'm wearing them 24/7.
Here are the tops (photos taken from my Instagram story). I really liked #2 and #4…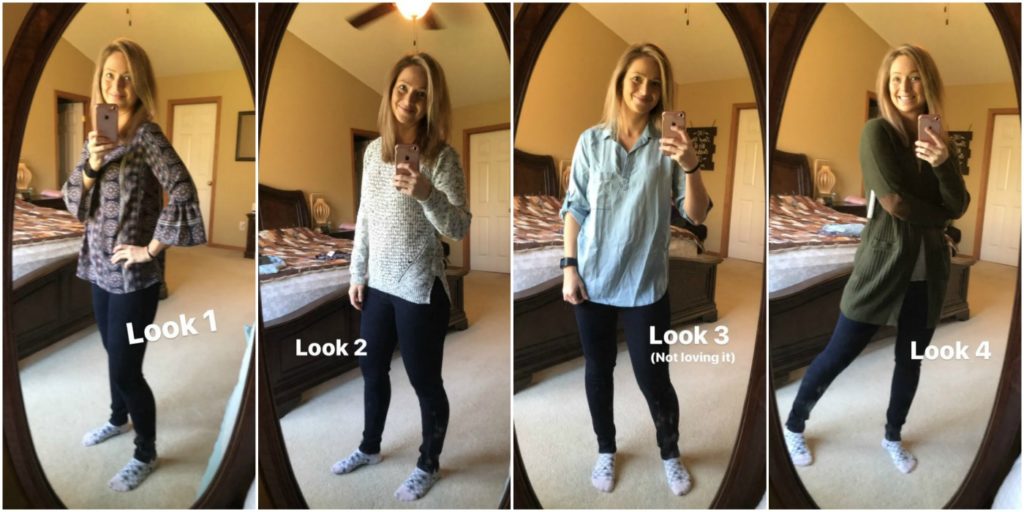 Ultimately I decided to keep the jeans, apply the $20 styling fee toward them, and ultimately paid $28 more to keep them. You only pay for what you decide to keep, so that makes it pretty painless.
What sold me on the idea of Stitch Fix
is that I didn't have to go out to the mall or any stores, I didn't have to scour through racks of clothing and I didn't have to keep up with current trends or what styles looked good on me. My stylist did that for me. Hallelujah!
If you haven't tried it yet, I definitely would recommend trying it at least once. I'm on my third box now which will come next week, I'm excited to see what pieces I get to try out in this one.
Click the box below to get started on your personal style profile:


As an insider tip, a friend of mine (who was previously a stylist for Stitch Fix) told me that it really helps to share your style Pinterest board with your stylist. Pin different styles that you like to this board, and it really helps your stylist choose pieces that you will like. I think this really helped in my case too!
If you'd like to give the gift of Stitch Fix, that's possible too! They have Stitch Fix Gift Cards
that make the perfect gifts for stylish women. Let someone else (erm, their stylist) pick out their gift this time. You're welcome 😉
I love hearing your guys' feedback too! Have you tried Stitch Fix before? What were your thoughts?
Hearts,
Sarah