Lendperk: Try New Designer Dresses Every Month!
I received a dress to try in exchange for my opinion. All thoughts are my own.
I recently discovered an amazing website that is right up my alley in regards to fashion and savvy shopping! I want to introduce to you guys, Lendperk!! The easiest way to describe Lendperk to you is to say it is the Netflix of dresses! Interested in hearing more? You should be, this concept is phenomenal, and I'm in love with it. Let me share a little bit more about Lendperk.

What is Lendperk?
Lendperk is a company that gives you the chance to find new fashion brands and rent their dresses. These aren't just any dresses either, no, these beautiful dresses are ones that you'd regularly find at Nordstrom, ASOS, etc.

How does it work?
Gone are the days of buying a new dress for different fancy occasions (weddings, graduations, bridal showers, baby showers, company parties, the list goes on.) Instead, you can rent a gorgeous dress for as little as $20/month. You definitely couldn't buy much of a dress with $20, especially one that is modern and in style and uber-chic!
Want more than one dress a month? That's fine too! You get an even better deal if you decide to up the ante and get 2 dresses a month for only $34.
If you have a lot of work functions, lots of friends getting married, or just love to wear dresses, then you can get the Unlimited monthly plan! For only $49.99, you will get to choose as many dresses as you want each month with no limit. How amazing is that!?
What if I don't need a dress one month?
The best part is this, you can roll over your unused dress to the next month! Let's say you don't have any occasions in May, but you have two weddings in June. Roll over your dress and have a new dress for each wedding!
You can also cancel anytime you want and restart whenever too, there is no obligation to commit.
Sarah tries a dress!

Yes, I got to take my pick of one of the dresses. This worked out extremely well because I had a special event (Mamapalooza – holla!) that I needed a chic outfit for. Now if you know me, you know that I hate spending money. Instead of buying a high-end dress for $100+, I got to rent one of Lendperk's fabulous dresses. I chose this Minuet Blue Colorblock dress 🙂
I got the dress just a couple days after I picked it out online. It arrived in a nice package and it looked stunning, and I even told my husband how I couldn't believe it wasn't wrinkled or anything. It was ready to wear! I hung it up until the big day, and found some matching shoes and a belt that I already owned. Here's my amateur-photo shoot, which consisted of my husband and my iphone…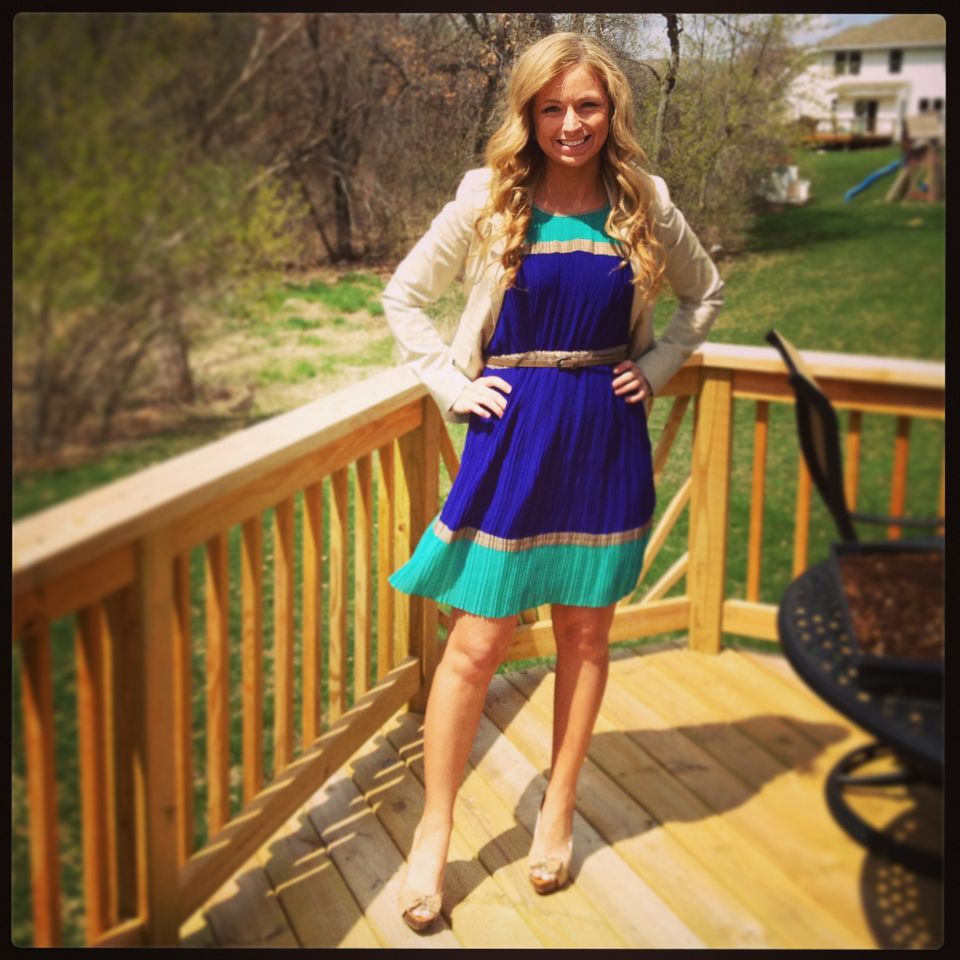 I could not believe how many compliments I received in this dress!! It looked cute online, but it looked even better in person! The colors just really popped, and it was just perfect for a nice spring day in Minnesota.
After the event was over, I came home and changed into sweats (er, duh!) Lendperk had sent me a self-addressed, pre-paid envelope to send the dress back in. Easy peasy! I popped it in my mailbox the next day and that was it! No cleaning, no address-hunting, no post office visits; no work.
Get started!
Do you want to give Lendperk a try? Now is a good time, with summer right around the corner! Check out Lendperk's monthly plans and find one that suits your lifestyle best 🙂
Special offer for May
I just want to mention an offer that Lendperk has right now. Each new member that signs up for a monthly plan will receive a $5 off code! Isn't that awesome? We all love saving money, don't we?
I hope you guys check out Lendperk and some of their gorgeous dresses that you can rent! And a special thank you to Lendperk for giving me the chance to look ultra-glam for my event 🙂
Hearts,
Sarah
Disclosure: I received a dress via Lendperk to do this review. I was not paid for this post, and all opinions are my own.

Don't miss a beat! Subscribe here for email updates and get a weekly roundup of my latest posts!