J. Hilburn: Custom Men's Wear – Review and Giveaway!
I was given a complimentary product in order to write this review. All opinions are 100% my own.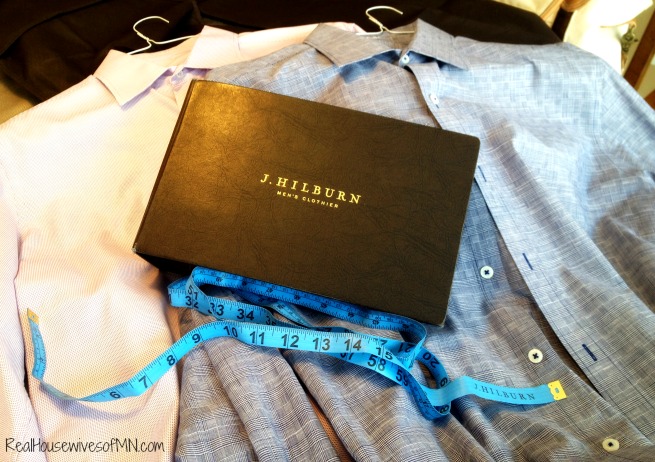 My husband's wardrobe is made up of about 85% of items that I've bought for him, and the other 15% of it is items he's had for over 10 years. So when it comes to finding new items for his wardrobe, it's usually me that picks it out. But this month, I flipped the script on him a little bit! I brought the shop (J. Hilburn) to him and let him pick out his own dress shirt! He loved it because he didn't have to walk aimlessly around the mall, and I loved it because I knew it would be something he would really love, not just something that I happened to pick out.
I had never heard of J. Hilburn before Lynn Hoffman contacted me through my blog. She introduced the brand to me and summed up what it was that she did. In short, J. Hilburn creates custom "made to measure" men's wear that is fashionable, practical and dapper. They have been featured in Men's Health, Esquire, The New York Times and more!
How It Works
Lynn made a personal visit to our home to meet with us and get my husband's measurements. Every J. Hilburn garment is custom made to fit the man that orders it. And beyond that, every inch of the garment is chosen by you so that it is made exactly how you want it!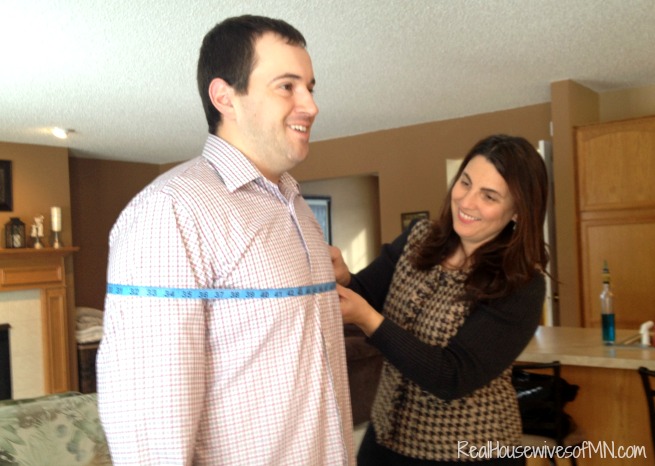 After she got all of his measurements, we grabbed a cup of coffee and started going over patterns and designs. My husband wanted to look at their Spring designs and pick out a new shirt for Easter. They have some very handsome Spring designs to choose from! And I couldn't believe how many fabric patterns (over 250!) there were as well. Their dress shirts are made from 100% Italian fabrics too, it doesn't get more fashionable than that!
I could tell immediately that my husband was more comfortable shopping this way than going to a mall. He was actually smiling! I think it helped that he didn't have to shop a million different stores only to settle on a shirt that fit 'okay' and that he would like but not love. This time around, he got to pick out the fabrics, the style, everything down to the thread color on the buttons!
This might not sound like a lot, but it is. I cannot tell you the amount of time we have spent sifting through piles of dress shirts at department stores to find the style that he likes (no buttons on the collar, a long length but the correct size neck, etc.) With J. Hilburn, he got exactly what he wanted without wasting time. It was awesome, and I think he's hooked.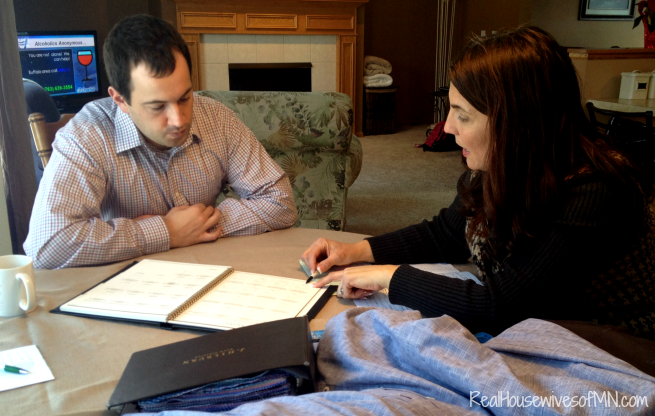 To give you a feel for the choices you have in customizing the clothing, here's a peek at the options my husband had for designing his one-of-a-kind dress shirt: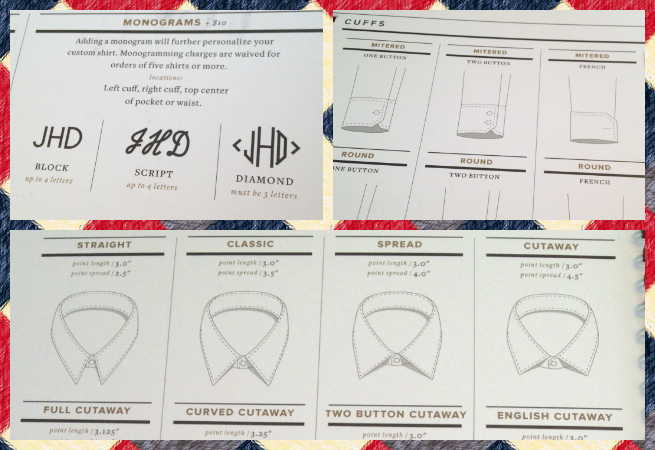 It might be silly, but my favorite part about these shirts is the fact that each shirt comes with the man's initials monogrammed onto the back of the inside of the collar. It's a subtle but really cool touch to each shirt and I just think it's so neat! They do this free of charge, just because! I just love it, but I'm a sucker for a monogram 🙂 Here's a few samples of the collar monogram: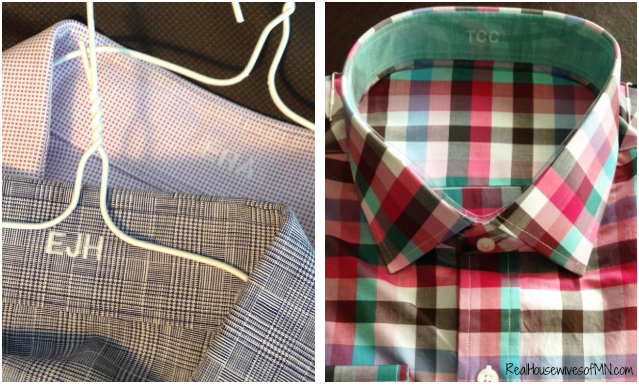 I never would have thought it'd be so much fun to pick out a shirt for my husband but as you can tell, we really enjoyed ourselves with this experience! Lynn just blew us away with how well she knew the products, and she went above and beyond to make it a personal, high-end buying experience. She made a point to have the shirt dry cleaned and pressed so that when she presented it to us, it was absolutely perfect. My husband was amazed when he put on his custom-made shirt too, because it fit him perfect! That was a first for him, and he is now treating his new shirt like gold! He said, and I quote, "I'm going to take good care of this one, I want it to last me a LONG time!" and I'm sure it will.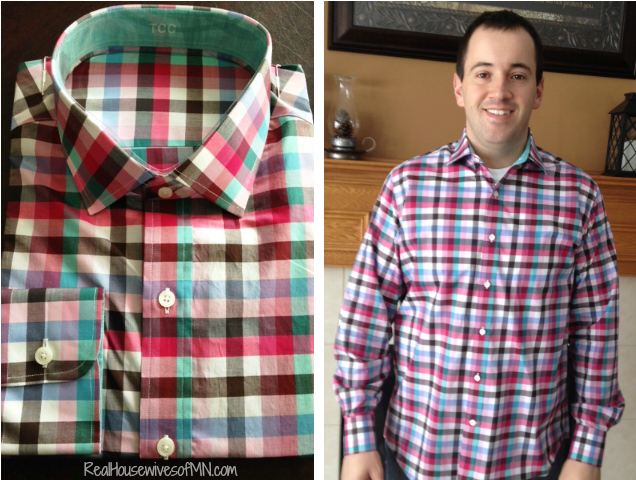 Doesn't it look so dashing? I think he looks incredibly handsome, but I might be a little biased too 😉
J. Hilburn is so much more than dress shirts though, they offer custom pants, sweaters, outerwear, denim, luxury tees and more. They also offer ready-to-wear accessories like ties, scarves, cufflinks, belts, socks and more. You could get a complete wardrobe for him!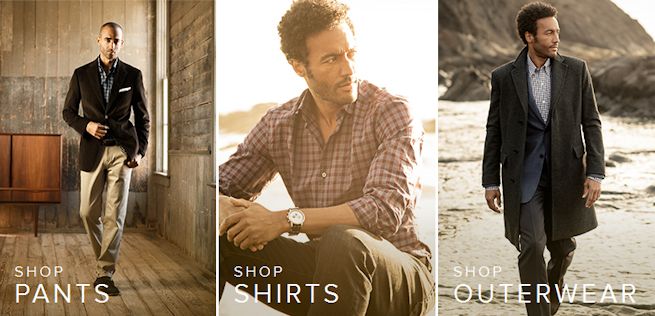 If you're looking for a gift for the man in your life, just imagine how well a custom piece of clothing would go over! Most men have never worn a garment that is made just for him. It will fit better than anything they have ever tried on before. How's that for an experience gift 😉
Notable Facts
Some interesting information about J. Hilburn:
There is no middle man, just your personal style consultant.
They were voted "Best Dress Shirt" by Esquire magazine.
All ties are made of 100% Italian silk.
Custom doesn't mean expensive, their fashions are actually affordable!
Becoming a Stylist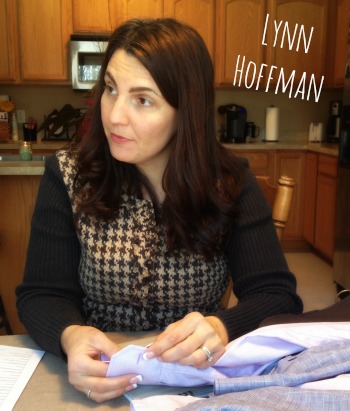 Lynn Hoffman has been a stylist for J. Hilburn for almost 2 years and loves the freedom that it gives her to run her own business but yet still spend time with her family. She's also been able to provide an amazing wardrobe for her husband along the way, which doesn't hurt! Here are the details on becoming a consultant for J. Hilburn:
It costs $79 to start, and you'll receive between 10-30% of your sales.
You'll receive training to work and succeed your business.
Once you become a Managing Partner, you can receive $600 to $1,000 in a monthly car bonus to use toward the Lexus of your choice!
Each year, stylists can earn a luxury trip to an exotic location.
Contact Lynn
Whether you want to set up an appointment with Lynn or you're interested in becoming a consultant, Lynn is there to help! Here's how you can get in touch:
Win a Garment From J. Hilburn!
Lynn has graciously supplied TWO $100 gift cards to use at J. Hilburn! Though she is located in Minnesota, she doesn't want to discriminate so she is opening up the giveaway to anywhere in the U.S.! What an awesome Valentine's Day gift for you to present to the man in your life! The giveaway ends February 12th at midnight CST to allow time to get you your gift card in time for Valentine's Day!
Don't want to wait to see if you've won? You can still purchase a J. Hilburn gift card here!