FRAAS Reversible Scarves: Fall 2013 Collection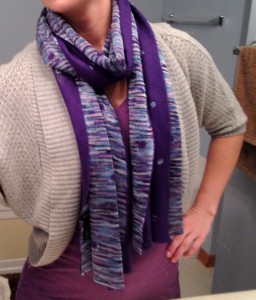 Disclosure: I received the following item for free in order to write this review. All opinions are my own.
With fall weather moving in, it's starting to cool off a bit. What better way to stay warm and stylish than with an adorable scarf?! They are one of the best accessories you can add to your outfits in the fall both for appearance and for practicality.
FRAAS Fall Scarves
I was recently introduced to FRAAS' latest lineup of Fall scarves and boy are they cute! They even reverse to give two distinctive looks in one scarf. They also come in four different colors with an almost-polka dot design. The colors offered are petrol (blue), dark red, purple and black. I got to try out the purple and it is a stunning color, it goes great with my college alumni colors, which is purple, white and black! So I definitely will be wearing this scarf for every occasion 🙂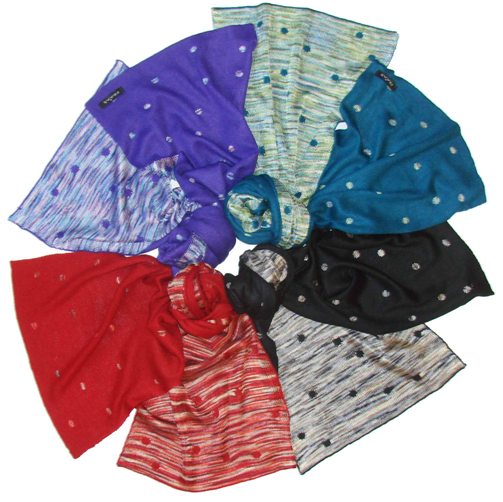 The material in these scarves are viscose and acrylic to make for a super-soft feel. And the scarf is long too! It measures 14 x 72 inches, which is a great size. It's no fun trying to style a scarf that is too short to tie or wrap. With this scarf, that was not a problem, thank goodness!
COMFORT
The vibrant color and long length wasn't the only thing I liked about the scarf though, I also loved that it was comfortable! I have bought many scarves that at the time I loved their colors, but I ended up not wanting to wear them because they were itchy or uncomfortable. This scarf was nice and soft, with no complaints from me!
PRICE
So how much does one of these fashionable scarves cost? They are affordably priced at $40 each, and not only make for great accessories for yourself, but they are also great gifts for friends and family as well.
You can find these scarves and other FRAAS proucts at Fraas.com and Amazon.com. If you have problems finding exactly what you are looking for, you can also call 212-575-0191.
What do you think, which color would you be most likely to buy?
Looking forward to hearing what you think!
Hearts,
Sarah
Disclosure: I was provided a scarf to review in order to write this post. I was not paid for this post, and all opinions are 100% my own.

Don't miss a beat! Subscribe here for email updates and get a weekly roundup of my latest posts!