This Toddler Mama Swears By These 10 Summer Must-Haves
Isn't it nice that it's summer again? I could cry tears of joy that it's finally arrived. We've been making the most of the weather with all kinds of trips to the beach, splash pad, parks, and anything else I can think of. Over the course of the last month, I've developed a list of things that we DO NOT leave the house without. Because, with toddler in tow, anything could go wrong. So I have strategically thought-out my bag packing situation and have included all the necessities a mom could need.
Are you ready? Hold on tight. We're going for a ride.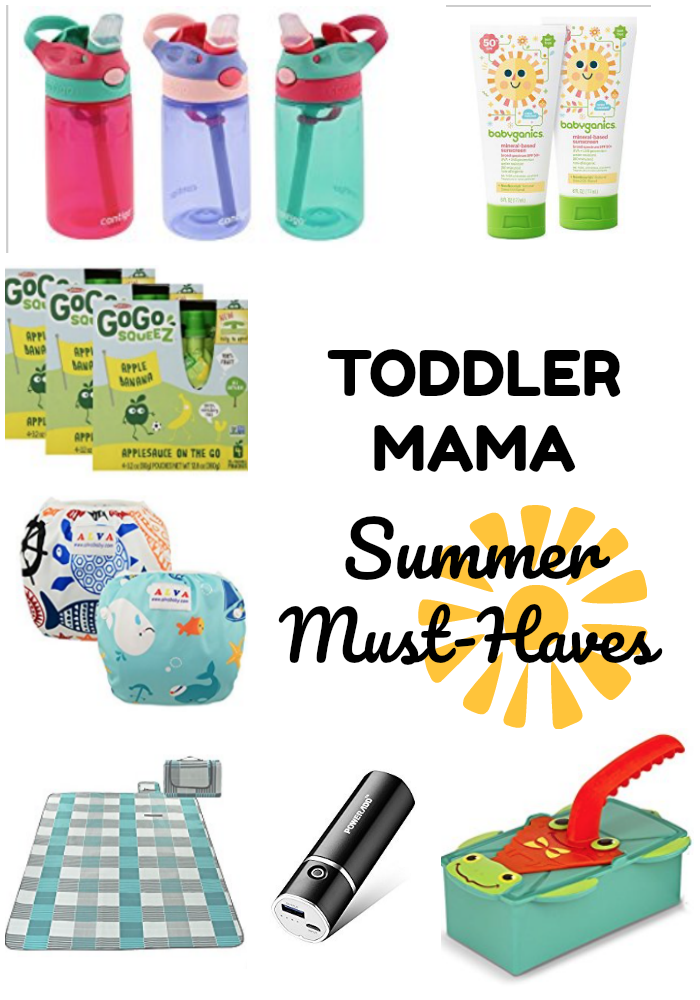 #1) SNACKS
Oh my goodness, is it even worth saying? I feel like any mom could open her bag at any given time and whip out about 3 different kinds of snacks that her little ones adore. For us, it's a mixture of fruit snacks (oh but only the Motts kind are acceptable apparently), bananas, and applesauce. Basically anything you can toss in a bag, and it doesn't need to be refrigerated or cut into little pieces. I know toddler mom friends of mine who pack graham crackers, apples, and goldfish. Hey, whatever satisfies them – right?
#2) WATER SHOES
Okay so you go to the splash pad, and it's slick and there's kids running all over, and you just want things to go smoothly. Invest in a good pair of water shoes, we have used our Cat and Jack pair from Target countless times already this summer and they work great! It's also a great option if you have a kid who doesn't like the feeling of sand or dirt under their feet, these are a blessing!
#3) VERSATILE BLANKET
A while back, I received an awesome blanket from Kemps where it is soft on one side, and it's a nylon-like material on the other side. I've used this thing so many times because that nylon side keeps the other side protected from whatever you're on, whether it be wet grass, or beach sand. It's come in handy so many times. And, bonus points of it folds up small and fits into a beach bag like these ones do!
#4) DRINKS
Kids are always thirsty. My daughter goes through probably about 30 oz of water a day, it's crazy! So it doesn't hurt to throw in some easy ways to keep them hydrated. I always keep a couple bottles of water in my car, and then when we're going somewhere, I'll throw in a juice box or little bottle of Gatorade to keep her happy. I also love those little Contigo water bottles because they don't spill and they're easy to drink from. I'm obsessed with mine, so I got little miss one to match 😉
#5) TOYS 
Although the set I have in my car right now rattles around at every turn, I carry them everywhere anyways because you never know when you'll randomly get the chance to swing by the beach for a bit and build some 'snowmen' (that's what my daughter calls sandcastles). At any given moment, I have at least a bucket and little shovel for her in case we get a chance to pop by a beach or splash pad.
#6) SUNSCREEN
This is a given, but it's amazing how many times you travel out only to remember you forgot to bring sunscreen. Please tell me I'm not alone in this! It's aggravating, because then you have to stop at Walgreens and pay $15 for a thing of sunscreen which is absurd. If you plan on being outside a lot this summer, buy your favorite kind in bulk now and put one in your stroller, car, your SO's car, beach bag, purse, and anything else you see yourself having when out in the sun. It'll save you time and last-minute stress.
#7) SUN SHIRTS
Have you discovered these things yet? I literally talk them up every time that we are anywhere in the sun. If you've had some crazy lady say to you at the beach, "Aren't these sun shirts the BEST??" It was probably me. Mostly because little miss puts up such a fuss when I'm applying sunscreen that the less I have to apply, the better. The sun shirts are usually something like UPF 50+ so I don't have to worry about covering whatever the shirt covers. It really is the best. There are even some swim suits out there that cover the whole body pretty much. So if your little throws a fit when you apply sunscreen, that might be a good option for you!
#8) MOM'S SUNGLASSES
This goes along with the sunscreen line. I feel like I'm always forgetting sunglasses somewhere, so I've gone ahead and bought about 5 pairs of $5 glasses so that I have a pair wherever I need them. And since I often break/lose/forget my glasses, I don't worry too much about investing a good deal of money into them. As long as they get the job done, I'm happy!
#9) SWIM DIAPERS
Have you ever gotten where you're going and realized you forgot a swim diaper? GAH. I have done this too many times. You get too focused on bringing items #1-8 that oops, that minor thing that you kinda really need is still at home. What's a mom to do? Well a smart mom packs an extra (or two) in her vehicle for the summer for these types of emergencies. A couple weeks ago I actually purchased a couple reusable swim diapers on Amazon (I went with the ALVA baby brand) to try and cut back on the amount of swim diapers we purchase because they can get expensive! Now obviously there's times where I'll have to use the disposables but for at home in our pool or the beach, I think we'll save quite a bit of money by using the reusable ones.
#10) BATTERY POWER BANK
You're going here and there, taking pictures, playing nursery rhymes, streaming Elmo to avoid tantrums, and maybe texting friends all the while – your battery is going to take a hit. Be prepared with a small battery power banks to charge up your phone from anywhere. These are also great for traveling when you don't have somewhere permanent to charge your phone from, I've used mine loads of times and it is the gift that keeps giving.
---
I think the list could go on and on for a while, but these are the things that I've made sure to have on hand while we're out and about this summer. I'm sure that list will ebb and flow depending on where summer takes us, but in the meantime, we're just enjoying this season one day at a time!
What's your most important summer must-have? Leave a comment!!
Hearts,
Sarah
Post contains affiliate links, which means any purchases made will help support this awesome blog! Thanks for your support!

Don't miss a beat! Subscribe here for email updates and get a weekly roundup of my latest posts!