This Puppy is Driving Me Crazy!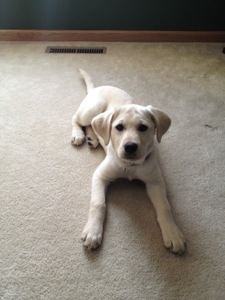 Yes, I am aware that I haven't blogged in a while. And here's why… we got a puppy.
My husband decided that we needed one. We needed a puppy like we need a burglar, a teething toddler, and anything else that relates to the many fun habits that a dog has.
Just writing that first sentence took 10 minutes because I had to fight her off every little thing in the house.
*Breathe*
I'm kinda over this stage though.
The pup is getting into everything right now. And taking her out to go potty in this -15°F weather is not really working for me right now lol.
She eats her own poop. I put hot sauce on it all so that she wouldn't eat it. It worked for a while, until she started eating the neighbor dog's poop! I can't win.
In the meantime, I think I may need a tall glass of wine. That seems like it would get me through the puppy stage.
Cheers!
Sarah (Ruby)
PS- I really do love my puppy 🙂