Outdoor Midway Movies in the Park at Valleyfair
Disclosure: This post is sponsored by Cedar Fair Entertainment Company in conjunction with Blog Meets Brand, and I have been compensated for my participation. All opinions are my own.
I have been scouring the internet lately to find out the nearest outdoor movies that are playing at night. It's hard to find good movies that the whole family will enjoy, on a night we can enjoy them but it's kind of neat – we discovered that Valleyfair actually offers movies in their park after the sun goes down, it's called their Midway Movies! Thrilling coasters, delicious food, and now outdoor movies! Plus, it's FREE with your park admission – go team!
Every Thursday in July and August, the park will air a different movie that you can stick around and watch with your family after you've enjoyed the park!
Coming up this week (July 28th) Valleyfair is featuring Star Wars: The Force Awakens and we are pumped to go check it out! I was told that if you dress in costume, there's even a chance to win some cool prizes, so that is kind of fun 🙂
Here is the full schedule for this summer at Valleyfair…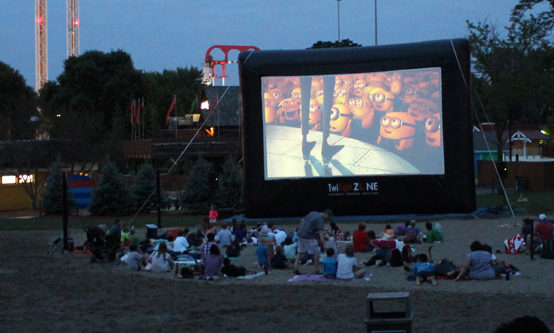 Outdoor Movie Schedule
July 28:  Star Wars:  The Force Awakens
(Dress up as your favorite Star Wars character for a chance to win prizes!)
August 4:  VOTE!
Avengers
Captain America
Spiderman
Guardians of the Galaxy
(Dress up as your favorite Super Hero for a chance to win prizes!)
August 11:  The Good Dinosaur
August 18:  Rocky
August 25:  VOTE!
Inside Out
Big Hero 6
Finding Nemo
Aladdin
---
And the fun doesn't end there actually. I was reading that Valleyfair also has more family activities for this summer including a Beach Bash, Kids Days, Coaster Campout, Green Giant Corn Fest and more. For a full list, check out this link to see all the things to do at Valleyfair!

Don't miss a beat! Subscribe here for email updates and get a weekly roundup of my latest posts!