M&M's Pixel Art Contest – Win a Xbox One and Forza 5 Gaming Package!
I am a member of the Collective Bias® Social Fabric® Community. This shop has been compensated as part of a social shopper insights study for Collective Bias and its client.
If you're up to speed with the latest in video games, you're most likely aware that the new Xbox One just came out, along with the Forza 5 video game, and they are all the rage right now! Well I am so excited to share with you, an awesome contest where you can use M&M's® to enter for your chance to win one of these Xbox consoles! Now, it's not your ordinary contest where you just enter your name and hope that you get lucky. No, this one has a really neat twist that I think you and your family will really enjoy!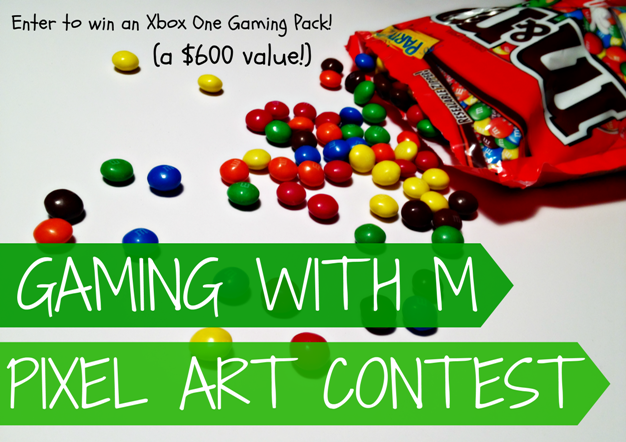 Contest Details – Gaming is Better with M!
The M&M® pixel art contest is a really neat concept! The goal is to create a pixel art image (aka a sprite) using just M&M's®. Your masterpiece should be racing and/or video game inspired to celebrate the launch of the new Forza 5 game.
You will need to get creative! To get your brain going, think about your favorite characters, car logos, game symbols, race cars, etc. Have fun with it!
When you've created your image, snap a pic and share it on Instagram with the hashtags #FueledByMM and #Contest. Then post the image on Instagram and Twitter.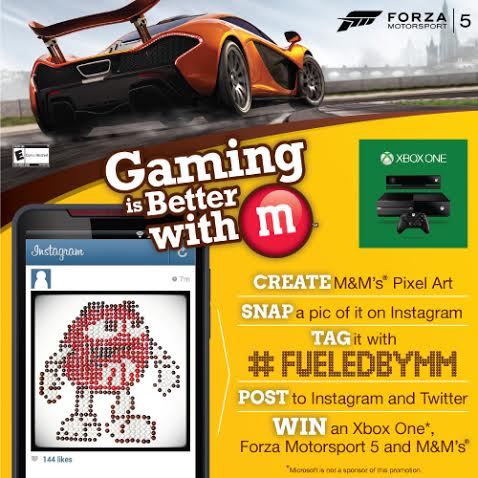 DATES:  Contest runs from December 4th to the 18th, 2013.
PRIZE:  One lucky entrant will be chosen at random to win an Xbox One gaming pack (contains Xbox One, Forza 5 and a 14 oz bag of M&M's®) or cash equivalent which is around $600.
Here are more details on the #FueledbyMM contest!
My Contest Entry
I thought taking on the challenge of creating pixel art would be kind of a fun activity to do at our house, especially since the weather is cold and there's not much to do outside! So I headed to Wal-Mart and purchased a big bag (38 oz) of Peanut Butter M&M's®. These are my husband and mine's favorites and I knew they'd be a great snack for after we created our art.
I also purchased a large piece of white poster paper at the store too, so that the M&M's® would really pop and the photos that I took would show up nicely as well.
When I got home, I explained to my husband what our task would be. He willingly joined in and we had a grand old time! We turned on some music, and put on our thinking-caps to try and come up with our very best pixel art ideas. After some brainstorming, we came up with a few ideas.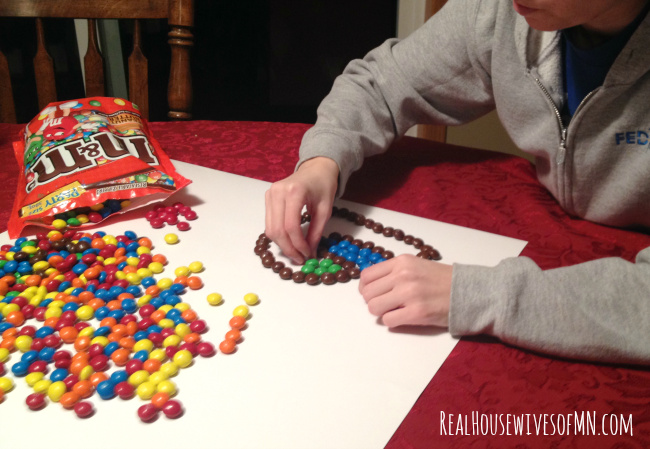 The first pixel art image I created was a racing helmet, because what is a race car driver without their helmet? I chose green because that's the color of the Xbox One and so it seemed fitting!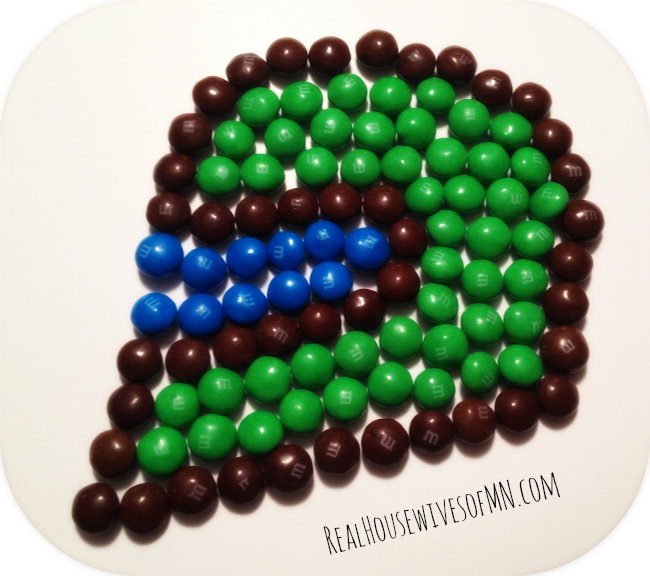 The next pixel art image was a race car! When I looked up the Forza 5 video game images on Google, I seen a very sharp-looking red Mercedes-Benz car that I wanted to duplicate. Since the cars are obviously cruising at high-speeds, it was only right to add some flames coming out of the back as well.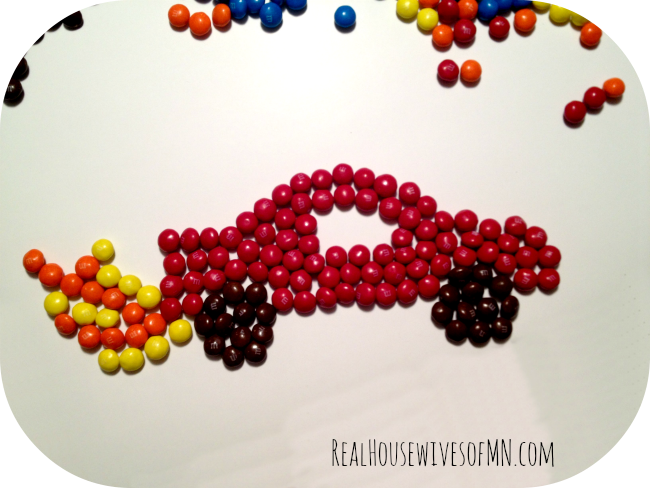 Last but not least, we created a replication of the Forza 5 logo. I think this one turned out awesome, it's surprisingly close to what the logo actually looks like!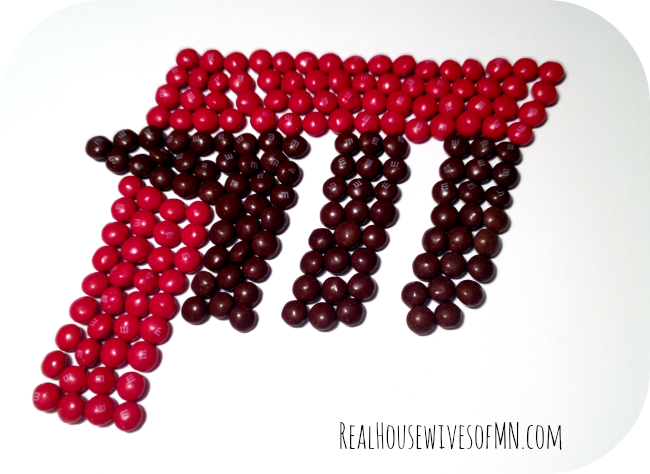 After we made a few extraordinary pixel art images, we had some fun creating some other masterpieces as well. Of course, I won't be entering these into the contest, but it was a fun little activity anyways!

Yes, that is the state of Minnesota, me as a sprite, and hubby's rendition of the Xbox logo. We had a ton of fun making pixel art! And after all was said and done, we maybe had a little snack afterwards too. But shhh, I didn't tell you that!
Buy, Snap, Redeem – M&M's® and Forza 5
If you decide to go out and purchase the Forza 5 video game, you could score a $10 eGift card to Walmart. Here's how you can Buy, Snap and Redeem.
Purchase the Forza 5 video game.
Purchase $8 or more of participating M&M's® products.

These include: M&M's® Peanut 42oz Stand Up Pouch, M&M's® Milk Chocolate 42oz Stand Up Pouch, M&M's® Peanut Butter 38oz Stand Up Pouch, M&M's® Pretzel 30oz Stand Up Pouch, M&M's® Peanut 19.2oz Large Laydown Bag, M&M's® Milk Chocolate 19.20z Large Laydown Bag, M&M's® Peanut Butter 18.4oz Large Laydown Bag, M&M's® Pretzel 15.4oz Large Laydown Bag.

Snap a photo of qualifying items on the receipt on your phone and text it to 811811 with the term "M&M".
You'll receive a text back with a reward code valid for a $10 eGift card to Walmart.
Get more details on the Buy, Snap and Redeem program here.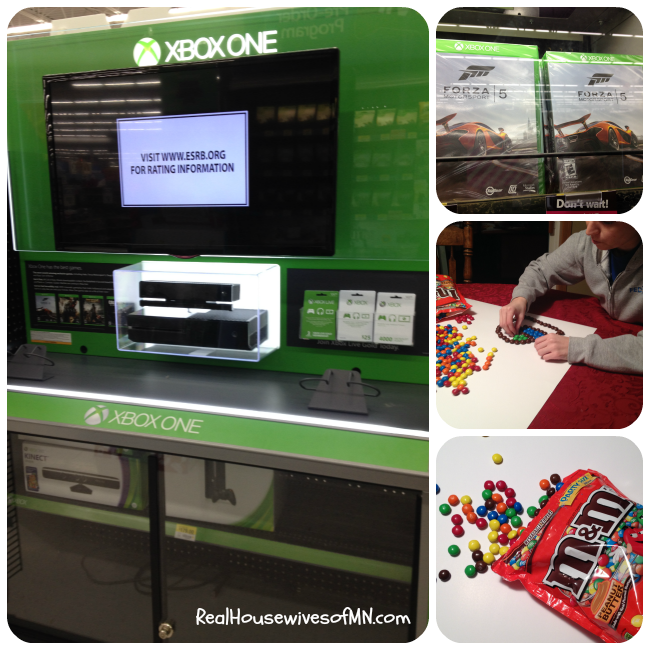 Get Going!
So get out there and grab yourself a bag of M&M's®! Get the family together, or make a little date night out of this fun, creative little activity. It's sure to be a hit at your house, just like it was at mine!
I am looking forward to seeing your entries!!
Hearts,
Sarah