Kemps Hometown Favorites: Ice Cream Flavor Contest!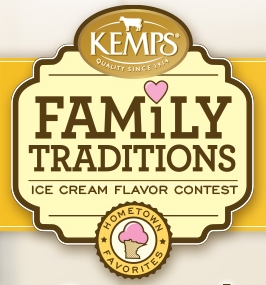 Start naming all the companies or brands that you know are Minnesotan.
I know you're thinking of the obvious; Best Buy, Target, General Mills… but did you know that you can add Kemps to that list? You may have known that, or maybe that's news to you! But the truth remains, we have this lovely company right here in the state of 10,000 lakes. True story.
Kemps recently reached out to me to see if I had any interest in spending some time at their plant in Rochester. In other words, would I want to fulfill every child's dreams of spending time at an ice cream factory. Yes please!!! So off I went for quite the day of experiences! Are you ready for all of this??
Kemps Hometown Favorites Contest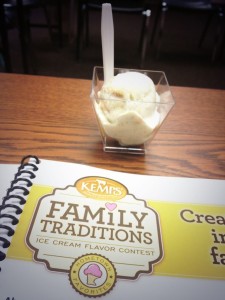 I'm pretty sure that when I was a kid, I begged my mom to have ice cream for breakfast. Well, Kemps let me do that that morning. I got to taste last year's (2012) winner of the Kemps Hometown Favorites contest, the Mini-sota Donut. It was so yummy! It had a little bit of a cinnamon, nutmeg taste to it but even beyond that, it had chunks of mini donuts in it! Delicious.
UPDATE (August 2, 2013): Everyone has been asking me where you can get Mini-Sota Donut Ice Cream. Well it is now available in major grocery stores! Be sure to head to your local super retailer and see if they have some in stock to try!
In 2011, Kemps chose the Land of 10,000 Licks as their ice cream flavor winner. This ice cream is a mixture of vanilla, toffee pieces, and other goodness. It is also beyond delicious!
The Kemps Hometown Favorites contest has run every year since 2011. Creative people like you guys then submit their yummy ice cream flavor ideas. The deadline for that this year is June 7th!! That's coming right up!!
After all the submissions are in, they will vote for the top 10 finalists. These finalists are posted online on June 14th and the public will be able to vote to help determine the top two flavors. A third finalist will be chosen by Minnesota favorites, Joe Mauer and his mother, Teresa Mauer.
On August 1st, they will have narrowed down these top three finalists. From August 22 to September 2, these three finalists will have their flavors produced by Kemps, brought to the Minnesota State Fair, and sampled and voted on by fair-goers.
On August 28th, the 2013 Hometown Favorites winner will be announced at the State Fair! This winner will be chosen by a combination of online votes, on-site votes, and scores from a celebrity judging panel.
What does the winner win?
Why do people submit their flavors? Well other than all the awesome things I mentioned above, the winner will also receive $2,500, a year supply of their very own ice cream flavor, and their story and inspiration will be displayed on their ice cream carton next year. How 'sweet' is that!?
Family Traditions Theme
This year's contest theme is "Family Traditions" which I'm sure you can figure out on your own, but I want to help you anyways. Kemps is looking for entrants to submit ideas that are inspired by a family tradition!
Now, I want you guys to start thinking about ice cream flavors that you would want to create, while I continue on with more of this awesome story, and come back when you're ready…
Then, submit your signature ice cream flavor here! (If the link doesn't work, just visit KempsNextFlavor.com)

Kemps Plant Tour
We (it was a mini ice cream party with a couple other local bloggers!) got to tour the ice cream plant right before lunch. I was super excited, because how often do you get to take a look at the insides of an ICE CREAM FACTORY! It was like Willy Wonka and the Chocolate Factory. Just heavenly. Here's a shot of us before we headed out onto the production floor.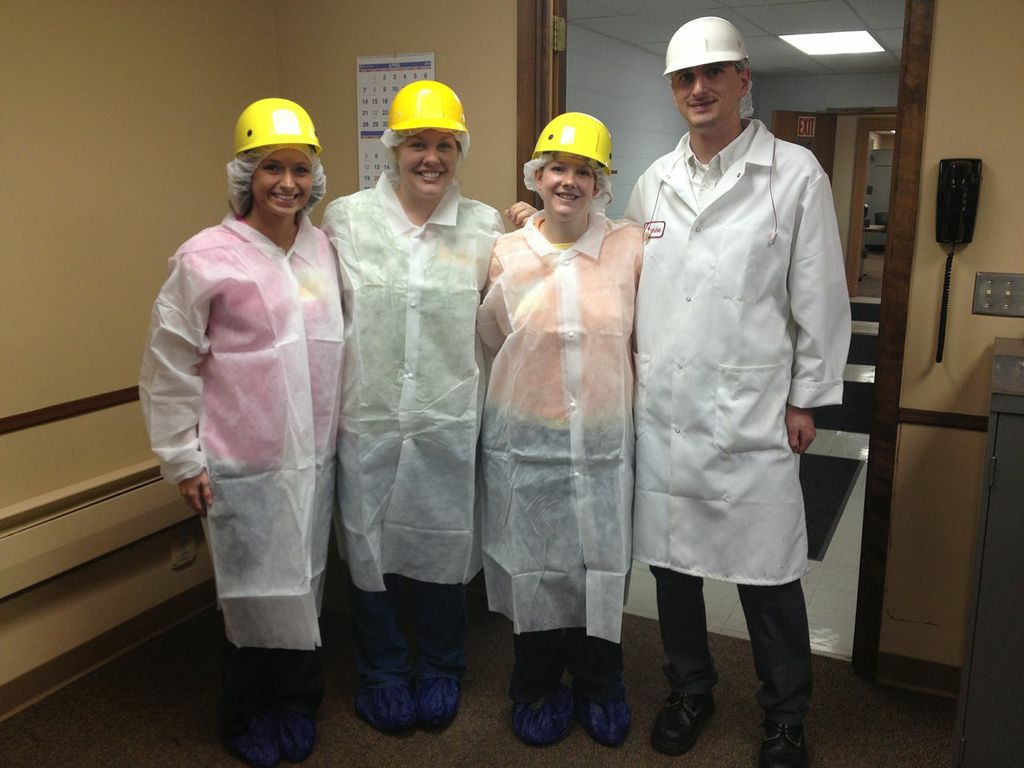 Now I wasn't allowed to take any photos of the plant floor, for obvious reasons, but let me tell you that it did not disappoint! I was just in awe of how everything was absolutely sparkling clean and as you can see, everyone had to be covered with protective gear for the highest level of sanitary production.
Kemps Signature Appetizer Recipes
When we got back to our meeting room for lunch, we had a surprise waiting for us. These yummy-looking appetizers that were made out of Kemps products! Now, I'm kind of a picky eater, but let me tell you, I devoured these! They were absolutely delicious, and I will definitely be making these for appetizers at any events coming up where I need to cook. If you make these and want more, you can find more tasty Kemps recipes on their website!
#1 – Three Cheese Spinach Artichoke Dip Recipe (from Kemps)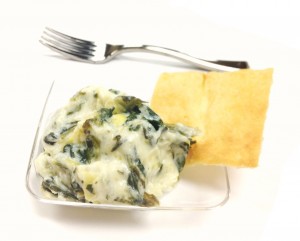 Pair this with pieces of Italian bread, pita chips, or crackers for a delicious appetizer.
Ingredients:
1 cup Kemps 1% Low Fat Cottage Cheese
1/2 cup parmesan cheese (shredded)
1/2 cup mozzarella cheese (shredded)
1/4 cup Kemps Skim Milk
14 oz frozen chopped spinach (thawed and squeezed of excess water), chopped
14 oz can artichoke hearts, chopped
1/2 onion chopped finely
1/4 cup mayonnaise
1 tsp minced garlic
1/4 tsp black pepper
Directions:
In a blender, mix cottage cheese and milk until smooth. In a large bowl, blend together the onion, garlic, pepper, 1/4 cup of mozzarella cheese, 1/4 cup parmesan cheese, spinach, artichoke hearts and mayonnaise into the cottage cheese blend. Pour into a greased 8×8 baking dish. Top with remaining cheese. Bake at 350° F for 20-30 minutes.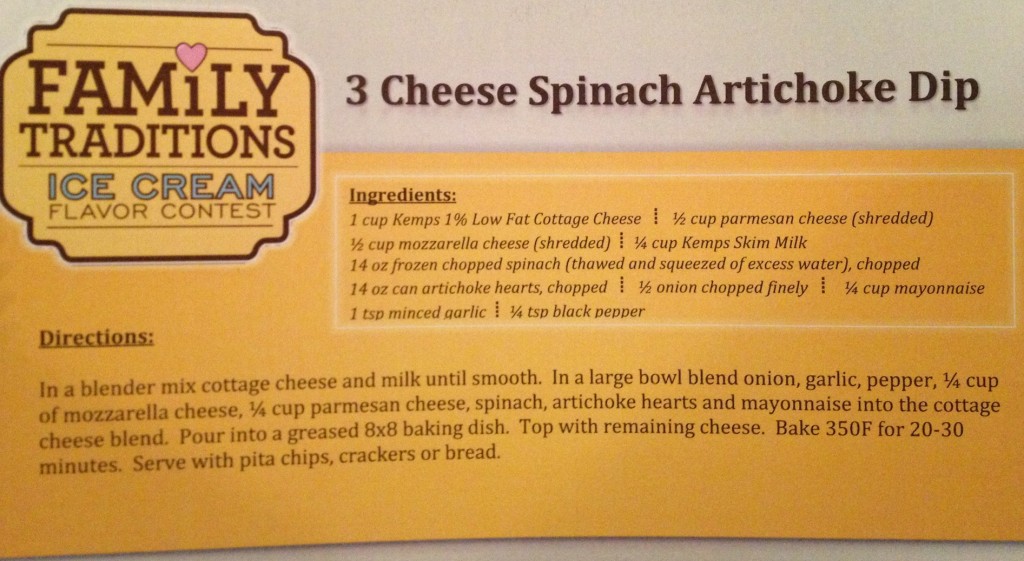 #2 – Orange Beef Tostada Recipe (from Kemps)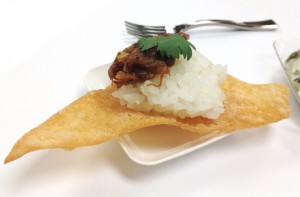 This tasty appetizer is one that will have your guests asking for more!
Ingredients:
4 Kemps Orange Cream Bars
2 tsp orange zest
1/2 tsp red pepper flakes
4 cloves garlic, finely diced
3 Tablespoons soy sauce
1/2 tsp vegetable oil plus 1 T for frying beef
2 tsp vinegar
1/4 tsp ground ginger
2 cup sushi rice
2 cups water
1/3 cup vinegar
2 Tablespoons sugar
1/2 lb Beef steak, cut into strips
Wonton wrappers cut in half
Cilantro for garnish (optional)
Peanut oil for frying
Directions:
In a skillet, heat 1 Tablespoon oil over medium high heat. Add beef strips and cook until browned. Toss the beef strips into the orange ginger sauce (directions below). Set aside.
Orange Ginger Sauce: In a sauce pan, melt the Kemps Orange Cream Bars and remove the sticks. Add the orange zest, red pepper flakes, soy sauce, remaining oil, vinegar, garlic and ginger. Heat on low until reduced by half.
Sushi Rice: Prepare according to package directions. Season with vinegar and sugar.
Wonton Wrappers: Fry Wonton wrappers in 350° F oil until golden. Drain on a paper towel.
To assemble tostada: Place a small amount of rice onto the fried wonton triangle. Top with the orange beef. Garnish with cilantro.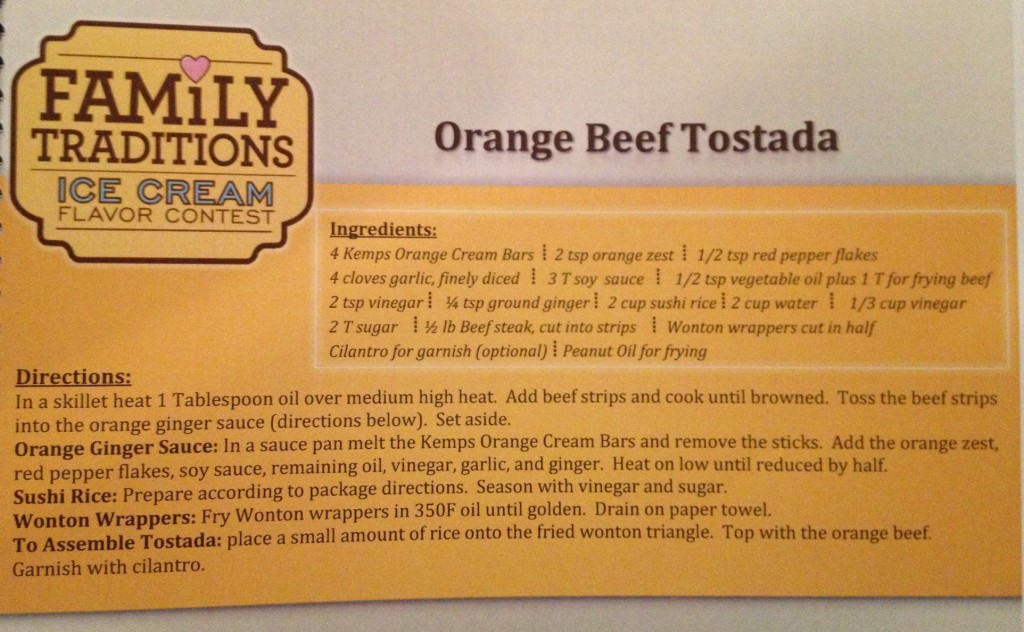 Trust me, these recipes will have your family and friends thinking that you are a true gourmet chef! Plus, the high-end presentation doesn't hurt either 😉
More Fun Highlights
It's so hard to sum up my amazing day into a blog post. In fact, I think this is the longest blog post that I have ever written! But I wanted to be sure to highlight all the fun things that happened! Like meeting Teresa Mauer. She was just the sweetest woman. I really enjoyed chatting with her and hearing what she had to say about Kemps and her family. Here's one of my favorite photos from the day…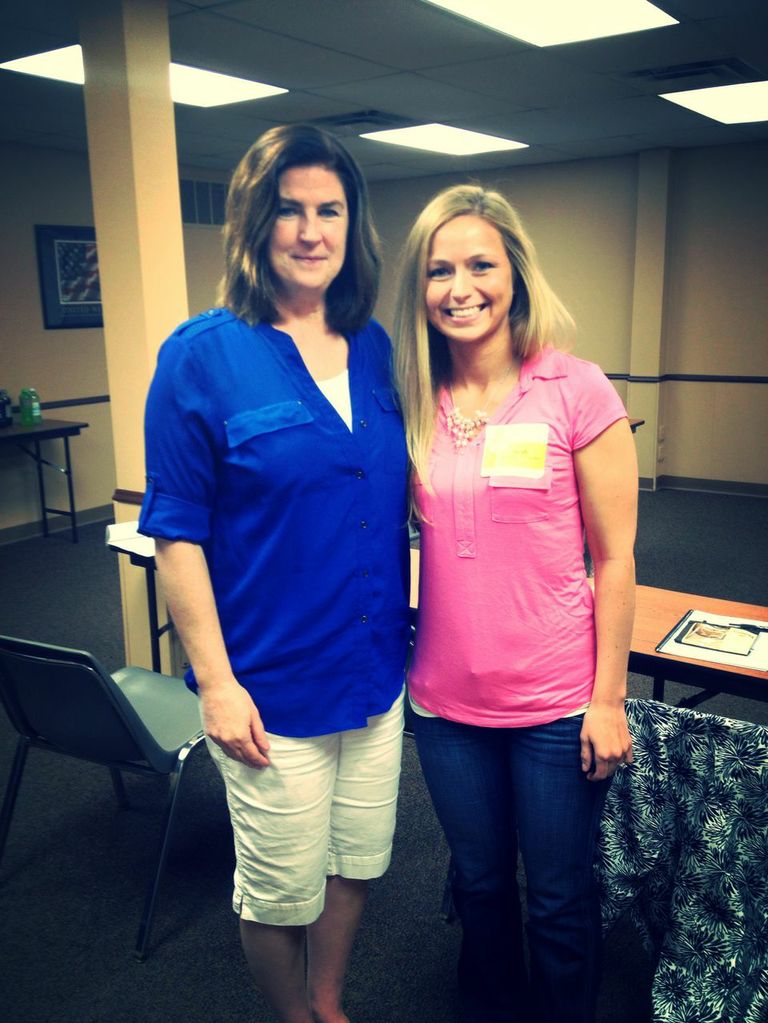 Oh and another fun highlight? We got to make our own flavor of ice cream! Yes that's right, a dream come true. Have you ever had a chocolate covered potato chip? If not, you need to stop reading this and go dip a potato chip into melted chocolate and then eat it. It's delicious. It's divine. It was the inspiration for our custom ice cream flavor that we made that day. Teresa was hesitant to try it but I finally convinced her to try it and she liked it! What can I say, I guess I just have a good taste in ice cream.
The Making of Blogger's Delight
As I mentioned above, we took on the task of making Chocolate Covered Potato Chip Ice Cream, or as we so un-cleverly named it, Bloggers Delight. Hey, the pressure was on, get off my back 😉
Here's a few photos of the ice cream making process that day!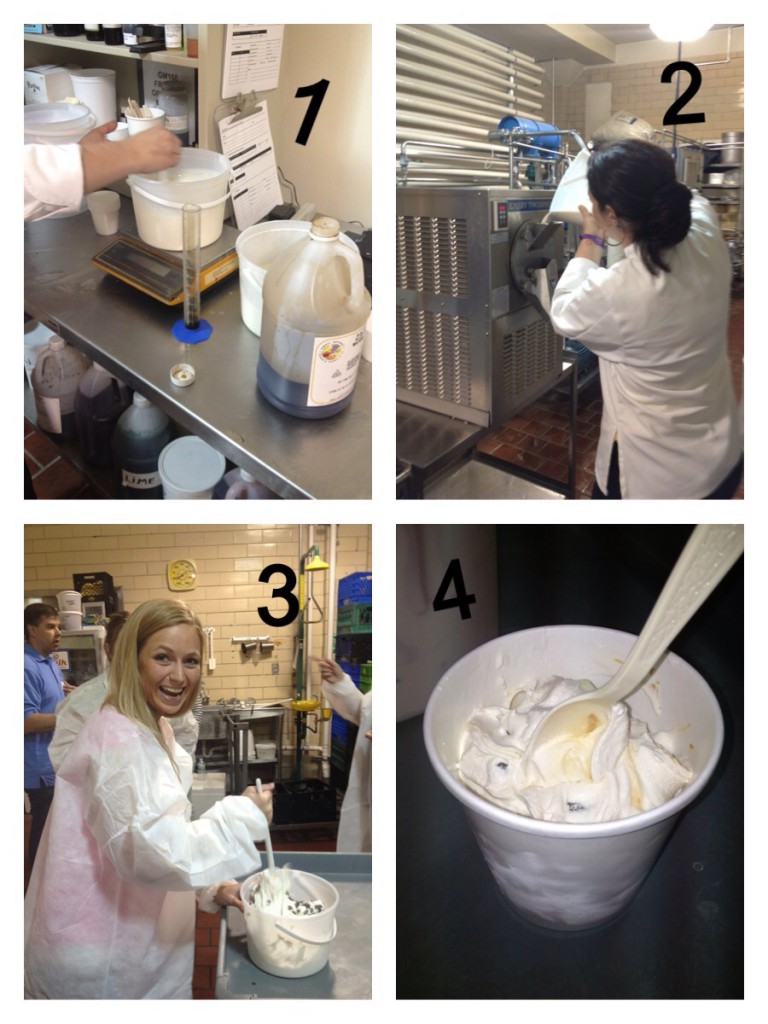 What an Experience!
What a day that I had. It was definitely an experience to remember for a long time! Before I go, I want to leave you with some fun facts that Kemps provided me with that I found interesting. Are you ready? Here we go:
1. Kemps purpose is to nourish families. That's why Kemps products have Calcium, Vitamin D, protein and phosphorus. These help promote strong bones, lower risk of high blood pressure, diabetes and heart disease.
2. Kemps works with 17,000 farm families and 100% of the profits go to them.
3. Joe Mauer's favorite Kemps product is the Kempswich, while Teresa Mauer's (my new bff) is the Toasted Almond Fudge ice cream.
4. Last year at the Minnesota State Fair, over 20,000 ice cream samples were passed out.
5. Cows can smell things up to 6 miles away!
6. You can submit your ice cream idea at KempsNextFlavor.com!
Well? What kinds of ice cream will you be submitting to the contest? You don't have to tell me here, I wouldn't want to spoil your odds of winning! 😉 Be sure to enter the contest though, you could be that next lucky winner!!
Hearts,
Sarah
Disclosure: I was not paid to write this post. Kemps did provide me with samples and the experience of a tour to learn more about their company. All opinions are 100% my own.

Don't miss a beat! Subscribe here for email updates and get a weekly roundup of my latest posts!