Getting Organized: My Big Task
Lately I've been on a kick to get my house organized. I think it's mostly because I've let things go too far in our house without being organized, that now is the time to buckle down and get it done.
My most recent project was to take on our coffee/medicine cupboard. I'm not sure why it got designated that these two things ended up in the same cupboard but it did, AND it was an absolute mess! So, I got to work. I pulled out everything from this cupboard. Who knew that so much crap found fit into one little space?? It was like tetris, they were all situated in there in the most creative of ways.
Here's my before photo. Yuck. Don't judge.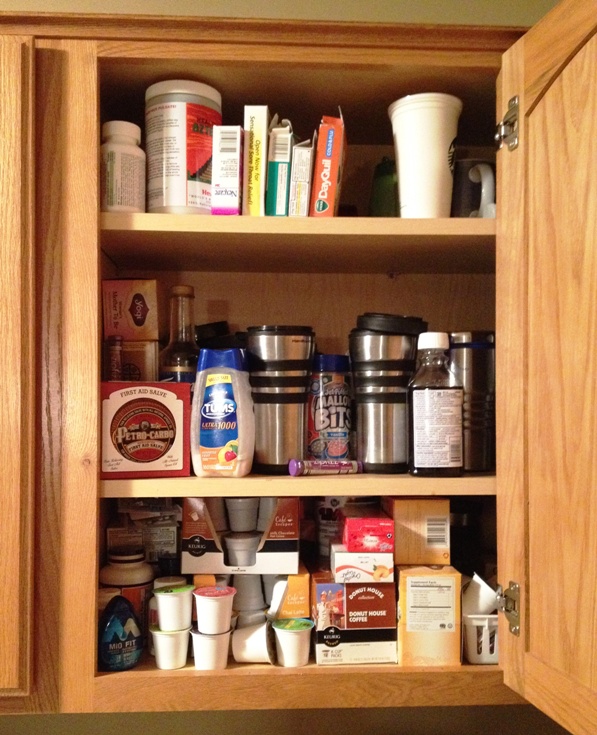 After getting rid of unnecessary packaging, and getting creative with some items that I had laying around, I labeled and grouped according to use. Finally, came the end product. It was about an hour and a half… but very worth it. I feel so much better when things are clean and organized!
Here is the after photo. Much more proud of this one: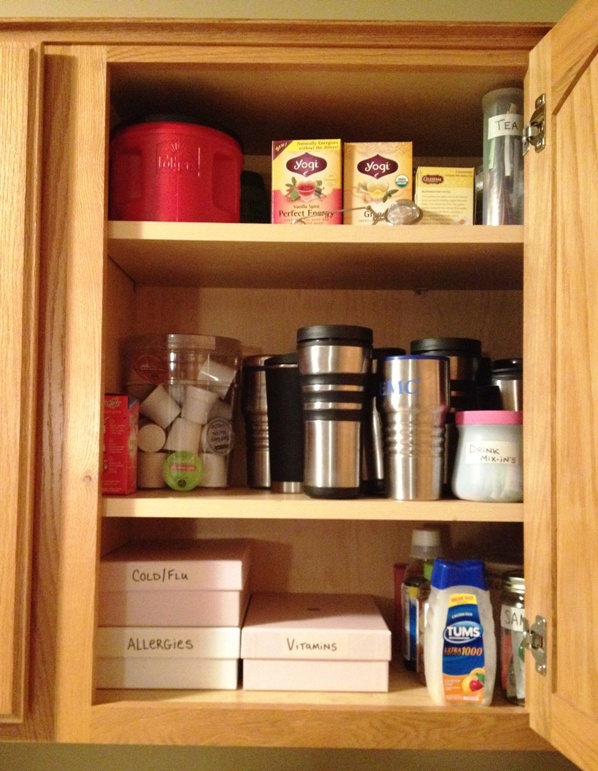 It's tough to see the difference, but I wanted to give you guys an up-close image of how the items were organized in my after photo. So last but not least, a side by side comparison: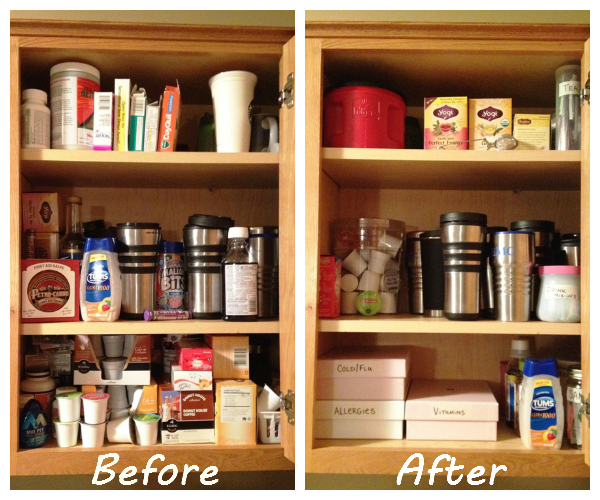 Doesn't it look so much nicer? I can actually find things now! It's amazing 🙂
As a sidebar, here's some of the odds and ends that ended up being useful:
My Glossyboxes, they were the perfect size for holding random boxes of medicine, you'll see them on the bottom shelf with Cold/Flu medicines, Allergy medicines and Vitamins.
I used a plastic Costco pretzel container to hold random K-cup samples that I have received in the mail, or that were leftover from other boxes. It was perfect for that! Plus, it's clear so it'll help find them later.
A Jet-Puffed Marshmallow container was perfect for holding leftover/extra Crystal Light packets along with Propel water packets too. It's perfect!
I also used an old oatmeal container to hold medicinal creams like Cortizone10.
I then labeled everything so that it'd be super easy to find. Love it!!
Do you have an organizational post that you'd love to share? Please leave a link in the comments!! I'd love to see it 🙂
Hearts,
Sarah

Don't miss a beat! Subscribe here for email updates and get a weekly roundup of my latest posts!